In our previous London spy walk on the trail of the Cambridge Five, we left off with Maclean and Burgess just about making it to Southampton for the day's last ferry to France, never to return to the UK.
The sudden disappearance of two middle-ranking foreign service officials, at least one of whom was under acute suspicion of being a Soviet spy, caused a bit of a stir in contemporary Britain, but things only reached fever pitch when Burgess and Maclean resurfaced in Moscow several years later. No matter how hard anybody may have tried, the scandal could no longer be swept under the carpet, and many people asked who had tipped the two off. Soon, the attention of the investigators focused on a man who had known both defectors since their days at Cambridge University, a man named Kim Philby.
Philby was a high-ranking career intelligence officer, the head of counterespionage operations and a serious candidate for the directorship of the British spy service. Intelligence was the Philby's family trade: Kim's father, a renegade Lawrence-of-Arabia figure and convert to Islam, had served in the Middle East before becoming the chief advisor to the King of Saudi-Arabia. His story and his career never found the way to Hollywood, but his son's certainly did, John le Carré having based the character (and the arguments) of the Spy from Tinker Tailor Soldier fame on a thinly veiled portrait of Philby Jr. (When Le Carré worked as an intelligence officer, Kim Philby was his boss.)
Continuing our London Spy Walk
We start part two of our London spy walk in Philby's neighbourhood of Sloane Square in Chelsea, today a very posh neighbourhood (for people of a certain generation, it will forever be associated with Diana, Princess of Wales), but up until the 1980s, an interesting mix of the genteel with the decidedly roué: well-to-do families have lived here for generations, but at the time, this was also where the Rolling Stones had rented a house, where the mini-skirt was invented and where, a little later, Malcolm McLaren, the godfather of punk, operated his fashion boutique called SEX.
Walking down King's Road, Chelsea's main boulevard, we find the building of the old Markham's Arms pub at no. 138 (now the offices of a bank), …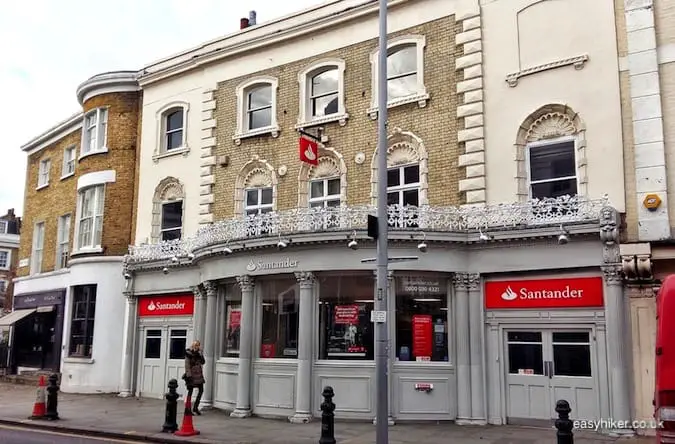 … which was often used by Kim Philby as a convenient place for meetings with his fellow conspirators. Most notably, this was where Anthony Blunt re-established contact with Philby in the three-year period that followed Burgess's and Maclean's escape to the Soviet Union.
Philby's home at the time was just around the corner from here, on the far end of Carlyle Square at no. 18.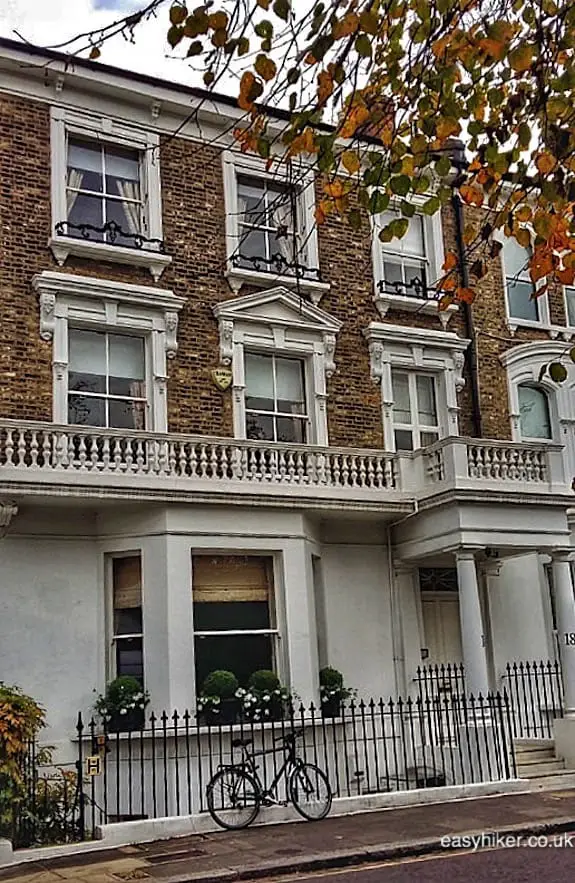 Walk from here past the top of Carlyle Square towards Old Church Street, crossing into Elm Street. Continue down this road for a few blocks and turn right into Beaufort Street, past some of Britain's, and Europe's, most expensive real estate.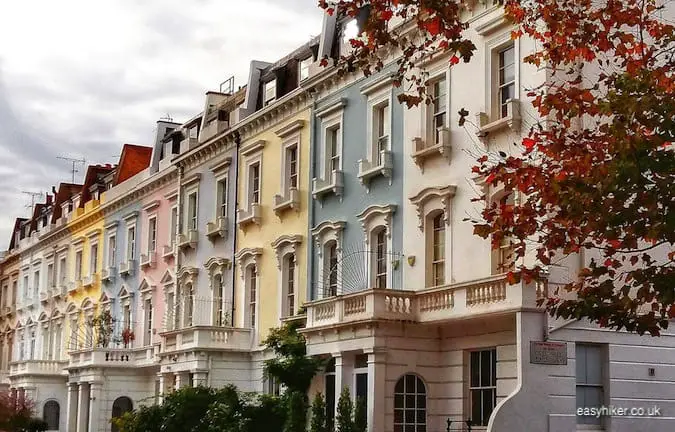 In the building on the corner of Drayton Gardens (the continuation of Beaufort Street) and Holly Mews, you will find a building called Grove Court.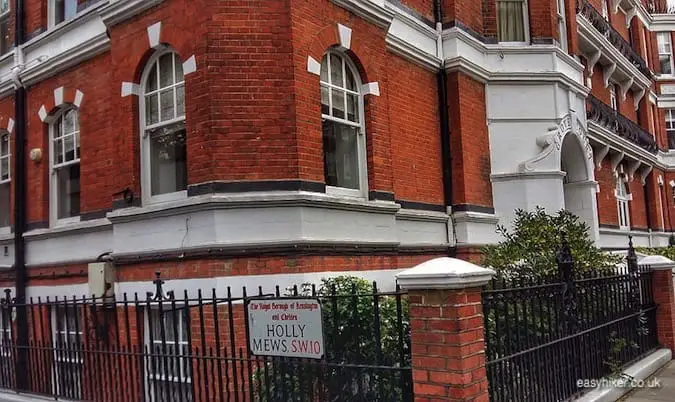 It was here, at his mother's relatively modest basement flat, where Kim Philby held a famous press-conference-cum-party in 1955, having been officially cleared of being a Soviet spy. A TV interviewer asks him: are you the third man? (The count only went up to five later, after Anthony Blunt and John Cairncross had also been uncovered.) To which Philby coolly replies: no, I am not. (The interview is a fascinating bit of history, and you can watch it here.)
Philby had a steely, almost brazen courage, which served him well in his two parallel careers as a British intelligence officer and a traitor. Many people who knew him personally remember him as a most charming and charismatic character. Having said that, Philby was also the one member of the Cambridge Five who caused serious damage, having provided the KGB with the names of dozens, perhaps hundreds of British agents, most of whom were consequently imprisoned, tortured and killed.
The internal interrogation may have found that there was not enough evidence for sending Philby to trial, but the verdict was one of "unproven" and not of "innocent". There was simply no way that Philby would ever get a position again from where he could do any kind of damage. When, in 1961, the final proof of Philby's treason arrived (following the defection of a Russian CIA spy), he managed to slip through the Iron Curtain just before his former colleagues could arrest him – perhaps because they let him escape, it has been surmised – and died in Moscow in 1988.
This is where the story of the Cambridge Five – and the London spy walk – come to an end, but since we are so close to the London frontline of the Cold War battle field, we might as well visit some sites with a jollier connection to the world of shadows: West London, after all, was not only the home of many UK spy agencies and Eastern European embassies, it was also full of "dead letter drops" that were used by spies – in the days before electronic transmissions – to provide their handlers with stolen documents.
Defections, lest we forget, are a two-way business: both sides can play this game, and when KGB Colonel Alex Gordievsky escaped to the West in 1985, he provided his new friends with a lot of technical detail concerning the actual business of spying.
So how did the KGB's London Office – headed by Gordievsky from 1982 to 1985 – receive its "hot stuff"? The most commonly used "dead drop" was Brompton Oratory on Brompton Road in Knightsbridge, …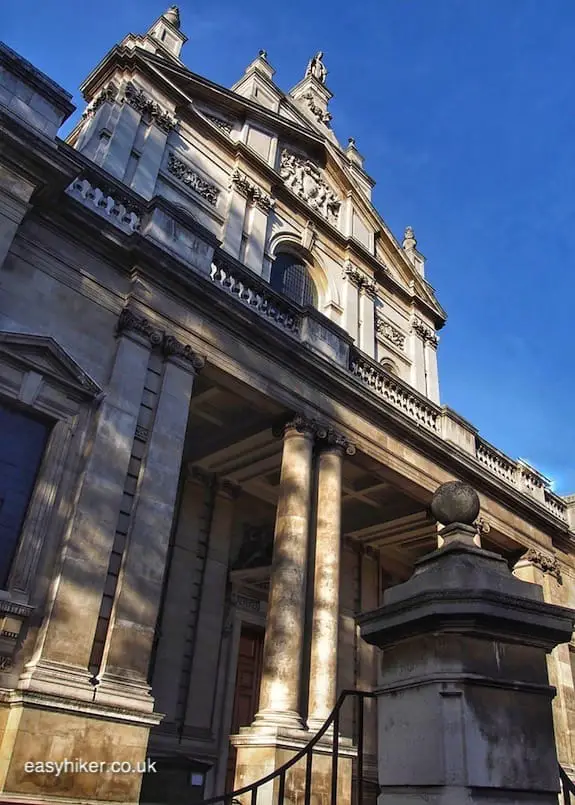 … or more precisely, the space behind a marble pillar on the right of the front door.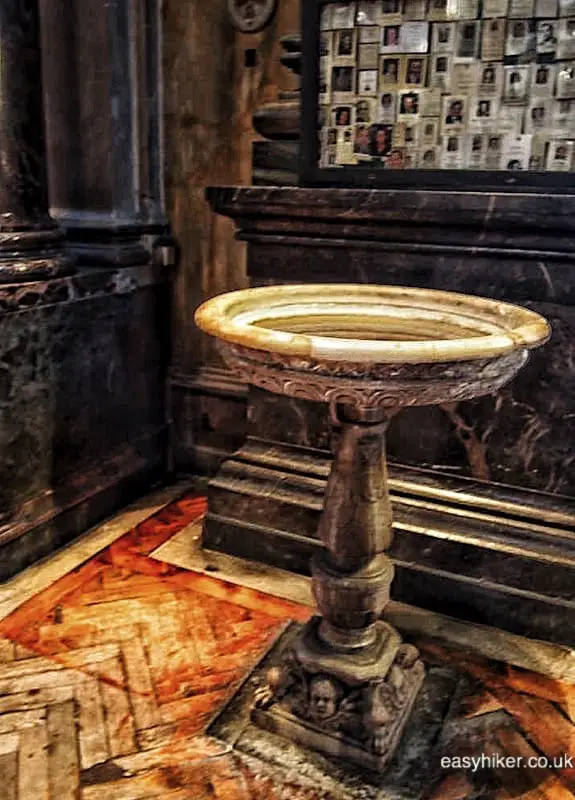 This was a popular place for two reasons: for one because it was close to the Russian Embassy (on Kensington Place Gardens), and for another because it was close to Harrods department store. If anybody felt they were being followed, they could head for the department store which has many exits and flights of stairs and is perfect for losing a tail.
Another dead drop was located in the old graveyard of Holy Trinity Church just behind Brompton Oratory. The drop is said to have been located behind a statue of St Francis of Assisi. The statue appears to be no longer there, but one can see what the KGB must have liked about the place: it's central, but tranquil – you will have it to yourself on practically any time of day.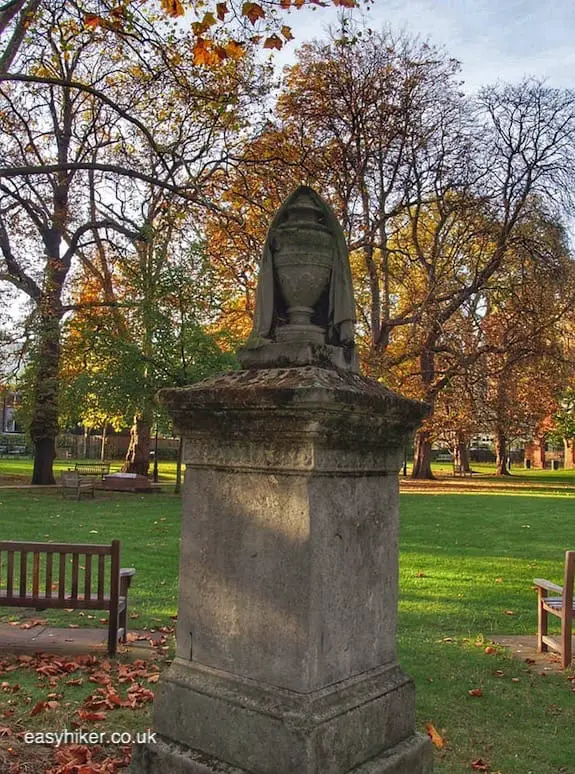 But how would the spy's KGB contact know that he had to visit the dead drop? There were several ways of alerting him. The spy could send a letter to a cover address, working an agreed "alert code word" into an otherwise innocuous text. But if agents wanted to leave absolutely no paper trail at all, they generally worked with a system of chalk marks, which had to be conspicuous enough to be spotted while passing by but also sufficiently inconspicuous so that they would look to third parties as though they had been left there purely "by chance".
One agreed place for such a message was the lamp post in Audley Square, Mayfair. The spy, eager to dispose of some top secret documents that he had just copied or photographed, would leave a blue chalk mark below the golden rim.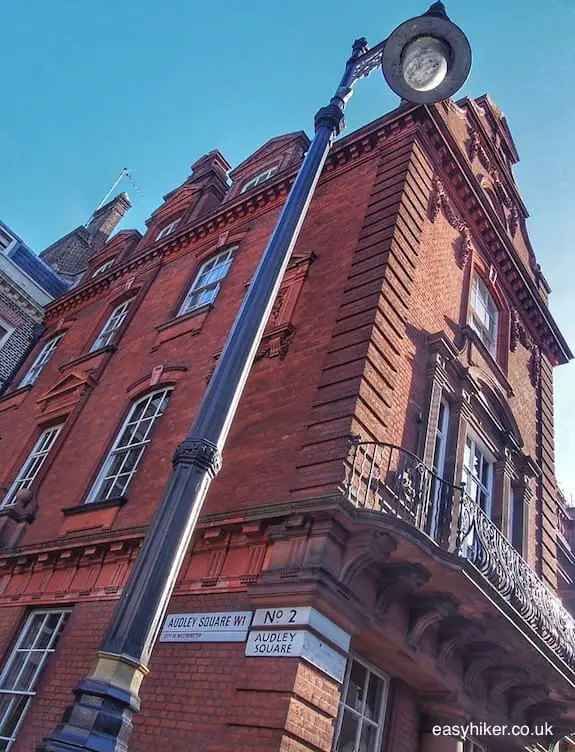 The KGB contact, having spotted the mark, would then go to St George's Gardens around the corner, incidentally one of the loveliest gardens anywhere in central London, …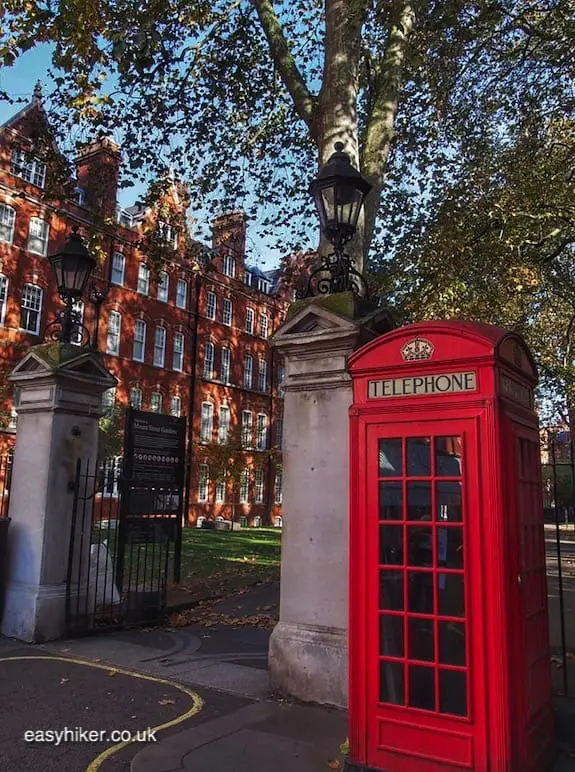 …and head for a specific bench, the one nearest to the camera in this picture…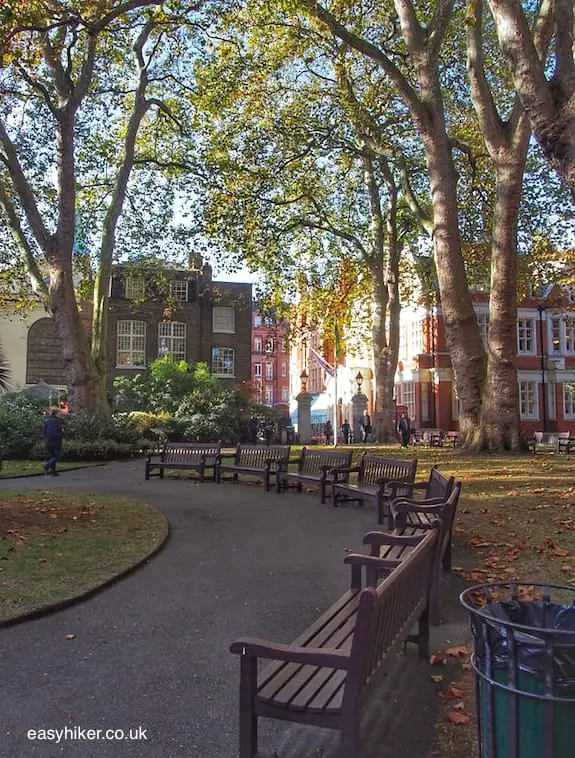 … leaving a chalk mark of his own on the rear of the top slat in the horizontal back rest (later, they used thumbtacks under the seat when that had proved unreliable). This would inform the spy that the contact had received the message and would now expect delivery at the agreed dead drop
After all this excitement, you may feel in need of sustenance, so we conclude our day in the "London World of Shadows" at the venerable Cafe Daquise just around the corner from South Kensington station, a famous agents' haunt since the 1940s.
The Cafe Daquise doubles up as London's foremost Polish restaurant, having served as the unofficial HQ of the Polish resistance in WWII, but it has always been a place beloved by both Russian diplomats and "diplomats". Polish and Russian food, after all, are fairly similar, and the Daquise happens to be in walking distance to the Russian Embassy.
Incidentally, this is also where Yevgeny Ivanov – the KBG's "rezident" at the Russian embassy – frequently dined with Christine Keeler in the 1960s, at a period when she was also the lover of the UK's Secretary of State for War. Those were the days! The Daquise, at least, has not changed much since then.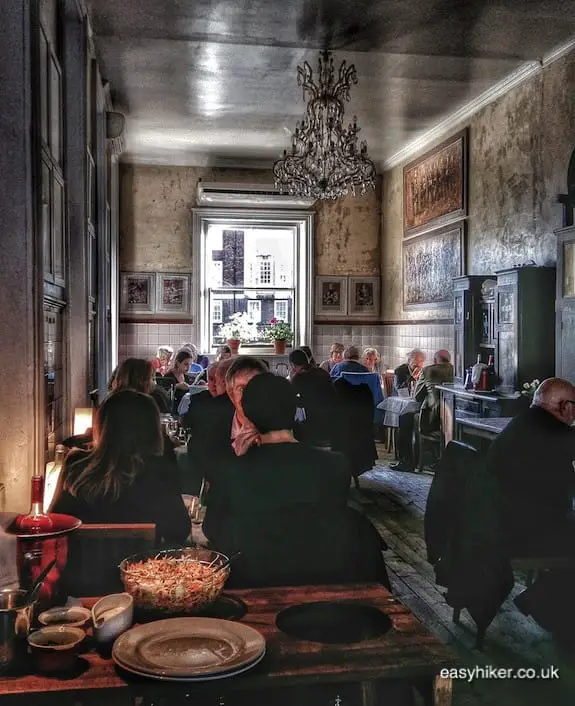 We hope you enjoyed our London spy walk in pursuit of the Cambridge Five. Don't miss our next themed walks by subscribing to our free updates via email. You can also follow us on Facebook and Twitter. Why not include us in your G+ circles too?