#LoveMILOS
Subsequent volcanic eruptions have turned the island's north coast into a freak show of geological curiosities
I already told you that most people in Milos believe their local administration and tourism board are not making enough of the fact that the Venus of Milo, possibly the world's most famous "classical" statue, was found on their island.
Here is what I believe is under-promoted about Milos: the island's stunning geological diversity.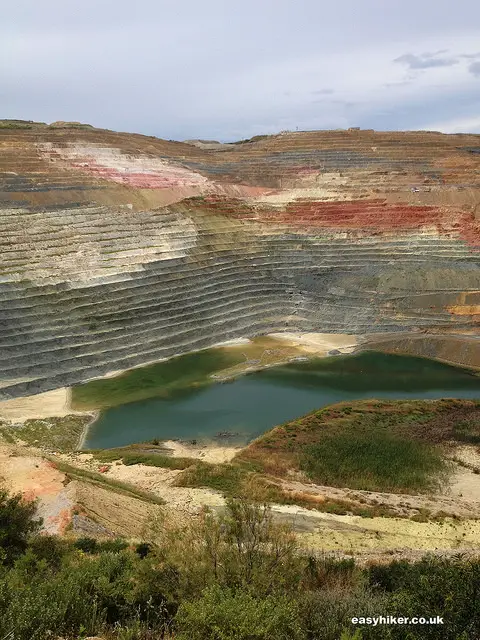 Unlike most of the other islands in the Cyclades archipelago, Milos is of volcanic origin and full of spectacular landscapes and rock formations that could have been lifted straight from drug-induced hallucinations or a 1970s rock album cover (practically the same thing, come to think of it). Almost everywhere on the island, you can encounter amazingly shaped cliffs, bizarre protrusions, and strangely twisted slabs that sometimes look like a bunny rabbit …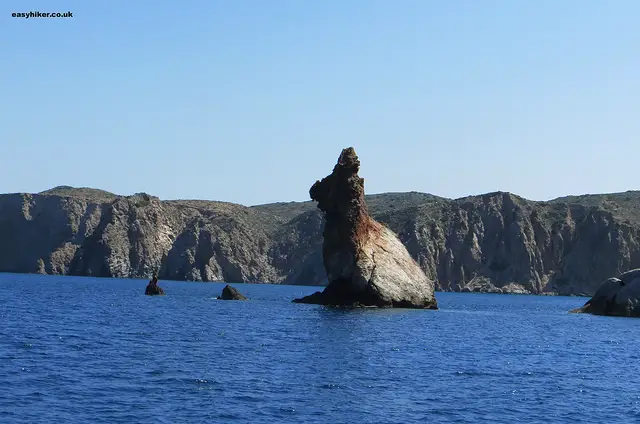 … and sometimes like an angry bear (well, with a certain degree of imagination at least).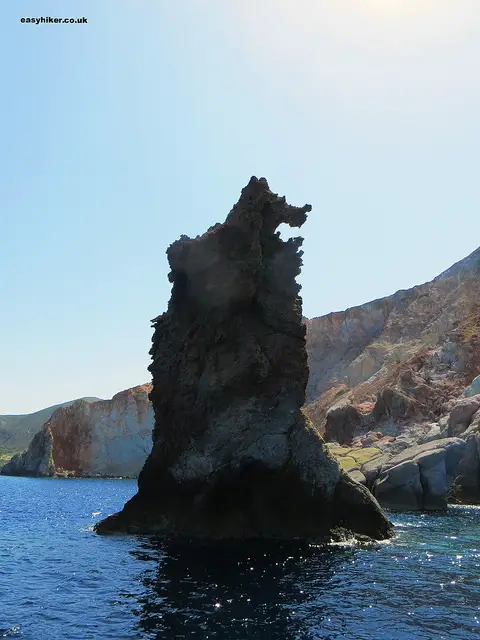 It is a pity, however, that you can reach some of them only by boat, such as Kleftiko Bay …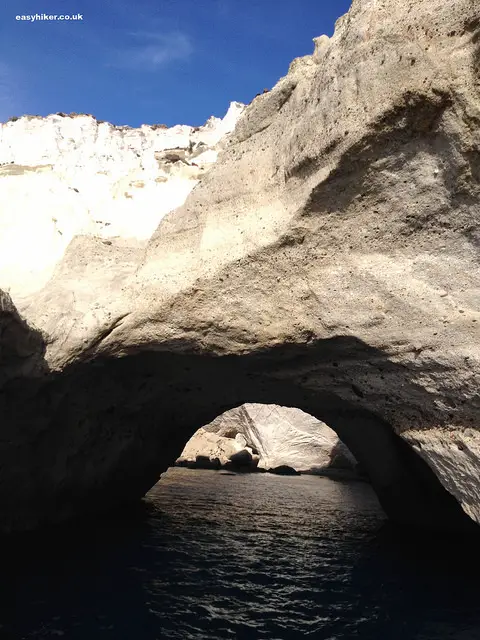 … and the uninhabited near-by island of Peliegos. (Certainly one reason why you might want to buy a ticket for a boat excursion around the island. There are many companies which offer such excursions, but not all such excursions include the trip to Peliegos. You cannot go on land, but most boats will allow you to take a brief swim.)
One area that can be very definitely reached on land – and explored on foot – is the lunar landscape of Sarakiniko on the island's northern coast.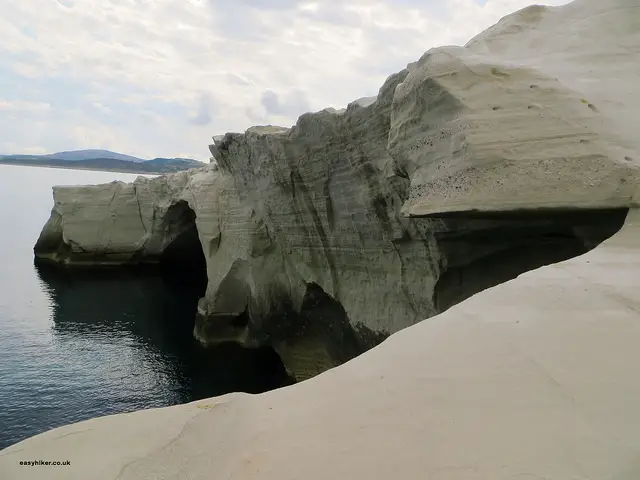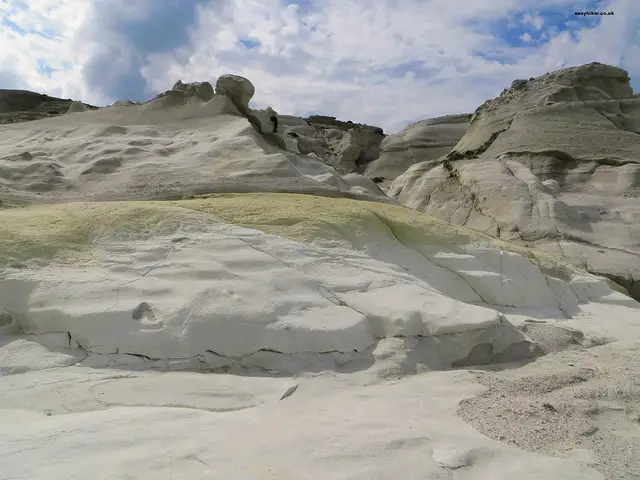 The Sarakiniko trail – with a length of 4.5 km the shortest of the Miloterranean Geo Walks – goes from the nature park's main parking lot to the seaside village of Agios Konstantinos, both of which can be reached by bus. The path is not always marked but impossible to miss: just make sure that the coast is always on your left hand side.
Most of what you will see along the way is the result of one or successive volcanic eruptions …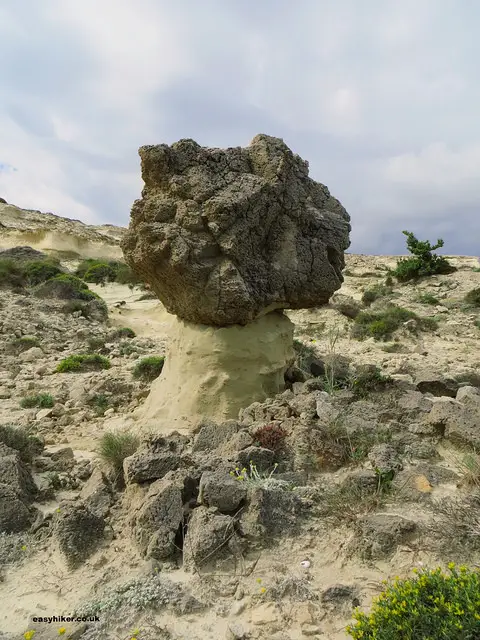 … and if you are lucky, you can (apparently) still find fossilized animals that were caught out by the suddenness of it all, tens of thousands of years ago. (We had no such luck.)
More recently, the waters around Sarakiniko were used as a pirates' hideout, and coincidentally, just when we were hiking the area, one such "pirate boat" appeared to be mooring in front of the coast …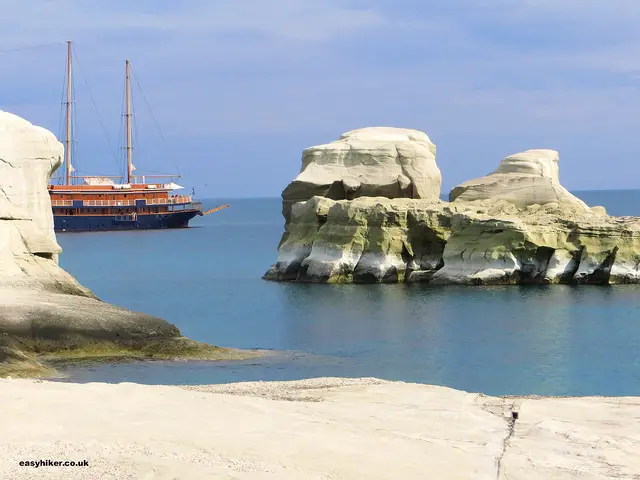 … although we did not see them come ashore to bury any treasures. (They did take a swim, however.) The waters in front of the coast are deep, allowing buccaneers as well as pleasure boats to come close, but you must know what you are doing: the captain of this cargo boat apparently did not, and she never made it out of Sarakiniko's not-always-so-deep waters. (The boat ran aground sometime in the 1980s.)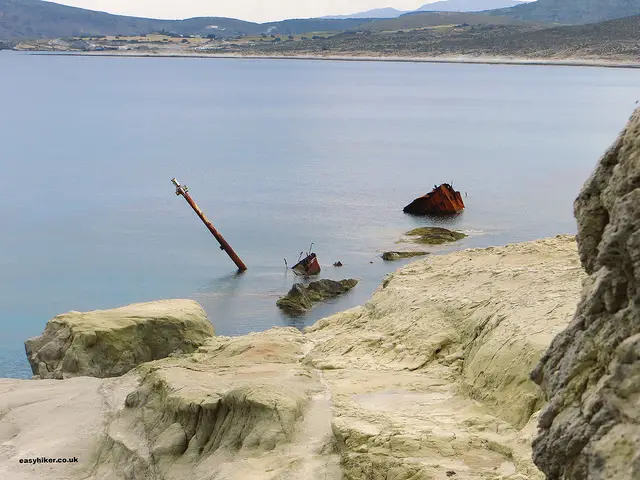 We already knew that Milos is a small island, counting barely 5000 permanent residents, but quite how small it actually is was illustrated to us when we found an illegally parked car near the end of our hike – illegally parked, that was, in the view of our guide Gina, a sweet but also very energetic lady with high standards of good citizenship and civic duty, who promptly proceeded to rifle through the documents in the inside of the, naturally unlocked, car in order to establish the identity of the driver. So she could give him a piece of her mind later in the day, presumably.
But then, out of nowhere, the driver suddenly materialized and stood in front of us – and what could have been an awkward moment (after all, from his point of view, there was this group of people who appeared to have broken into his car), was amiably resolved when he turned out to be the owner of the restaurant to which we had been booked the very same evening.
His restaurant, called To Petrino, is another on the list of our recommendations for good eats on Milos. It serves traditional Greek food in modern surroundings, and, non-smokers will be grateful, is one of the few establishments on the islands where you are not allowed to light up inside.
Now, Mrs. Easy Hiker likes her pitarakia (traditional Milos small cheese pies) and, having tried them in other places, she swears that To Petrino serves the best.
And finally, one last tip because this is our final post on Milos.
If you are looking for an original souvenir that proves beyond any doubt that you have visited Milos, look further than to a miniaturized reproduction of the island's most famous citizen or some such atrocity …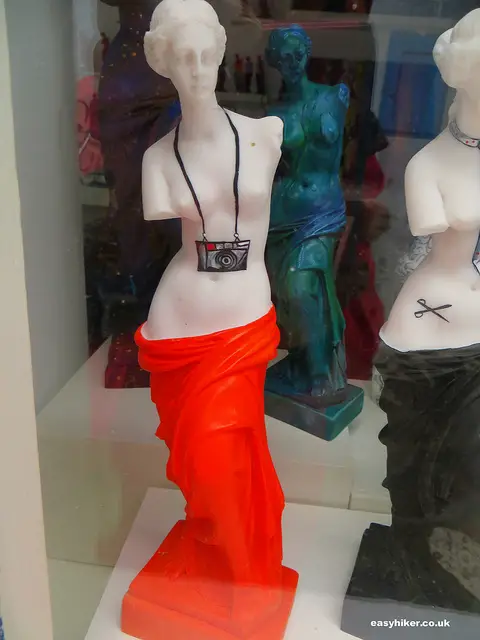 … and walk straight to the Paradosiaka Edesmata patisserie near Adamas harbour that sells the local specialty of Koufetto, (candied white pumpkin with honey and almonds), which is traditionally served at weddings or given as a gift to the bride and groom "so that the life of the couple will be sweet and prosperous".
But we are happy to report that the Koufetto is also quite nice if you have been married for decades (and probably when you are single, too), particularly so with a tub of fresh Greek yoghurt.
We particularly like to thank the warm hospitality of Hotel Aeolis, the very comfortable and centrally located hotel that accommodated us during our stay on the island of Milos. We hope you liked our series of posts about the Greek Cycladic islands (Ios, Paros and Milos) that we've recently visited as guests of each island's municipality. 
Do follow us on our search for holiday destinations where you can indulge your love of hiking and walking. Get our free updates via email or follow us on Facebook and on Twitter.