A coastal walk that produced a few stressful moments – and a stress-free shopping experience
This is the story of two firsts.
The first "first" first: never before had we organized a Monaco to Mala Beach hike for a group that was larger than our own little family. But this time, the invitation to take part in the 5 km walk from Monaco to Mala Beach had been extended to all members from our regular meeting group of ex-pats and English speakers on either side of the Franco-Italian border.
For Mrs. Easy Hiker and myself, the whole experience was a little like organizing a children's birthday party: you never know how many people will come, and the "big fear", of course, is that, on the day, you will stand there all alone with your foodstuff and plans for the afternoon. Where IS everybody?
In the end, we need not have feared since 6 fellow hikers turned up,  a perfect number as it turned out, big enough for everybody to meet new friends while at the same time still a single group and not a collection of small clubs.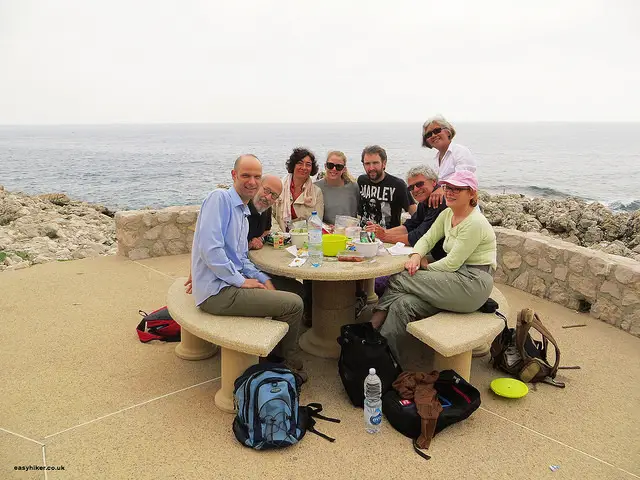 We had selected a particularly easy walk for our premiere, the shortest and least taxing one we had ever done in our area, and one that we knew would provide good opportunities for a picnic – in many ways the highlight of the exercise, of course.
Bearing in mind that we had come this way only a few months ago, Mrs. Easy Hiker and I did not expect to discover anything new along the trail, but in the end we still found something of a surprise: Mala Beach, more than a little scruffy on our last visit (in mid-winter), an ugly duckling of the French Riviera, had morphed into a beautiful swan.
And not only were there more people than the last time (when we had met an old couple and a tramp with his two dogs), they were also far more beautiful people: most of them young, well-dressed and seemingly affluent. For much of our time on the beach, we were speculating which guests of the two expensive-looking restaurants had come over on the small yacht that was moored in the waters of Mala Bay.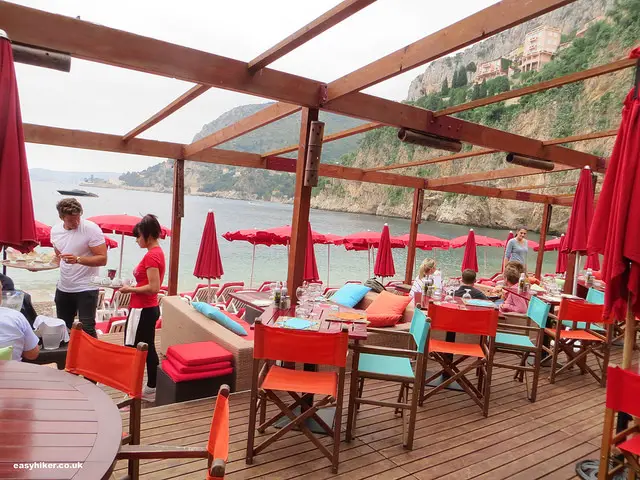 Our new footwear
The second premiere of the day starred our new footwear, both Mrs. Easy Hiker's and mine.
I had really loved my old trusty pair of boots, to the point where I had hardly worn anything else on our hikes for the past two years, but even through the eyes of love, they had become increasingly scratched, battered and tattered. So I gladly accepted the offer of Blackleaf.com to provide me with a brand-new pair of Caterpillar Colorados to try, while Mrs. Easy Hiker chose something she thought would be the right hiking wear for summer and which would also not look too "butch", i.e. something comfy but still feminine-looking, a pair of pink Teva sandals.
I am happy to report that the Caterpillar boots are as comfortable as my old ones and will certainly be worn on all our hikes till they, too, become battered and tattered.
As for Mrs. Easy Hiker, she was so happy with the pair of Teva Hurricanes that she kept them on from the day it arrived and days after. "My feet feel cradled when walking in them. They are so comfortable!" she said. (She really did – I could never make that sort of thing up), and is looking forward to using them on easy hikes as well as for shopping trips to town.
One tip for the online purchase of hiking boots: I order them one continental size bigger (half a size in the US and the UK), to create room for thick socks, or, simply, so your feet can wiggle around a bit. Don't worry: your feet won't slip out because of the boots' ankle support. This is purely based on my own experience – and one that was entirely the product of chance.
Some time ago, we ordered a pair of boots online, but the company was unable to provide me with my first choice of boots in the right size and asked whether one size bigger was also okay. I gave the larger boots a try – and this worked out so well that ever since I have bought ankle-high hiking boots in the "right size". I don't know if this would work for everyone, but it certainly worked for me.
Our shopping experience with Blackleaf.com could not have been any better. They certainly got the organization of their sales department nailed down to a T: theirs was the speediest delivery of any online company that we ever tried (including Amazon).
When we inquired about the availability of a certain model, they were very professional and helpful, quickly offering alternatives when our original idea had proved to be unfeasible. You could not expect more from a high street shop, to be honest.
When all online shops start to offer this level of service, our high streets will soon look like Mala Beach in winter.
(Disclosure: The boots and sandals were supplied for review by Blackleaf.Com.)