This week, the latest edition of the Skulptur Projekte will be opening in the northwestern German city of Münster. This open-air art exhibition is staged once every ten years and scheduled to coincide with that year's documenta, the world's foremost showcase of modern art. The Skulptur Projekte is narrower in focus than the documenta (which is held every five years in Kassel, approx. 200 km to the east) but in its smaller niche – modern sculpture in public spaces – just as important and influential as its "big sister".
We will take a walk around Münster's new exhibition later this summer, but for today, we shall concentrate on its off-shoot, the "Hot Wire" series of sculptures, installations and performances which has started one week before the central event in the town of Marl, approx. 60 km to the south.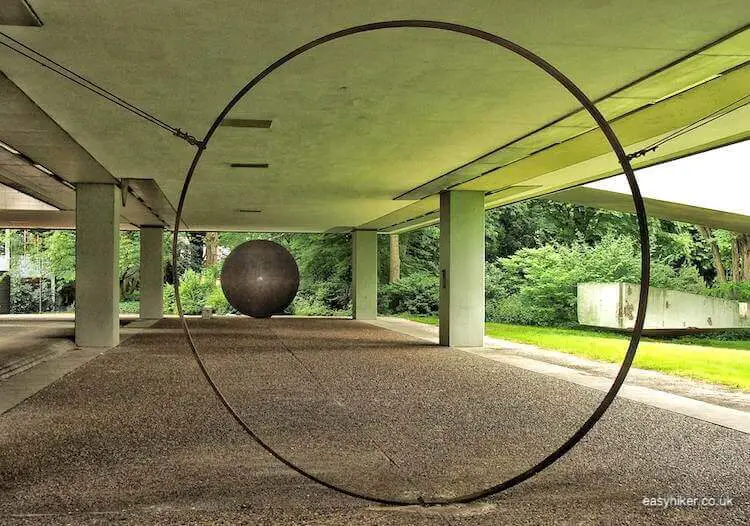 In many ways, Münster and Marl, although near neighbours, are towns on opposite ends of the spectrum: Münster is over 1000 years old and has a rich storied background, while the town centre of Marl was only built in the 1960s; Münster is a Cathedral city with a large university, Marl is an industrial town that was essentially laid out around a chemical factory; Münster is shiny, booming and wealthy, Marl by comparison looks scruffy, battered and tired.
Despite all their differences, however, both cities do share one specific trait: a tradition of public sculpture, Münster as the host city for the Skulptur Projekte since 1977, Marl as a town that has always understood its lack of a historical background as an opportunity for opening itself up to modernist urban architecture and "street art".
How Marl Masters Modern Sculpture in Public Spaces
The art in the streets of Marl – featuring many works by internationally renowned artists – has always been integrated not only into the townscape but also, as much as possible, into the daily lives of its inhabitants, providing places for contemplation in the park …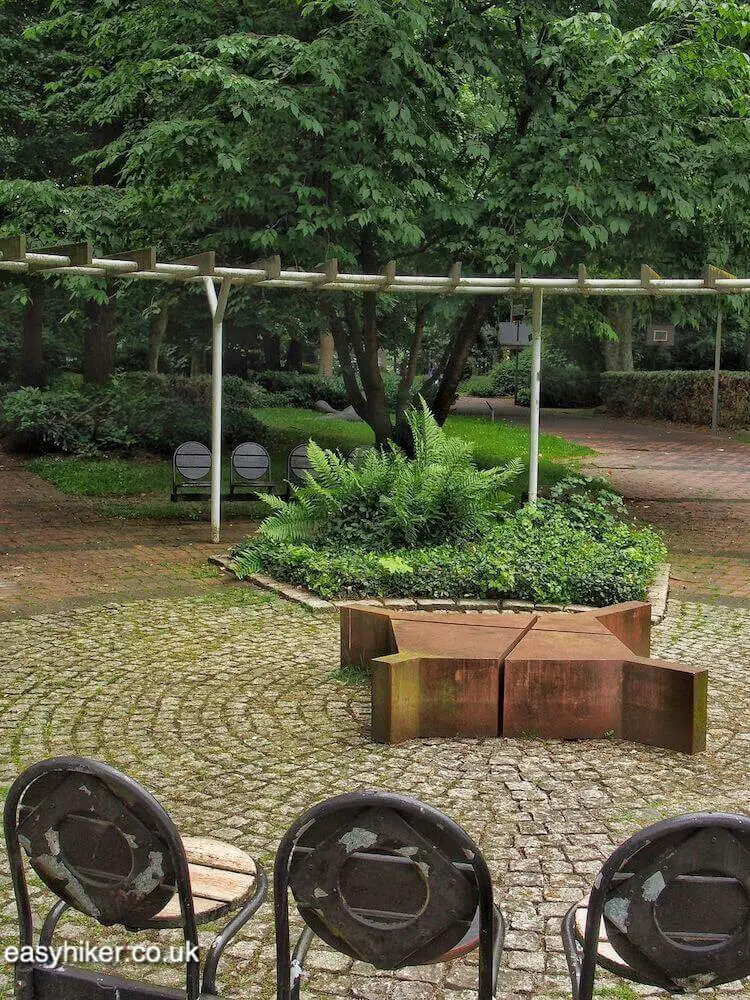 … and seating areas near the town lake …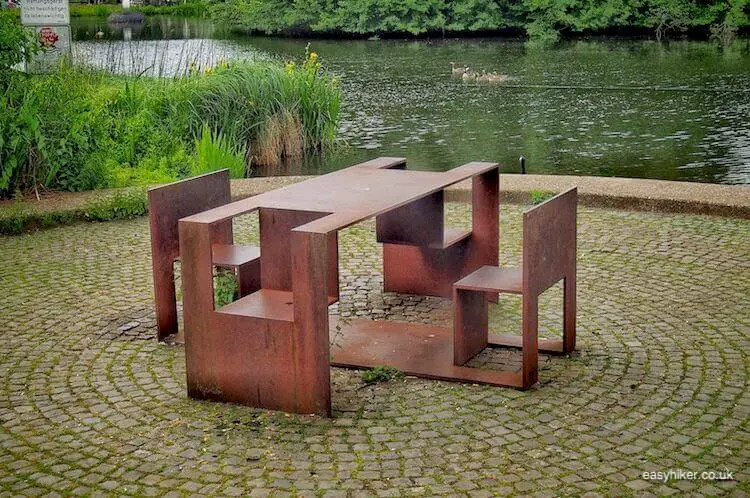 … while some, we were told, are even robust enough to serve as play equipment for small children.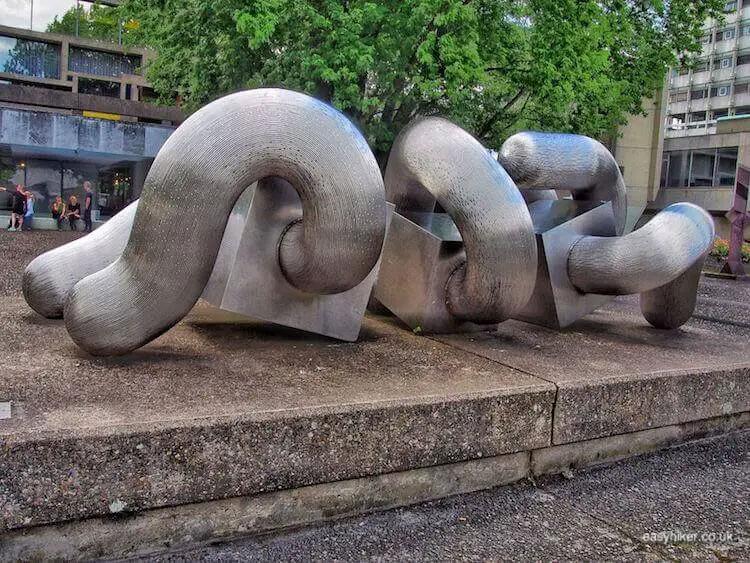 Most of the art pieces are arranged around the Town Hall and the adjacent lake, so you can see a lot within a short 60 to 90 minute walk.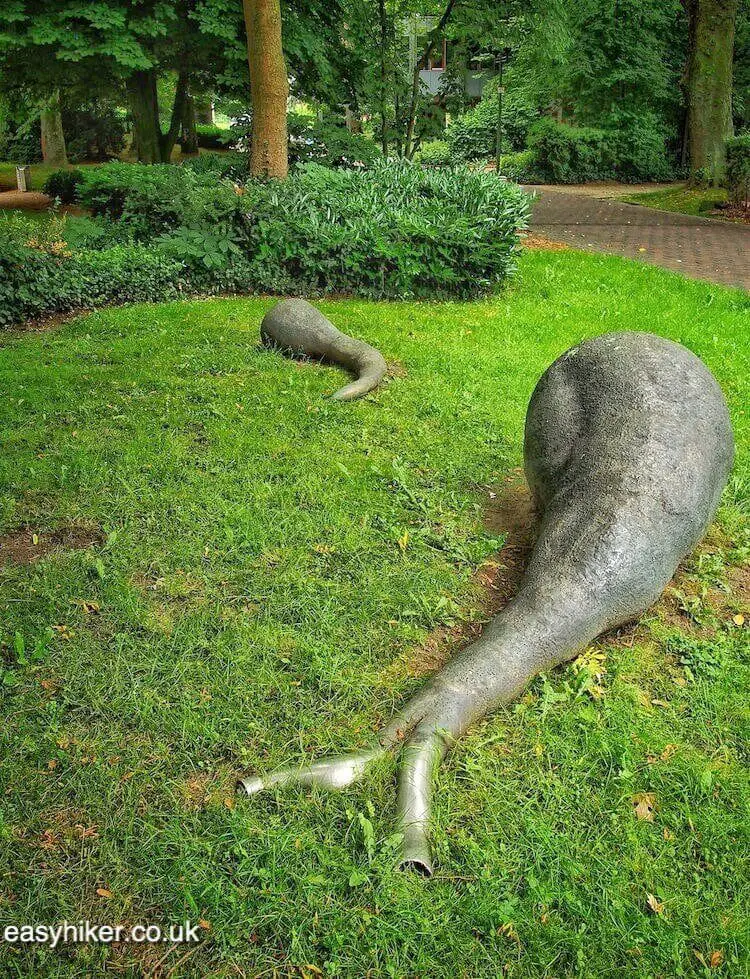 Start in the back of the Town Hall, where Igael Tumarkin has arranged stone columns – that were originally meant for the construction of an (eventually abandoned) extension to the Town Hall – to form a modern astrological clock (the columns were erected to record the summer and winter solstices), in clear reference to the ancient monument of Stonehenge.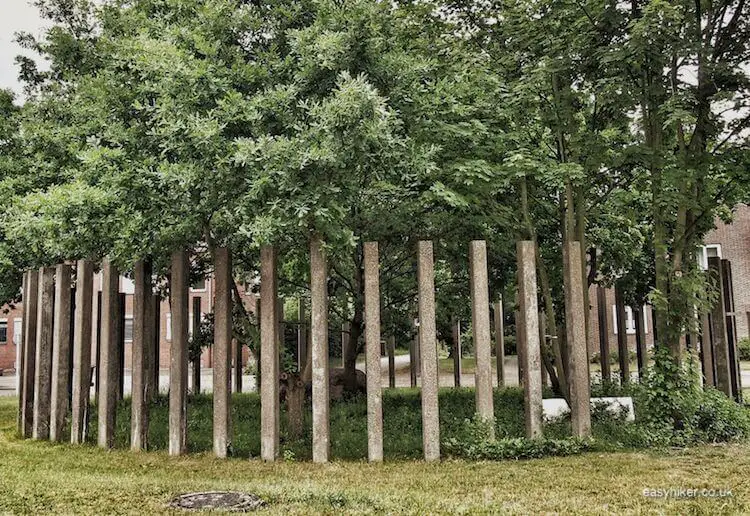 Walk around the Town Hall on the right hand side along Eduard-Weitsch-Weg, passing "Inside Outside Beside", James Reineking's reflection on the nature of concentricity, …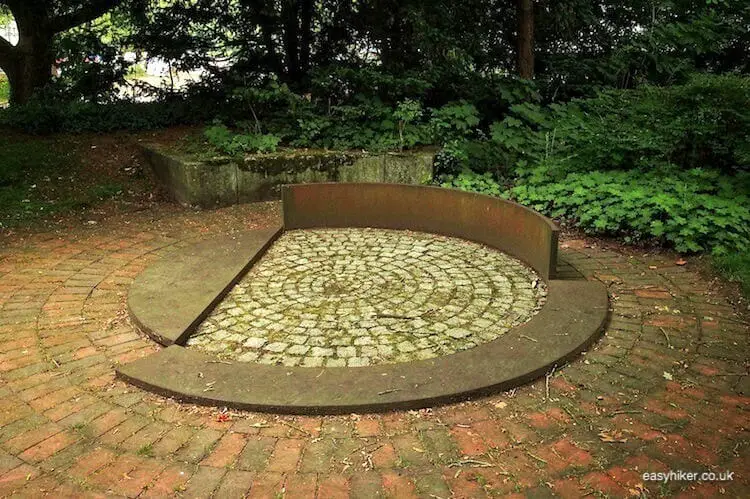 … and the local museum called the "Glass Box" (also worth a visit, if you have the time) …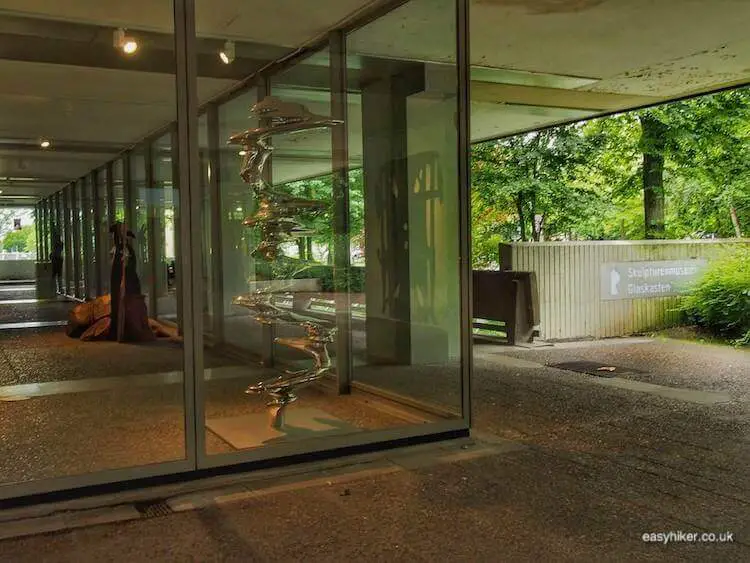 … to the large piazza in front of the Town Hall where you can find a wide variety of interesting sculptures, including these disturbingly unbalanced steel blocks by Richard Serra …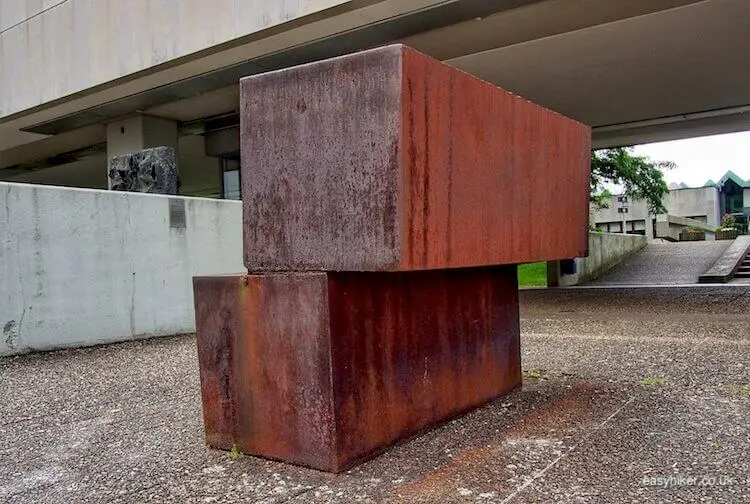 … and this call for "Non Violence" by the Swedish sculptor Carl Fredrik Reuterswärd ("CFR").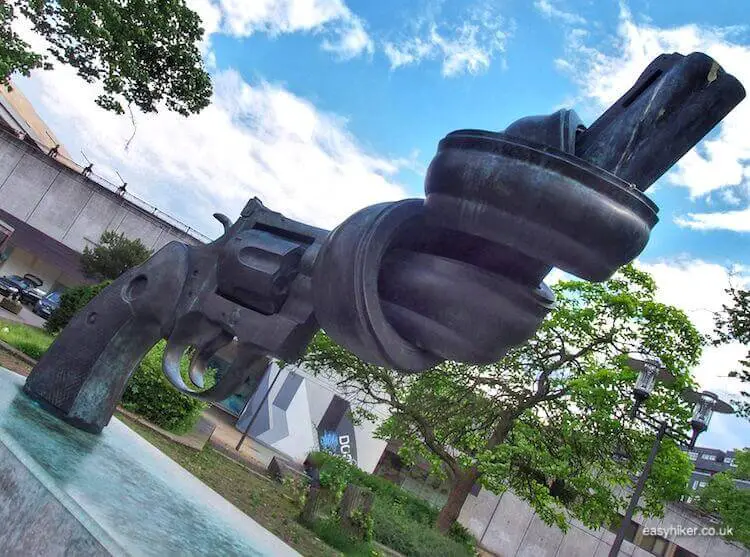 Walk around freely – there is a lot to discover – before starting a walk around the surprisingly pretty lake.
Proceeding counterclockwise, you can find this lovely "Reposing Leaf" by Hans Arp …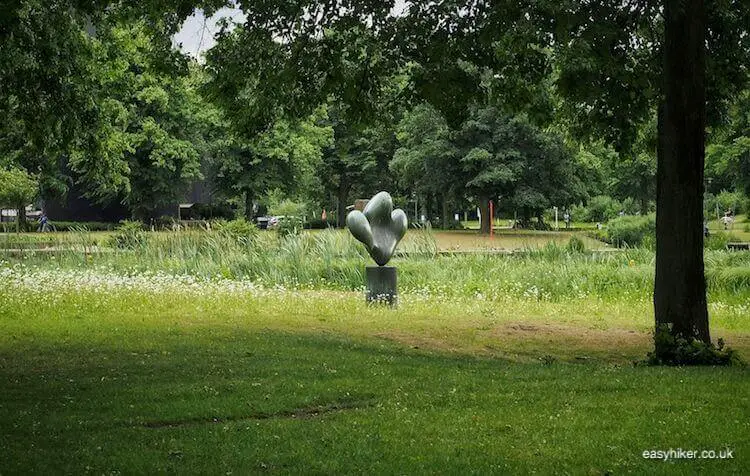 … a sound installation by Alexander Rüdiger Titz (designed to reflect not only the visual but also the aural environment of the lake) …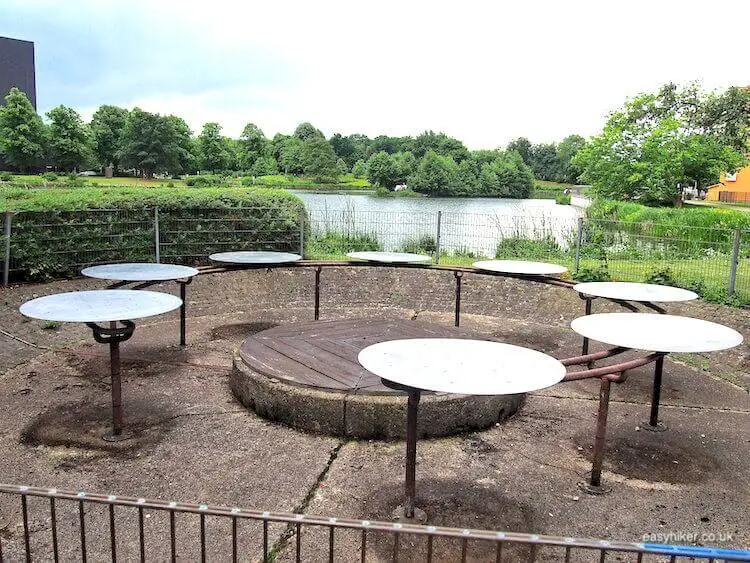 … a metamorphosing Orpheus by Ossip Zadkine …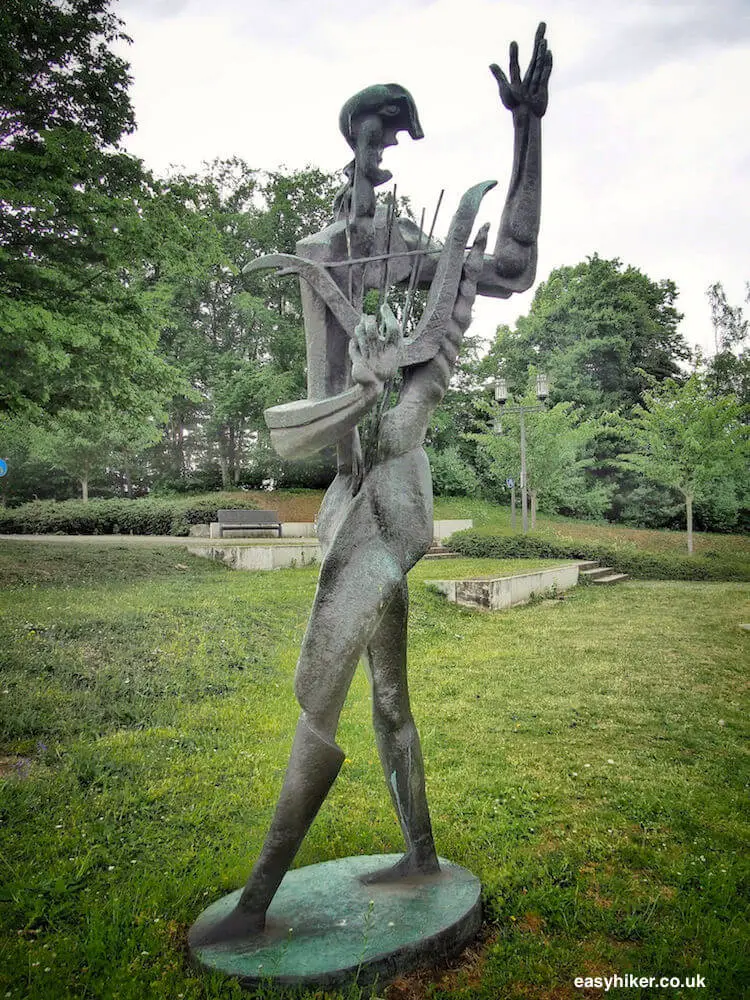 … Carl Bucher's floating pillow …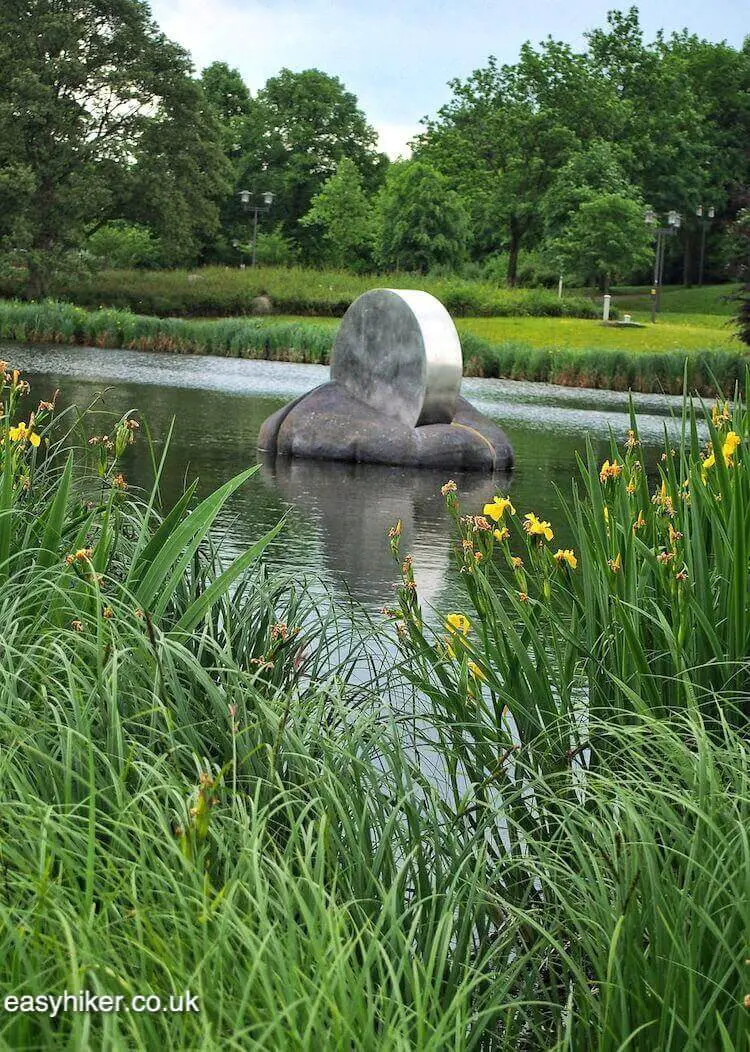 … a couple of Burgundy cows (which are only on show during the summer months) …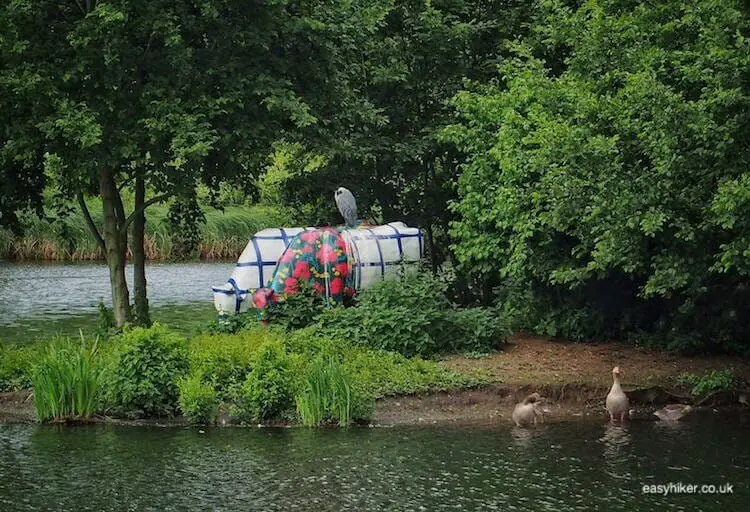 … and much, much more.
All of these works are part of Marl's "permanent collection", but until 1 October 2017, there are also some exhibits on show that are part of a joint venture with the Skulptur Projekte. These include Lara Favaretto's "Momentary Monument", a pendant to which will be put on show in Münster …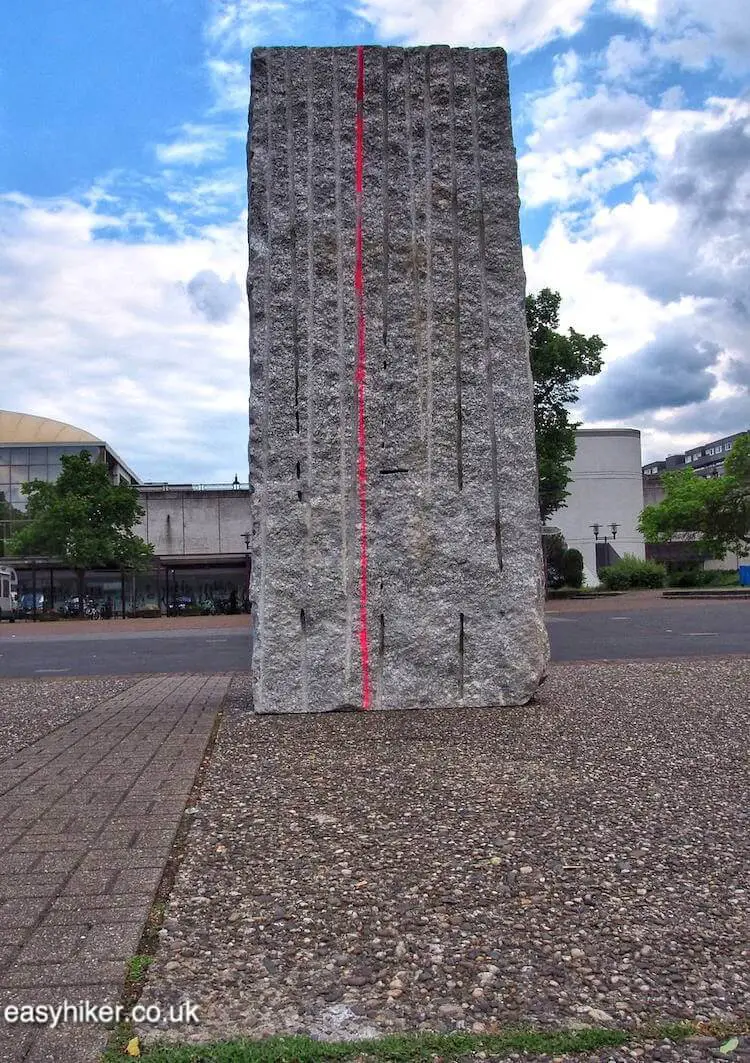 … and the "revival" of Reiner Ruthenbeck's performance "Two Horses" (originally shown at Münster in 1997) where one white and one black horse circulate the town centre on the same route but in opposite directions.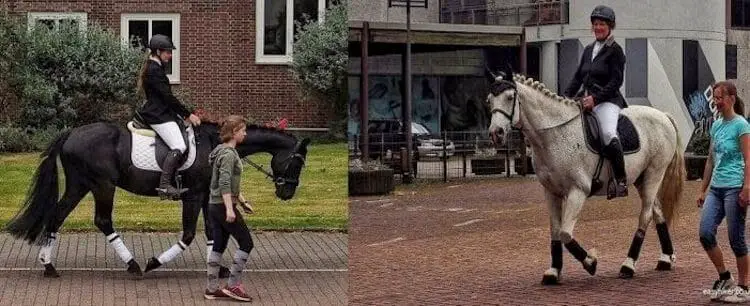 This performance is staged on Sundays only, but Marl's collection of public sculptures will make your trip worth your while on any other day of the week as well.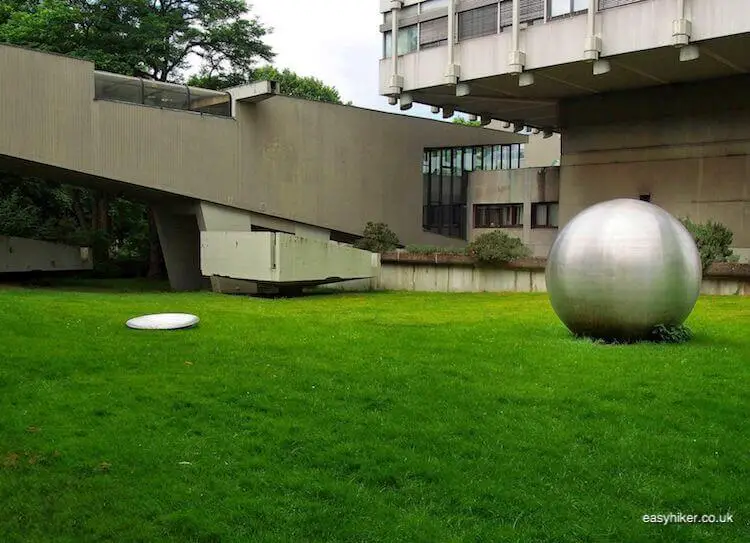 Go feast on art in Marl, master of modern sculpture in public spaces!