Themed Walk in London
Many of the city's restless souls have chosen to reside in the tomb-like tunnels of the underground railway
The most popular Themed London Walks deal with one of the following: Jack the Ripper (been there), pop music (done that), and ghosts – more of which soon.
But please don't be impatient: you will meet them soon enough. Some of these restless spirits have been haunting the capital's streets, pubs and theatres for hundreds of years – so what's in a few weeks?
As a "seasonal teaser", I will today introduce you to a particular sub-species of London ghosts: to those spirits who have chosen to reside in the most tomb-like part of the city, the modern-day catacombs which are never kissed by sunlight and where the lost souls of the undead of London mingle with the lost souls of the living.
Welcome to the scariest place in town – the London Underground system.
Here is a small selection of stations where you are specifically likely to meet the undead – at Halloween or, indeed, at any other time of the year.
Covent Garden
William Terris was a well-known actor when he was stabbed to death in 1897 by a less successful rival in front of the Adelphi Theatre. Terriss died on the spot, in the arms of his mistress, whispering "I will be back" – since when he has fulfilled his promise many times, in various theatres across the West End, but also, for reasons that have never been totally explained, in Covent Garden tube station.
Throughout the years, late night viewings of a gentleman in late Victorian garb, strolling from the platforms into the tunnels …
… or shuffling up and down the ancient staircase …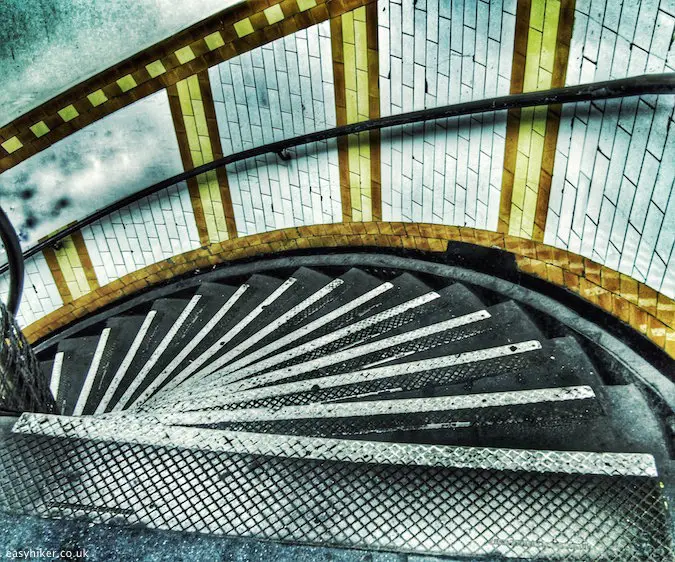 … have terrified travellers and tube staff alike. So if you stand on the platform of Covent Garden station and a gentleman in an elegant, but somewhat unfashionable attire asks you for the shortest way to one of the West End theatres … be afraid, be very afraid.
Bank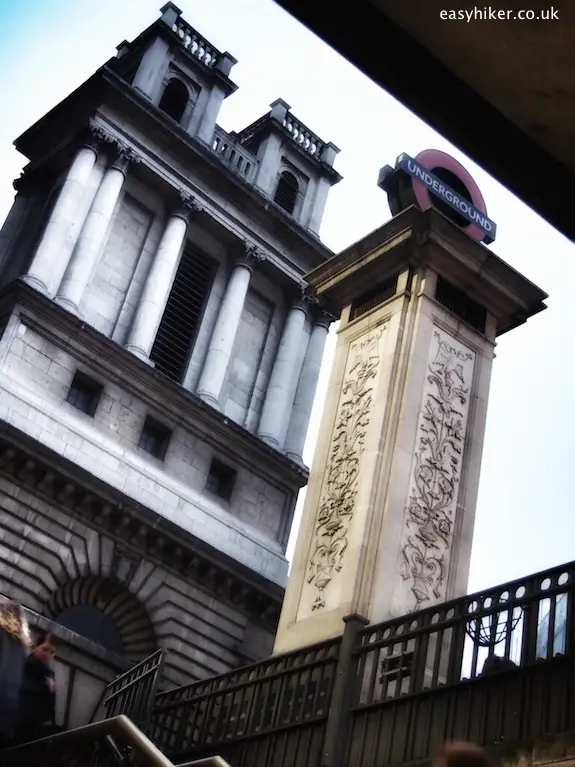 From the waist up, London is a new city. Fires (both Great and not-so-Great) as well as a long series of building booms have done a thorough job: little of what you see in town today is older than 100 years.
Go underground, however, and you will find a different world: here, layers and layers of history are piled upon one another, going back to pagan times, and wherever you start digging, it is only a question of time before you find traces of former life – and death.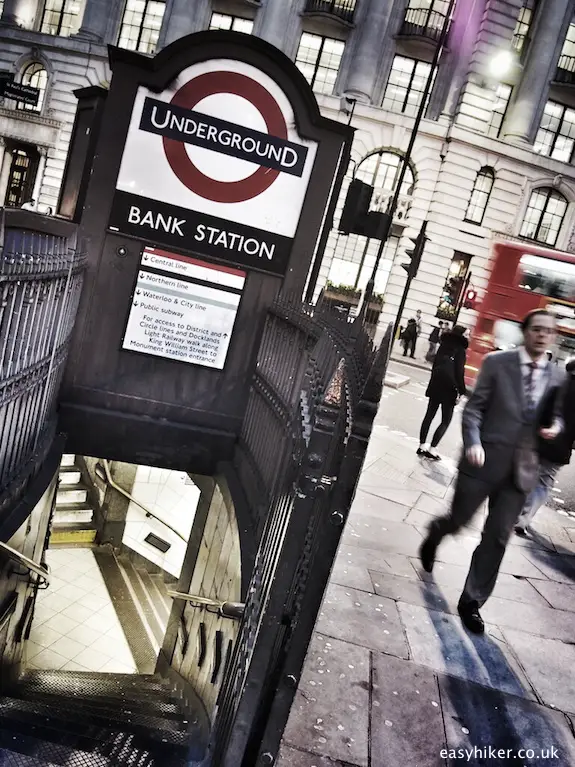 This is particularly true in the City, the oldest part of London, where much of the underground rail system has been ploughed through resting places of the dead: Celtic graveyards and Christian cemeteries, but also plague pits – which were left uncharted at the time and which have, ever since, posed a particular problem for underground railway engineers. As well as for passengers who can sometimes hear the restless dead as they wail and scream in their eternal pain.
The Northern Line ticket hall at Bank is a special case because it was built right in the crypt of the church of St Mary Woolnoth. Escalators have been switched on late at night, doors are opened and shut, footsteps can be heard from empty corridors.
One restless spirit is that of Rebecca Griffiths, buried here in the late 18th century with her fists tightly shut around her favourite piece of jewelry, a ring that had been given to her by a wealthy lover. After her death, one of the gravediggers broke her lifeless fingers to steal Rebecca's treasure – and it is said that, ever since, her spirit has been searching for it.
British Museum
London Underground's most famous ghost, appropriately, is said to inhabit a "ghost station", one that no longer exists: this is the station formerly known as "British Museum", abandoned in the early 1930s when near-by Holborn was extended. (An office building now occupies the ground.)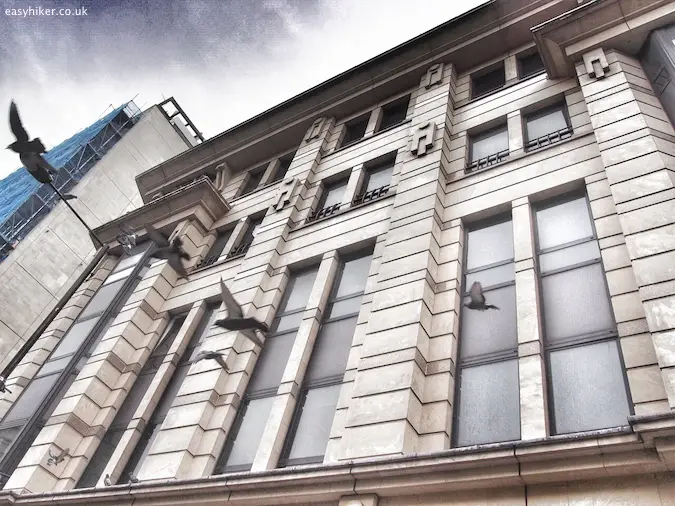 It is said that this ghost is an Egyptian princess, aka the "Unlucky Mummy" (also rumoured to have been responsible for the sinking of the Titanic), who regularly escapes from her home at the Egyptian room of the British Museum, somehow finding her way into the abandoned subway tunnels and mistaking them, perhaps, for the hallways inside her hometown pyramid.
And then, there is the story of "Bulldog Jack", a 1935 British crime caper, which weaves the legend of the mummy and the ghost into its convoluted plot. On the same night that the film was released, two women disappeared from the platform at near-by Holborn station , and scratch marks were later found on the walls of the abandoned British Museum platforms.
Paranormal event or PR stunt? You decide.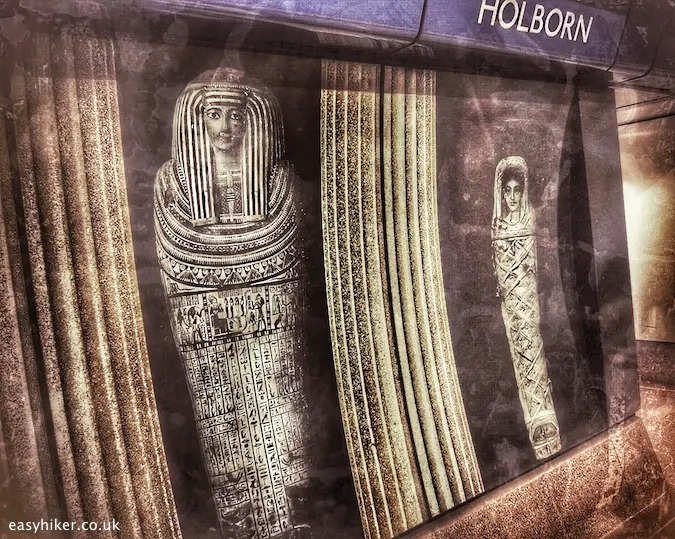 Farringdon
In 1758, the remains of a 13-year old trainee hat maker called Anne Naylor were found in an East London sewer. Little Anne had worked in Mayfair at the milliner's shop of Sarah Metyard and her daughter, and it was soon discovered that she had been tortured and nearly starved before her untimely end.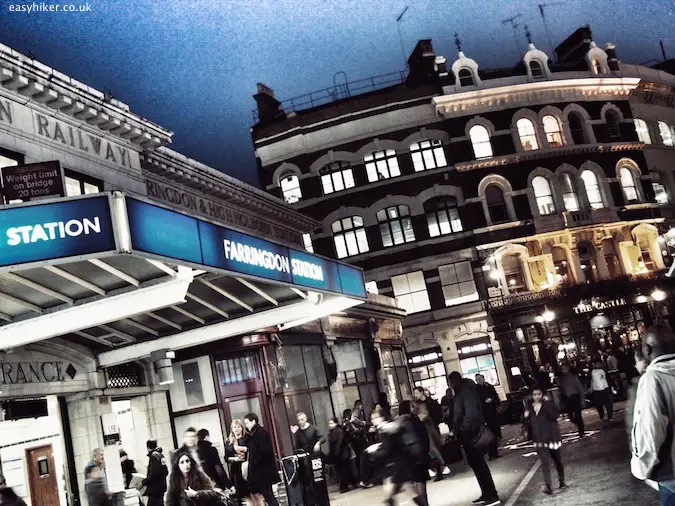 Apparently, the young trainee had fallen ill, and the owners of the shop, rather than trying to restore her health, decided to batter her to death. Initially, the Metyards had brought Anne's small body to the attic – and, when that became unfeasible because of the smell, attempted to burn her in the stove: which created even more of a stink.
So finally, they took what remained of little Anne and threw her into an open sewer – right above what would one day become Farringdon station. Where little Anne has, ever since, been heard (crying and sobbing) but not seen, as though she was still trying, in death, to annoy her cruel step-mother and step-sister. (They were both, incidentally, hanged for their crime.)
Bethnal Green
On 3 March 1943, 173 people died in Bethnal Green underground station: the largest number of British civilian casualties of any single WWII incident. And all that before any German bomb could even reach them.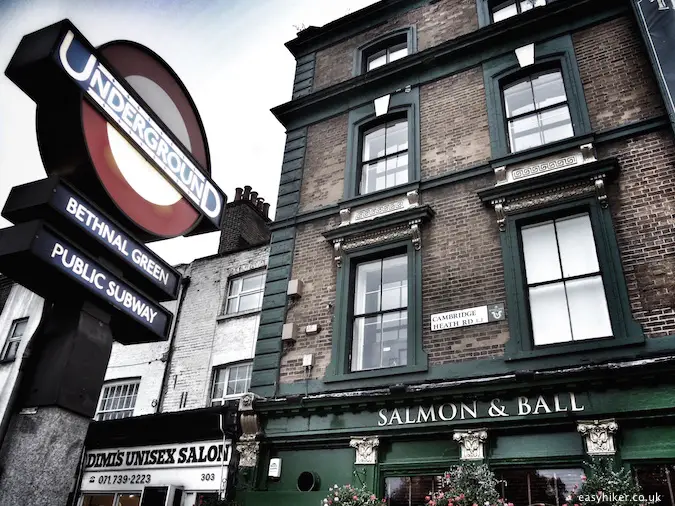 The air raid sirens that evening had gone off at 8:17 p.m.: a busy time for the near-by pubs and cinemas which quickly emptied out. This was a well-rehearsed procedure: underground stations were known as the safest places to hide during an air raid, particularly in the city's densely populated East End.
Bethnal Green station at the time, however, only had a single stairway, and when anti-aircraft fire erupted that evening in neighbouring Victoria Park, the people thought a bomb had hit a near-by target and started pushing forward – and then someone fell on the wet, slippery stairs.
They say that there were no injuries on the Bethnal Green stairways that evening: people either walked away unhurt – or died. It was mainly women and children who were squeezed to death, and it is their voices, their desperate screams, their wailing and sobbing that – so they say – can still be heard in the station.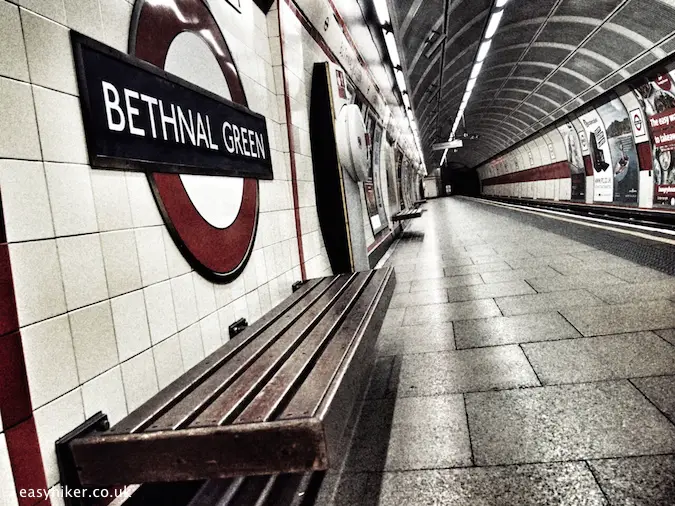 The disaster was hushed up for many years: at the time, of course, because it could potentially undermine the "home front moral", but even after the war had ended, it was felt that the story did not go well with the official wartime history of plucky Eastenders, working class heroism and visits by Queen Mary (the "Queen Mum").
Is it possible that those who had died in Bethnal Green could find no other way to get a hearing for their grief.
Are you trembling now with fear of the undead of London?
The Easy Hikers wish you a happy and happily scary Halloween!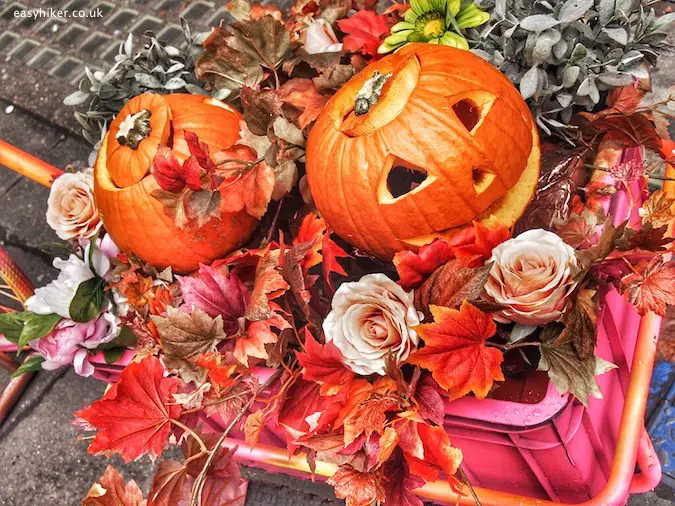 More soon with our ghosts of London themed walk. Don't miss it by subscribing to our updates via email. You can also follow us on Facebook, Instagram and Twitter. Why not include us in your G+ circles too?