#LoveMILOS
After a long and "crane's length" co-existence on the island, the strange bedfellows of mining and tourism are beginning to embrace
Most of the Cyclades islands are one-horse economies. Nearly all the people you will meet during your stay – guest house owners, restaurateurs and guides, obviously, but also local officials, doctors and lawyers – are only there because of people like you: if tourists did not pump money into the veins of the local economy, they would eventually all go somewhere else and leave the island to the goatherds. The one exception to this rule is Milos.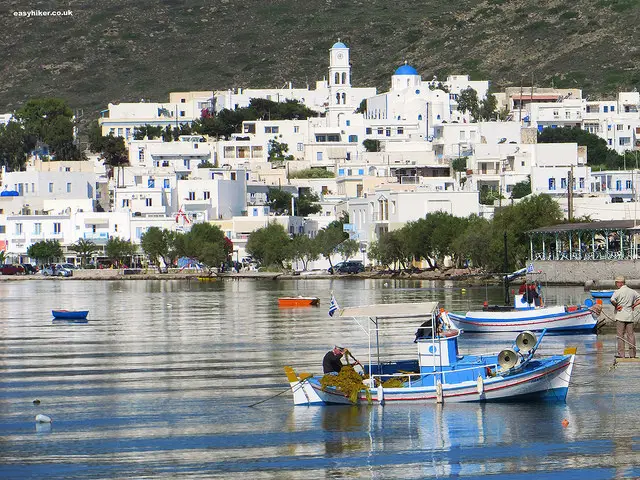 In Milos alone, tourism is not the only show in town. Long before tourism came into being, literally thousands of years before the first batch of sun-starved palefaces rode ashore, mining was a thriving industry in this part of the world, and it continues to thrive to this very day.
Mining and tourism are the strangest of bedfellows. Very few of the (former) coal mining towns in Scotland or Northern England lead double lives as major tourist destinations, but Milos manages to pull this trick off remarkably well, keeping the two industries rigorously apart.
Mining does not at all intrude upon tourism, and you can spend two splendid weeks on Milos without being aware that some major digging is going on, often only a few hundred metres away.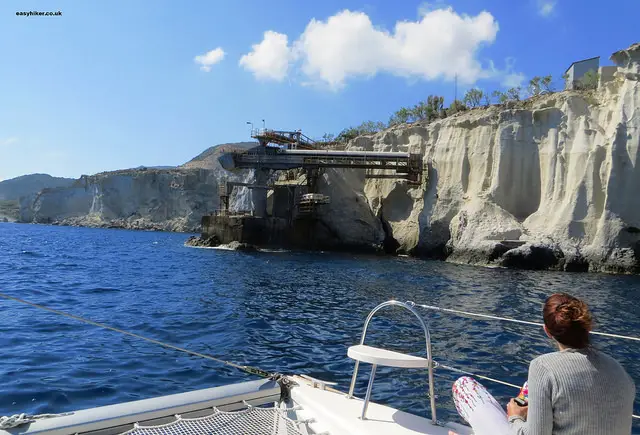 It is only recently that the first signs have emerged for a rethink of this "never the twain shall meet" policy. The idea that the long history and the continued existence of mining are nothing to hide away and that they can, conversely, enrich and enhance the holiday experience of the island's visitors is still very fresh.
The initiative is headed by the Milos Mining Museum which has released a series of walks (with maps and bilingual guides) that are designed to inform the visitor about the island's long association with the mining industry – and to introduce him to some of the visually stunning landscapes that mining has left behind.
There are, currently, seven such walks, and you can download them all HERE. It must be said, however, that not all of these walks are equally convenient.
For some of the routes, you need a car, because that's how they are laid out, with hiking excursions into different parts of the countryside being connected by short drives. A few of the routes pose logistical challenges even if you do have a car because they start and end in different places that are both difficult to access by public transport (the little there is on Milos).
One walk (no. 7 on the list) closely resembles the walk we did for our last post (with a few excursions to mining sites added on).
Walk no. 2 takes you over a distance of app. 13 km from the salt mines of Alyki to the ancient Fyriplaka volcano (and its rich deposits of perlite, an important insulation material) and back. This walk is (just about) doable without having a car when you are based in Adamas (the island's only "proper town") because the trailhead is only about 2 km down the coast from there.
Most obviously interesting, however, is walk no. 4, a circular hike of 12 km around the village of Pollonia on the island's northeastern coast – also note that you may very well be based in this area because this part of Milos hosts many hotels and holiday lets.
The walk takes you to Aggeria, one of the largest bentonite mines in the world. (Bentonite is mainly used in industrial drilling, but also for cat litter) and a true sight to behold …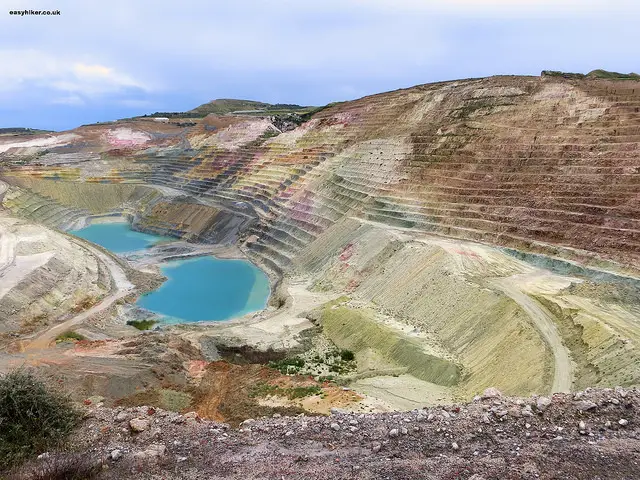 … as well as to Philakopi, one of the Aegean Sea's most important prehistoric settlements.
Philakopi documents the island's long association with mining: the settlement was most likely established as a trading point for obsidian, perhaps as long as 3000 years ago, and flourished for many centuries until it was washed into the sea – nobody knows exactly what happened, whether it was destroyed by some sort of natural catastrophe or abandoned first and eroded later.
It seems likely that Philakopi was the main local centre for the trade in obsidian which was very much in demand in prehistoric times as a material for tools and cutting blades. Milos's natural harbour was apparently hard to enter with the maritime technology of the time, and since the wind in Milos comes from the north 75 percent of the time, building a harbour on the northern coast of the island must have made a lot of sense.
For the best views of the complex, walk a few steps up the road. Here, you will also find a scenic bay where, until recently, turtles and seals regularly congregated during their mating season, or so we were told, but apparently they no longer do, so do not expect a show.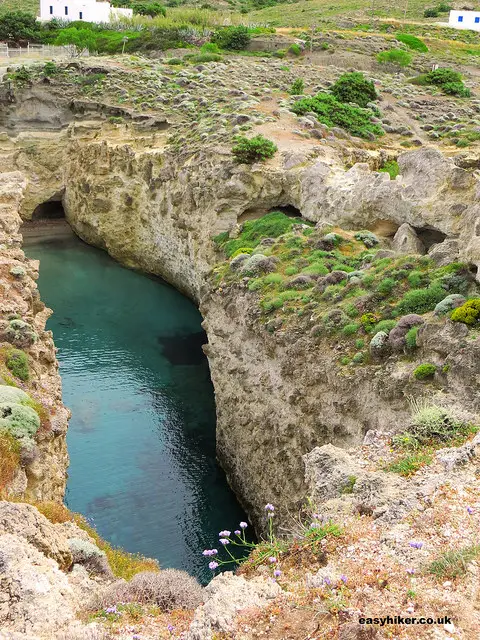 From here, the trail leads you back down the coast to the charming little fishing village of Pollonia. This is a hike of which we have walked certain parts ourselves, and interesting and spectacular as it may be at times, our favourite stretch is the bit in Pollonia that takes you from the harbour straight to the Armenaki restaurant.
Best fish taverna in Milos
Throughout our stay on the Cyclades, we have eaten like kings. The unique selling point of Greece on the international tourism market should be the hospitality and generosity of her people – but this, no offence to all our other hosts, was clearly the best.
If Andonis operated his restaurant in Paris or New York, he would be a star and regularly featured in famous newspapers, not least because of his skills as a sommelier. He serves exclusively Greek wines, so you better be ready for a surprise when you had always thought that Samos and Retsina took you as far as the local repertoire went.
The Armenaki manages to deliver top quality without losing the charms of a country taverna. It is unpretentious and not even particularly expensive – you will find that many locals eat here, too.
Three tips to help you getting the most out of your experience: ask Andonis what fresh fish he can serve you, let him choose the wine as well, and do not leave without having tasted his octopus starter and his perfectly fried squids.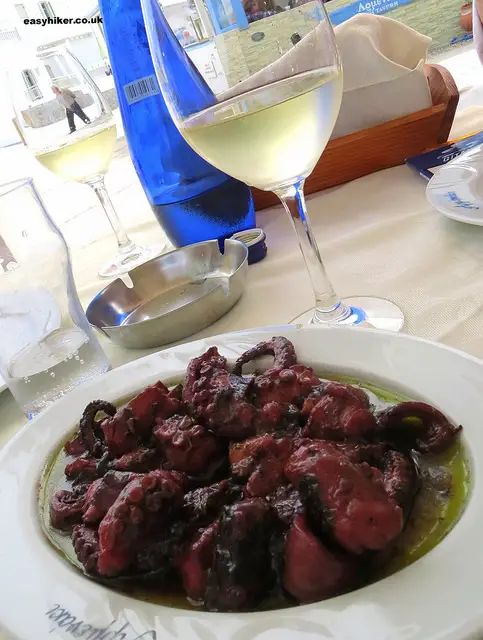 In our next post, we will tell you all about the only walk on the Mining Museum's list that we have fully hiked ourselves: see you on the lunar landscapes of Sarakiniko!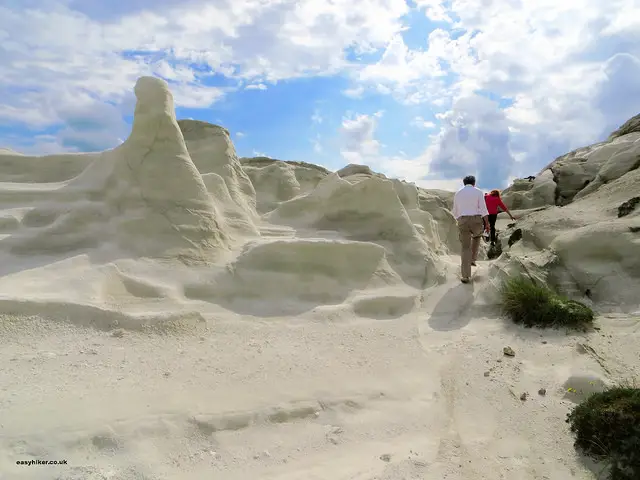 Are you up to doing the mining hikes in Milos? We have more to share with you on Milos as guests of its Municipality under the guidance of Mrs. Gina Grigoriou. Don't miss our free updates via email, or follow us on Facebook and on Twitter by watching out for the hashtags #LoveCYCLADES #LoveMILOS.