THIS HIKING GROUP HAS BEEN DISBANDED SINCE 2012
Imagine a group of hikers who live in the same area and regularly organize hikes for each other, communicating largely via the Internet. Sounds interesting?
Then let Janet*– who set up a Paris hiking group last year – tell you a little more about it.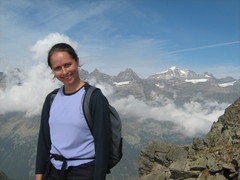 Please give our readers a brief description of what you are doing.
Our group organizes hikes for different levels, mainly in the Paris area and elsewhere in France. Our members are very international though, and we have already been to Scotland once and are planning more trips abroad for the future.
I personally love hiking in the mountains, so I tend to go there where possible, but we have also done gorgeous coastal walks and plenty of day trips in the Ile-de-France.
There is a scale of difficulty for our hikes ranging from Easy to Hard Plus. Easy and medium level walks are generally suitable for anybody who is reasonably fit, while hard and hard plus hikes need a bit more experience.
Group numbers are nearly always limited to around 15 or 20 because otherwise it's hard to make sure everyone is safe and stays together, and groups for mountain trips are often even smaller because safety is even more of an issue.
If I understand this right, the members of the Paris hiking group organize a hike and then post it on the Internet. Has this been the modus operandi of your group activities straight from the beginning or is it something that has evolved over time.
Yes, we've always used the meet up site to communicate with our members, although quite a lot of planning also goes on "behind the scenes" (usually in a pub!).
How would you persuade a hiker – who has never taken part in any type of group hiking before – to join your group?
This is never something I've had to do – with over 500 members, it's hard to provide enough opportunities just for the hikers we do have!
But I would encourage anyone to hike to discover the countryside, experience beautiful landscapes and stay fit and healthy at the same time. Paris Hikers is a great group because we have members of all ages from all over the world, so you're always guaranteed to meet interesting people.
Now that they have read about your group, some of our readers may be thinking of organizing a hiking group of their own in their neighbourhood. What advice would you give them?
Don't be afraid! With sites like Meet up and OnVaSortir, it's easy to set up a group online and keep in touch with your members. And if you can read a map and plan a hike for yourself, you can do it for other people too.
The most important thing is that your members understand what they're signing up for, so I always publish the distance, expected time and any significant elevation gain, along with the level of difficulty of the hike.
It's also important for everyone to be well equipped, so I send out a kit list and make it clear that people will be turned away if they're going to put others in danger.
*Janet on Janet: 
"My parents always took me out hillwalking when I was little and I used to moan a lot! (My brother and I even went on strike on more than one occasion.)
It was only when I came to France as an adult that I really started to be interested in hiking. I visited the Pyrenees, where I remember taking a funicular up to one of the summits and looking out over the rest of the mountains and thinking how much better it would be to get to the top under my own steam without being surrounded by hoards of tourists.
I discovered the French system of GRs, which are long distance hiking trails that are very well signposted and have gîtes d'étape where you can spend the night in all the necessary places.
Since then, I've also done a fair bit of munro-bagging in Scotland and hiked in the Italian Alps with the Club Alpino Italiano. It's a great way to discover new places and meet local people."