Happy Italian families, sunshine and local delicacies combine for a perfect winter walk on the Mediterranean
Winter walks very much have their own logic: a successful outdoor experience between December and February requires more careful thinking than a journey at any time of the year, even in the relatively mild and balmy climate of the French and Italian Riviera.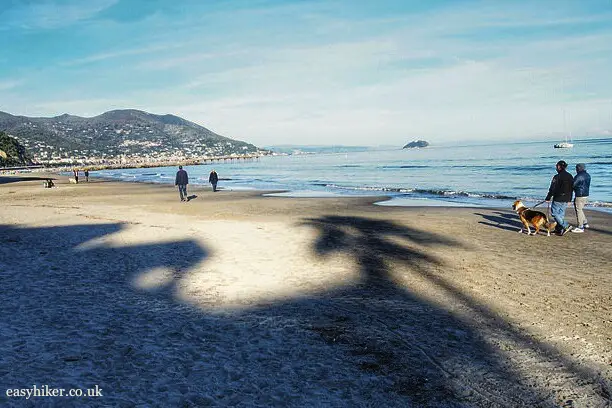 Many of the proper trails – as opposed to asphalted footpaths and beach promenades – may be muddy or downright flooded, and the winds immediately by the coast can be very strong at this time of year.
Few things in the life of an easy hiker are as frustrating as arriving at your destination after a 2-hour journey only to find that the coastal path you had been looking forward to visiting has been closed for the day by the city administration's health and safety department, due to high winds or a choppy sea. This happens more often than you might think (and has spoiled a couple of walks for us in the past).
Read also: A Tale of Two Cities
Just as crucially, your walks must be much shorter than in the months with longer daylight hours –unless you want to hike in the dark.
And finally, the human longing for some gaiety and colour is particularly strong in those months when nature gives us little of either – and even on the Riviera, there are areas that can be relatively downbeat and grey, at least on a cloudy December day.
Read also: The Five Walks of Finale Ligure
Which is why it is best to avoid those in winter and visit them some other time, focusing for now on places where a certain level of gaiety and colours is guaranteed throughout the year – which means, by and large, on the most popular resort towns by the coast that remain ready to receive and entertain visitors even in the bleakest midwinter.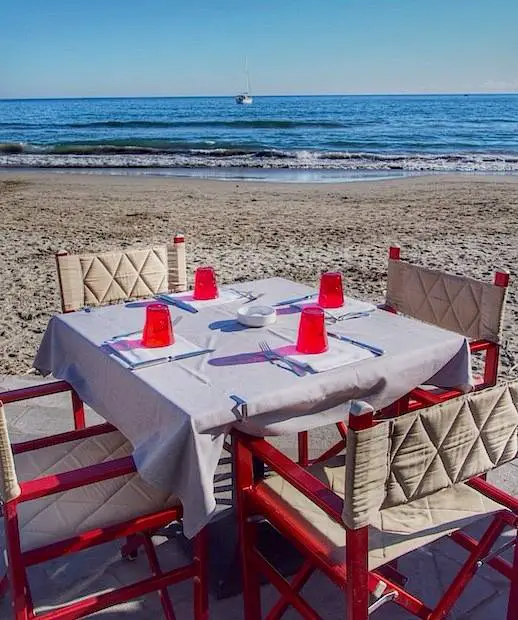 Better still if you can manage to find "twin" resorts, two neighbouring towns that are connected by a beach promenade which is safe to pass in all seasons. You can leave home (or your holiday base) at a civilized time, arrive in time for lunch, walk along the beach for a couple of hours and arrive at your second destination in time for coffee – perhaps to taste a local variety of Christmas cake or some such.
This, in one word, makes for a perfect winter walk – such as the one between Alassio and Laigueglia, neighbouring resorts approx. 1 hour away from the French border.
The Perfect Winter Walk from Alassio to Laigueglia
First to Alassio then, the bigger and better-known of the pair. You get an impression of how chic Alassio once must have been as soon as you step out of the train station: the town's "Muretto" or "Wall of Fame" (located on the far side of the square to your left) …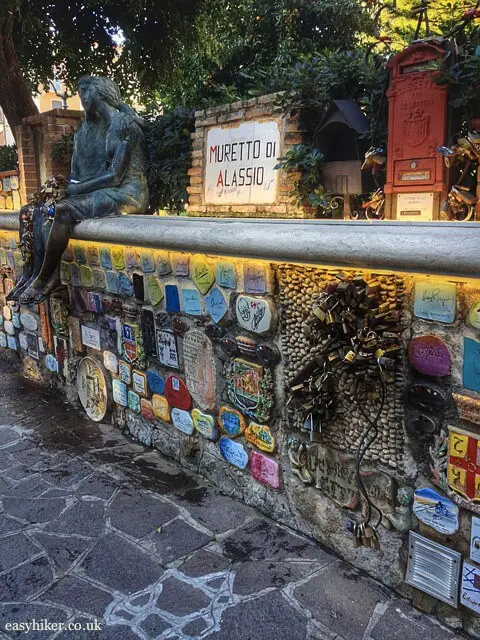 … consists of roughly 1000 tiles with the names of famous visitors, some of them very famous indeed, with Hemingway and Louis Armstrong leading the pack.
Almost everybody, however, who was immortalized here recently, say: over the past 30 years, happens to be of Italian nationality, a fair reflection of the direction that Alassio has taken: while the international jet set may have come and gone, the resort is still very popular in Italy, and it was positively crowded on the day we arrived.
This day was, as it turned out, a public holiday in Italy (celebrating the Day of the Immaculate Conception: nothing ever comes between the Italians and an opportunity to have a good time with the family, no matter how obscure the origin of the festivity). Hundreds of happy families were lending the streets an almost summerly feeling, and all beach restaurants were full. (Crisis? What crisis?)
Have a look around the town, visit its many quaint little shops around Via XX Septembre and stroll down the long pier …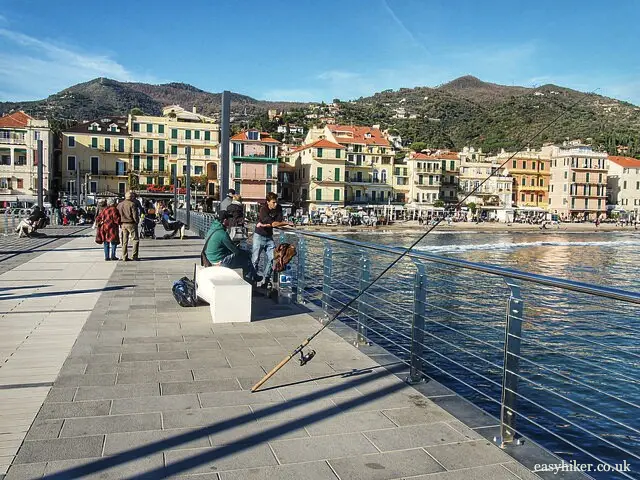 … before leaving Alassio in a westward direction (i.e. to the right when you are facing the sea) towards Laigueglia.
This will give you a good opportunity to familiarize yourself with the reason why Alassio has remained so steadily popular as a resort for families across Italy: its wide sandy beach that seems to stretch endlessly all the way to the horizon.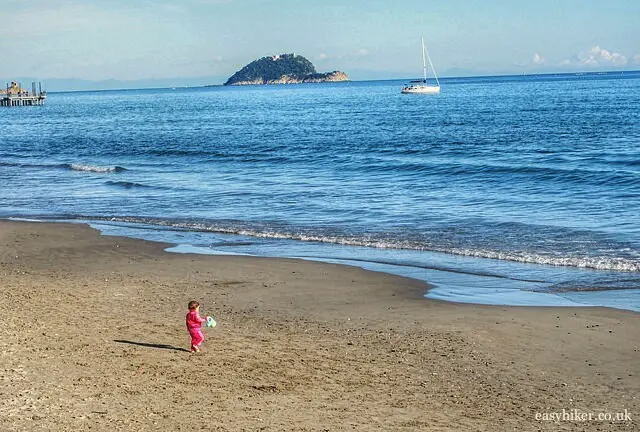 This is a pleasant if slightly uneventful 5-km walk …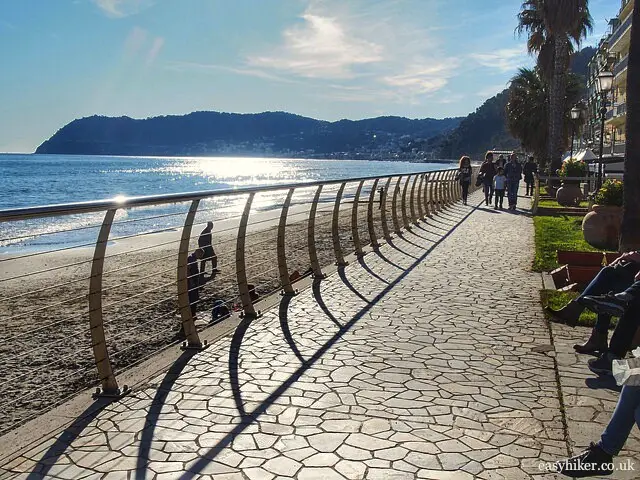 … and just when it threatens to become a little boring, Laigueglia comes into sight …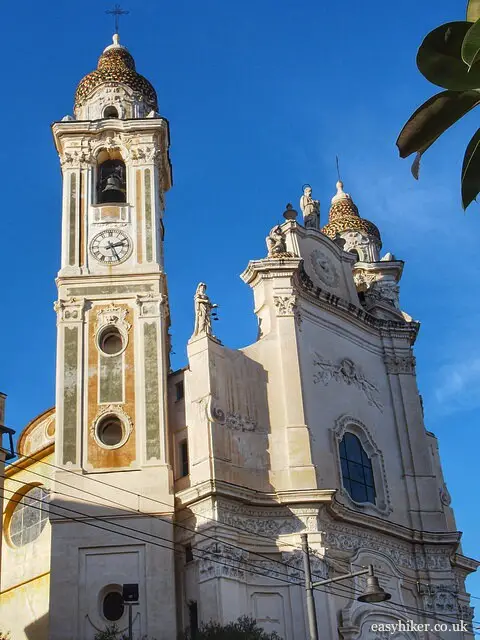 … Alassio's less busy but more picturesque sister town.
These days, Laigueglia may no longer be a fishing village, but you can easily imagine that it once was, and panels with historical photographs are distributed across the small centro storico, serving as a timely reminder of how different – and how much poorer – this stretch of the Ligurian coast looked in the not-too-distant past. In the 1940s and 1950s, Hemingway and Louis Armstrong may have visited the Italian Riviera, but prosperity only trickled down far enough to benefit most of the coast's inhabitants when the package tourists arrived from the mid 1960s onward.
Laigueglia is a quiet little town that has preserved much of its original character …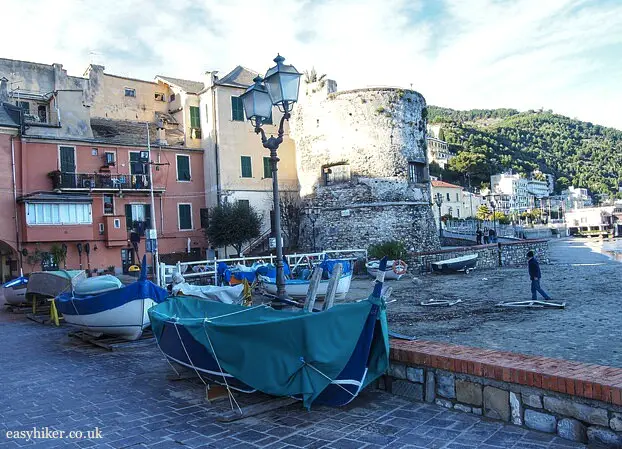 … and that rewards the unhurried visitor with an eye for the fetching detail.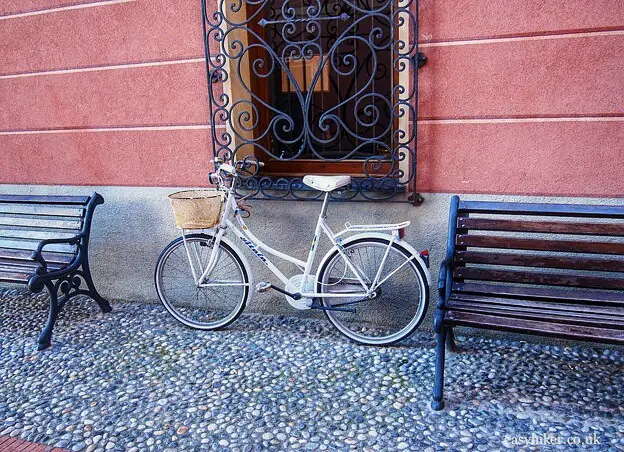 You can start your journey home either by train from Laigueglia station (but be careful: not all the local trains between Ventimiglia and Genova stop here) or return to Alassio by bus. (Buy your tickets from the driver.)
As for the local sweet to go with your coffee, however, it may be best not to expect too much from Laigueglia and to arrive well-stocked from Alassio where many bakeries sell the local specialty called Baci di Alassio, chocolate cream enriched with chopped hazelnuts sandwiched between macaron-like pastry shells. There's nothing seasonal about them: you can enjoy them anytime of the year, and even if you have no coffee at hand.
Buon appetito!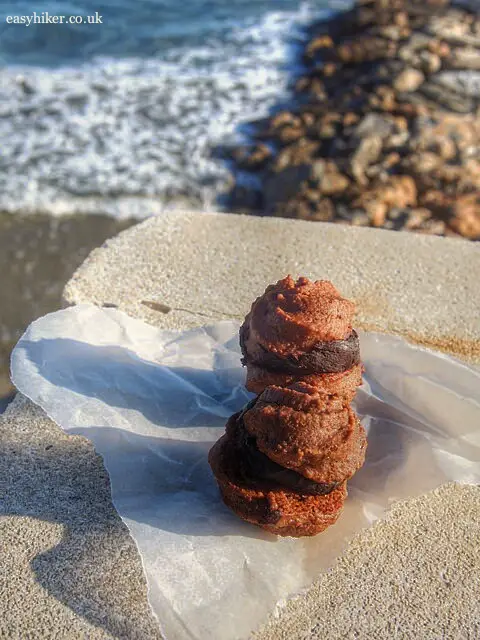 Make sure you get our latest walking and  hiking tips in the Italian and French Riviera. Get our free updates via email, or follow us on Facebook and on Twitter.