A Rainy Day in San Remo
Every trip to southeastern France should include at least a brief hop across the border to Italy. Ventimiglia, the easternmost stop on the half-hourly train service that connects all the famous Cote d'Azur resort towns from Cannes to Monaco and beyond, is the obvious choice, but if you can, you should venture out a little further.
San Remo, a mere 15 minutes by train from Ventimiglia, is a much better introduction to Italy – and, apart from that, well worth a visit in its own right, rain or shine.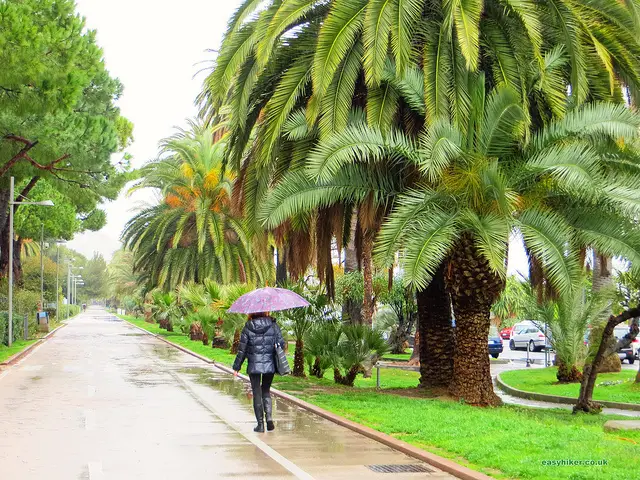 Actually, let me rephrase that: particularly in the rain. For one because, when the weather is good, there are so many other things to do on the Riviera – like taking a hike in the hills or along the coast, for example. And for another because rain best reveals the true beauty of a city, the type of beauty that alone can shine through the thickest of clouds. (Just like a beautiful lady is most beautiful without any make-up.)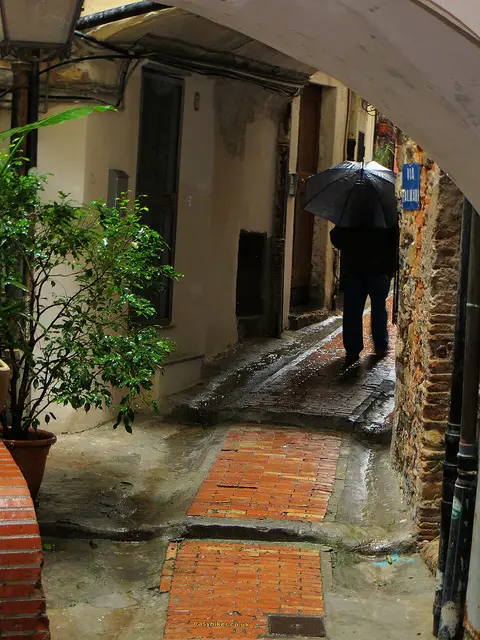 San Remo – or "Sanremo", as they write it in Italian – also helps you to understand one important thing about Italy: that beauty can come uncomfortably close to being a curse if you possess too much of it. Take the baroque church of Santa Maria degli Angeli, for example.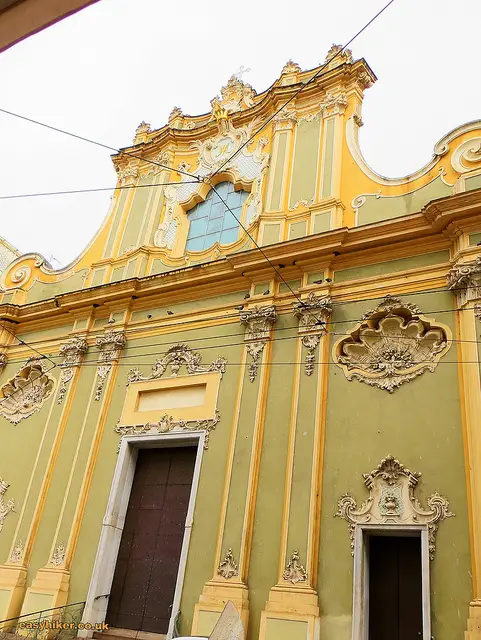 In most cities further north (or east), this church would be the town's bijou piece of architecture, the pride of the city council, the focus of urban renewal planning, carefully protected and probably surrounded by townscaping arrangements intended to enhance its visual impact.
Read also: The French Riviera on Canvas
In Italian cities, however, baroque churches as such are nothing special, and you cannot even take a half-decent picture of Santa Maria degli Angeli without getting some utilitarian architecture or tram line cables into view. Because, of course, Italian cities too need to put all of these "modern comforts" somewhere. And no matter where they put them, they will always cram the vista of some historical building or another.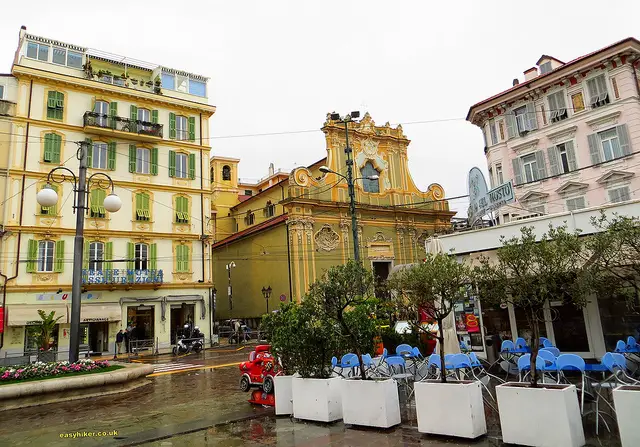 San Remo is best known as a resort town and, at least in Italy itself, as the host city of the annual Music Festival, a song contest that is said to have inspired the Eurovision Song Contest. (A dubious fame, admittedly.)
For a better impression of the "real" San Remo, however, head straight for the Old Town – called "La Pigna" – by turning right out of the train station frontcourt down Corso Garibaldi, entering the narrow maze of medieval lanes and alleyways on the far side of Piazza Cristoforo Colombo.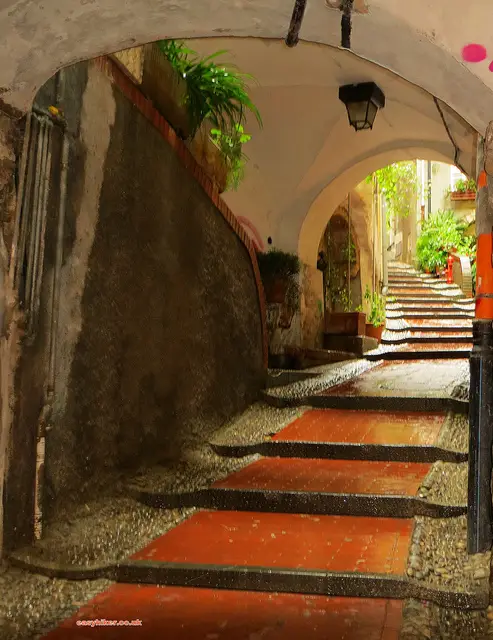 Make your way past St Stephen's Church on Piazza Cassini …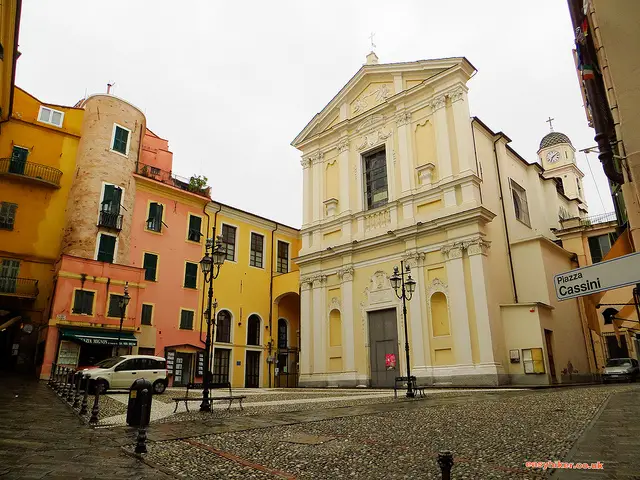 … always following the uphill route …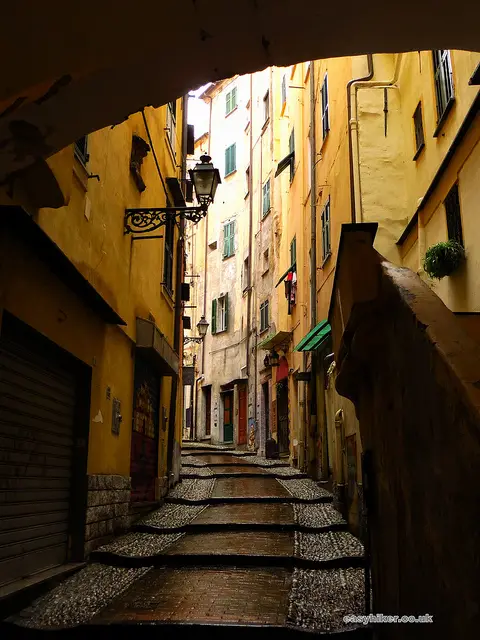 … all the way to the top of the hill …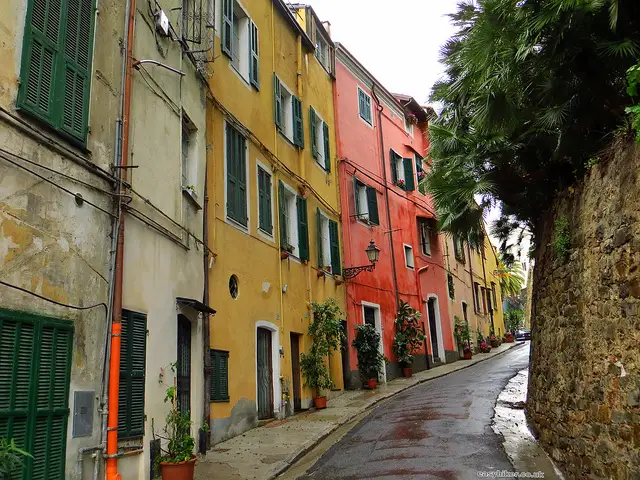 .. until you arrive at the majestic Santuario Madonna Della Costa …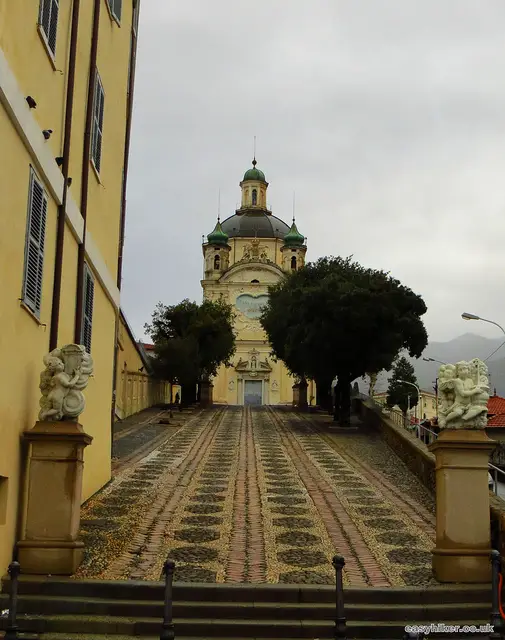 … from where you get magnificent views over the lush gardens of old San Remo ……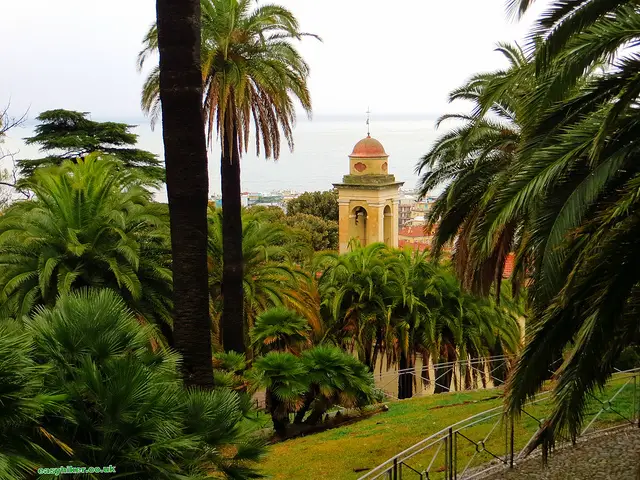 and the city underneath.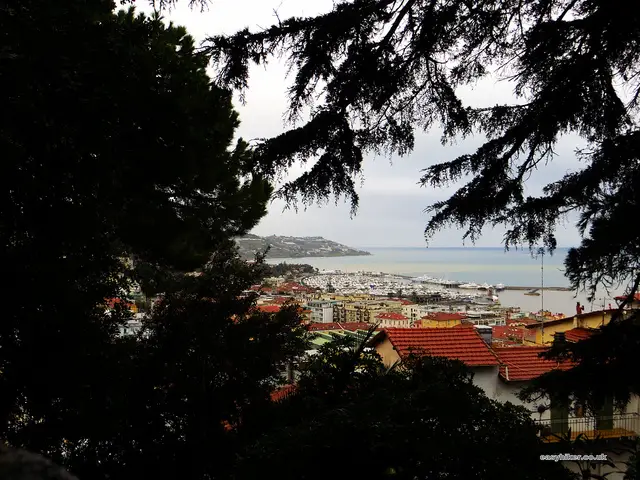 To get to San Remo from any town on the French Riviera, take a train to Ventimiglia and change there for a Trenitalia service. Local trains leave frequently throughout the day (roughly twice every hour), and tickets are easy to buy (on the machine) as well as cheap (EUR 5.40 p.p. round-trip as per March 2013).
Read also: A Perfect Winter Walk in the Italian Riviera
Arriving at San Remo by train is not only convenient but also a memorable experience in itself, largely because of the train station, one of the largest I ever saw – resembling in scale more a major international airport than a provincial railway depot.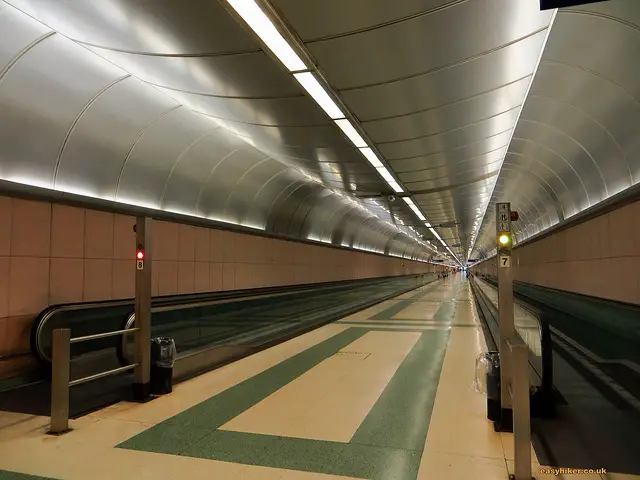 In one phrase: Italy is full of surprises – and San Remo does an excellent job of preparing you for the ride.