The Rheinsteig Hiking Trail
Trail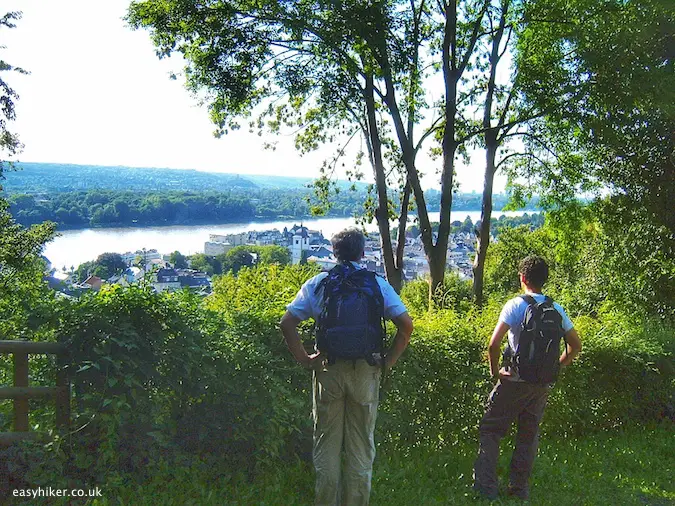 A very, very long 320 km from Bonn in the north (near Cologne) to Wiesbaden in the south (near Frankfurt) in 23 stages. Who has time for that? Which is why I strongly recommend to concentrate on the views-and-castles-galore central stretch between Koblenz and Rüdesheim on stages 12 to 19.
Profile
The Rheinsteig hiking trail– showy, high-profile and glamorous – is, in many ways, the Fancy Dan among the German hiking trails. And there are many good reasons why it is considered the top of the top trails.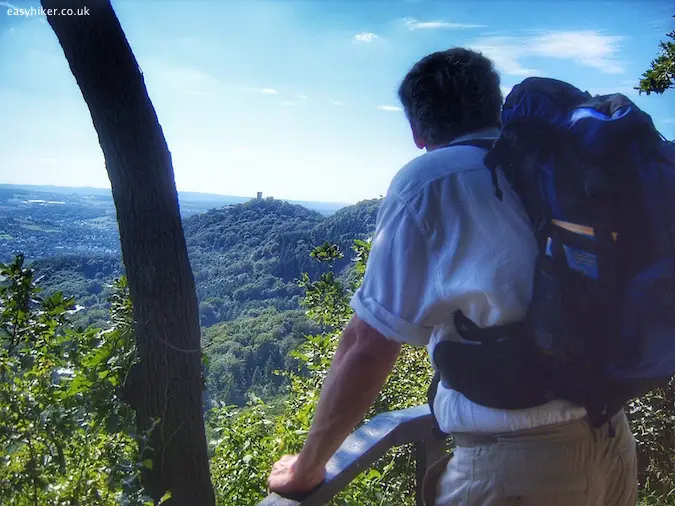 For one, it's easy to market. Actually, it markets itself: vineyards and castles on steep river slopes are very nearly the ultimate German tourism cliché, second only to beer-swilling merry men in Lederhosen.
For another, it's easy to reach. The Rhine cuts through Germany's economic heartland, basically the area from Cologne to Frankfurt, so the trips to your trailheads require few complicated, time-consuming bus journeys through rural backwaters.
And finally, the Rheinsteig is one of the "branded" new-style trails: trails that do more than just take you from one village to another and which have been carefully laid out with an eye for the picturesque detail and the dramatic effect.
Are there any drawbacks?
Well, occasionally the Rheinsteig can be quite taxing, near the top of the range of what some "easy hikers" may want to tackle. And it is fairly close to civilization, even by German standards. It is rare for a hiker to spend a couple of hours without a railway line coming into view – or earshot. But if you mind that, you will probably not much like hiking in Germany anyway.
What we did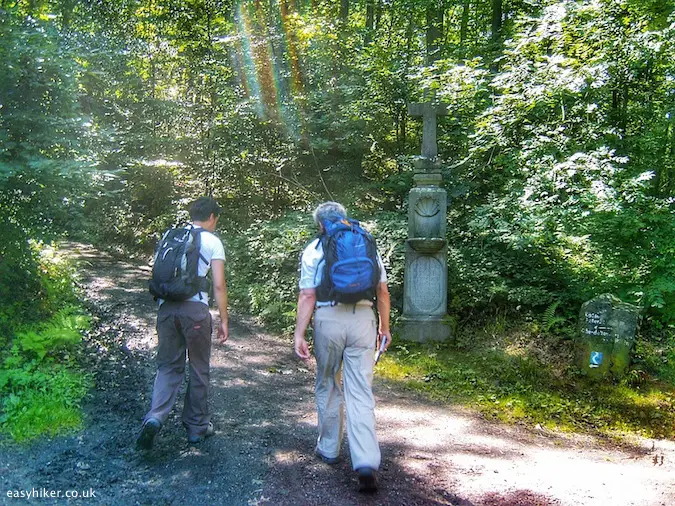 We went hiking the Rheinsteig twice: once for a two-stage hike from Kestert to Kaub, which included stage 17 across the Loreley, the most challenging and rewarding of the entire trail, and once for a one-day hike in the "Range of the Seven Mountains", the Siebengebirge, the home of the Nibelungen saga (Siegfried, the Ring, Richard Wagner and all that).
What we liked
The Rheinsteig hiking trail is as good as advertised
Not only is it the best of all German hiking trails, the one I would always recommend to anybody who searches to explore Germany the way she should be explored (which means: on foot), but it is the best holiday experience you can have in the country. Period. That's how good it is.
It's simply got the lot: panoramic views, vineyards and castles in close-ups, picturesque towns and villages, frequent changes in scenery, all unified by the much-varied theme of the Ol' Man River … that just keeps rolling, that keeps on rolling along……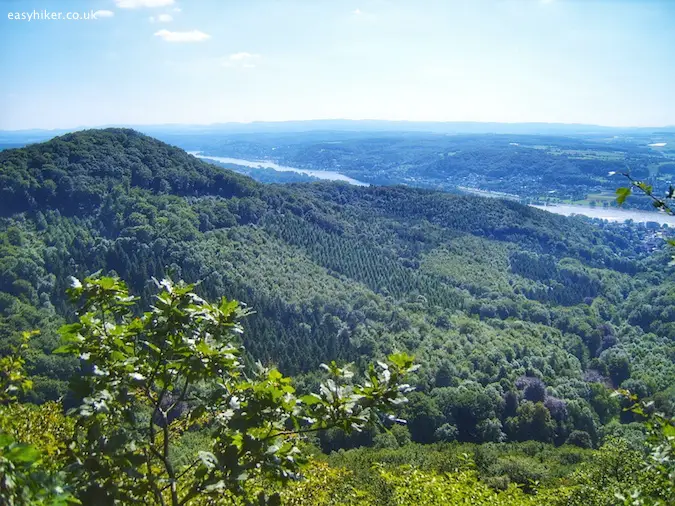 Some of the climbs may be a bit hard, but this is not necessarily a bad thing. Admittedly, there is nothing wonderful about standing half way up a hill, leaning against a tree and gasping for air, but it gets better once you are on top of that hill with one of the Rheinsteig's postcard views at your feet – and even more so in the evening on the terrace of the local beer garden.
When you tuck into your Teutonic portion of roast pork, you will really feel you have deserved it – and that will easily make it taste twice as good. But what I am really driving at is something else, something a little more profound than a roast of pork if you like.
Strong experiences create strong memories
If you spend a two-week holiday pottering around your house, watching your favourite DVDs, spending whole days on your favourite websites and playing your favourite video games, chances are you will say to yourself after your holiday that you have spent a rather pleasant fortnight.
After a year or so, however, you will not remember anything of it. It will feel as though these two weeks had disappeared in a haze. This will then inevitably raise the question whether this was, after all, a holiday well-spent. Is it a good thing if we make our holidays, and by extension, our whole lives, disappear in a cloud of fluff?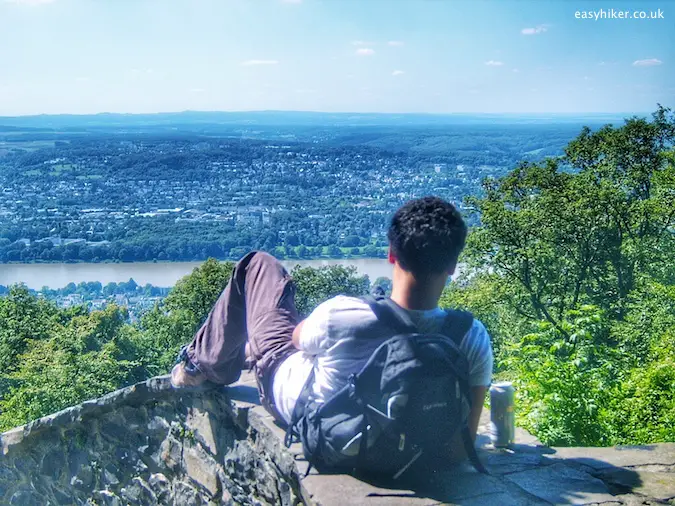 Let me tell you about my own most vivid memory on the Rheinsteig hiking trail. My son and I were nearing the end of day two on the hardest of all the Rheinsteig stages, in the late afternoon of what had, incidentally, been the hottest day of the year. That has not made things easier, believe me.
After our last and most brutal ascent of the day, we finally reached the top of the hill – and the cabin there was full of people, celebrating something or the other, some of them young and attractive women, so we greeted them politely, even managing to produce a smile. But as soon as we were out of sight, we collapsed near a cornfield and rested for a full 15 minutes.
Now, what I remember most vividly about all that is not the arduous climb or the feeling of being out of breathe but the moment of intense happiness when we could finally throw away our backpacks and just sink into the undergrowth. Never has a patch of grass looked more inviting – or indeed felt softer.
When I say "my most vivid memory" I could as easily say "my best moment". Come to think of it, this was one of the best moments I have ever had in hiking. Because this was, ultimately, what hiking is all about: intense moments of joy, epiphanies, if you like. But such moments do not come for free: they are purchased by toil and hardship. Without the ascent, the patch of grass would have been there all right, but it would not have been nearly as sweet.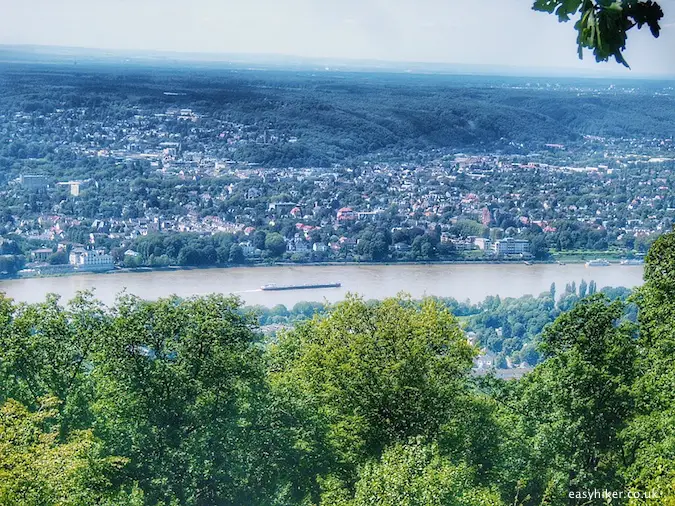 There is something else we did and that I would recommend.
Before we actually started the hike, we spent one night in a Koblenz hotel which was located immediately on the riverbank. It was amazing to see how much traffic there is on the river.
The Rhine is, among many other things, also an autobahn of European inland waterway shipping.
If you only ever experience the Rhine as an element of picturesque landscapes, you are going to miss that completely. The whole thing was like watching a Broadway production standing from inside the wings – rather than from the stalls.
What we liked less
Much of the Rheinsteig is laid out in a recurring pattern: there is an arduous climb, a stunning view on top of the hill, and a descent – followed by another arduous climb.
After a while, this may become a little predictable. This was, for some reason, not so much a problem on our two-day hike.
But on our second trip, the one-day hike, we became a bit cynical on the third ascent of the day.
Maybe I was just a little bit grumpier than usual, but once you become aware that someone has carefully laid out a trail for you to follow, cynicism about this person's motives is never far away.
The first stage of our two-day hike was a wee bit short, as are others on the Rheinsteig. The problem with that is that you may arrive at your destination at two or three o'clock in the afternoon.
What are you going to do for the rest of the day, bearing in mind that many of the places where you will stop have not really that much to offer in terms of entertainment and distraction?  Bring a book.
Towns to explore
The Rhineland is a tourist hot spot, and the river is full of pleasure boats ferrying – often elderly – visitors to and fro, sometimes on day trips, sometimes on week-long river cruises.
There are many, many small towns and villages full of timber-framed pubs and shops that sell  miniature garden gnomes to old folks from the near-by Ruhrgebiet (Germany's industrial heartland and Minnesota).
Rüdesheim is the area's most famous tourist town – or the most notorious, depending on your personal preferences. But, hey: once you are there, you gotta go. It's all part of the wonderful fabric of a Rhineland holiday.
The Wider Scene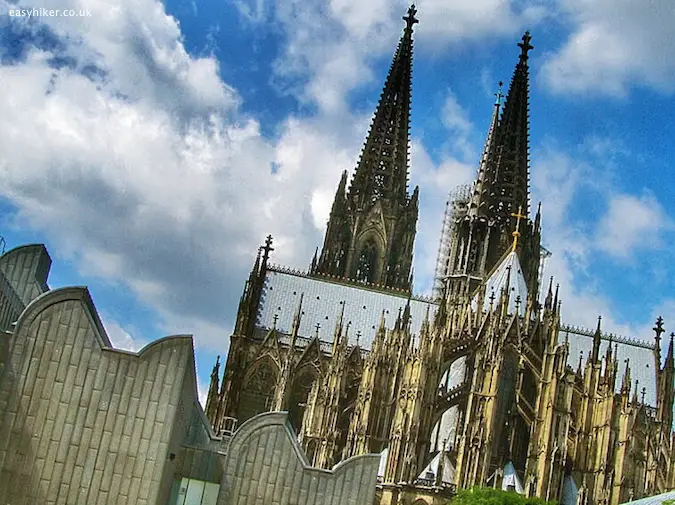 Cologne at the northern edge of the Rheinsteig is extremely well connected to many of the top European tourist attractions. Belgium and Holland are – almost literally – next door, and the high-speed Thalys trains take you to Paris in only three hours – roughly the same time it will take you to get from Frankfurt, at the trail's southern edge, to Munich or Berlin.
How to get there
Both Cologne and Frankfurt have major international airports. The northern and southern trailheads at Bonn and Wiesbaden are little more than a tram ride away (of 20 and 35 minutes, respectively).
More information
Some info on the Rheinsteig (in German, but will hopefully provide an English version soon.