Catholicism, in theory, is the same all over the world
In reality, however, its practices are as different as a village in rural Germany is from Rio de Janeiro. Catholicism is probably best thought of as an abstract concept like "art" or "music" – certain basic rules are the same, but everybody creates something distinct and different out of them, guided by even older, underlying customs and traditions.
In this process, almost every Catholic nation in the world has developed some unique practice of its own. If you have ever been hiking in Germany, for example, you will have probably come across the local Bildstöcke, little roadside shrines that are scattered throughout the countryside alongside footpaths and highways.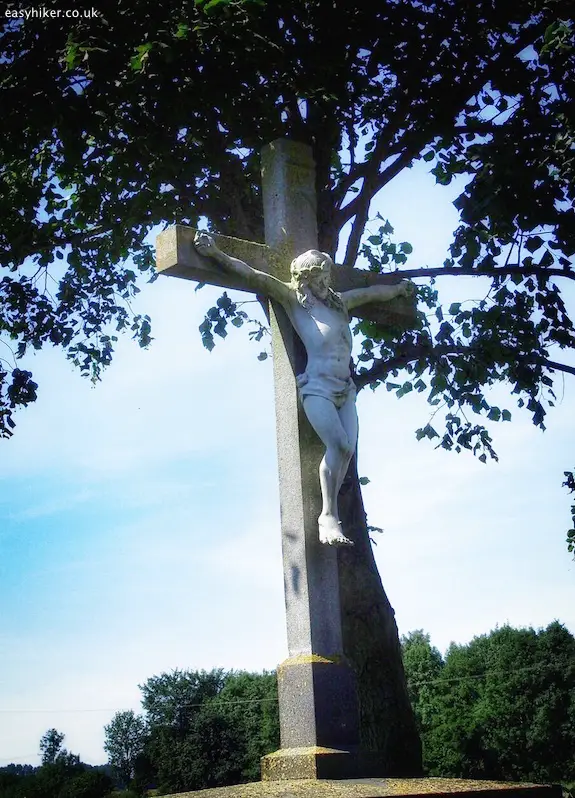 They are amazing little things: sometimes, they look as though somebody had just felt an urgent need to build a little altar to the Virgin Mary in a secluded spot of the forest, without leaving any hint as to why he may have wanted to do such a thing, while at other times, these shrines are clearly designed to bear witness to some painful family tragedy, an accident or even a murder. The details on some of the inscriptions can be graphic and intriguing, often throwing you enough juicy bits to leave you both puzzled and eager to find out more.
Bildstöcke can be geographically isolated: you come across one or two and then nothing for the rest of the day. In some areas, however, they pop up in little groups or clusters, and you can conveniently structure themed walks around them. The district of Warendorf in the northern corner of North Rhine Westphalia has laid out ten such walks (for a full programme, in German only, visit this site). As a sample, we picked one that was short and easy-to-reach and which appeared to provide a good overview.
To get to the trailhead, take the R32 or S30 bus from Münster – the nearest city – in the direction of Sendenhorst-Alst and leave the bus at the station called Reiterhof.
Cross the road and take the path straight into forest, across the rails and past what looks like a right little "witch's cottage", …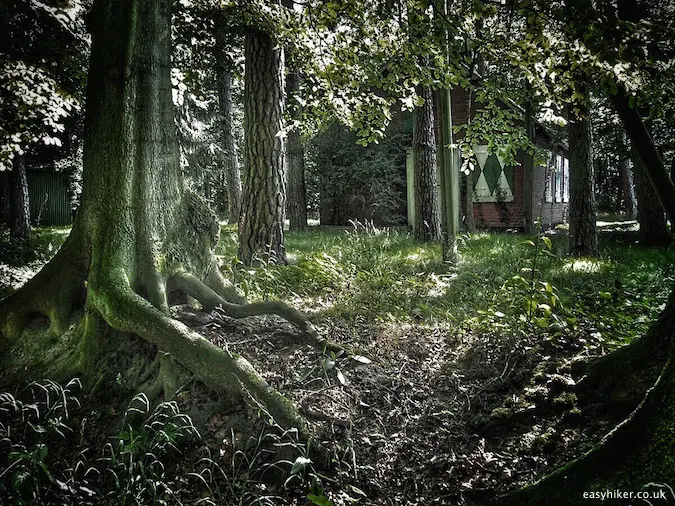 … continuing for another half mile down a tree-lined footpath before you reach a small asphalted road where you must turn left.
The first few shrines you are about to see will give you a pretty good idea of the local, north German variety of Bildstöcke: most of the shrines feature portraits of individual saints rather than complex biblical scenes (this one shows Saint Joseph) …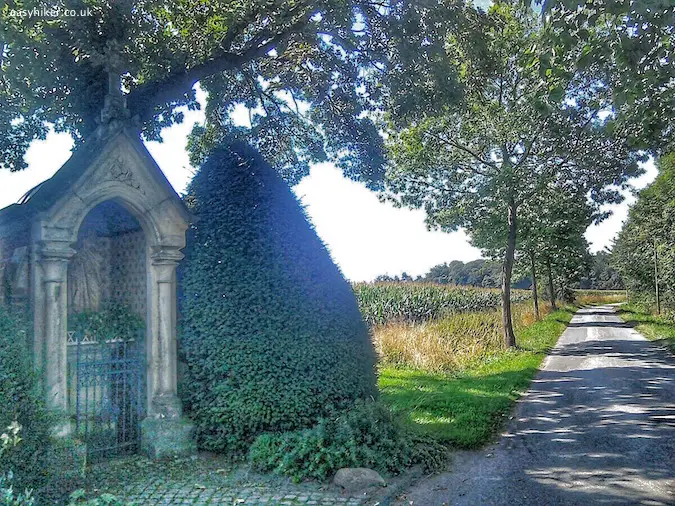 … many of the enclosing structures are made from brick …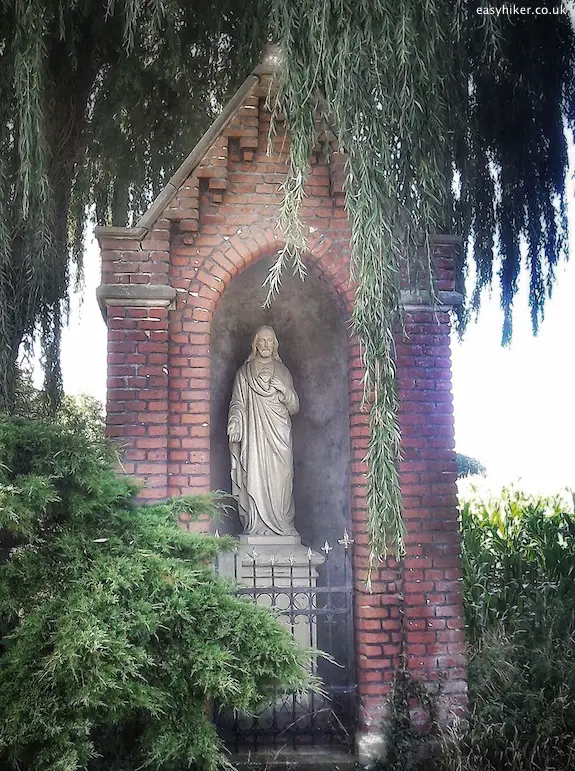 … while the statues themselves are mainly white rather than colourful, and quietly composed rather than overly dramatic.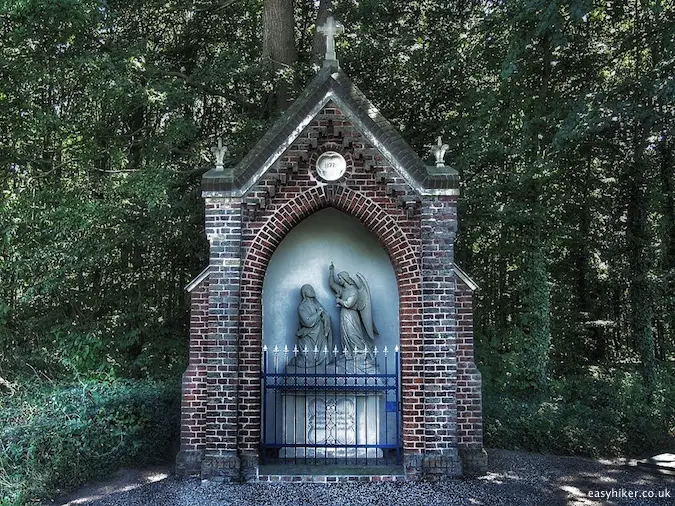 Walk into the village of Albersloh and turn left, just before the local church, into a street called Teckelschlaut until you reach Bildstock no. 5 – showing St Ludgerus, the first bishop of Münster – on busy Sendenhorster Straße.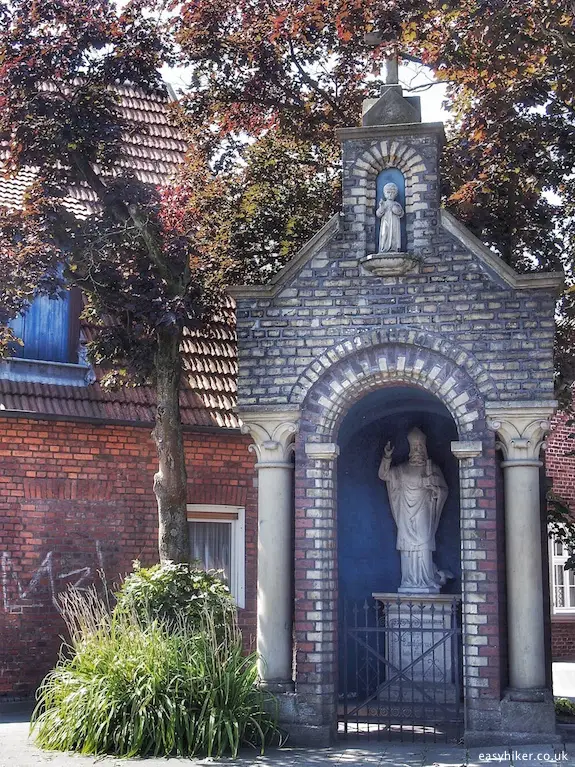 Continue straight into Schwalbenweg, through what feels like a strongly American-flavoured suburb – you half expect to be run over by a kid on a bicycle throwing newspapers left and right across the various front gardens. When the asphalted pavement ends, take the footpath on the left of the group of houses ahead of you and, where this footpath joins a small agricultural road (and suburbia meets countryside), turn left, past no. 6 (a late 19th century Pietà)…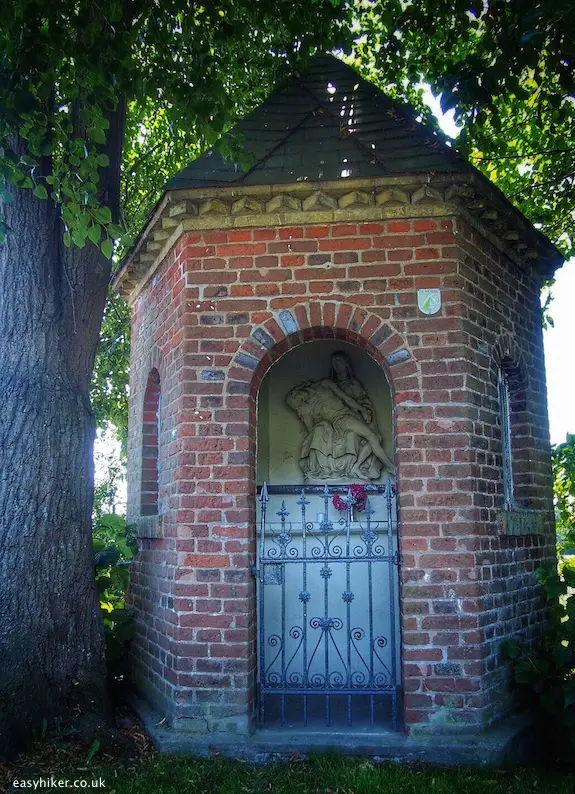 … to two Bildstöcke where, at long last, some local drama enters the scene. Near the junction with the busy road ahead of you, you will first find a memorial stone that was erected in memory of a policeman who was murdered here in 1925.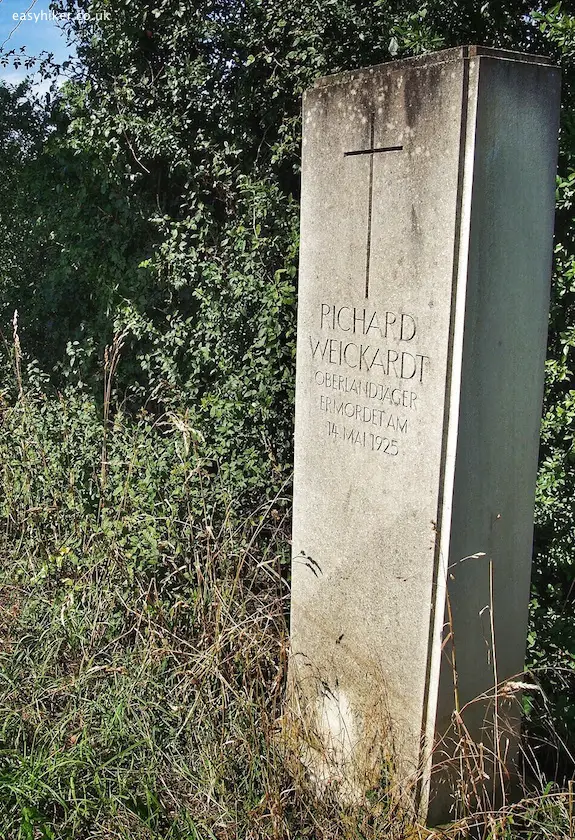 At the time, a strip of several metres on the side of the road had been reserved for "travellers" who could set up their temporary camps here (safely outside the village boundaries), but apparently there had been some complaints about one matter or the other, and "Landjäger" Richard Weickardt – a member of Prussia's paramilitary police force, something like Italy's carabinieri or Spain's Guardia Civil – had come here to investigate when things must have escalated and he was shot – "murdered by gypsies" it used to say on the memorial stone until 1960 when this inscription was no longer felt to be politically correct and erased.
Right next, you can see what is by far the oldest of the Bildstöcke along our trail: while nearly all the others were constructed in the 19th century, this one is from 1641 and was probably erected in memory of a couple who had been killed on their farm during the Thirty Years War. (Actually, only the stone plinth is still from 1641, the original cross was destroyed or stolen and replaced in the 19th century with the present one).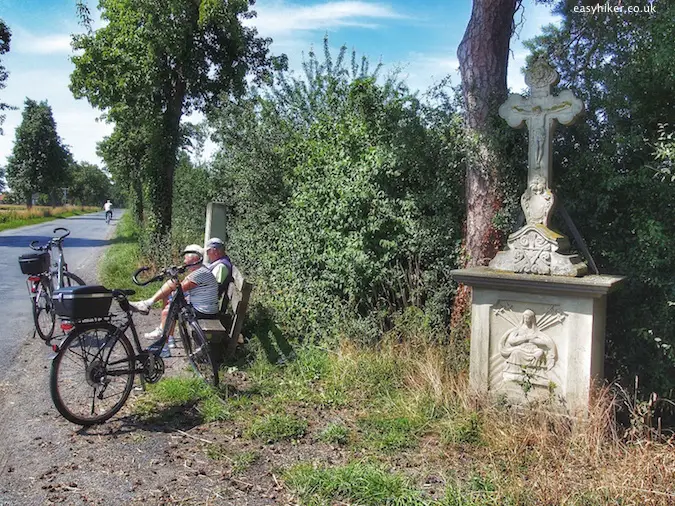 Now turn right on the busy L586 road, from where you will later take the bus back to Münster (there is a stop about every 500 metres), but for the time being, you can safely walk on the bicycle path.
After a few hundred meters, you will spot the final Bildstock of the trail – which instructs you to stop and pause for a short while ("Halt bleib stehn Du Wandersmann") to send a quick prayer to "Christ, your Saviour".
This last piece was, in both form and intent, rather reminiscent of the Bildstock traditions that we already knew, but overall, we were a little surprised at what we had found on the trail: in Germany's southern regions, Bildstöcke are colourful and naive, essentially private shrines in an open setting.
The roadside shrines in Northern Germany were more self-consciously public: often built near farmhouse entrances, they were clearly intended as statements of their owners' social standing and wealth, and one can easily imagine the competition of neighbouring farmers who are trying to outdo one another.
Today, they would simply go out and buy a bigger car. There is no question, however, which of these two practices leaves a more dignified trace in the landscape.