Things to See in Germany
Stumbling Upon the Ronald McDonald Gehry House of Oeynhausen
Bad Oeynhausen has many things for easy hikers to enjoy – a river, a canal and lakes for a waterside walk, a forest with a deer enclosure and a park that is stuffed with classicist monuments.
And what's more, to complement and contrast all those magnificent spa town temples and palaces, their arcades and Doric columns, the townscape even features a work by one of the world's leading modern architects.
That one is a bit stashed away, however, and you must look for it. Or stumble upon it by sheer chance, as we did when we strolled back into town on last week's hike.
Nothing on the calm residential street in the back of the Kurpark suggests that you are about to run into a building by Frank Gehry, the master of the architectural free style (form follows will – or is it whim?) and the man responsible for such world-famous buildings as Bilbao's Guggenheim Museum and the Walt Disney Concert Hall in L.A. But there it is.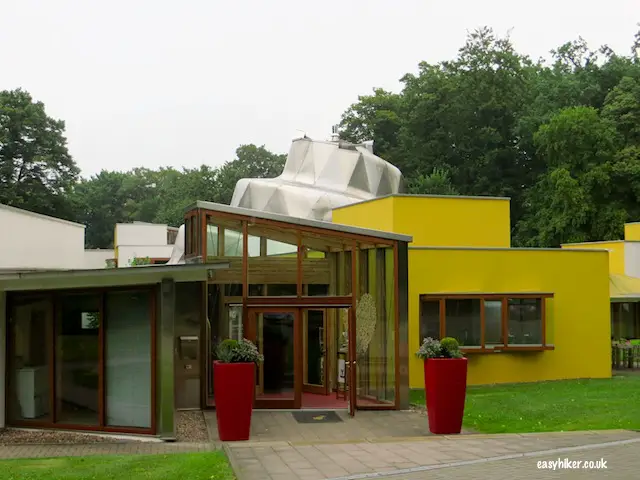 Even in passing, it is clear that the Ronald McDonald Gehry House of Oeynhausen bears his imprint …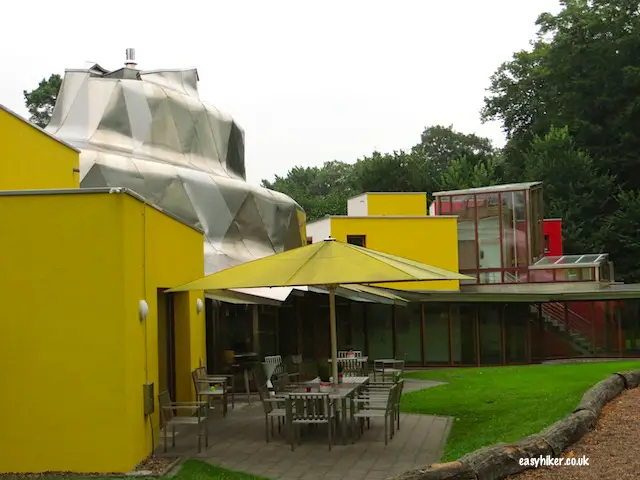 … which can have many reasons, of course: imitators of famous artists, after all, are a dime a dozen. So it still comes as a surprise when you see the name plate that identifies the architect.
If you happen to pass this way, go on, step closer and even take a peek inside. The staff are very helpful and informative – even though, understandably, more keen to talk about the purpose of the house than its famous architect.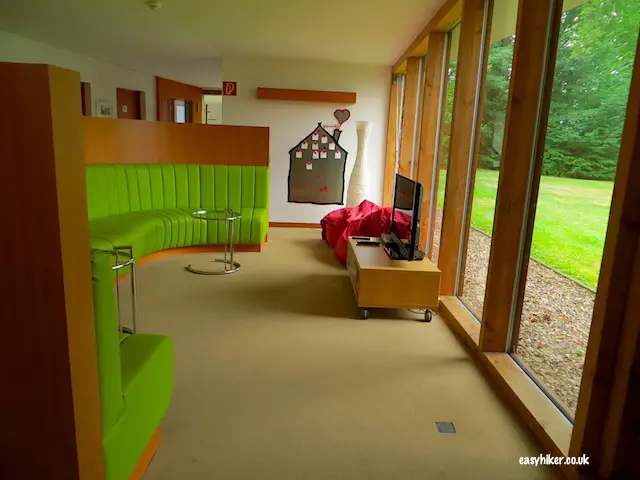 Ronald McDonald houses – of which there are over 300 in 52 countries (but before you ask: no, they all look different and have been designed by different architects)– are guest houses for families whose children are hospitalized.
Remember? I had told you last time, in passing, that Bad Oeynhausen is one of Germany's top centres for the treatment of cardiac illnesses. Children – who are sent here from all over West Germany – can be made to stay in hospital for weeks and months, quite a few of them waiting for a heart transplant. For their parents, this situation is already heartbreaking enough, without being separated from their kids.
That's where the Ronald McDonald Charity comes in – the foundation was established 40 years ago by Ray Kroc, he of the burger empire, but the upkeep of all the houses is exclusively financed through donations. (The parents themselves contribute a nominal fee.)
The house in Bad Oeynhausen features twelve apartments of app. 30 sqm each and a community kitchen – the families prepare their own meals, but once a week, they all eat together.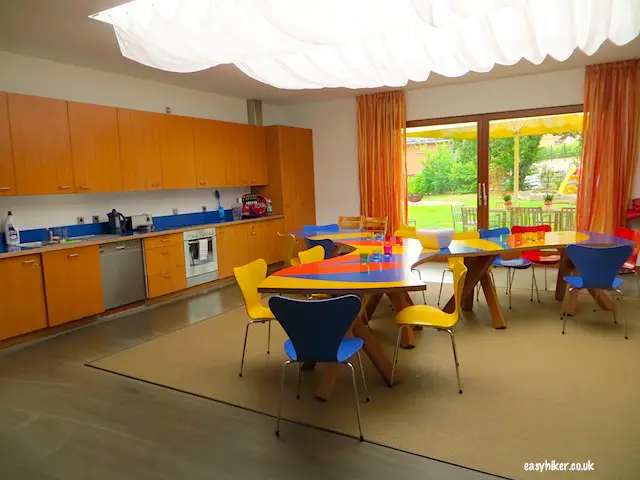 This is a key element of the programme: to create an environment of mutual sharing, comfort and hope – everything to aid and assist the recovery of the small patients.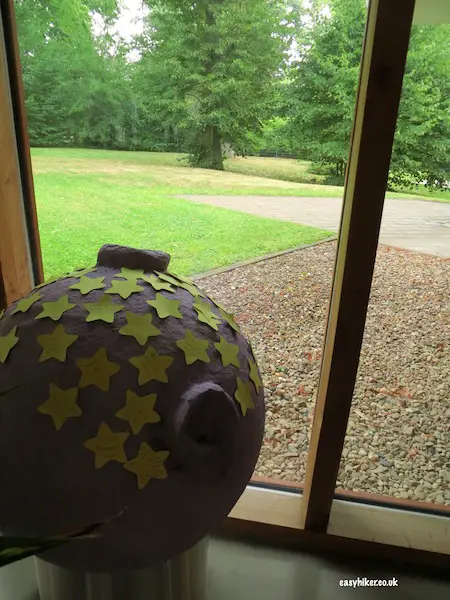 But why Gehry?
It turns out that he was a friend of a one of the heart clinic's surgeons and, when he heard about the idea for a Ronald MacDonald House, suggested a design. Local legend has it that the original plan was drawn on the back of a beermat.
It also turns out that Gehry was in Bad Oeynhausen at the time to oversee the construction of another of his buildings, the Energie Forum Innovation, built for the local electricity company. Which is why Bad Oeynhausen can now claim not one but two of Gehry's buildings. Take that, Bilbao!
We did not stumble upon the Energie Forum, however, which appears to be located in some (otherwise) ghastly industrial park (at Mindener Strasse 44, if you want to google it).
A reason to return to Bad Oeynhausen some other day, perhaps?     
Follow our easy hikes and enjoy our small discoveries like this along the way by subscribing for our free updates via email or by following us on Facebook.