It was Mrs. Easy Hiker who drew my attention to the site. I wonder what these ruins are, she mused: not once, not twice, but repeatedly, and in the end – when that had failed to stir me into action or at least a bout of in-depth research – almost every time we passed the site in the train during our weekly shopping trips to Ventimiglia. That's when I realized: I had no choice but to find out.
This is what I learned. Abandoned castles, it seems, are not rare in the coastal back country of the Riviera. Liguria was under Genoese control for centuries, long enough for military technology to change drastically several times over, as did the identity of the Republic's most dangerous foes. This meant that Genoa had to look in different directions in different ways to defend the western frontier of its territory.
Fortifications were amended whenever that seemed practical, feasible and cost-effective – the last time by Napoleon, this time with a specific focus on defense against attacks from the sea – and abandoned when it was cheaper to build something new in a different place.
A Hike Where We Found Three Ancient Ruins in Ventimiglia
Three ancient ruins in Ventimiglia, remains of defensive structures, survived in some form, and since they are fairly close to one another, we decided to go for a walk to take a closer look at them.
Closest to town is the Fortezza dell'Annunziata, essentially the fortification of a pre-existing monastery from which the fortress inherited its name. It is easy to reach on foot, being located just outside the old city, on the far (coastal) side of the hill on your approach from the modern downtown area. If you start from the train station, cross the bridge across the river Roya, …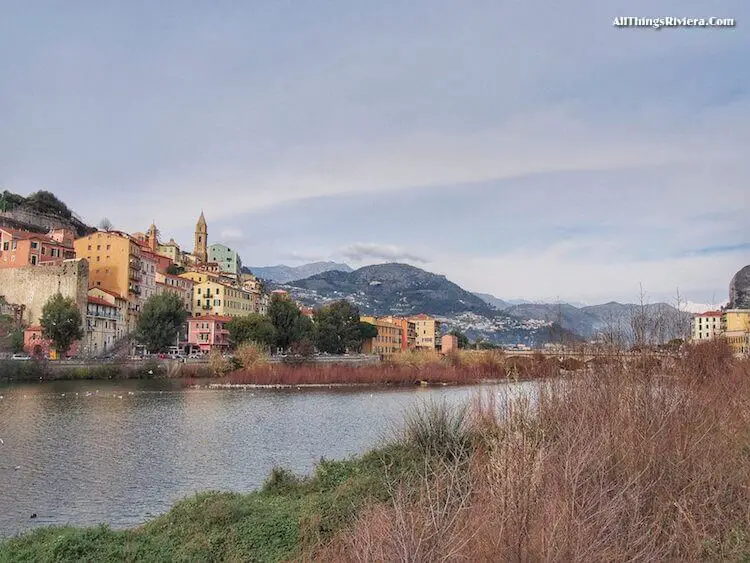 … and continue on the coastal road past the newly-built marina. Building works are still going on, and quite a few of the access roads are closed down for traffic as a consequence, so it may be (for the time being) easier to bypass the construction site altogether and to walk up the stairway …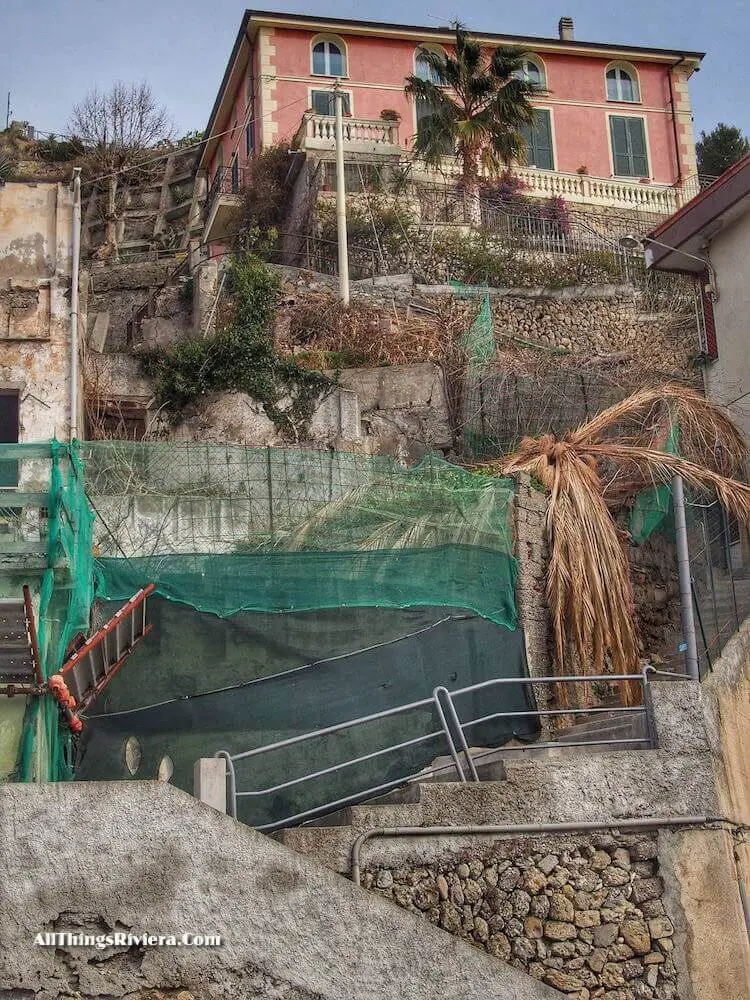 … and then to follow Corso Verdi towards your left hand side for approx. 500 metres. The Annunziata, which accommodates Ventimiglia's municipal museum, is the only one of the three fortresses that can be visited from the inside. It is also the newest, having received its latest facelift in the 19th century.
But no: this was not the one, Mrs. Easy Hiker said.
Now walk back a few steps on Corso Verdi and take the road that leads you further up the hill. Follow this road, eventually (after a few turns and twists) called Via Forte San Paolo, until you reach the eponymous fortress.
There is not much left of it, not much more than mere foundations, …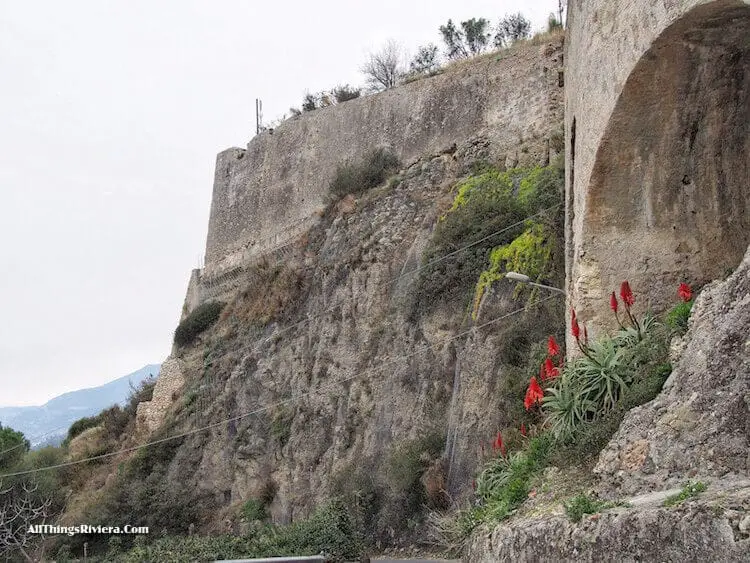 … and what is there to be seen is marred by tons of ugly telecom equipment.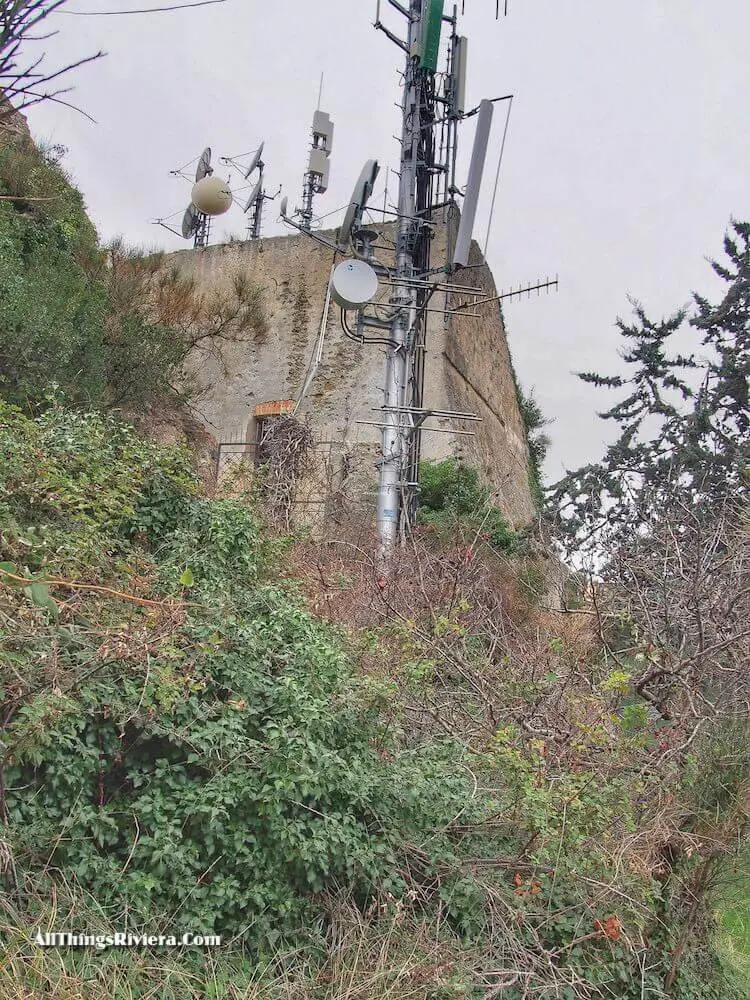 This was not the right one, either, which left us with only one candidate on our list, coincidentally the one that had been the chief suspect all along. Further investigation, however, required a bit of an effort, since by now, the low-hanging fruit had been picked.
The walk from the Forte San Paolo to the Castel d'Appio covers a good 60 minutes, plus the same time for the return since there is no other route. Bear in mind that we were not sure what we would find, or whether we would find anything at all: maybe it had all been a wild turkey chase. The only thing sure was that there were some steep climbs on the way ahead to test our resolve.
In truth, once or twice we thought of breaking it all off and returning to Ventimiglia for lunch (early in the walk) or for hot drinks (during the later stages) as it had been a rather cool day to start with and clouding over as time went on. Instead, we ploughed on and ultimately did not regret it.
Yes, we did find the fortress …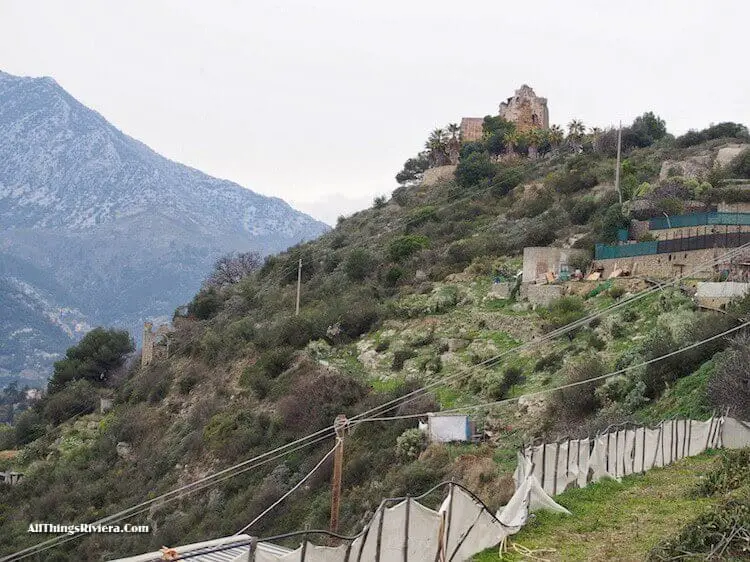 … but was it the one we had glimpsed from the train?
That was difficult to say: could be, probably was, but there was no way to look around and make sure since the iron gate in front of the castle was pad-locked and all we could do was peek through the bars.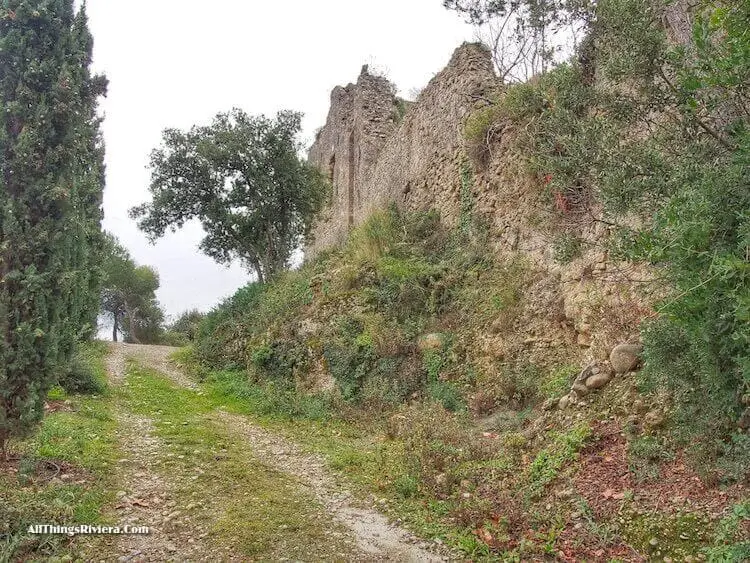 At that stage, however, it had ceased to matter. Genoese castles, medieval abbeys, stately homes and palaces: they are, after all, not what makes countryside walks interesting. If hikes were a film, they would all be what Hitchcock famously called MacGuffins, not much more than pretexts to get the story rolling, while what really matters is all the other stuff that happens.
Other stuff: for us, in the hills to the west of Ventimiglia on that day, included the ruins of a farmhouse that nearly if not quite passed the Caspar David Friedrich test (does it incite a sudden fit of metaphysical meditation?), …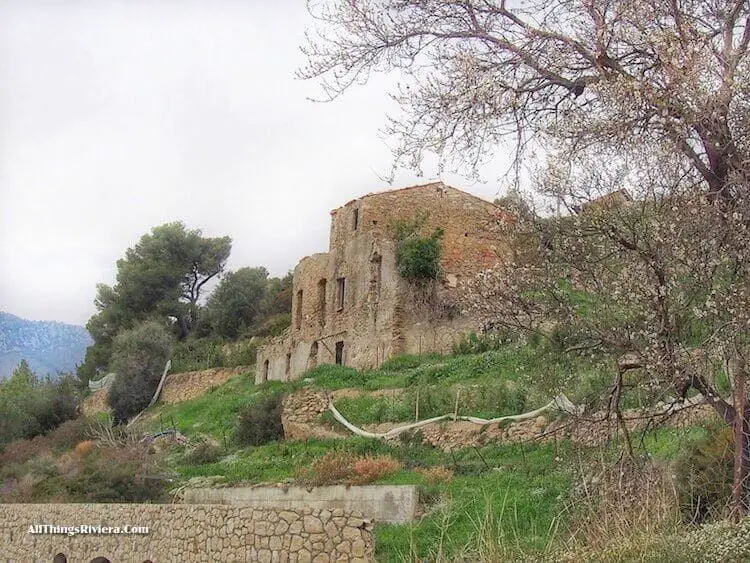 … another farm house ruin that certainly did, …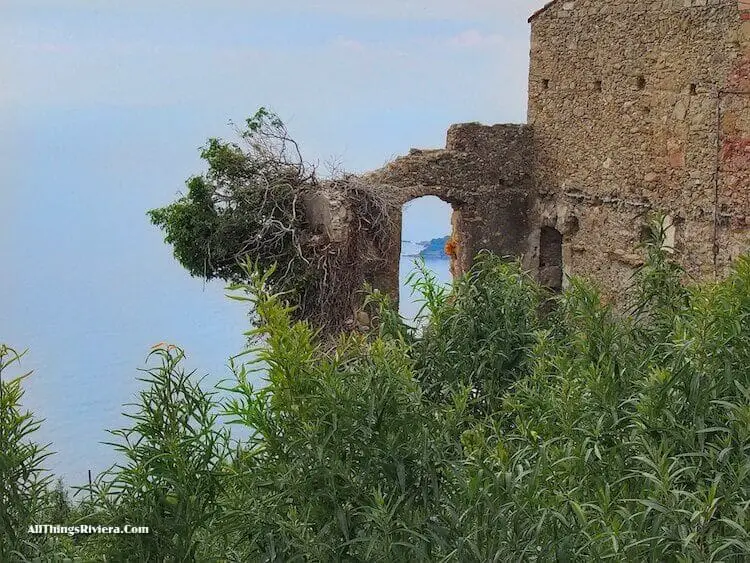 … flower meadows (out in the open, and in January no less), …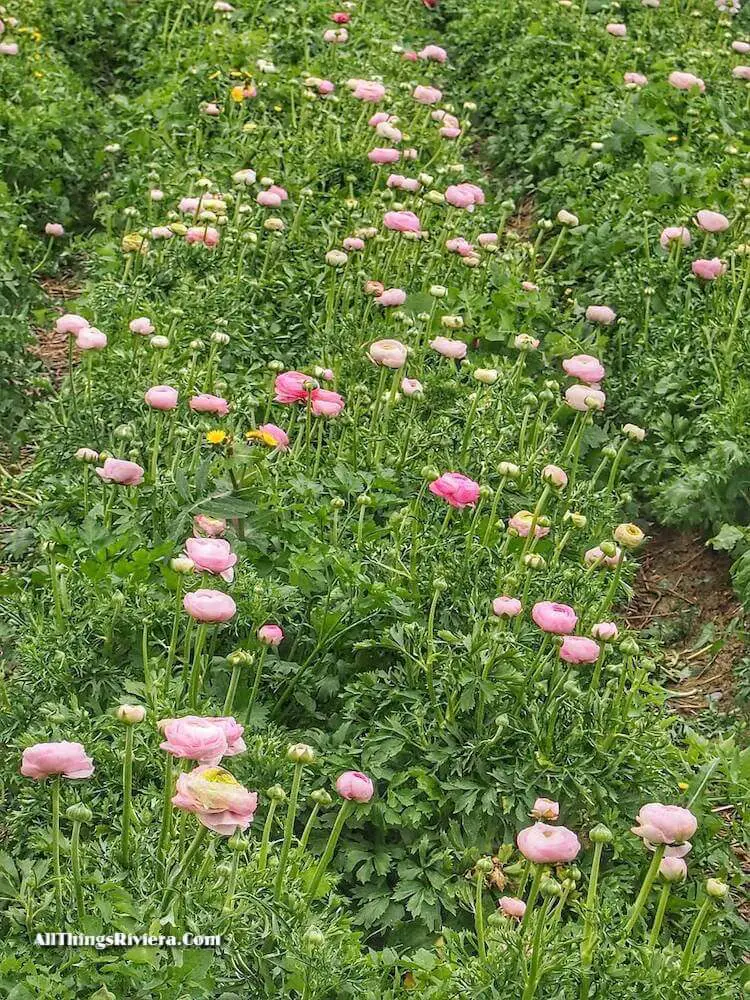 … plus several animals-that-you-do-not-see-every-day including goats and a pair of donkeys …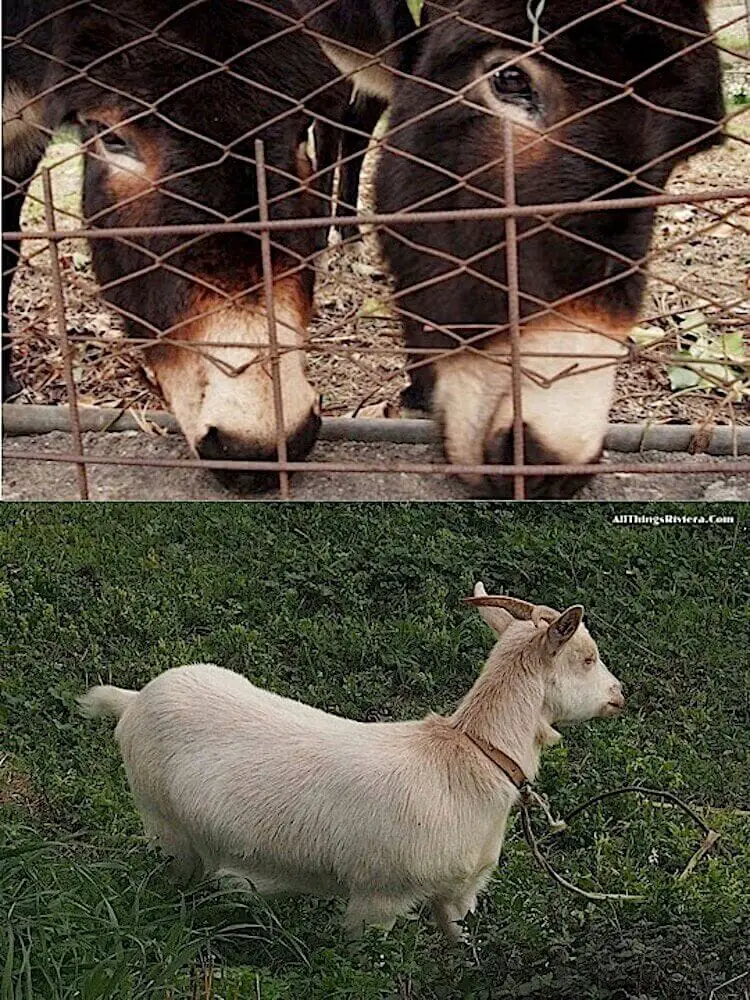 … who were so friendly and cute that we deliberated whether we should steal them and bring them home with us. (We did not, in the end, so they are most likely still waiting curiously for the next hiker to come along their way.)
We also saw Monaco in the distance: it's that pink blur on the third peninsula from the front. (You can see it better when you blow up the size of the image.)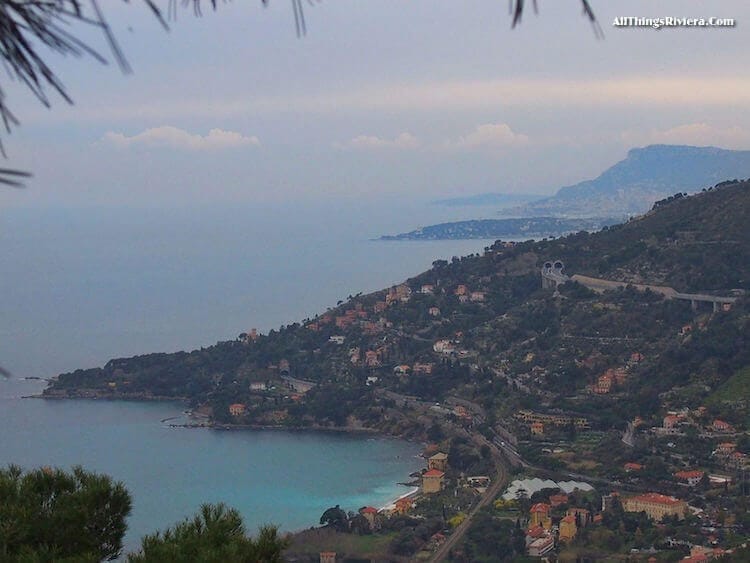 The spot from where we took the picture and Monaco are separated by a distance of only 20 km, but seeing its skyline from this ridge near Mortola, a herd of goats in the back, felt like spotting Earth from the moon.
Our walk had taken us far away from urban concerns and deep into the Italian equivalent of la France profonde: a land of dilapidated greenhouses, semi-abandoned farmyard equipment and rusty old cars in garage forecourts. It's a bit scruffy, admittedly, but not without charm.
We also noted with amusement that our route was classified as a Grand Randonnee throughout, marked in red and white bars (the "Polish flag"), although it is entirely asphalted and used by motor vehicles. There is not a lot of traffic, but it only takes a single car to kill you, and you should certainly be on the lookout , keeping your eyes and ears open (thankfully, Italian drivers generally blow their horn before entering narrow and blind curves).
I don't know what the Deutscher Wanderverein would make of the trail, but the need to watch out certainly adds a certain frisson to the experience. It is not dangerous enough for you to be in constant, serious fear for your life, but serves as a reminder of how precarious it all is. A teasing taste of danger, if you like: an adventure for beginners. But that's what we are here for, right?