What to See in Palma de Mallorca:
Before we left Mallorca (after our hiking trip earlier in the autumn), there were two things we simply had to do. First, we had to pay a visit to the capital.
I don't know about you, but to me, (as I already told you in the last post) it always feels somehow wrong to visit a country without seeing the capital – or an island without its largest town. Particularly if that town is as important to the whole as Palma is to Mallorca, accounting for roughly half the island's inhabitants.
If you have plenty of time, you can just lose yourself in the scenic lanes of Palma's Old Town or stroll endlessly down her elegant boulevards, but if you have a tighter schedule and can perhaps spare only a couple of hours or so, we suggest the following itinerary.
Start at Plaza Mayor in the north of the city centre – a handsome city square not unlike its more prominent namesake in Madrid – and turn southwards into Caller de Colom past some magnificent Art Nouveau buildings …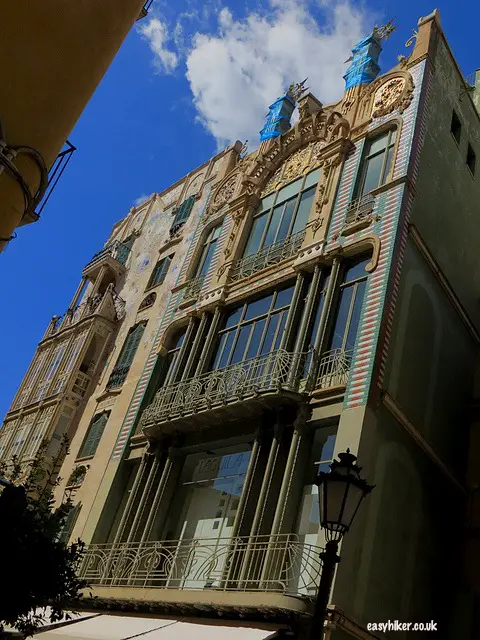 … to the Ajuntament, the seat of the local government.
After turning right into Carrer del Conquistador and right again into Placa de la Reina, you will have the Paseo de Born on your right hand side, the city's most handsome and most elegant shopping street.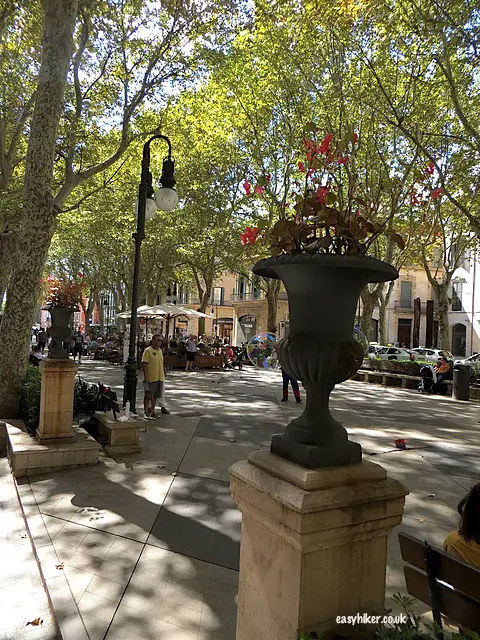 On your left hand side, in the direction of the coast, you have the centre of the Old Town. First up is the Palau de la Almudeina …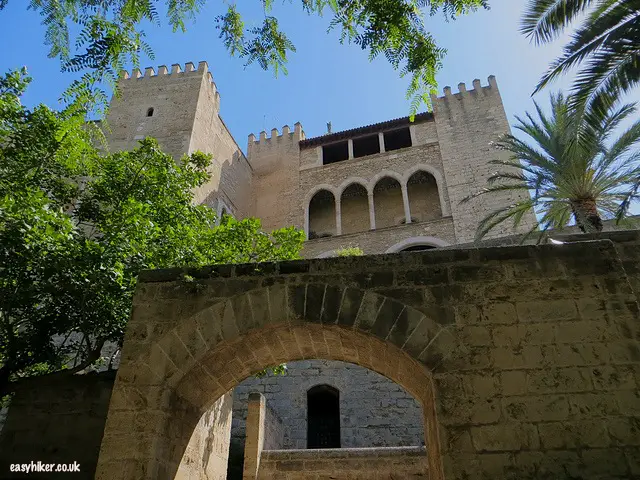 … originally an Islamic fort and now the "official residence" of the Royal Family in Mallorca. (In fact, however, although Juan Carlos and his family are rather often in Mallorca, they spend much more time in their "unofficial residence" a little further up the coast.)
Right next door, you can find La Seu Cathedral together with the adjacent Palau Episcopal, the bishop's residence.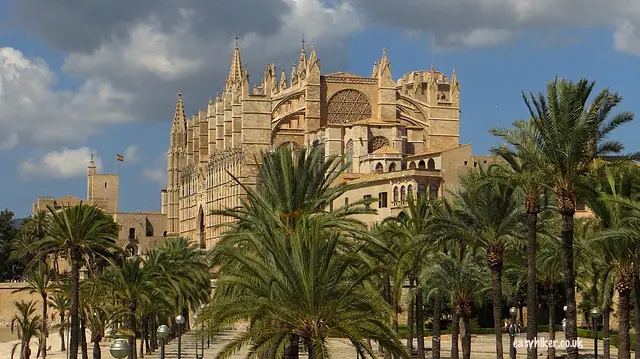 This is the heart of old Palma, with many cafés, restaurants, buskers and street hawkers, but there are also many quiet spots further down in the tranquil settings of the Parc del Mar which is located between the row of historic buildings and the sea.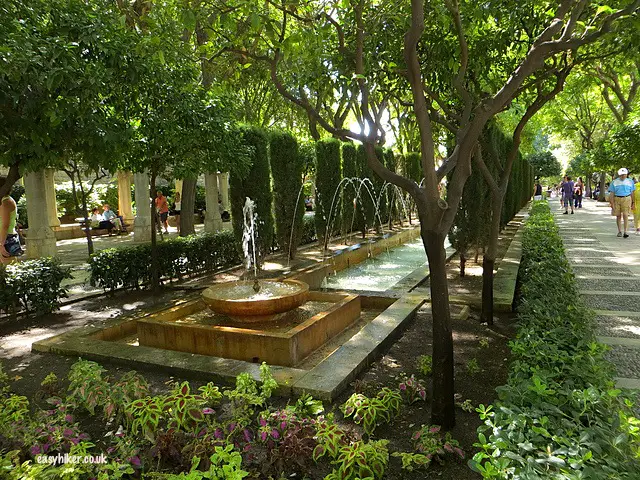 Behind the Palau Episcopal, turn left (inland) into Carrer Portella and right into Carrer del Sella for the Banos Arabes, the oldest remnant of the time when Mallorca was governed by the "Moors". (The Moors, Muslim rulers from Northern Africa, were here for 400 years and brought the island its first "golden age". The baths are over 1000 years old and were equipped with a sophisticated floor-heating system.)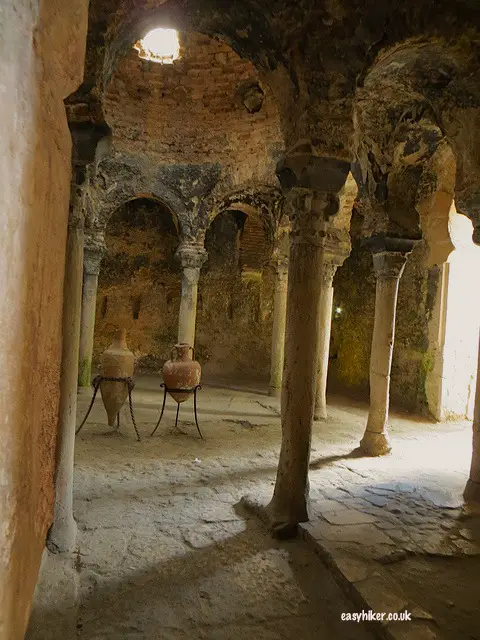 At the next corner, turn left and then right into Carrer Morey, carrying on straight all the way through the Old Arab part of the city back to Plaza Mayor.
One thing of particular interest when sightseeing in Palma de Mallorca are the patios, the courtyards of the buildings in the Old Town. These are often stunningly beautiful places of rest for the residential communities, adorned with plants and fountains and providing peace, quiet as well as – above all – shelter from the often merciless summer heat.
Many of these patios have been around for hundreds of years and are of great historical interest, but one can understand that the residents are not overly keen on visitors snooping around at all times of the day and year.
So the local tourism board and the residents have agreed on a sort of compromise: one month every year – in June – 60 of the most beautiful patios are opened for guided visits.
Still, a few of these patios can be seen from street level all year round, and we were able to peek into Can Espanya-Serra on Carrer de la Portella, a 19th century courtyard which has been built over a 14th century base.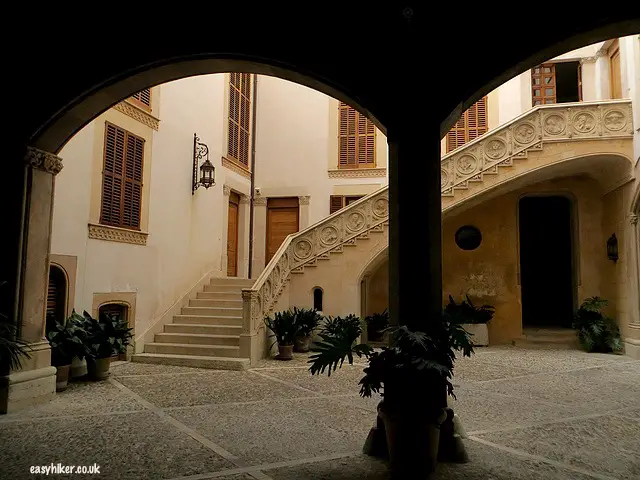 If you have come to Mallorca to visit one of the island's beach resorts, it is probably easiest for you to book your one-day excursion to Palma via a local provider. Which is exactly what we did – NoFrills Excursion operate daily bus trips to Palma where they take you on a brief city tour first before dropping you off and leaving you on your own for three or four hours.
After you have explored the city centre on foot, there is enough time for a meal and even some shopping, too, before they take you back to your hotel.
Still waiting to know the second thing we had to do before we left Mallorca?
I once read a story about a man who stayed awake in his hotel room the whole night, having heard his neighbour take off one shoe, rather noisily it appears, and waiting for the second shoe to drop. I have kept you awake until now, I hope – but you will have to wait for the second shoe to drop until the next post.