Of these altogether ten different day trips, most are going to places that also are, in principle, available on Zest's ordinary lines.
The problem is that the schedules of these "ordinary lines" (that often run no more than twice day) are mainly arranged for the benefit of the people from the back country villages who want to go to Menton or Monaco, for a medical appointment, to go shopping or to go to work. If you rely on these lines to go from coast to village, you will be forced to leave late and return early.
Conversely, the Navette du Patrimoine trips (Note: only available till end of August!) are customized for the coast's many summer guests: the buses leave in the morning from Menton (at 8:30 or 9:00 am) and return you in time for dinner. All of the trips include at least one guided tour, but this is just an offer, no obligation.
Perhaps it is best to be a trifle impolite and separate yourself from the group, using the buses in the same way that you would use a train. (French guided tours, even for those who have a reasonable command of the language, are hard work. You must understand that they are not designed to entertain, not even to instruct the participants. Instead, they are best thought of as a communal act of worship, with the guide assuming the role of a High Priest of a "Cult of Culture", which in France, bien sûr, means French Culture above all.)
A Trip to the Most Storied Backcountry Village of the French Riviera
We took the trip to Sospel, the biggest and most storied of the back country villages. In the late Middle Ages – when it had twice as many inhabitants as it has today – Sospel was a key staging post on the road from Turin to Nice, the so-called "salt route", and was even the seat of a diocese. The Cathedral – in its present shape from the 18th century – still stands …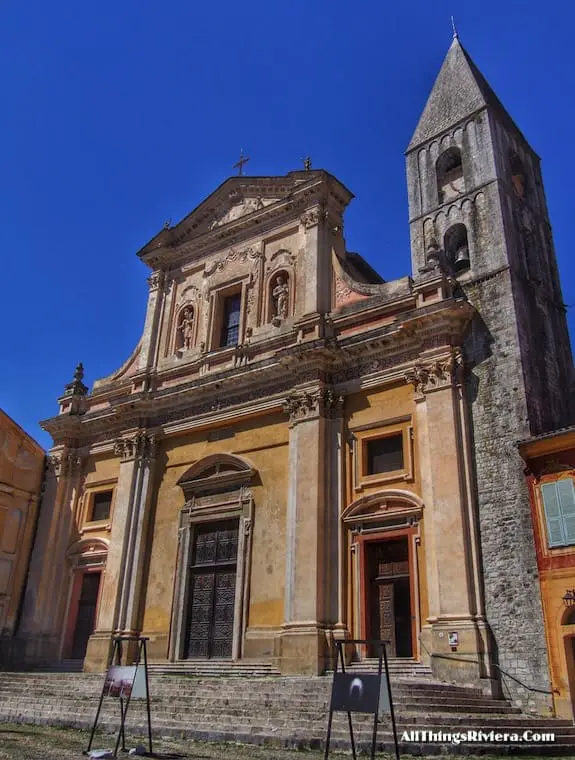 …looking incongruously huge for a village of barely 3,000 inhabitants. Next door, you can see the building where – according to the inscription – Pope Pius VII celebrated a mass in 1809, following which he appears to have been miraculously transformed into a wooden horse.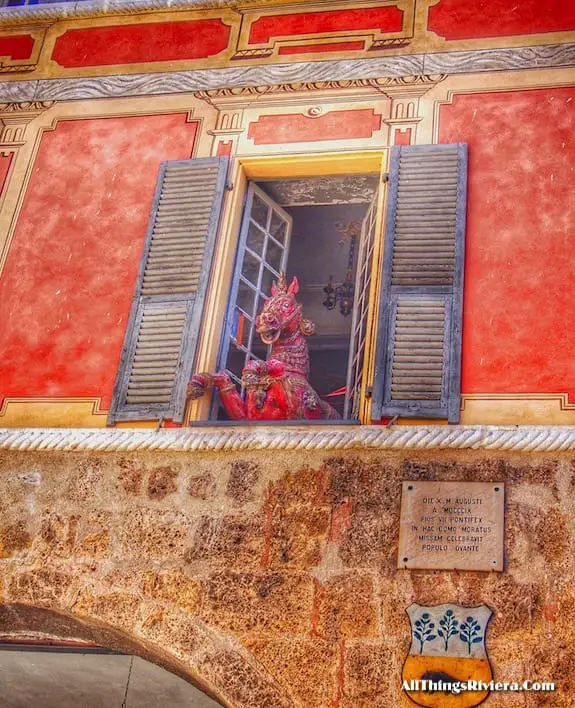 It is perhaps best to reserve the morning, straight after your arrival, for a walking tour of the village. Sospel may not be big but still big enough for a few surprising discoveries.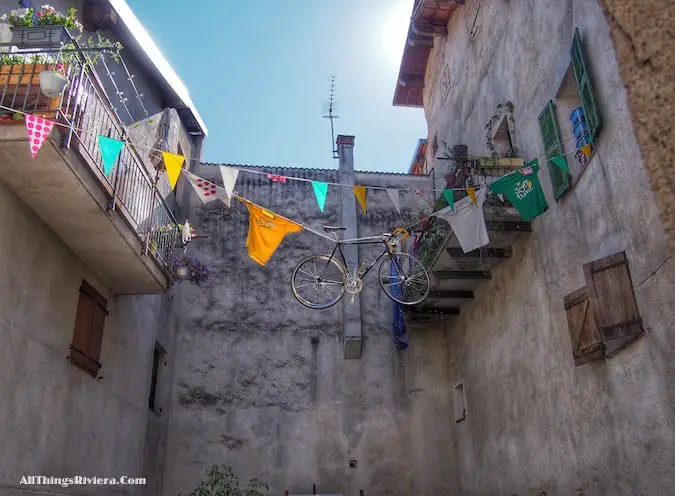 Join the guided tour, if you must or want to see for yourself what these tours are like. I must admit that these tours also have their benefits.
The guide, for example, has the keys to some sites that would otherwise remain locked and inaccessible. You don't have to listen to what she says, after all, and are free to let your eyes roam and discover things that you would probably not notice if you were on your own and free to leave at any time (separating yourself from the group at this stage would be more than just a trifle impolite).
In the Sainte Croix Chapel, for example, while our guide provided a learned introduction into 16th century Ligurian architecture and the history of the Counts of Ventimiglia, I could not help noticing how much these cramped and cluttered village church interiors reminded me, the more I looked at them, of my aged mother's sitting room.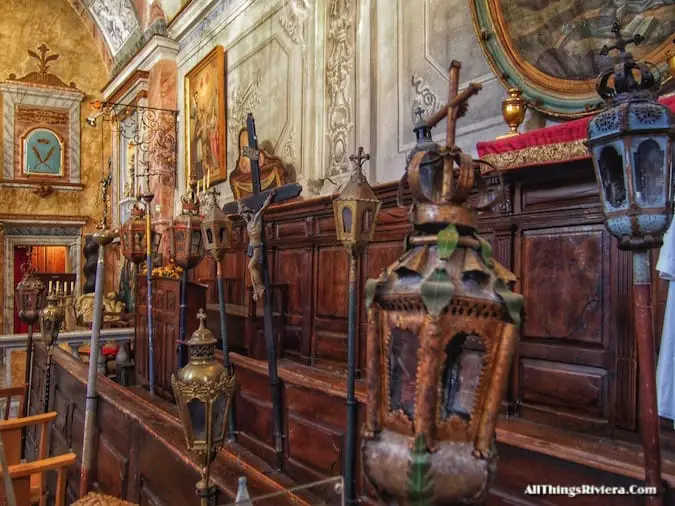 You have several options of where to take your lunch, since Sospel has – for a place of its size – a large number of restaurants. We went to the Relais du Sel, which is good although perhaps a bit pricey for what it is. There are also several bakeries where you can buy sandwiches for an al fresco lunch.
The bus returns at around 4, so all you have time for is a brief hike into the surrounding countryside. Three major trails are intersecting near Sospel (including the GR52), but considering we have a maximum of 2 hours (and may still be digesting our lunch), we better leave that for some other time.
A more modest trail starts just behind the public toilets on the main village square, leading towards the village of Suès and Italy in between some local hills of heights of 700 to 800 metres …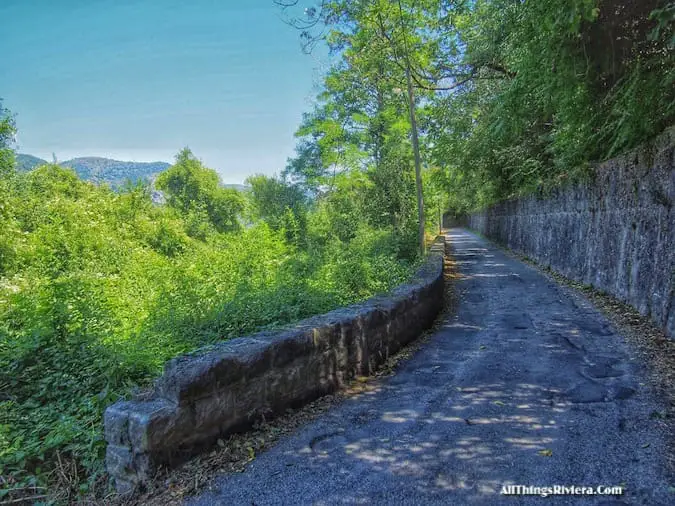 … and after one kilometre or so, it forks into several alternative routes, providing you with some degree of choice.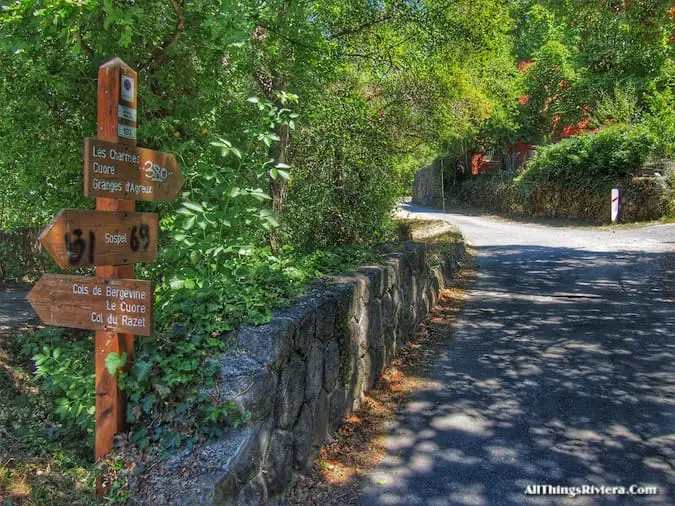 The best way to proceed is probably to look at your watch, determine the time you need to be back for the bus and then split the time into 2: half for the way out and half for the way back.
I would advise you to be disciplined: you don't want to miss that bus, believe me. There are places where you, unexpectedly forced to spend an evening and a night in an unfamiliar place, can turn this accident into an unforgettable adventure. Sospel, for all its undoubted charms, …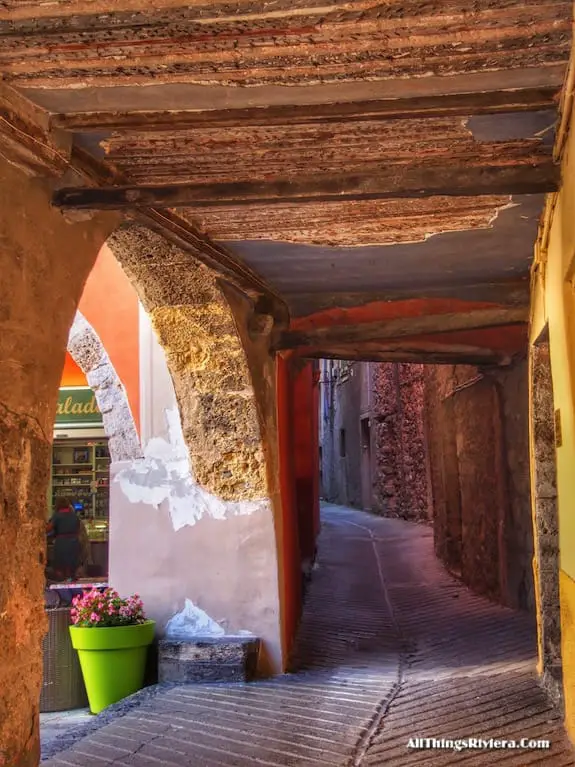 … does not look as though it was one of those places.
But whatever you do: take some time for walking down to the river Bevera in the immediate outskirts of the most storied backcountry village. It is from here, with Sospel's landmark bridge (the Vieux Pont) in the background, that the village looks most inviting and picturesque.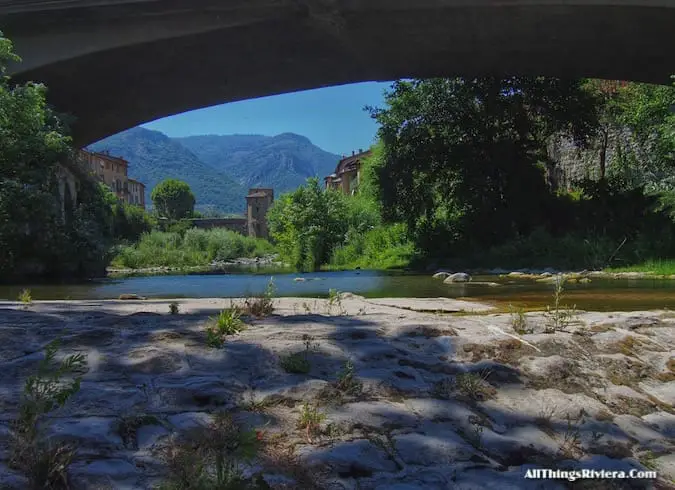 Don't fail to join us for more of our tips about the back country, next time of the Italian Riviera by getting the latest post of the series. Subscribe to our free updates via email or follow us on Facebook, Instagram and Twitter. Why not include us in your G+ circles too?