The Saint Hospice promontory – hermits, shepherds and gazillionaires – is always worth a return visit
It was just a question of time before such a thing would happen, and then, last week, it finally did.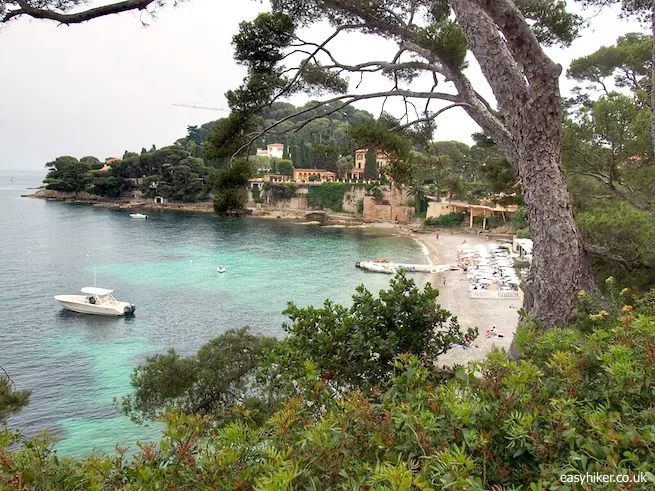 She said so: It was St Jean Cap Ferrat all over again
"We have been here before." Mrs. Easy Hiker said. "There," she pointed to a spot in the distance just before the hiking trail made a sharp bend to the right, "is a stairway between those trees that leads down to the beach and then there is another one up on the other side. You will see. I am certain we have done this walk already."
I told her, truthfully, that I could not remember a thing. "Well, that's why they call you Mr. Memory Man." Mrs. Easy Hiker replied.
I could not let that stand, of course. Merely because my memory has, on certain occasions in the past, proved less than totally reliable, and because I have no recollection of this particular event – i.e. us hiking on this trail – does not mean that it actually happened. That is just flawed logic.
But it turned out there was a stairway down to the beach between the trees and another one up, on the other side, just like Mrs. Easy Hiker had said.
Read also: The Ultimate View of the French Riviera
Soon after, when we sat down for a little rest, Mrs. Easy Hiker pulled out her phone, browsed for a while and handed it over to me with a triumphant smile, saying "We're hiking St Jean Cap Ferrat all over again!" That was the moment I knew the game was up.
The evidence was irrefutable: there were photos on her Flickr account of nearly all the things we had just seen. In my defence, I knew that we had hiked the Cap Ferrat peninsula before up to the Point de Saint Hospice, east of St Jean village, but in my recollection, we had lost our way and never finished the trail.
Well, I am now ready to concede that, if we ever did lose the trail, we certainly found it back again and completed the loop around the Saint Hospice promontory. We even wrote about it here.
I still don't remember, by the way. After all, that's why they call me Mr. Brains. Or something.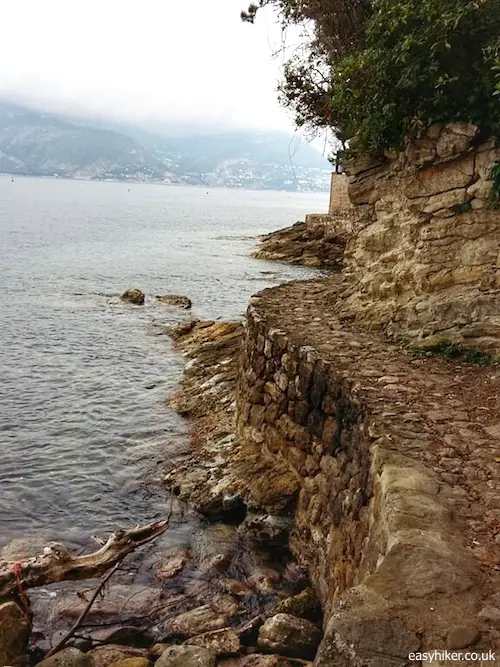 Having just reread the post about what I now will have to call our first hike around the St Hospice promontory, I feel, however, that the original article does not really do justice to everything there is to see. Which is why I would like to add three points to our account from September 2012:
1. In the original article, I said that Saint Jean was "one of the prettiest towns on the French Riviera".
I must have been wearing the rosiest of my tinted spectacles that day. In fact, Saint Jean is best seen from a distance, photogenically nestling in its bay.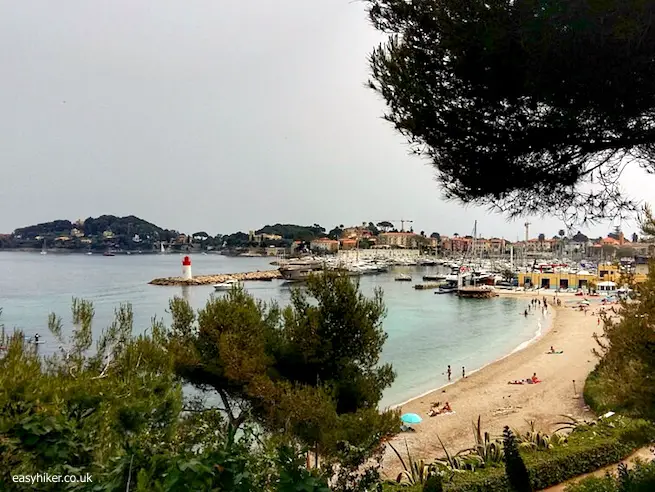 Up close, you see more clearly what it lacks – character, personality and history, for example. Few French Riviera towns are rich in history, admittedly, but Saint Jean is specifically nondescript.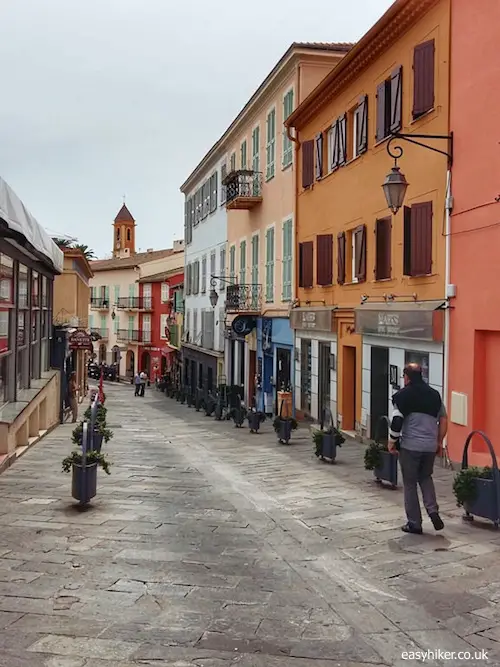 Which is not surprising if you consider that, until the 1870s, the only inhabitants of the entire Cap Ferrat peninsula were the lighthouse keeper and the shepherds who would come here in winter, seeking refuge from the cold Alpine peaks. Bear in mind that this was a time when the casino in Monaco had already opened its gates, and Menton was making its name as the world's largest hospital for wealthy TB patients.
Read also: Menton is to Die For
The lighthouse is still there, by the way, although the shepherds have since made way for people like Paul Allen (Microsoft), Maurice Saatchi (the "other half" of Britain's most famous advertising double act), Omar Bongo (President of Gabon for 41 years since succeeded by his son), and the Heineken family (presumably refreshing the parts of the island the other beers cannot reach.)
Come to think of it, we should probably be grateful that St Jean is so bland and that its famous residents have not – taking a cue from what Picasso did in Vallauris or Chagall in St Paul de Vence – left their imprint on this innocent little town.
2. Even Mrs. Easy Hiker agrees that we skipped the St Hospice chapel on our first walk around the promontory.
At the time, she says, we did the loop in the other direction (counterclockwise), and the stairway to the top of the hill came at the very end of the hike, which means that we were probably too tired to climb up. If you proceed clockwise from St Jean, however, you will see the chapel and its 11 metre high statue of the Holy Virgin right at the start of the tour.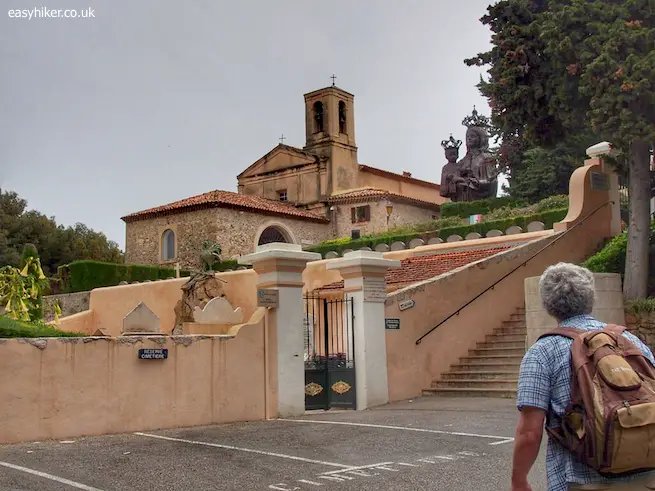 It's well worth the detour – the chapel you see is from the 16th century, but there has been some sort of a shrine in this place since late antiquity when the (at the time) famous hermit Saint Hospitius died here, having lived for decades in the tower on the right hand side.
3. Now, the real reason for our suddenly re-ignited interest in the Cap Ferrat peninsula had been a newspaper article about the most expensive house in the world, a local villa which was on the market for €130 million. 
Call that expensive? I hear you sneer, but bear with me for a moment. Dear reader, you must understand that I am using the term loosely: we are both aware, of course, that there are properties on the market that have a higher price tag – such as the penthouse of Monaco's Tour Odeon, yours for €300 million. But the thing about this villa is that it is actually rather small, with a floor space of no more than 600 sq. (now that's what I call tiny! Just imagine how crowded it must get in there!), which means that the price per square metre comes to a hefty €216,000, almost twice as much as the second property on the list (eat your heart out, Hong Kong!)
Unfortunately, however, the article is not specific about the actual location of the house, its name or its previous owner, so you can only guess which one of the buildings whose gates, gardens and roof tops you may occasionally glimpse it may refer to.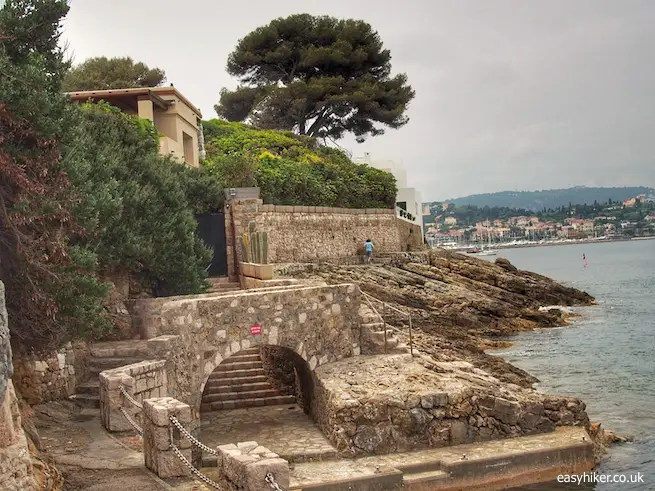 "I wouldn't want to live there anyway" Mrs. Easy Hiker said. "There are no supermarkets anywhere near. And the next bus stop is miles away."
I, conversely, could be tempted, to be honest. I have always liked a bit of space. Or a garden with mature palm trees. And unobstructed sea views.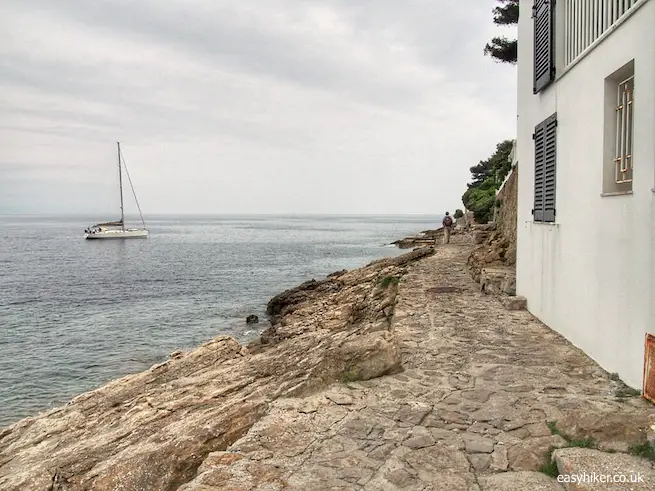 Which leaves only one further issue to address: how to raise the necessary funds for such a purchase.
Incidentally, I have decided, with a heavy heart, to put this website up for sale. Yes, dear reader, Easy Hiker can be yours – for the trifling sum of €130 million. Haven't you always dreamed of living the life of an Easy Hiker? Now you can make those dreams come true – and how many times in your life do you think you will have a chance to do that?
Offers by email only, please. And no pushing and shoving there in the back! May the man – or woman – with the deepest pockets win!