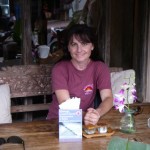 Guest Post: Easy Hiking Trails
Easy hiking in the Australian Outback? Ohhh, YES! Here's Amandawho will share her hands-on knowledge of the friendly trails of Kings Canyon Rim.
Hiking probably isn't something that comes to mind when you think about the Australian Outback. So I thought I'd better fix that. Don't just think about big red rocks, flies and thousands of kilometres of nothing. Think about mountain ranges, gorges, waterholes and spectacular canyons.