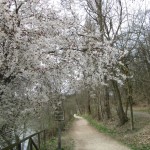 Day Trips from Paris The Hiking Trail in Versailles
This time, Monsieur et Madame Easy Hiker continue their exploration of the hiking trails near Paris, this time in the Forest of Versailles.
One of the most attractive features that a hiking landscape can have is a lake. Think about it: when did you last encounter a lake without immediately putting it down as one of the highlights of your hike?