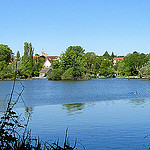 Hiking Trails near Paris Hiking the Marais of Misery
You may have heard about Paris, Texas. Today, I will take you a little further east, into the swampy lowlands of the Essonne river, straight into the bayous of Paris, Louisiana.
But first, we have to take the train into the Deep South of the Ile de France, to a town called Ballancourt (RER line D from Gare de Lyon).
Les Miserables Hiking the Marais of Misery