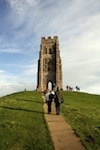 Guest Post – Easy hikes in the UK
Cities are rubbish. They're boring and grey and when your children try to play out in a street, they risk getting squashed and poor Mums get all panicky.
The industrial revolution may have heralded the mass movement of the population from the countryside to the cities but the Brits continue to have a romantic notion of the countryside, and quite rightly so.