One key difference between London and Paris is the pace at which these two largest cities in Europe change their face: in Paris, any such change is slow. Very slow. When I see photos of Parisian street scenes from the years before WWI, more often than not I can recognize the location.
In London, conversely, you turn around for a moment, and when you look again a whole area has disappeared. Or, more often, "gentrified" beyond recognition. A mom-and-pop hardware shop has disappeared and reopened as an outlet for scented candles, the greasy spoon cafe has become an organic bakery, and dilapidated homes have morphed into bijoux properties that cost at least a million bucks.
It is this "gentrified London" that we shall visit today, the formerly gritty stretch of north London between town centre and suburbs, and we will centre our walk on the village whose name has become almost synonymous with this trend: Islington.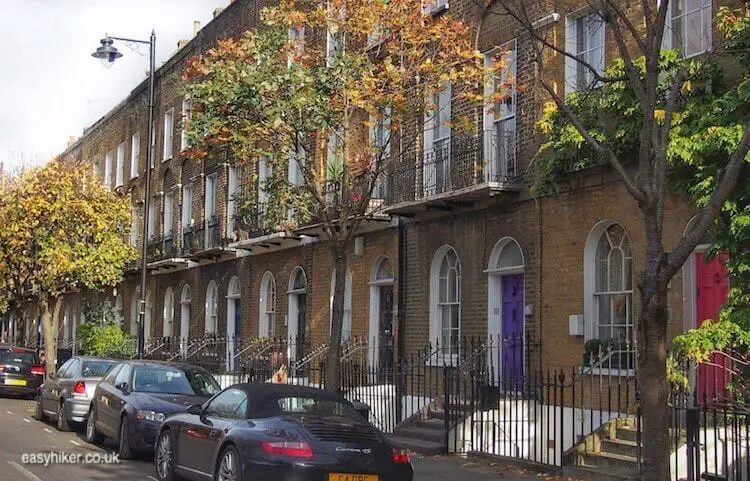 Our Gentrified London Walk
We start our walk in Exmouth Market, a 15 minute walk away from the nearest tube station (Russell Square or Holborn).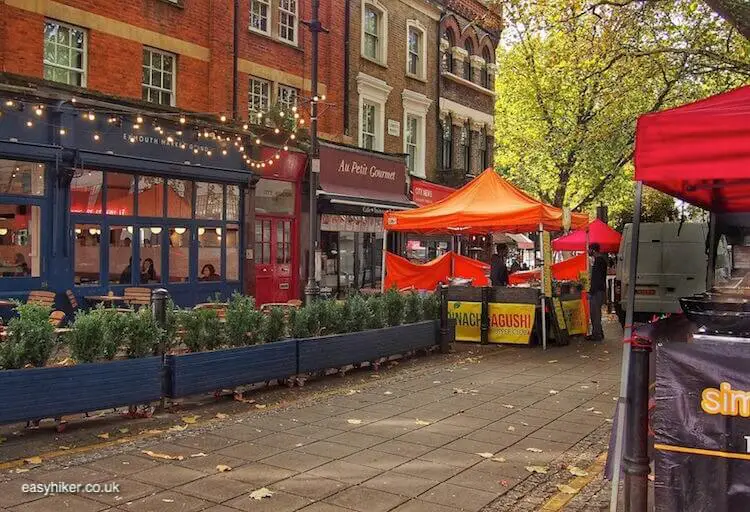 We are now in the borough of Clerkenwell, Islington's southern neighbour and once an industrial hotspot with workshops and artisans' ateliers. Within living memory, Exmouth Market was just that: a market where local folks – including a sizeable Italian community – would go to buy their fruit and veg. Now it is full of fancy shops and restaurants where one-bedroom flats rent out for 2,000 pounds a month.
Now turn north and follow Amwell Street – including its various continuations – across the border into Islington. You will pass many formerly industrial buildings, workshops and warehouses, which have been converted into residential homes, architects' offices or design studios.
Behind Barnard Park, turn left into Richmond Avenue and right into Richmond Crescent. This area – and this street in particular – is closely connected with the history of Britain's New Labour party. Several high-ranking politicians of this soft-left reformist movement used to live or are still living here, and Tony Blair – Prime Minister from 1997 to 2007 – resided in the house immediately on your right (no. 1) before he made the move to Downing Street.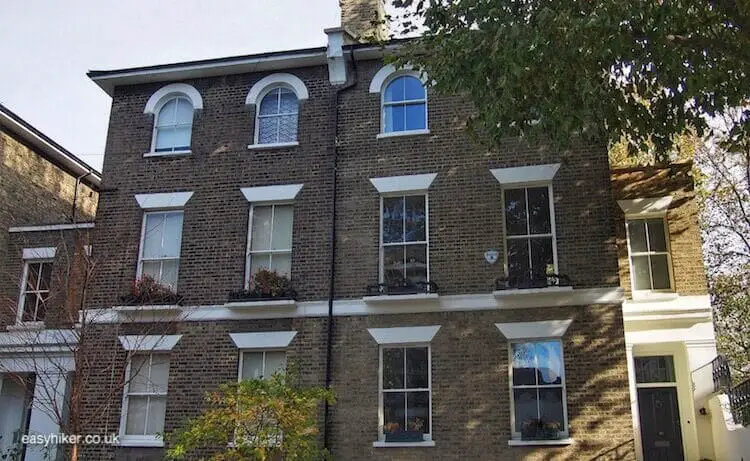 Turn back and follow Richmond Avenue to Cloudesley Road and then into leafy Cloudesley Square.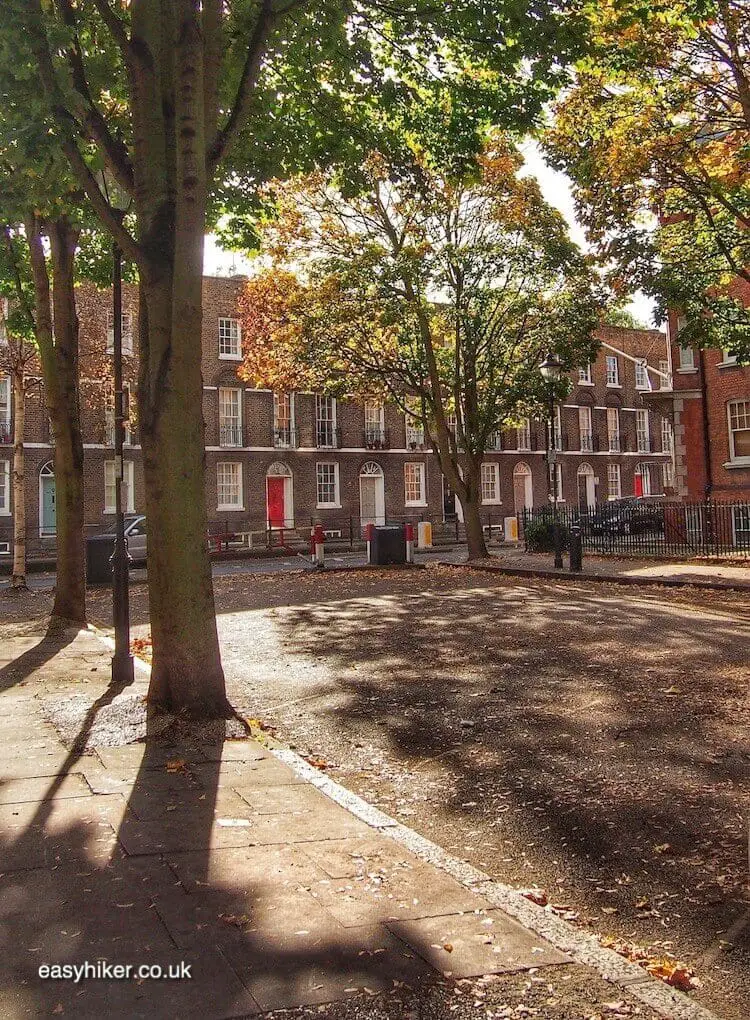 What do you think: what kind of political views would you expect to hear at a local dinner party? Well, in this voting ward (called Barnsbury), where even the most modest houses retail at well over one million pounds, Jeremy Corbyn's no-longer-"new"-or-moderate Labour Party collected roughly 65 % of the votes at the last General Election. No wonder that this area enjoys the reputation as the spiritual home of Britain's "Champagne socialists".
Turn right and follow Liverpool Road all the way to the Angel, the centre of Islington.
Turn left and keep right where the road forks …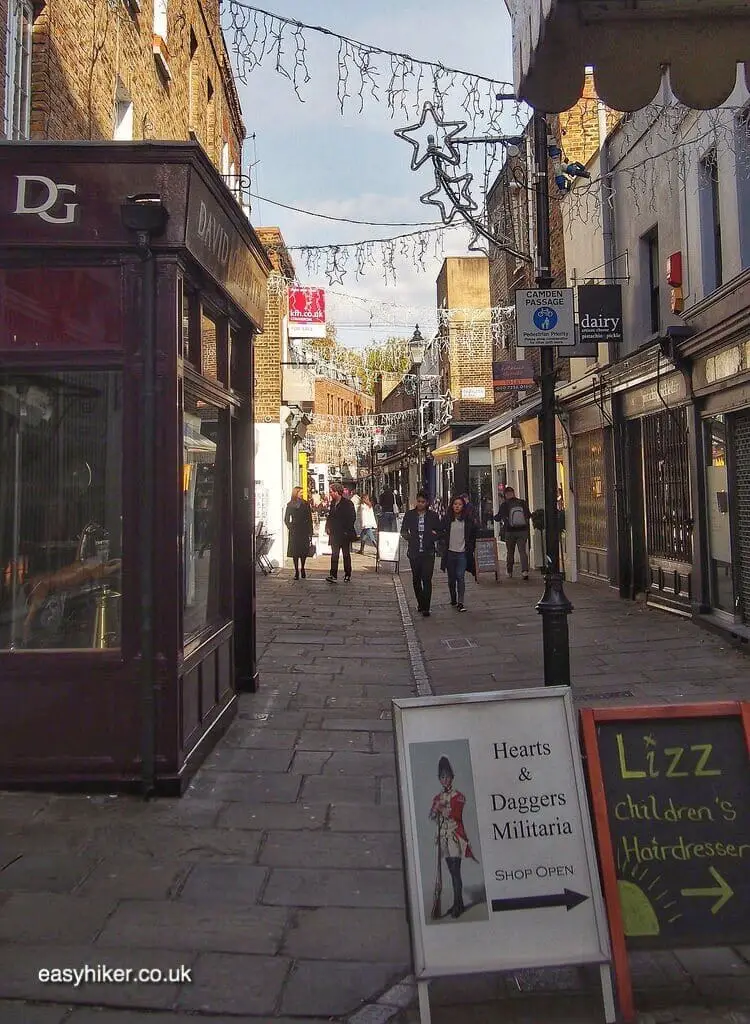 … for High Street, Camden Passage and one of London's highest concentration of antiques shops. (Further down Upper Street, on the left prong of the fork, you would find more New Labour history: at no. 127, in a restaurant then called Granita, Tony Blair and Gordon Brown hammered out their infamous "pact" that would determine and ultimately sour a whole era of British politics.)
Turn right into Colindales Estate, one of the few housing projects in this part of Islington (there are more in the rougher North of the borough), then left and follow Colebrook Row round to the left until you hit Essex Road. Cross and turn left before the King's Head pub before walking right into the gardens in front of the Islington parish church of St Mary's.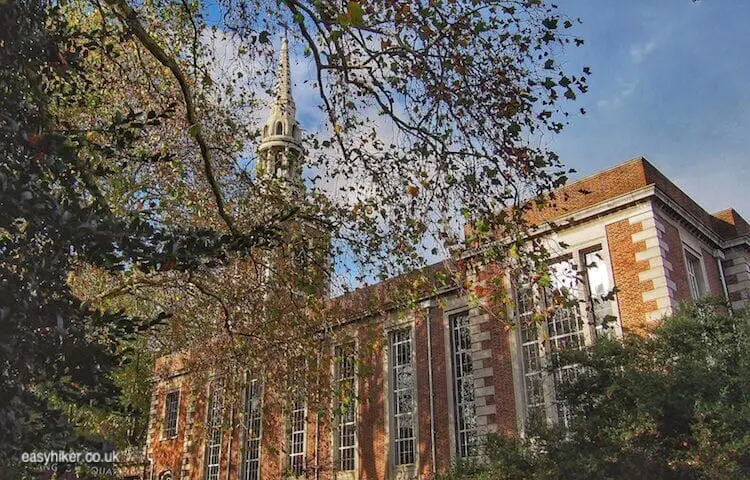 We are now in the old, historic part of Islington borough. Walk into Dagmar Terrace and turn right into Cross Street.
Walk left into Halton Street and take the first on your right, continuing into Astey's Row rock gardens.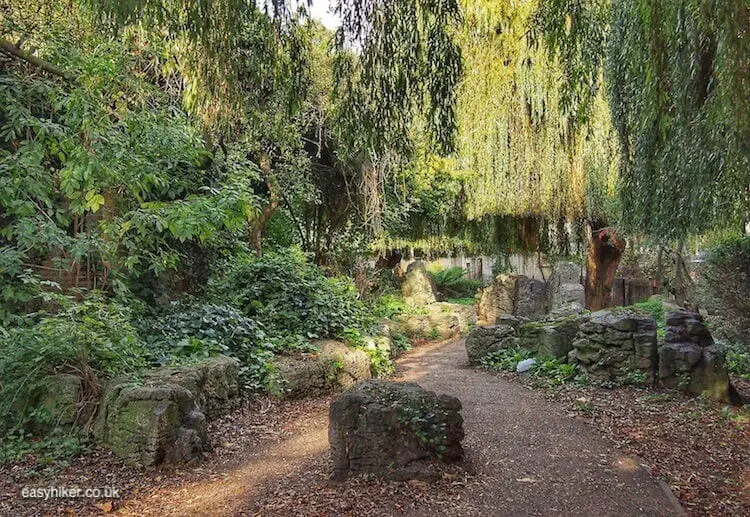 Just after crossing Canonbury Road, you will spot the New River behind the fence. The New River is probably London's oldest surviving engineering project: this canal was constructed in 1613 (when Shakespeare was still alive) to supply London with drinking water. It continued in operation until the 1980s, although this particular section here was shut down in the late 19th century.
Follow the course of the canal for a bit (there is a gate a few steps down on your left hand side), …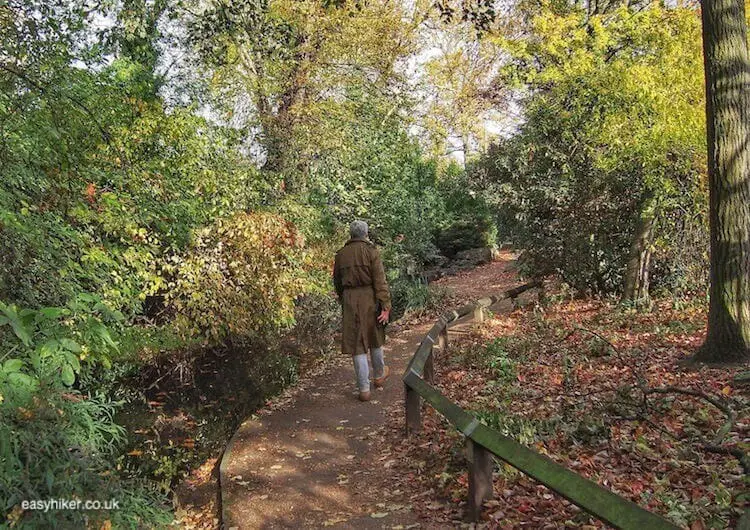 … one of most enchanted places you can find anywhere in London.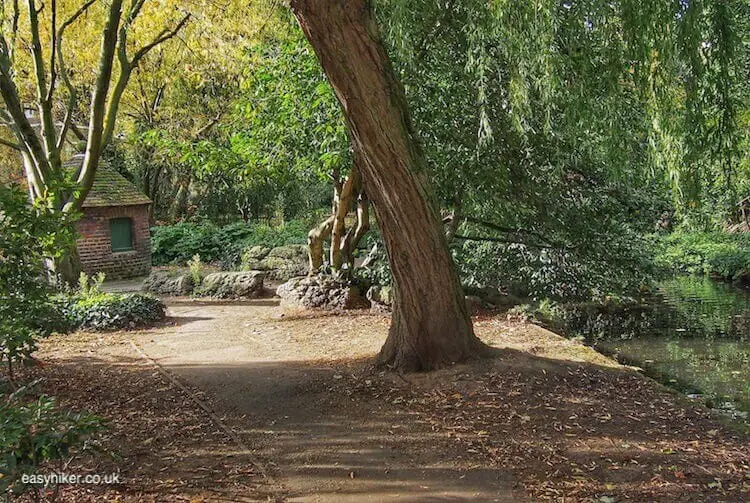 The walkway continues further north, but we turn left across the bridge: first into Alwyne Road, then right into Alwyne Place and eventually left into Canonbury Place to reach Canonbury Tower, which was erected in the early 16th century.
The manor house around it was rebuilt several times, and what you see today comes mainly from the 1780s.
Continue straight into Canonbury Square and Canonbury Lane before turning right into Upper Street. Highbury and Islington station is now only one block away.
You can finish this walk by visiting Highbury Fields on the far side of the crossing: this is where Londoners went after the Great Fire in 1666 to escape from their burning city. Highbury Fields was the nearest open space that was safe from the heat. It is estimated that approximately 200,000 people camped here to find refuge for days and sometimes for weeks.
After that, instead of going straight back to town, I would recommend that you make a small detour via Seven Sisters, two stops northbound on the Victoria Line.
The Seven Sisters Indoor Market on Tottenham High Street (just outside the station's main exit) is a small piece of South America, complete with groceries, barber shops and a few food stalls. Everybody appears to know everybody else, but guests are welcomed like old pals and invited to enjoy the vibrating, bustling and convivial atmosphere.
Take an empanada or two at Don Carlo's …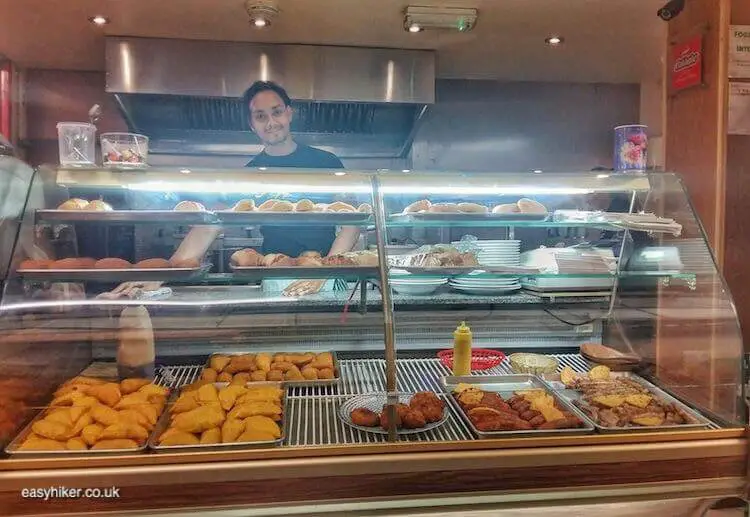 … and watch the world go by in this little known and endangered part of metropolitan London.
Endangered because of, you guessed it: gentrification. Exmouth Market and much of Islington may be a showcase for the good that gentrification can do, but the Pueblito Paisa makes the opposite case, demonstrating what price we are made to pay for it.
Read more about the story HERE and make up your own mind.
Fancy taking this gentrified London walk?