One of the best things about hiking and about travelling in general is that, every now and then, you are running into something totally unexpected: something that you did not even know existed when you set out in the morning and that, in the evening, has enriched your understanding of that particular town, region or country, although you may still have not quite worked out in which ways and exactly how.
No, let me rephrase that: this is the only thing about travelling, the reason why we bother to travel at all. If it were not for the hope of encountering the unexpected, the striking and unforeseeable, we might as well spend our days watching glib tourism-office-edited videos of the world's destinations, full of Eiffel Towers, tropical beach paradises and deliriously happy people in glitzy shopping malls. That way, we would save a lot of time, effort and money – and would, as some of you will no doubt point out, do our battered old planet a favour, too, reducing our "ecological footprint".
Now, where was I? Oh yes, Hastings. We went to the south coast of England recently to experience the Coastal Culture Trail, and we did indeed find everything that we had expected to: a lot of coast and a lot of culture, basically, but then, on our last day, we also found this….
The Fishermen of Hastings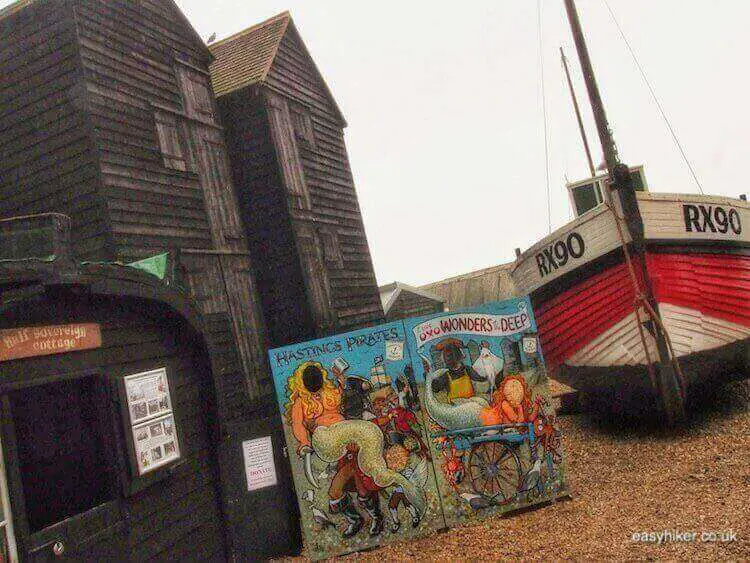 The Stade just behind the Jerwood Gallery in Hastings is the home of Britain's largest beach-launched fishing fleet …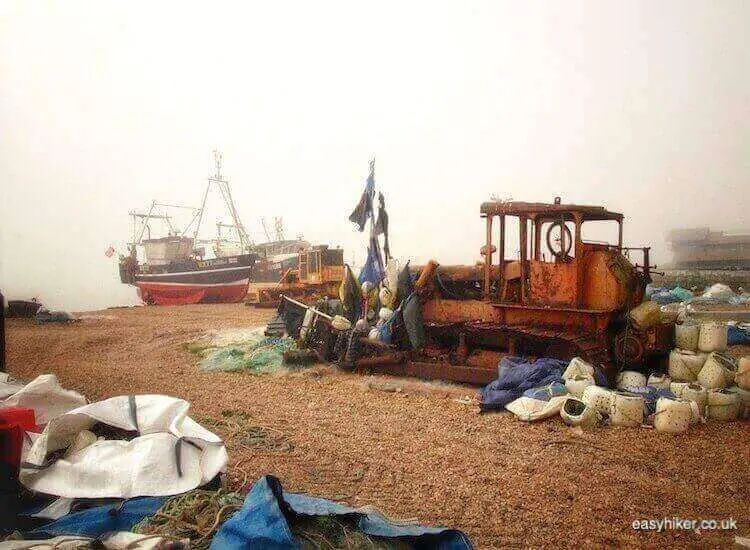 … which means that the boats leave the harbour "naturally" on high tide and are winched (or "hauled") from the sea when they return and the tide is out. This is why you see so much mechanical equipment lying around.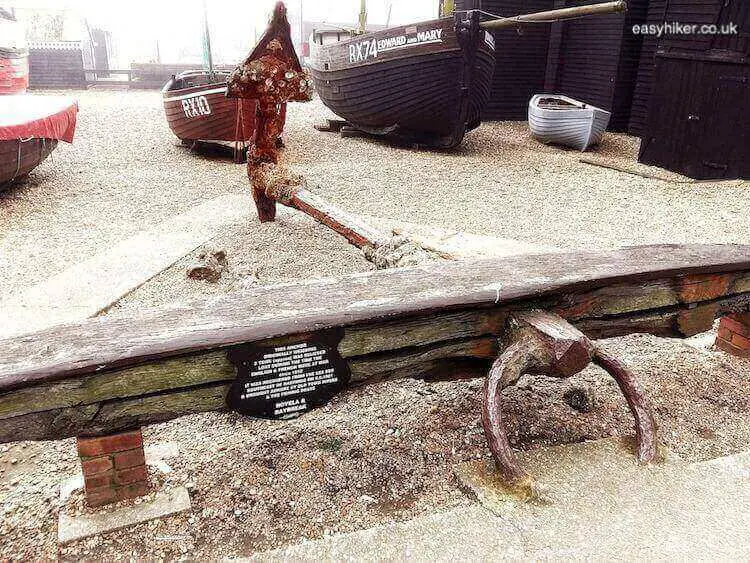 Fishing this way is a hard way of earning your living: beach-launching is a technique that only works with small boats (they must be no longer than ten meters), so the catches are relatively small as well.
Unsurprisingly, you will meet some of Europe's toughest fishermen on the Stade. This is where the salt of the sea meets the salt of the earth – and has done so for well over a thousand years: "Stade" is an old Saxon word, and fishermen have been plying their trade on this section of the coast from the days before the Norman Conquest.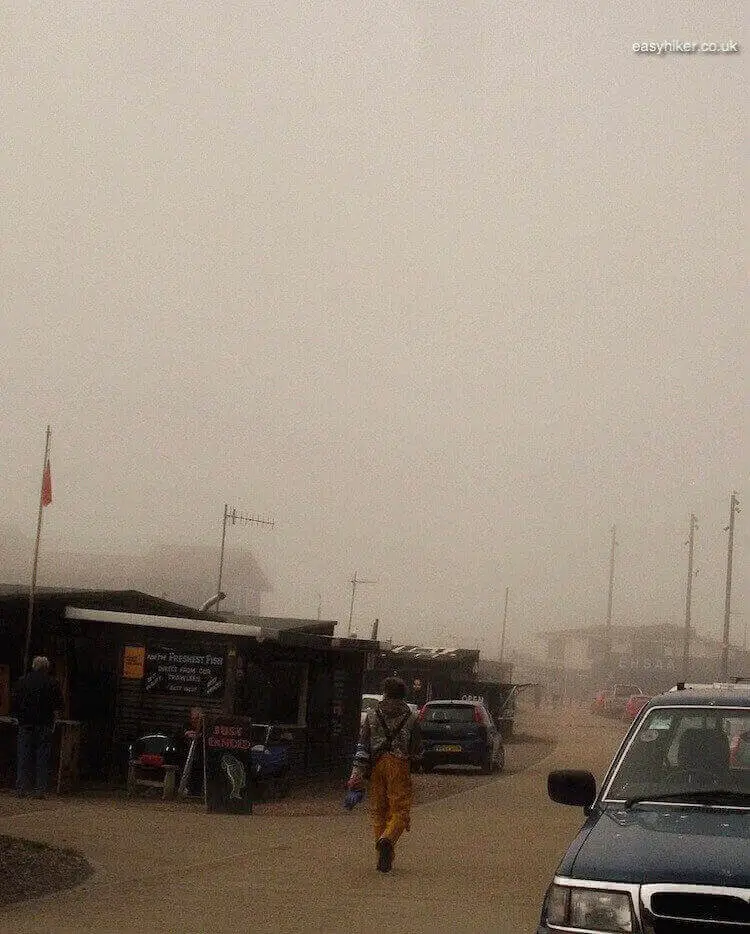 Look out for the Net Shops, tall wooden sheds where the fishermen of Hastings store their fishing gear on multiple levels …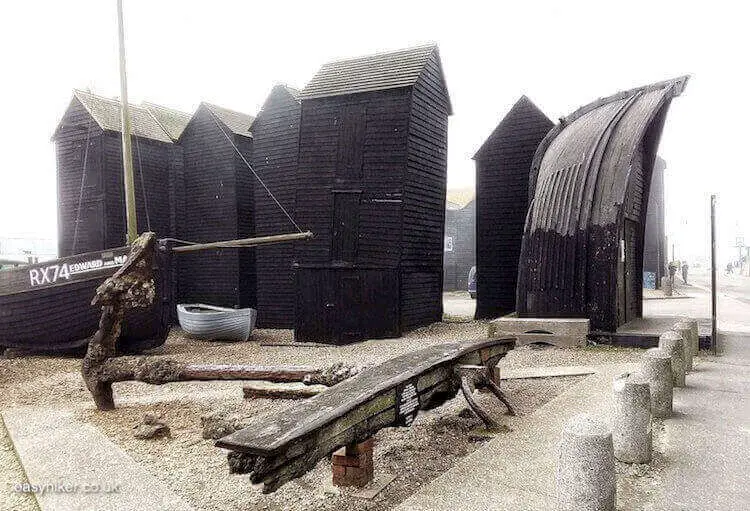 … and for the places where you can buy some of that very day's haul. (The boats usually deliver their catch in mid morning.)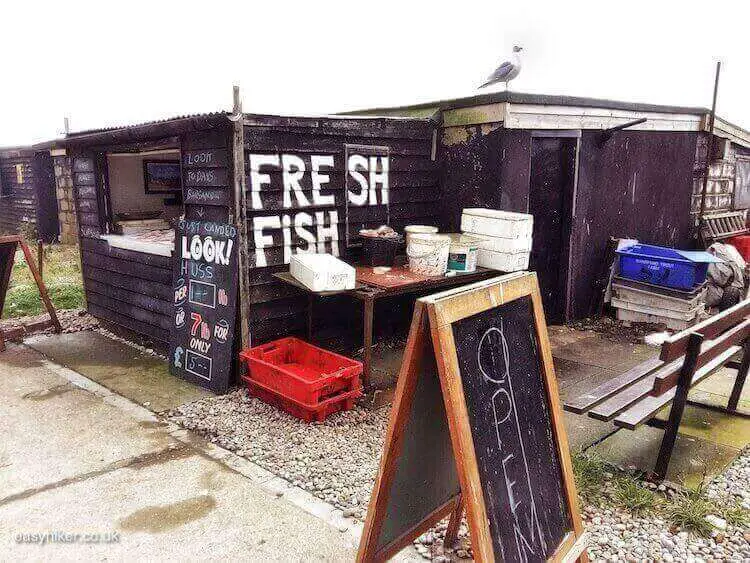 Walk around the site (you are fairly free to roam) and discover a Britain that is rarely featured in travel brochures.