"That's where you will be billeted." the shuttle bus driver bringing us to Oetztal proudly informed us, pointing to a spanking new complex right in the middle of a valley.
Cue Easy Hiker and I exchanging perplexed glances, silently saying "But that's so detached from the village." Well, as a matter of fact it is.
 Aqua Dome is an oasis
Almost organically integrated in the valley of Oetz, encircled by 5 mountains, this premium spa center in Längenfeld near Soelden is a 4-star wellness resort where you can literally float away from the daily grind.
Leave downtown behind and soak away your stress.
Aqua Dome  has a number of outdoor and indoor pools for a dip during the day or even by moonlight.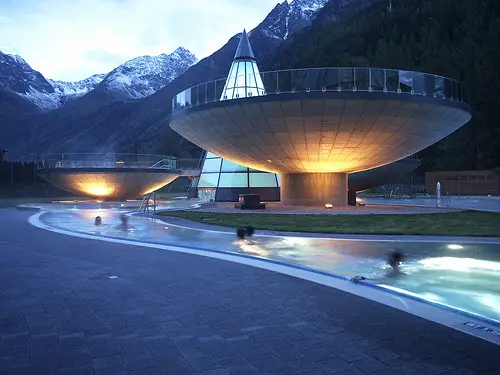 Even in the deepest and coldest of Alpine winters
Its biggest indoor pool also boasts of a sourced from a hot sulfuric spring bubbling from 1,800 m deep spring. ("Water from Hell", Easy Hiker jokingly commented).
We stayed as guests of this wellness resort and the Austrian Tourism Board, as part of our blog trip for the TBU in Innsbruck.
It may be far from the town center but really you would not pine for it.
Aqua Dome  has everything covered
The resort's restaurant makes sure you have a varied choice of cuisine offerings for every day of the week. This is rather important if you are staying a week.
Breakfast on the day of our departure was an impressive buffet that can rival any American 5-star hotel's. (Freshly pressed orange, apple or carrot juice, eggs any mode, salads galore, excellent cheese choices, fresh fruits….
They offer a long list of activities within the resort to keep guests busy. But if guests choose to venture out for some skiing, mountain biking or Tyrolean hiking,a free shuttle bus will pick  them up and return them to the resort.
For premium pampering, there's Aqua Dome
Don't miss our latest  hiking trail tips by following us on Facebook or registering to get our free updates direct in your email box.