Day Trip from Paris
The White House Le Corbusier Built
I am not a great fan of art museums – mainly because I have hardly ever learned anything from looking at a picture on a museum wall that I had not already learned from looking at a good reproduction in a book.

Architecture, however, is a totally different story.
Before my first visit to Barcelona, I was totally unaware that the Sagrada Familia was (at the time) nothing more than an empty shell (and one that was left unfinished to boot).
And no number of pictures of the Eiffel Tower – I know there are a few of them around – can prepare you for the feeling of standing under its enormous span of filigree weightlessness.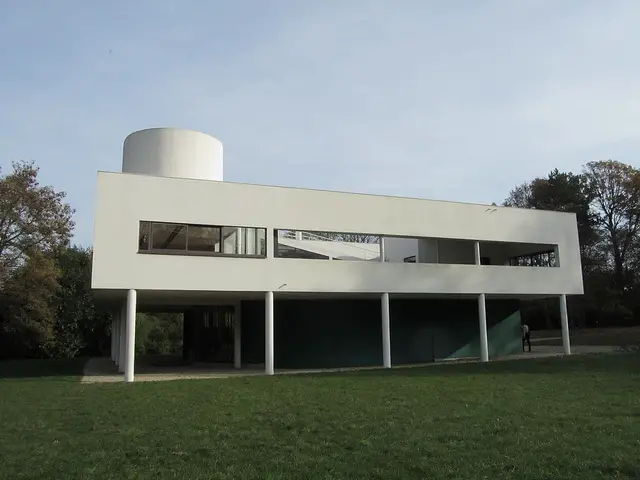 Which is to say: if you are in Paris and have any interest in finding out why the modern world looks the way it looks, go to see the Eiffel Tower.
After that, to the Villa Savoye, his early masterpiece, which you can find along a Paris hiking trail in the suburb of Poissy, a short RER train ride away from the Etoile station on the Champs Elysees.
We discovered the Villa almost accidentally on our hike from Poissy to St Germain. Until then, I had been aware of its existence, but had always assumed it was located somewhere in the Alps. (Savoye, in fact, was the name of the client. Shame on me for my ignorance.)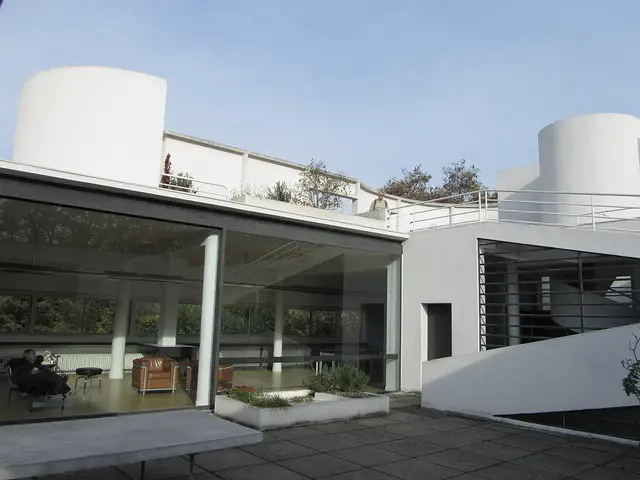 The Villa Savoye – the white house Le Corbusier built – is conveniently located near Poissy town centre, about a 15 minute walk from the RER station. You can visit the gardens for free, walking around the villa and sizing it up from different angles.
You get a good impression of how the building is meant to relate to the landscape, how big it is, how airy and light.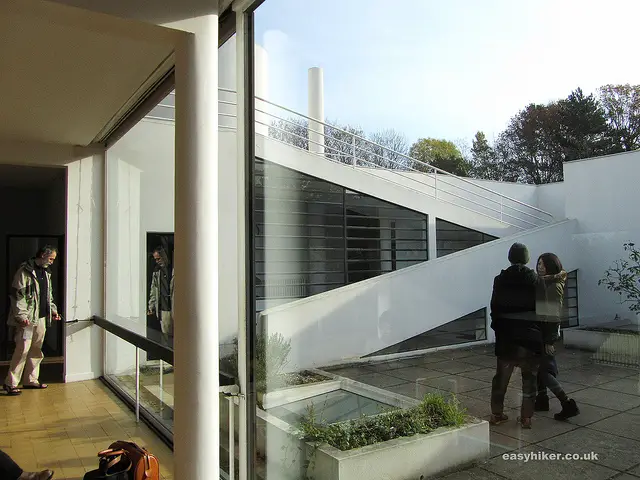 Enter the house through the big black door which is facing the straw sculpture on the far side of the building. They charge €7 a head for admission, which includes a mimeographed leaflet that tells you a little about the history of the building and that reminds you of the famous "five points" of Le Corbusier's architectural theory.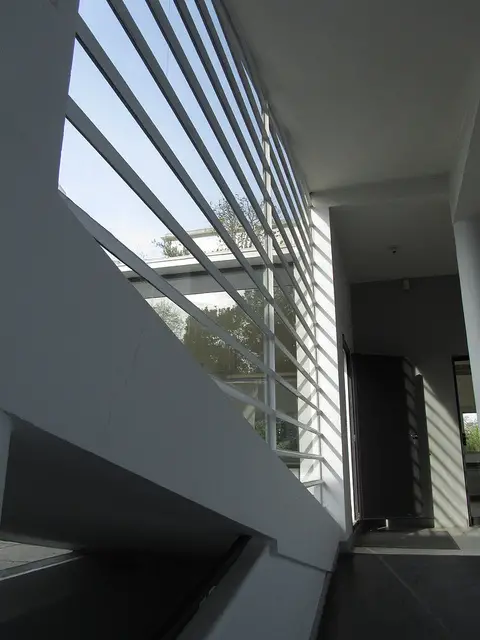 You can find  some pictures of the building in Wikipedia, but no picture of the Villa Savoye can prepare you for the experience of actually seeing it in person.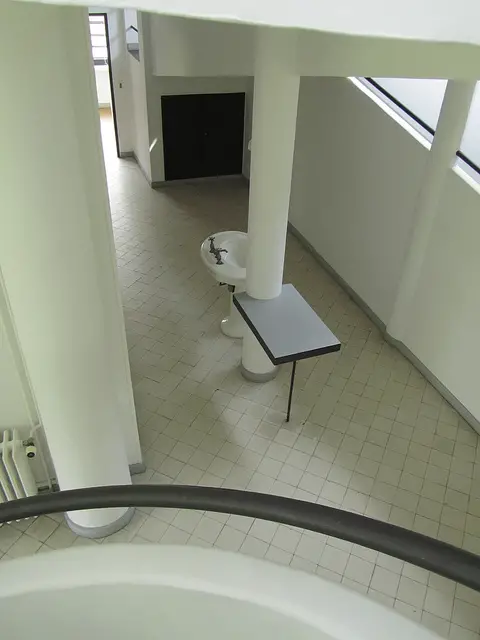 Now, impressions are subjective, of course, so with this disclaimer and for what it's worth, I am going to let you in on mine: I was surprised how, well, grubby the whole place was.
To begin with, most walls of the house are white. Now white is a tricky colour for most things as anybody who has ever worn a white shirt to a party can probably attest.
The good thing about white is that it looks great in its pristine state – on pictures, for example, where the Villa Savoye positively gleams in the sun.
The bad thing is that no things white are likely to remain in this pristine state for long.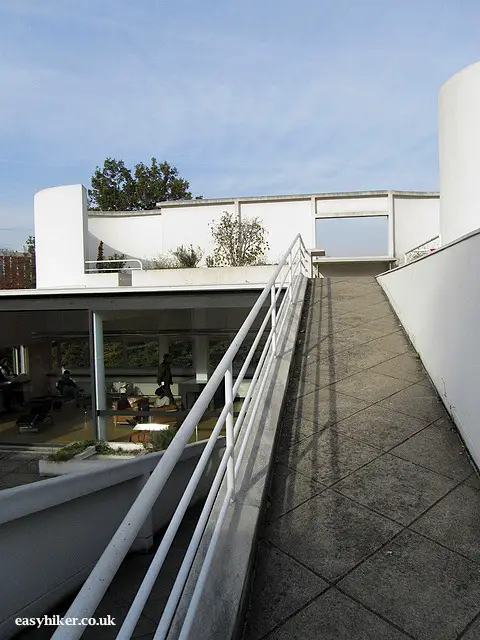 Which applies, of course, also to the Villa Savoye. Most of its walls are indeed slightly smudged or stained. But that's not all: in many places, the paint is peeling off. (There have been moisture issues ever since construction was completed in 1931.) Doors are fraying.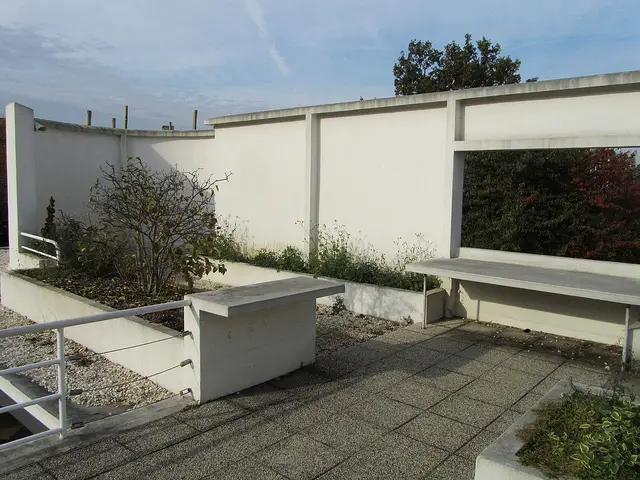 There are weeds and patches of moss between the pavement stones of the rooftop garden. Le Corbusier loved tiles. He would have tiled the whole house had the owner's wife not put her foot down and insisted on wooden parquet floors for the bedrooms. But many of those tiles are now cracked.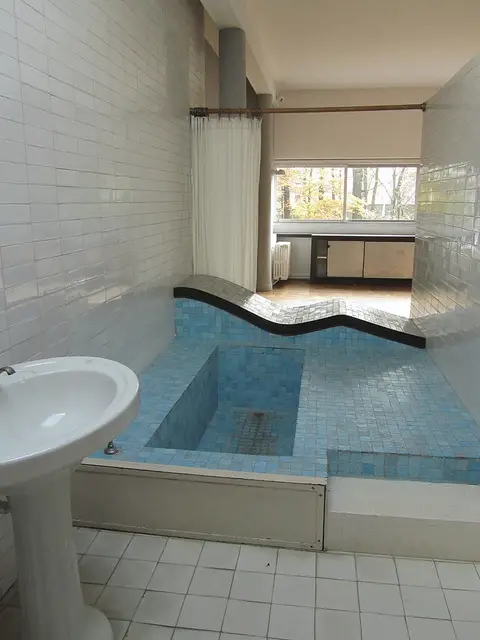 Which makes much of the house look like a urinal which has seen better days.
We must not forget that it is a building run by the French Heritage Foundation. Imagine what it would look like if it were still inhabited by people who do not have an army of cleaners, craftsmen and conservationists at their disposal.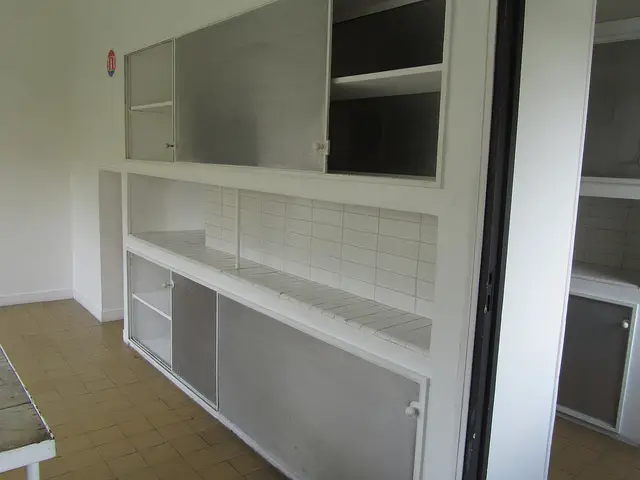 Another thing: the rooms are surprisingly small. Seen from the outside, it appears that the house has a large floor space, but the bedrooms are tiny.
On top of that, you have to account for the fact that they are empty of furniture: even with no more than a bed inside, there would have been hardly enough room in any of the single bedrooms to swing un chat.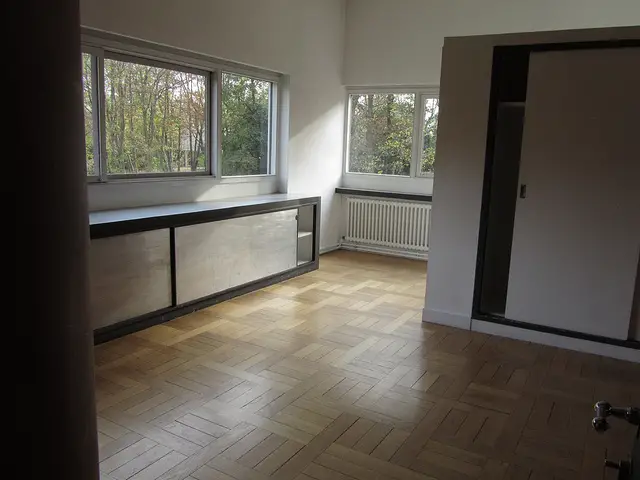 In one phrase: Le Corbusier's theories work great in theory, but perhaps less well in practice (much like one or two other 20th century theories).
Life is a messy business, and people are people. The great modernist's grand vision was probably too grand to make any allowance for that.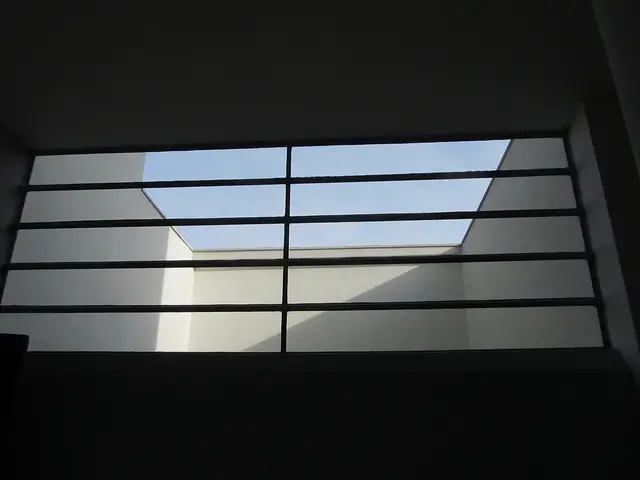 The Villa Savoye, the white house Le Corbusier built, is located inside a walled garden at the corner of Avenue Blanche de Castille and Rue de Villiers in the Parisian suburb of Poissy. I will give you more details next week when I tell you about the walk from Poissy to St Germain en Laye.
Don't miss our latest easy hikes near Paris. Follow us on Facebook or register to get our free updates via email.