Themed London Walks
Take a Walk in Swinging London – Part 2.
Today, in the finale of the first of our themed London walks, we are crossing from Soho over into Mayfair and beyond. We start at the Spirit of Soho mural on the corner of Broadwick and Carnaby Street.
Turn left into Carnaby Street and right into Beak Street. Cross Regent Street and continue, more or less straight (veering a little to your left) into Heddon Street.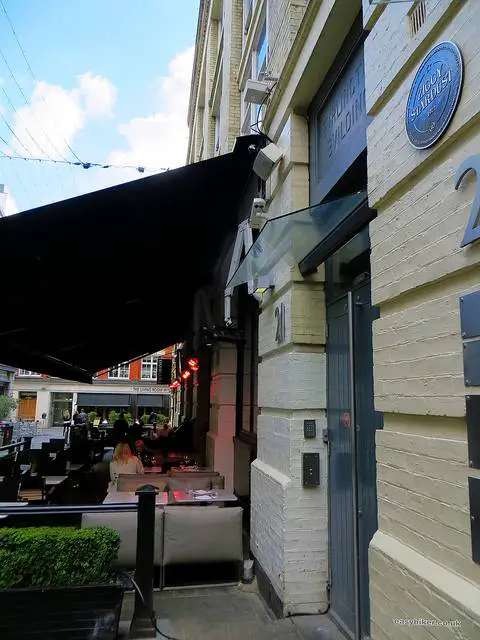 It is here where the cover shot for David Bowie's groundbreaking 1972 album The Rise and Fall of Ziggy Stardust and Spiders from Mars was taken, Bowie standing, one foot up, on the doorstep of no. 23. The album sleeve photographer had rented a studio upstairs and taken already two dozen shots, not really liking any of them, when he hit upon a different idea – and a piece of rock music history was born.
(Only two London-themed album covers are equally famous, both with motives that are far out of this walk's itinerary: Pink Floyd's Animals, featuring Battersea Power Station in southwest London, and, of course, Abbey Road with the world's most famous zebra crossing.)
Walk back to Regent Street, turn right and right again at the next corner into Vigo Street. Take the next street on your right, Savile Row, and look for no. 3, the building two doors down from the tailor shop of Gieves & Hawkes where Prince Charles goes to shop for his gear.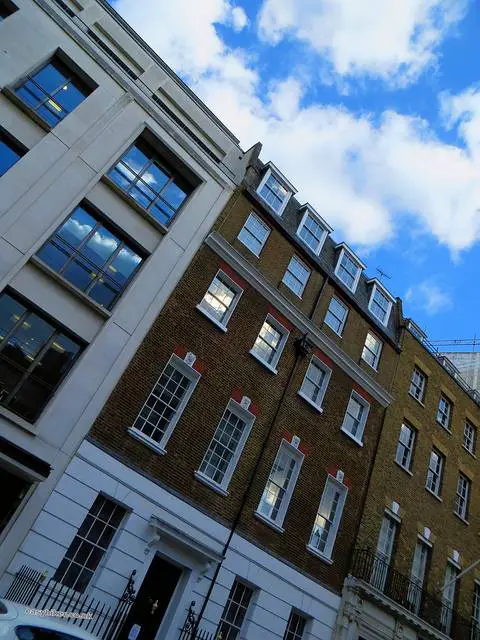 In a former life, no. 3 was the HQ of the Beatles' Apple company, and when, on 30 January 1969, the Fab Four needed a place for an improvised open air concert to conclude their film Let It Be, they did not look far – and decided, more or less on the spur of the moment, to set everything up on the rooftop.
"We went on the roof in order to resolve the live concert idea, because it was much simpler than going anywhere else", George Harrison later remembered, "also because nobody had ever done that. So we thought, it would be interesting to see what happened when we started playing up there. It was a nice little social study."
The concert lasted a total of 42 minutes before police arrived and put an end to the "public nuisance", Beatles or not. Five songs were eventually cut into the film, including this clip , easily the most famous section of what is, probably, the most celebrated gig in rock music history. Certainly one of the most poignant, since this was the last ever public performance of rock music's premier outfit.
Take a left turn at the next corner into Clifford Street, follow the right hand bend into New Bond Street and take a left turn into Bruton Street until you reach Berkeley Square, one of the large and leafy public gardens for which the Mayfair area of London is known – amongst other things such as Russian oligarchs.
"Even trees are wealthy here", sings Nick Drake. Sit down on one of the park benches and gaze at "Mayfair strange across the park" – admiring its beauty, even though it may be "cold as ice".
Leave Berkeley Square on its northwestern corner, turning left into Mount Street and right into South Audley Street. Cross Oxford Street and continue straight into Baker Street, which is mainly famous for two things: a certain private detective and a certain saxophone solo.
The song Baker Street, one of the most easily recognizable pieces of London-themed pop music, was written by Gerry Rafferty in 1977, when he was living on and off in a friend's flat at Baker Street, during a period of his life "mainly spent on overnight trains between Glasgow and London." Rafferty did not much enjoy his frequent stays in the capital – something he expresses in the song's final lines: "When you wake up it's a new morning/The sun is shining, it's a new morning/You're going, you're going home …"
Turn right into Wigmore Street. (A little further down Baker Street, on no. 94, you would find the building that used to accommodate the Beatles' legendary – if short-lived – Apple Boutique.)
Turn right behind Wigmore Hall, the world's most famous venue for chamber music, into Wimpole Street, following its bend into Henrietta Place and eventually into Margaret Street. Right behind the crossing with Regent Street, in the building at no. 48, the Speakeasy club used to welcome rock musicians and other late-night folks from 1966 to the late 1970s, to make music but mainly to party and to drink.
The Speakeasy gets name checked in a few songs, but is mainly famous for two stories of drunken excess: it was here where the Clash's Joe Strummer lost a tooth when he was beaten up by a member of Johnny Rotten's entourage, and the Speakeasy was also the venue where Pete Townshend – having "discussed" the state of rock music with Steve Jones and Paul Cook, two other members of the Pistols – got so drunk that he later went to sleep in a Soho doorway, before being woken up by a policeman who recognized him and told him to go home.
Townshend turned the events of that evening into one of the Who's most well-known songs, Who Are You, a.k.a. the theme tune of CSI Las Vegas. (In this 1978 clip, you will see drummer Keith Moon giving one of his last ever performances. He died one month after the record was released.)
Turn right at the next corner into Great Portland Street and then right into Oxford Street, the main artery of "shopping London". I will let you in on a little secret, however: Londoners do not rate Oxford Street that highly and consider the idea of shopping there a little naff, something that foreigners may do, or suburbanites who are not completely "in the know". People like the members of Everything But The Girl, for example, who grew up in a provincial town up North, "a little world" – where for them, "London meant Oxford Street".
If you pass here in December or early January and the Christmas lights of Oxford Street are on, you may want to listen to the next piece. Please note that these lights are nationally famous – when they are switched on in late November, usually by a recently crowned Miss World or the cast of a long-running soap, this is a minor national event – and that for many Brits, not only Londoners. The words Christmas lights and Oxford Street are closely intertwined (like the words Macy's and Thanksgiving Parade in the American consciousness).
At the high-rise Centerpoint Building (the West End's premier eye-sore), turn right into Charing Cross Road, past Denmark Street on your left, the old centre of Britain's music publishing business, which is also known as "London's Tin Pan Alley". The Sex Pistols used to live in a flat on no. 6, and Regent Sound Studios on no. 4, now a shop for musical instruments, was once a music studio where many people who later became famous – including the Rolling Stones – made their first recordings.
Turn left into Cranbourn Street, cross Upper St Martin's Lane into Garrick Street and turn left into Floral Street for the Royal Opera House. Across Covent Garden piazza, you can find St Pauls Church under whose arches Professor Higgins first set eyes on Eliza Doolittle in My Fair Lady. Does that count as pop music? We have no time to think about that, because we must hurry now, not being allowed to miss it!
Continue to the Strand, turn left and right on Waterloo Bridge, and if you have followed my advice of starting this walk sometime in the early afternoon – remember? – you should arrive more or less in time to witness the most famous sunset in pop music – and be "in paradise".
Unless, of course, this is June and you still have a couple of hours to kill – or midwinter, in which case you are far too late. In either case I recommend the nearest pub. Just make sure not to argue about the state of rock music (or anything else) with a member of the Sex Pistols!
Did you enjoy this walk? More themed London walks coming soon. Be sure not to miss them by following us on Facebook. Better still, get our free updates via email.