Themed Walks in London
A walk through the "Florence of the 21st Century"
The City of London is where most of the capital's truly iconic works of modernist architecture are concentrated, but West London, too, has many fine new buildings.
The big difference is this: while London's business district provides a homogeneous context of brashness – big and high "cathedrals of capitalism" vying with each other and encouraging the construction of ever bigger and higher buildings –, the significantly more varied architectural landscape of the West End enforces second thoughts and compromises.
It is also fair to point out that the City of London is, economically speaking, a monoculture: its business is business and nearly all of last week's buildings were commissioned by the financial services industry, while today's group is much more mixed batch, with buildings that were constructed for the government or retailers, as museums and as transport hubs.
We begin the walk at the northern rim of central London, on 17 Camden Road around the corner from Camden Town underground station.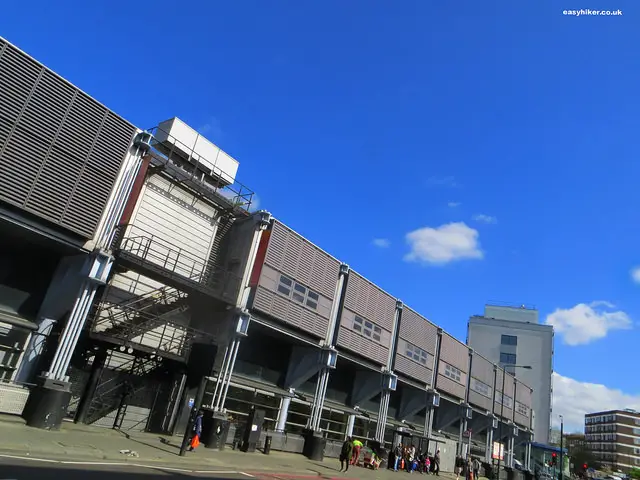 In the 1980s, when the "Hi-Tech Movement" of modern architecture was born, architectural modernism in any guise was deeply unpopular, and Nicolas Grimshaw, the most uncompromising modernist in his generation of great British architects, had to fight hard for commissions, accepting even what may be considered relatively small fry for an architect of his standing.
A stroke of luck provided him with what proved to be his big break: in 1988, Sainsbury's planned a supermarket on Camden Road, and Camden Building Authority had turned down virtually every suggestion that Sainsbury's had come up with.
Grimshaw, practically their last resort, then came up with a very clever design: an uncompromising structure of steel and aluminium which nevertheless echoed the shape and the rhythm of the Georgian buildings across the road. (It also helped that he incorporated a stylistically similar residential block in the back, a key condition set by the municipal authority, which you can glimpse from the near-by bridge on Camden Street.)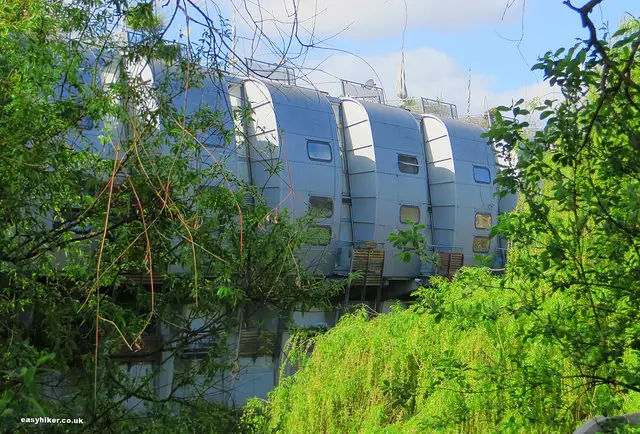 Walk down to the canal now to catch a glimpse of a building that was far more in tune with the taste of the 1980s, Terry Farrell's whimsical and playful HQ for TV AM, a television station which no longer exists.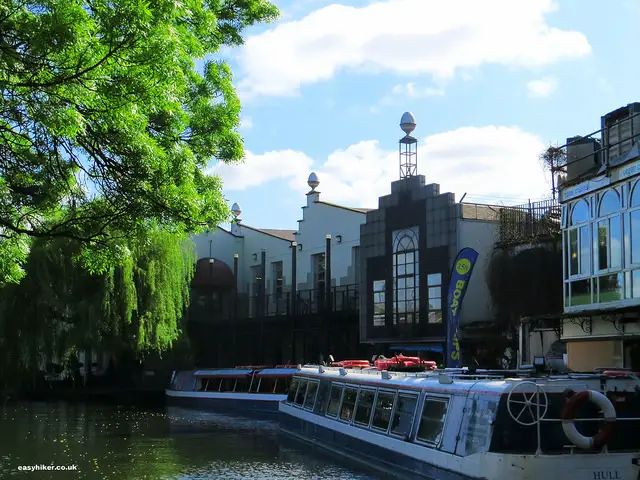 Formerly a strict modernist himself (actually, until 1980, Grimshaw's partner), Farrell let himself be inspired by the carnivalesque mood of Camden market, ideas of Venice and the colourful boats on the canal. The building – sold to MTV Europe in 1993 – is much changed now (you can see its main entrance on Hawley Crescent around the corner), but its most famous element has been faithfully preserved: the eggcups on the roof, flaky even by the standards of post-modernist architecture.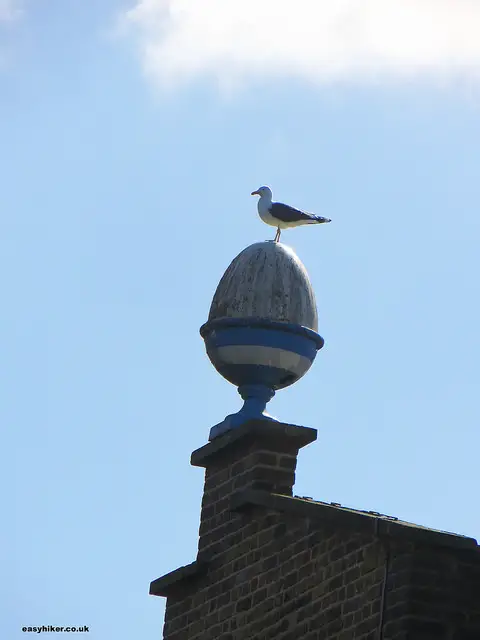 Few places in London are as steeped in history as the British Museum about half a mile to the south – Marx, the Marbles, and the Rosetta Stone – so the commission to put a new roof over the forecourt could only ever result in a compromise.
Norman Foster's apparent source of inspiration may, at first glance, be a surprise, since it comes from one of the few fields of history that do not directly intersect with the Museum, but it was nevertheless Joseph Paxton's Crystal Palace that provided the winning formula.
Foster's delicate and airy roof construction (completed in 2000) covers an area of 6000 m², the largest covered public square in Europe, and manages to do so almost discreetly, adding to rather than distracting from the magnificent historical surroundings.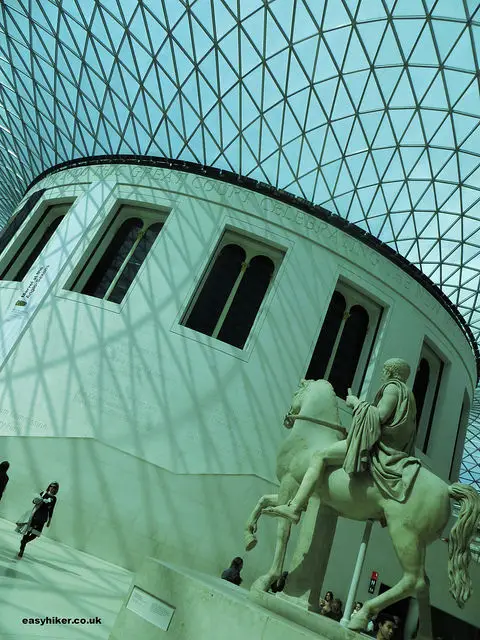 Continue in a southerly direction right down to the Embankment on the river Thames. Charing Cross Station, completed in 1990, was Terry Farrell's last commission for a while in London – the pendulum of architectural fashion had swung the other way. Farrell eventually became very big in Asia, where the demand for his buildings was so huge that he even opened an office in Hong Kong.
Charing Cross was a difficult assignment for him – and unusual for a modernist project – because so much of the existing station had to be incorporated into the new building. (The entrance on Strand, some original side walls and even parts of the roof have remained virtually unchanged.)
Farrell's design may be said to lack the grace of some of modernism's most iconic structures, but it provides an appropriately bottom-heavy counterpoint to the lofty spires of Rogers and Foster, specifically if you consider the primary purpose of the building.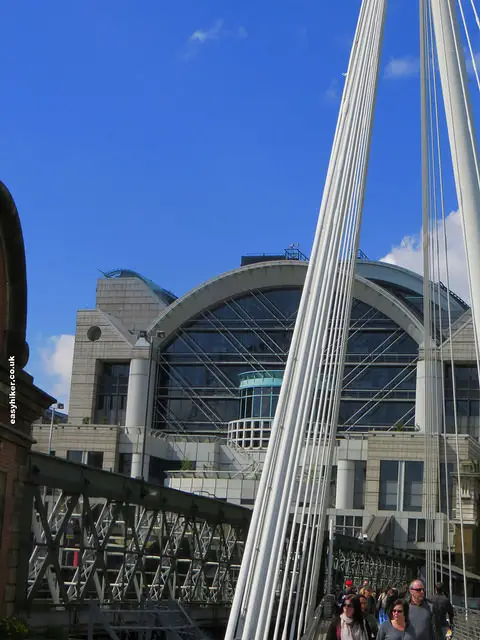 Walk a few hundred metres down the Thames to look at a different type of solution for an even trickier challenge. The International Terminal at Waterloo (completed in 1993 by Grimshaw) was enormously difficult to fit into an existing space, a disused part of Waterloo station with a curved and highly irregular shape.
In order to allow the use of rectilinear sheets of glass for the roof construction (rather than having to customize each individual sheet), a new adjustable way of laying out and "overlapping" the glass was invented, an engineering feat of the highest order.
Unfortunately, one cannot visit the station from inside, since it was closed in 2007 when the Eurostar traffic was rerouted to St Pancras Station. It only remains to hope that they will soon find a new purpose for one of London's technologically most groundbreaking buildings.
Turn back upstream towards Westminster Bridge. The new building opposite Big Ben is called Portcullis House (2001) and accommodates some of the offices for the Houses of Parliament.
It is the only building on our list designed by Michael Hopkins who is most famous for Lord's cricket ground (near St John's Wood, a little too far out for the purposes of our walk), a design so perfect that even the arch-enemy of modernist architecture, the Prince of Wales, appears to have liked it (it reminded him, he said, of "marquee tents and Edwardian summer days").
Portcullis House is equally a reflection on motives from traditional architecture: it is, somewhat unusually for a modernist building, made from stone, and illustrates the distribution of loads through its tapered pillars, something that Hopkins called a "structure of truth".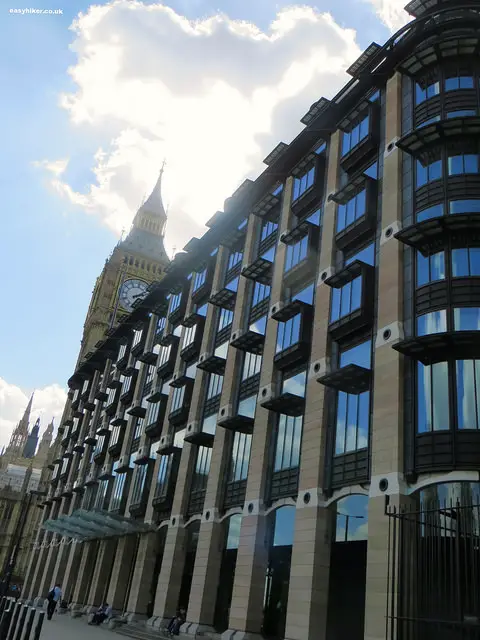 The building came in at the rather steep final price of £235M, but take into account that it had to be integrated into the Metropolis-style tube station underneath. The station was also designed by Hopkins, a cave – of rough walls – with sci-fi accouterments, and is certainly worth a look.
While Hopkins had to adapt his design to the history of the surroundings (see also the "spiked" roof, intended to blend in with its Victorian environment), Richard Rogers was given the express brief to adapt the plans for the 124 Horseferry Road office building to the history of its client: Channel 4, Britain's most innovative, most risk-taking and quirkiest TV station.
Clad in pewter-coated powder-grey aluminum and glass, the complex is made up of 15,000 m² of offices, broadcasting suites, studios and a landscaped garden square, but its most distinctive feature is the dramatic concave suspended glazed wall that guards the entrance.
For this building, Rogers used some of the motives that are familiar from his other works (such as the lifts that rise and fall on the outside of the building), but for a somewhat different effect – a little like the great painters who stay true to their style, whether they are drawing naked women on the beach or a Basque village under heavy aerial attack.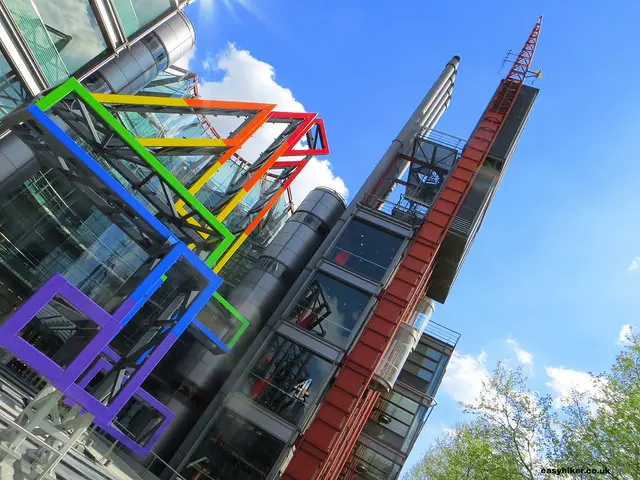 Finally, there is – further upstream – the obligingly circus-like MI6 building that was constructed on the site of the old Vauxhall Pleasure Gardens in 1994. It was, in the words of the architect Terry Farrell, inspired in equal parts by Battersea Power Station and Aztec temples – an interesting combination for a client so discreet that his previous address was an official state secret and whose very existence was never publicly acknowledged. (MI6 is the British secret service.)
Farrell says he had no idea that he was preparing a home for the spooks, thinking all along that he was working for the Department of the Environment and only learning the true identity of the eventual tenant from the TV news. If you listen closely, you can still hear his chuckles echo from the walls of his building all across the Thames.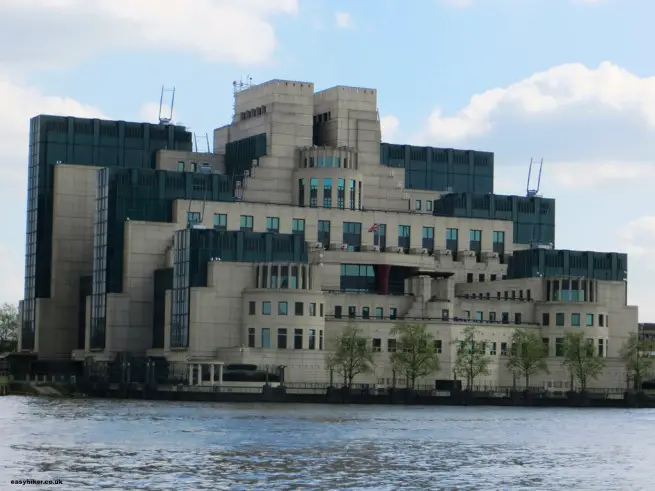 This is where our walk ends.
If, however, you take the plane from the London airport of Stansted on your journey home, you will have the opportunity to see another masterpiece of modern architecture, Norman Foster's reinvention of the airport as a light and airy single-room structure, made possible through a radical rethink of what an airport actually is and what it should be. And, of course, what architecture should be and what it is capable of.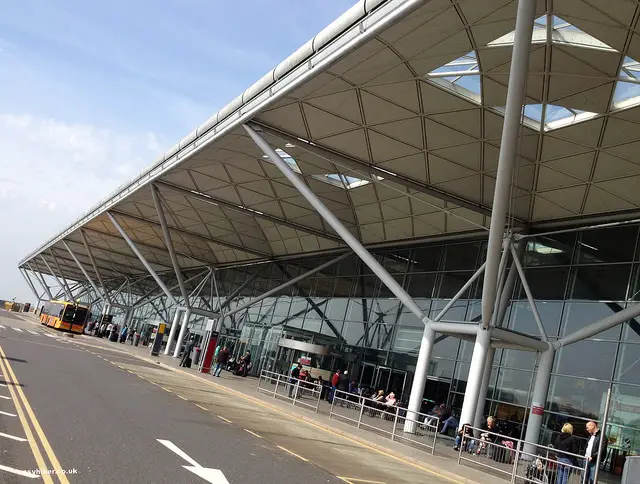 Stansted would be a fitting end to our two themed walks on modern architecture, because that is what they were meant to illustrate: that we are living in architecturally exciting times, and that London is at the heart of a movement to reinvent a largely discredited and passé architectural style, not totally unlike the Florence of the Renaissance.
Hundreds of years from now, people will visit London to marvel at their works, and we are privileged to see them now as some of them are still going up.