Gran Canaria Walking Festival
The Three Volcanoes of La Isleta
Our first day at the Gran Canaria Walking Festival, and things are starting well. I have not brought my ID. Whereas that is not normally a major sticking point with hikes, it is for this one because our 30-strong hiking party is brought to what our guides call, rather coyly, a military installation – through which the "three-volcano-trail" will run – and we are requested to produce some sort of personal identification at the entrance.
Eventually, they do let me in – perhaps because all the guards are dedicated readers of Easy Hiker, but more likely because our guide has managed to explain to them in Spanish that I am a harmless old coot. (I have forgotten my spy camera, too, of course. Igor will not be happy with me.)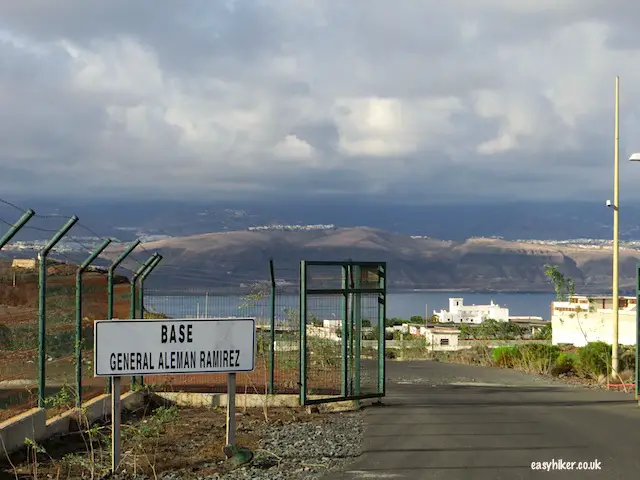 The military also have a photo policy which, I understand, operates like this:  you are allowed to take as many shots as you like once you are inside as long as you do not wave your equipment right under the noses of the soldiers who guard the gate. (There is an important lesson about Spain in this, perhaps one that even extends to most other Latin countries.)
Then again, even if they wanted to, they could barely police stricter guidelines because they simply lack the manpower to do so: during the entire day that we walked around the area we did not meet a single soldier.
The place may once have served as a proper military base, but virtually all of its elements – including a military prison and several armed-forces-operated quarries – are now defunct. Only the lighthouse on top of the area's highest point is still in operation – perhaps it was also used for some war-like other purpose before, but this is apparently no longer the case, otherwise they would hardly have let us walk all the way up to snoop around.
It seems that the entire area has, for several years, mainly been used as a shooting range for tanks and light artillery. The peninsula of La Isleta is of more recent volcanic origin than the rest of the island to which it is attached by a narrow isthmus. At its narrowest point, it is only 200 m wide.
The Isleta base was established in the early 1940s by General Franco, and although the Germans very much had their eyes on it during WWII, the sly old fox never let them use it, playing it safe and preferring to keep Spain (and himself) out of trouble. (Gran Canaria was an open port during WWII, attracting a colourful crowd of refugees and spies from either side – a lot like its near-neighbour Casablanca across the sea.)
Ever since, La Isleta has been under military control, something which has ultimately turned out to be a huge blessing for the area: if it had been private or any other type of public property , it would have gone where most of the other coastal areas of Gran Canaria went, and its unique charm would have disappeared for ever. No matter what devastation the army's tanks and artillery may have wreaked upon the Isleta peninsula in 70 years: that was nothing in comparison with what suburban or commercial development would have accomplished.
Having said that, the charm of La Isleta is very much in the eyes of the beholder. It is a dry, parched and desert-like landscape, the one part of the island where you can believe that you are only 200 km away from the Sahara.
The Isleta peninsula, however, is not a completely barren place, even the Sahara very rarely is: it provides a unique habitat for plants that have disappeared from almost anywhere else on the island.
The landscape of La Isleta is dominated by the sight of three extinct volcanoes, all of which can be climbed: La Montaña del Vigía (219 m), Montaña de El Faro (240 m: that's with the lightpost on top), and Montaña Colorada (the "red mountain", 239 m).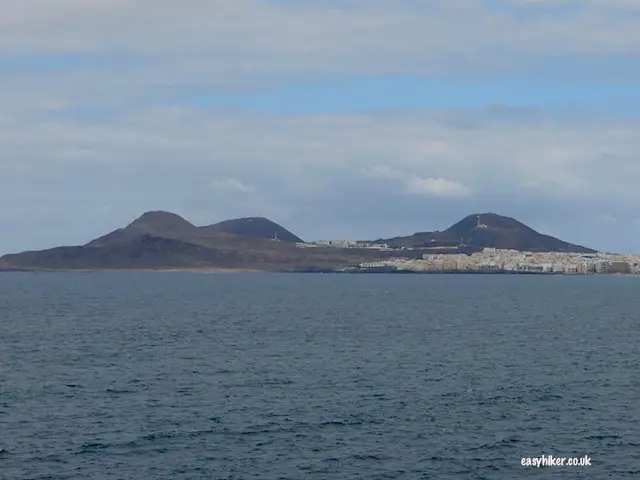 As for the highlights of our hike: I am sure that everyone in the group had their own. There were splendid views of the town of Las Palmas …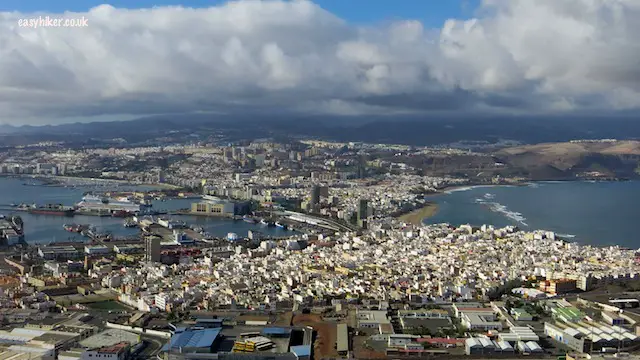 … across the northern coast …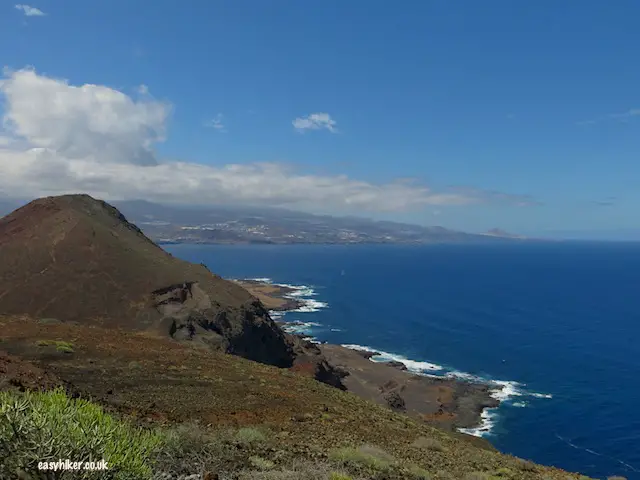 … steep, challenging climbs and descents – giving you the opportunity to experience the geological history of La Isleta first-hand (and "first-foot") …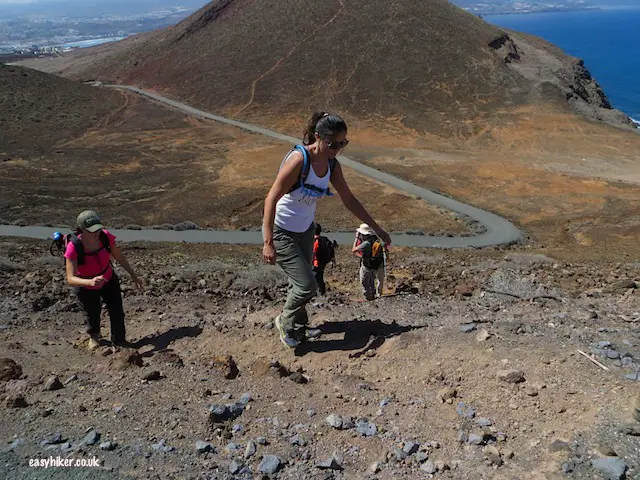 … ancient quarries where the original inhabitants of Gran Canaria carved out milling stones and other artefacts hundreds of years ago …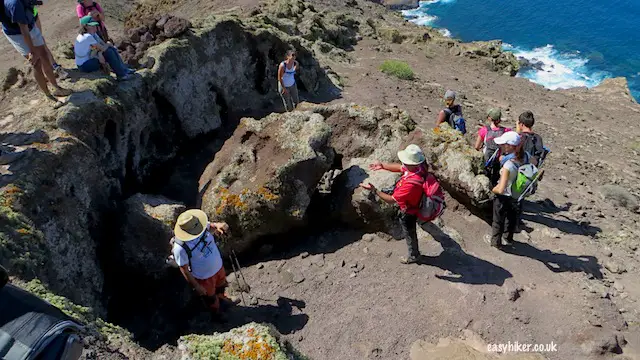 … and even opportunities to re-stage that Caspar David Friedrich moment: the lone hiker, faced with the sublime.
For me, however, the best thing about the whole trip was Target Practice Town …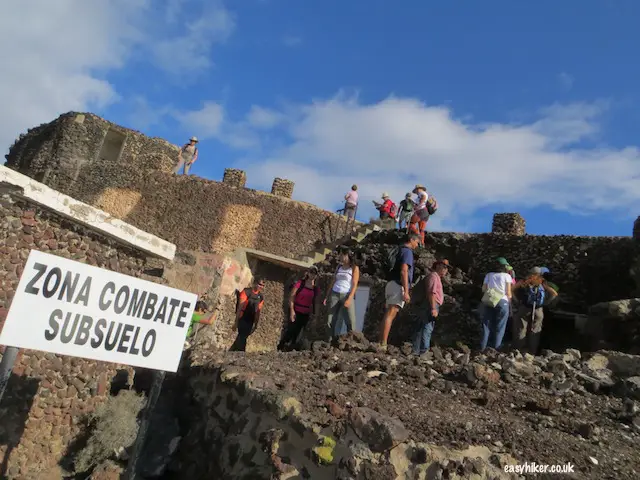 a little "town" that was purpose-built a few years ago as a training ground for the Spanish contingent in Afghanistan.
The hovels of Target Practice Town have been laid out around some older, already existing military buildings – which had probably served as depots, perhaps even as administrative facilities – that look literally shell-shocked at what has become of them, at how steeply they have fallen down the ranks of military usefulness.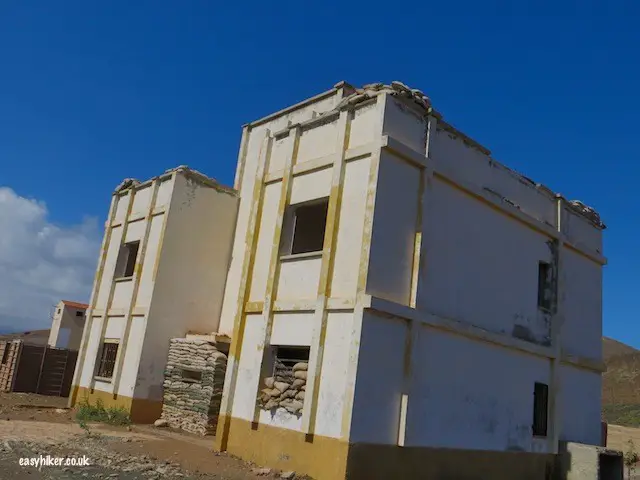 And now for the only bad thing about this trip: you cannot do this on your own.
This is not a question of transport logistics, since the base is practically located in downtown Las Palmas (you can see the volcanoes very clearly from your stroll down the harbour boulevard), but one of permit.
The Spanish armed forces are cautiously opening up the area and are not in principle averse to the idea of welcoming in the public. They just don't want thousands of ill-behaved people there every week-end, presumably having to clean up after them.
This, I suspect, was also the reason why so many locals had joined this tour on the first weekend of the Gran Canaria Walking Festival: they wanted to take advantage of what must have been a rare opportunity to enter a part of Las Palmas that was normally out of bounds. They will have seen this area every day, curious what it was like to walk on these mountains at the far side of town.
Now they know, and we know too: it's quite an adventure, actually.
Don't miss reading about our next three hikes with the Gran Canaria Walking Festival by subscribing to our free email updates or by following us on Facebook.
We are very grateful to the Gran Canaria Walking Festival and Gran Canaria Natural committees for inviting us and to Vueling for flying us to participate in these wonderful walks.