Holidays would be different if we had unlimited amounts of time for them, but we do not. So they are what they are, which largely means: always too short.
As a rule of thumb, the more affluent people are, the more often they will go on a vacation, but – since the time available for holidays has not increased – they will spend less and less time at any of their destinations. Time was when people took a relaxed three-week or four-week vacation once a year, but this has been largely replaced by a series of short and increasingly hectic hops. If it's Easter, it must be Rome.
But of course: once you are there, you want to see as much as you can and pack in as much as humanly possible. This is a general but also a technical problem, specifically so in the autumn and winter when days are short and "bad light stops play" as early as four or five o'clock.
So how can you get the most out of a short trip to Nice and the French Riviera, a brief idea of what the landscape is all about, the sea and its Provencal hinterland, when all you have is a couple of hours in the morning or in the afternoon?
Sentier du Canal Gairaut for your next short trip to Nice
Well, we shall see what we can do in this post and the next, starting today with the Riviera's rural hinterland.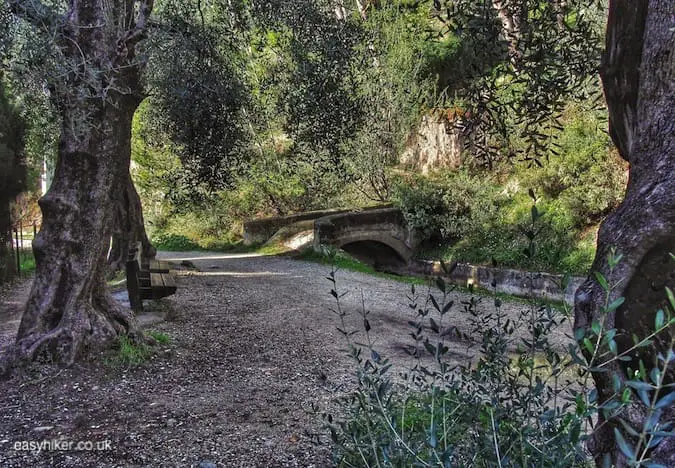 Culturally speaking, the provence – stone houses, olive groves and old men playing boule on the village square – may be roughly one hour away from the actual Riviera, but the coastal landscape changes much more quickly than that. In fact, once you are out of central Nice, the roads will begin a steep uphill climb, the lush sub-tropical vegetation disappears, and the gaudy colour scheme of the coastal strip makes way for something much more sombre and melancholy.
A most convenient way of experiencing this hinterland of the Riviera is the Sentier du Canal de Gairaut, an approx. 2 km long hike alongside a 19th century canal that was built to provide Nice with clean water from the near-by Vesuvie river.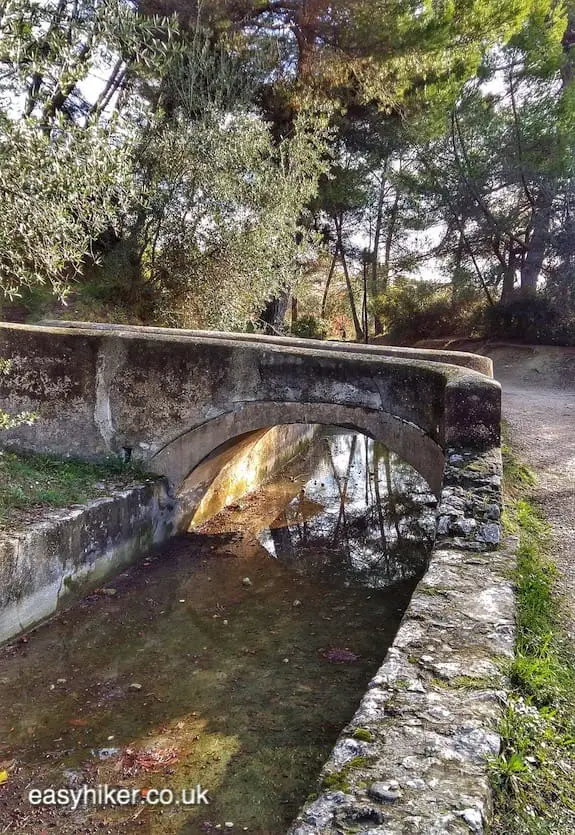 The Gairaut Canal route is a "balcony walk": stretching high up on the hills that surround Nice along its northern periphery, it provides spectacular views over the town itself …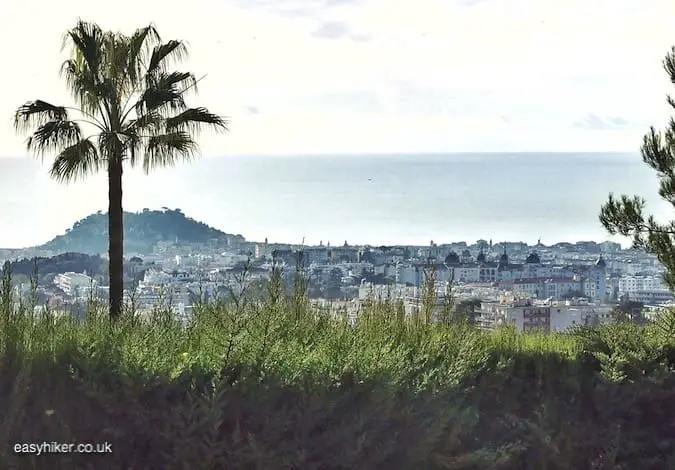 … and the Baie des Anges, all the way to Antibes and beyond.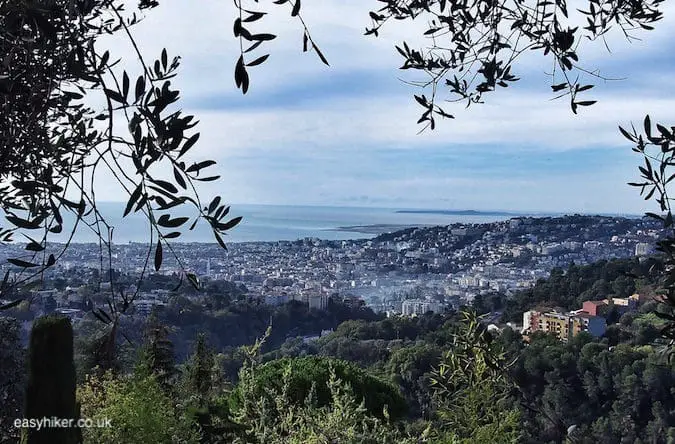 It is a pretty little walk, rich in details …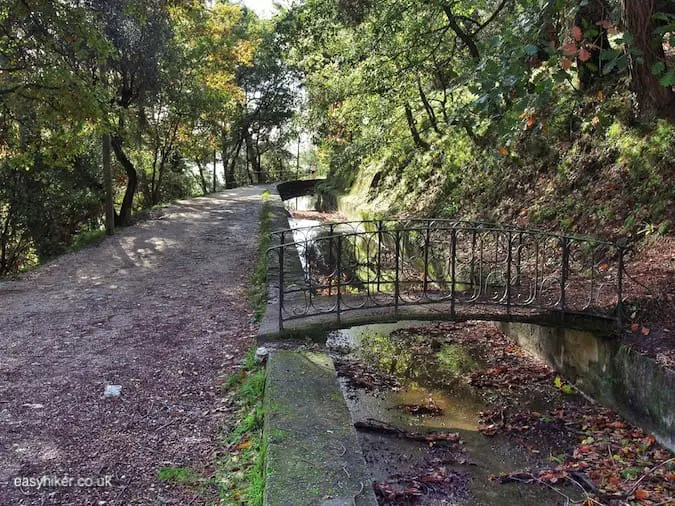 … but one word of warning: it is also very popular, particularly with joggers. So if you are looking for a place to experience blessed solitude, you may want to go somewhere else.
On a weekend day in particular, it can be very busy, and if you reduce your walking speed to a gentle stroll so you can take everything in (as you should), you will soon feel like the slowest truck on a very busy motorway. (Unlike on a motorway, however, you will be overtaken by the same people in fairly regular intervals.)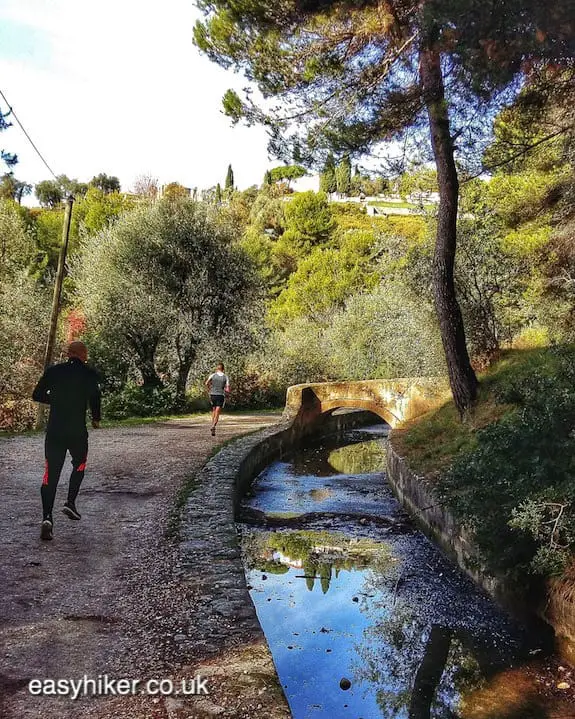 The sentier is easily accessible, but the bus that will take you there – no. 25 – does not pass through central Nice, so you need to take the tram (T1 from the train station or the Old Town) to the central bus station at Vauban.
It is best to buy a block of 10 public transport tickets (for both trams and buses) from the vending machines that you will find at any tram stop (€ 10), but you can also pay the driver directly (€ 1.50 p.p.). Each ticket is valid for 75 minutes after you have stamped it, so you can use the same ticket for the tram and the subsequent bus ride.
Descend at the station Super Rimiez, cross the road and take the foot path on your left hand side.
At the end of the walk, turn left into the street behind the exit and left again at the crossing with the main road. Cross the road and wait for any bus to take you to Henri Sappia from where you can catch the T1 back to town.
Read also about the Train des Pignes  for your next trip to Nice!
We will have more tips on how to enjoy your short trip to Nice coming your way. Be sure to get them by subscribing to our free updates via email. You can also follow us on Facebook,Instagram and Twitter. Why not include us in your G+ circles too?