The architecture of fascism is everywhere in Italy. If you have ever visited the country, chances are you will have seen loads of it – unknowingly, perhaps, because these buildings blend in well with the rest of Italy's street furniture, baroque churches and Renaissance palazzi included.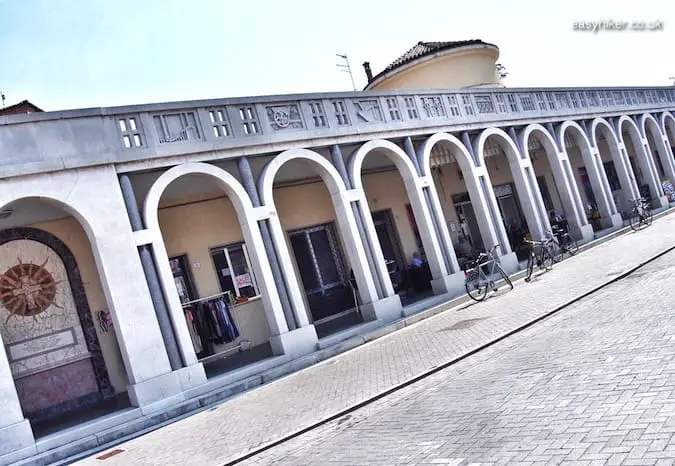 The architecture of Italian fascism itself is not "fascist": most buildings from the period between the world wars, including many modernist post offices and telephone exchanges, tell you little about political ideas. Italians often refer to the style as "rationalist", which is not simply a euphemism: odds are that similar solutions would have been found if Italy in the 1930s had been governed by socialists or Christian Democrats.
Tradition, not theory, is the driving force of the daily life in Italy, and architects, like any other artists, are rarely allowed to stray too far from their trade's traditional role: which is to provide joy by creating things of beauty. As a result, Italian buildings, no matter what purpose they may serve, always try to please the eye: they engage and charm the viewers, even throw them flirtatious smiles. No wonder we all love Italy so much.
Rationalist architecture may fit in very well with older Italian townscapes but has a less successful track record of standing on its own, when there is no context to restrain the architects and they have too much time to "think things through". Rome's EUR is cold and barren, all fine bone structure but no meat. Rome's Olympic village is something else entirely, stuffed with heroic bombast and, pardon my Italian, full of pseudo-Caesarean merda.
Tresigallo is for you if you are fascinated by fascist architecture
Which brings us to Tresigallo, one of the rare "new towns" in a country brimful of "old towns". When the marches of the Po delta were drained in the 1930s, the government wanted to construct an administrative and commercial hub for the newly fertile area and consequently determined to turn the small village of Tresigallo – birthplace of the influential Edmondo Rossoni, one of Mussolini's closest associates since the early days of the movement – into a Fascist model town.
The new Tresigallo was meant to be constructed along rational lines, neatly divided into separate sub-towns: a "youth zone" with a school …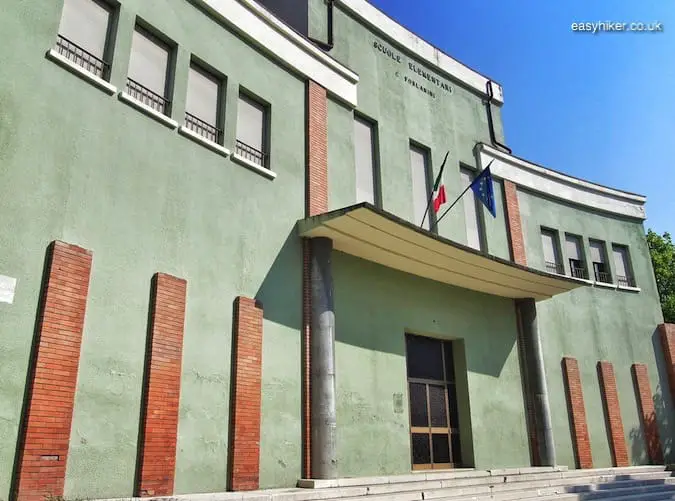 … and a sports ground on opposite ends of the roundabout from where you enter the town on the main road (notice how the shapes of the two buildings appear to echo one another), …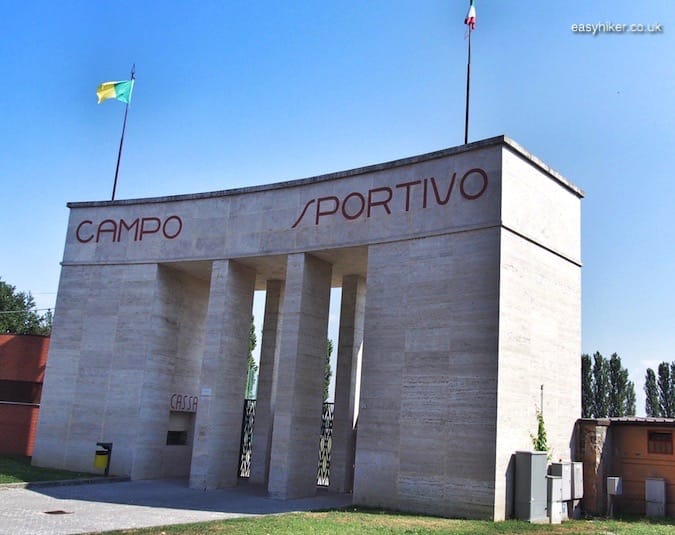 … one quarter for the labourers, which was centered upon the public baths …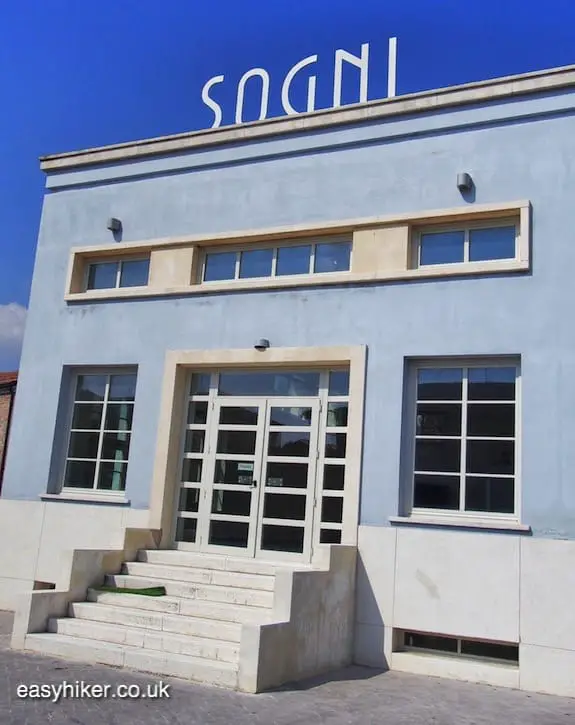 … and an adjacent academy of political education (both now used as cultural centres), …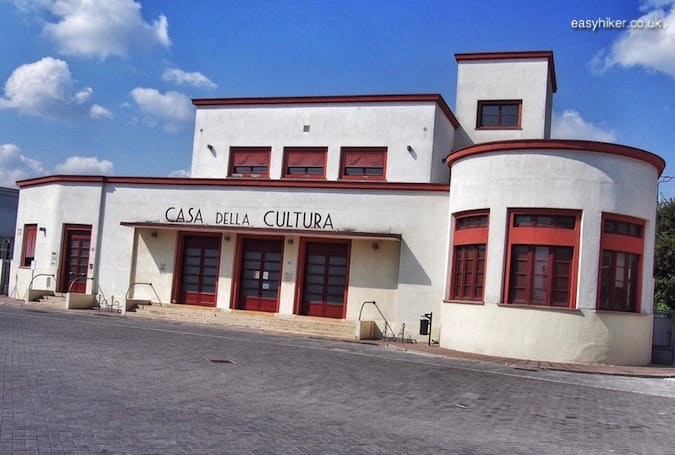 … and one section for civic institutions such as City Hall …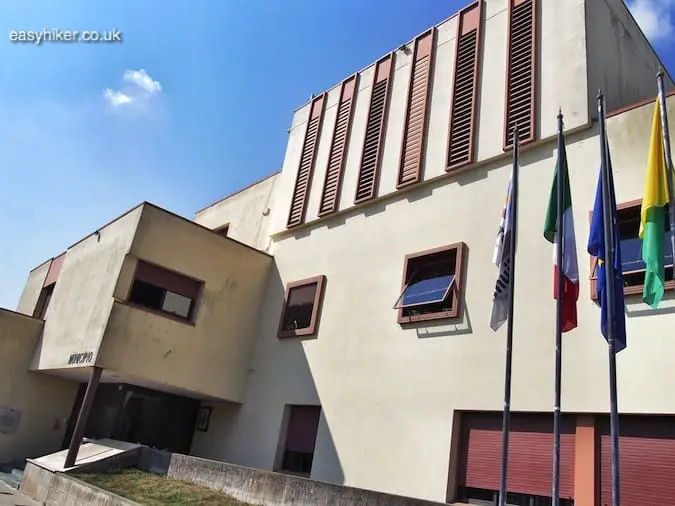 … and the orphanage.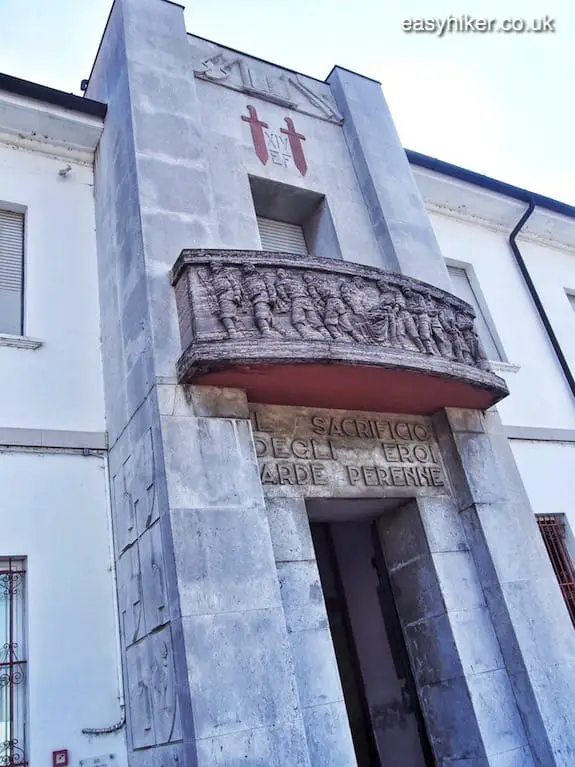 That underlying narrative has been largely lost in the eighty years since and may, I suspect, never have been pursued with ultimate zeal. The implementation of Tresigallo's grand scheme was certainly not helped by the defeat of Fascism only a few years after the (1939) completion of the New Town, but I doubt whether the very concept of a model town with strictly enforced rules and zoning laws could ever have worked in Italy.
Still, reading a little about the town's history after our visit, I was surprised how soon some elements of the scheme had run into trouble. The public baths, for example, lasted for less than a year (I could find no detailed explanation why), and other buildings, too, were quickly "re-purposed" – like the Domus Tua building, originally a dance hall. Today, it serves as a hotel.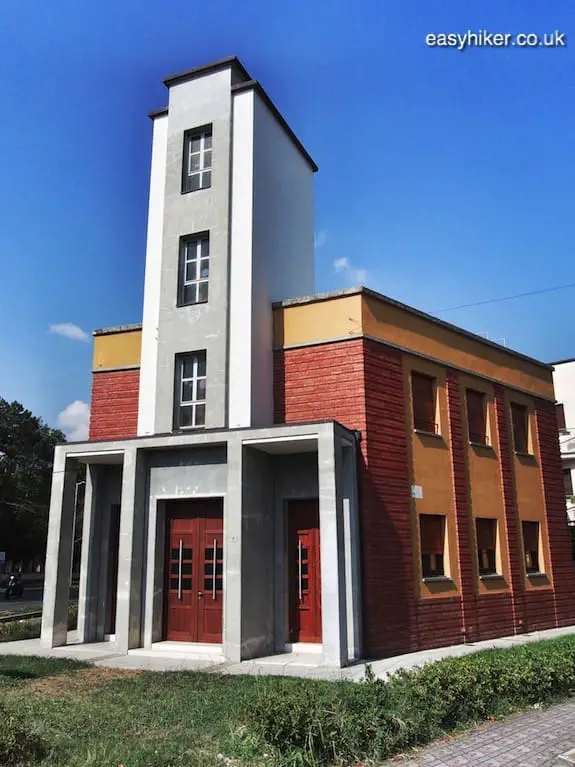 For less mysterious reasons, new purposes had to be found for a host of official buildings such as the House of Fascism after WWII. Today, the former party HQ accommodates the local police office.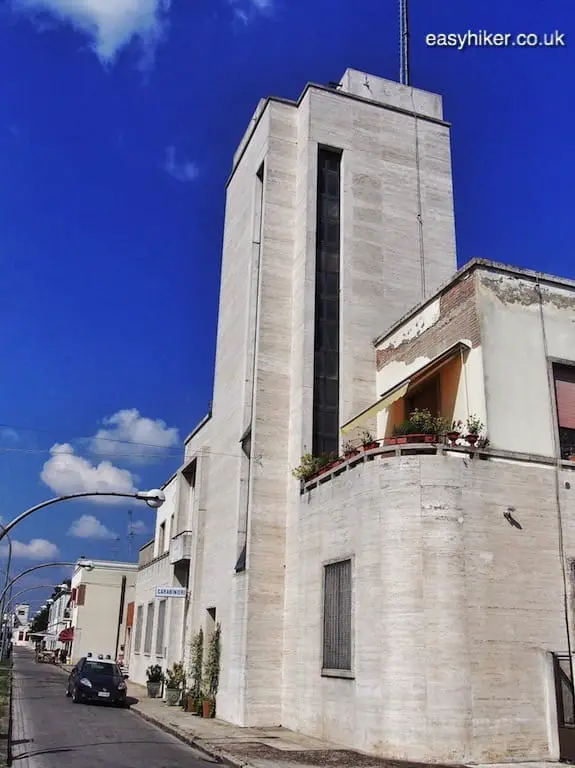 If you have come by car (the easiest way to make the trip although there are also buses from Ferrara), park your vehicle close to the roundabout on Via del Mare (the SP15 on which you will most likely have approached the town) and walk down Viale Verdi in direction of the centre.
On the far end of Piazza Italia, turn left into Viale Roma and then, when that street ends, left again into Via del Lavoro.
On the way, you will notice that Tresigallo is more than just a jumble of modernist public building projects and that the architects also paid close attention to the design of residential homes.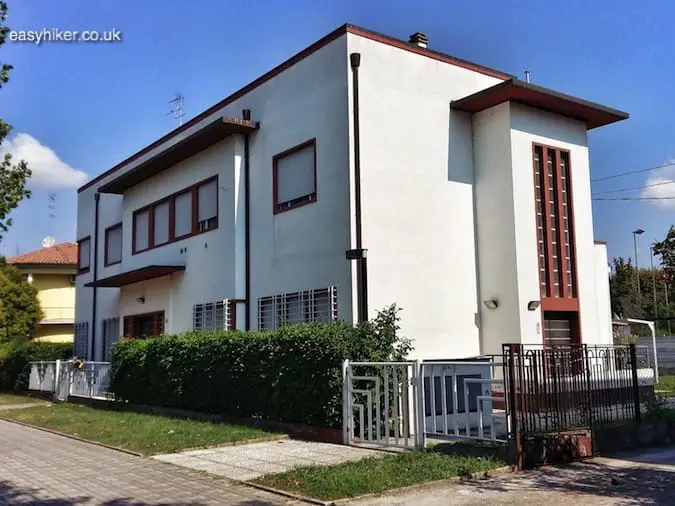 Return to the town centre by turning left into Viale Ferrara towards Piazza della Repubblica, the central square, a modern take on one of Italy's most traditional urban themes.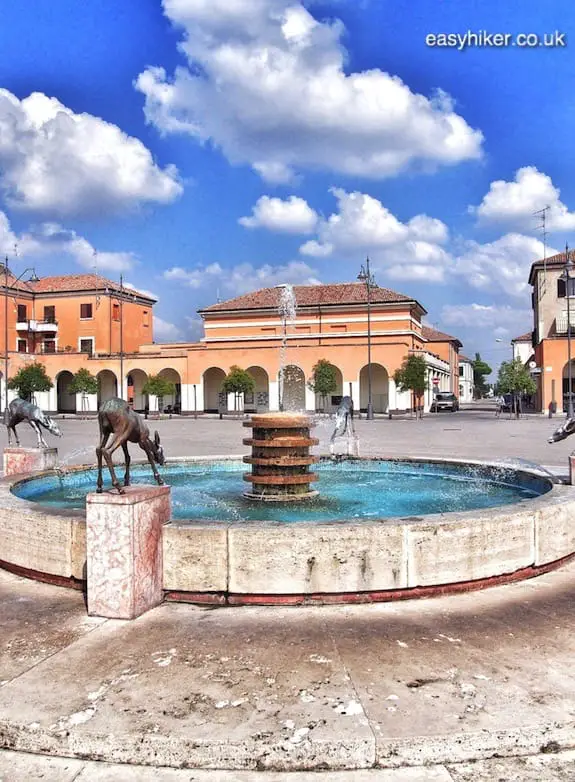 Piazza Repubblica provides an interesting contrast to the piazza in front of City Hall, Piazza Italia, to where we will return by continuing straight down Viale Ferrara. This piazza was intended as a more formal gathering space where large crowds would assemble for parades and official speeches. After the end of the Fascist regime, there was no more use for that, and the piazza today serves as the municipal car park.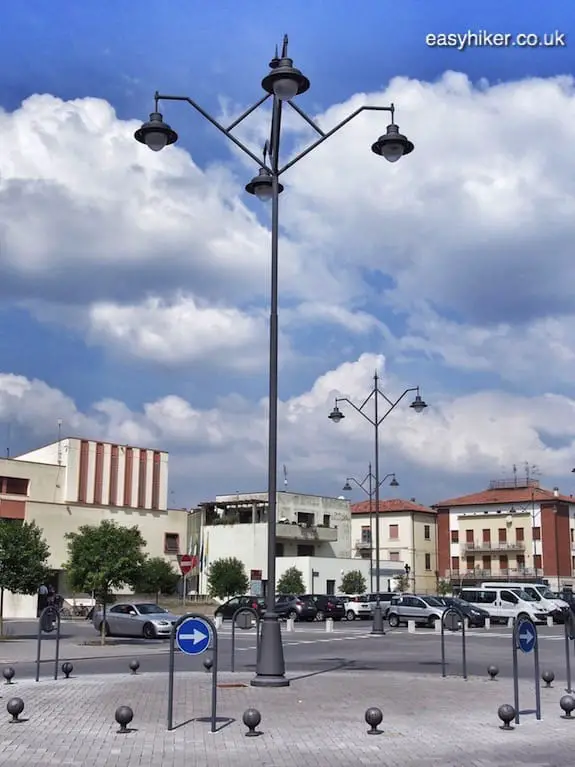 So, there you have Tresigallo in a nutshell: the elements of the model town that reflected ancient traditions or that, at least, could be brought into line with them, have survived almost unscathed, while those elements that did not similarly resonate were quietly abandoned. This has always been the Italian way of dealing with pressures for change and innovation.
If you are fascinated by fascist architecture, Rome and Tresigallo will be the desttinations for you on your next visit to Italy.