The ZumStein vineyard in Bad Dürkheim is one of the oldest and one of the most modern in the Palatinate wine region. It has a long tradition of producing high-quality whites for clients in Germany and abroad (including some prestigious corporate ones), but owner Dirk Renzelmann makes it a point of offering more. A lot more.
ZumStein hosts a range of corporate events, wine tastings in the vineyard's own cellars, the "wine olympiad" (a competition featuring quizzes and games), tractor-drawn wagon rides into the vineyard (always accompanied by ZumStein's own mobile oven that bakes a mean Flammkuchen) and, and, and….Not to forget the restaurant and two large function rooms for weddings and large private parties.
Dirk is a passionate wine grower, but he is also a 21st century businessman who knows that it is no longer enough to make a high-quality product. In today's business world,  you cannot simply wait for your customers to come and buy your products off you.
"In some months, it is the marketing effort that takes up most of my time," says Dirk – with a sigh. But he also gives you the feeling that he quite enjoys what he is doing – all of it.
And then there is the small hotel,…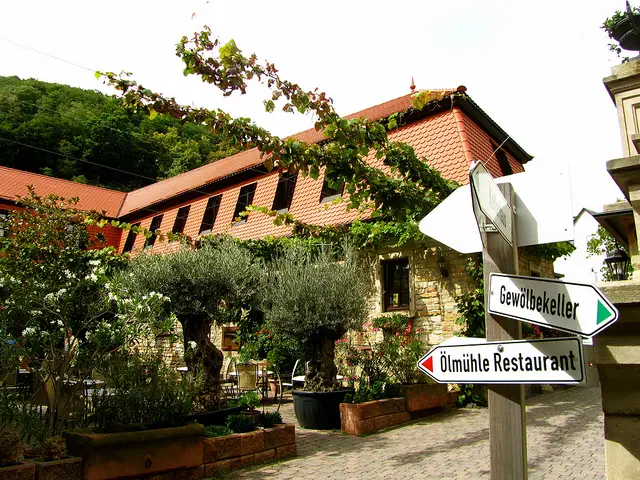 … the Vinotel as ZumStein calls it. Its three rooms have been carved out of the vineyard's historic building fabric: the restaurant is next door, so are the ZumStein offices and the cellars, …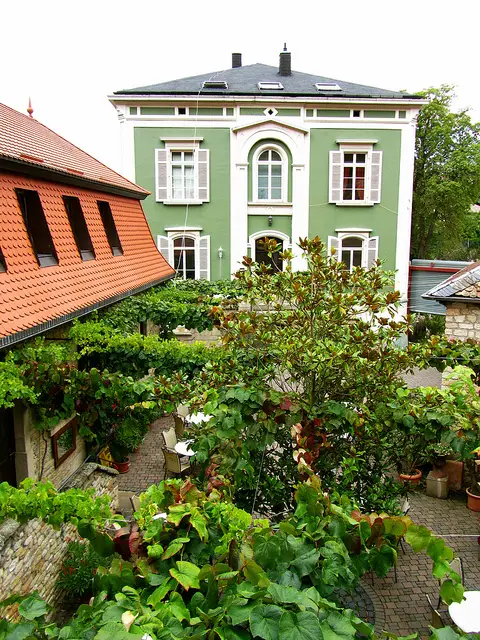 … and Dirk lives, together with his family, in the "new building" (constructed in the 19th century) just across the shaded courtyard.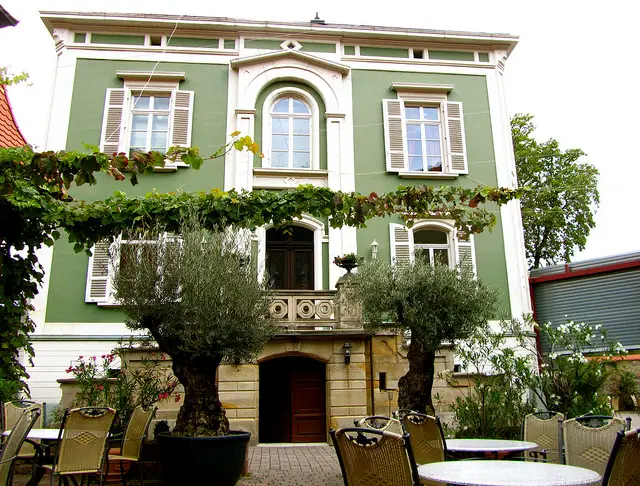 Just by staying there, you already feel you are part of the business: the first customers arrive while you are having your breakfast, local merchants who have come over for a chat join you briefly on the patio, tourists ask you where they can inquire about participating in one of Dirk's events – and there is always Dirk himself, dashing from one part of the property to the other, always in a hurry.
And if you are really lucky, he may ask you to accompany him into the actual vineyard a mile or so away, the place where he actually grows all the wine that he bottles and sells: Dirk loves to do that.
"From February to late in the fall, there is always something to do in the vineyard," he says, "planting, defoliating, pruning, harvesting – hard work, occasionally, but also strangely satisfying."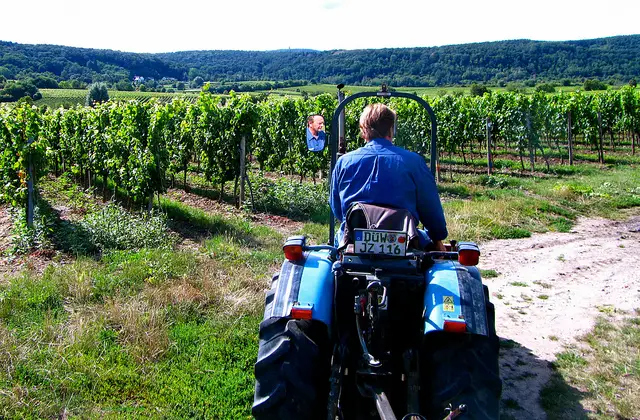 If that is exactly what you have always suspected, now you have the opportunity of finding out for yourself. Fancy a stay of two days in a vineyard? It is easier to arrange, more convenient to reach and (probably) cheaper than you think. We stayed at Gut ZumStein for the first two days of our recent hiking trip to the Palatinate and enjoyed every minute of it.
But for our next post, we will be back on the road again. See you then!