If you are in a rush, you could reduce those two hours in Milan to 15 minutes and still see Italy's largest Cathedral, the world's oldest shopping mall and opera's most famous theatre, all of them "next-arcade neighbours" in one of the smallest central cores of any major city in Europe
In the last post from our short series of "breaks within a break", we will take you today across another border, albeit a merely linguistic one (increasingly, they are the only ones that count), going from Italy's largely German speaking province of Alto Adige (where we recently went for a hiking trip) to Milan, Italy's second city and in many ways its first, the country's secret capital and economic powerhouse.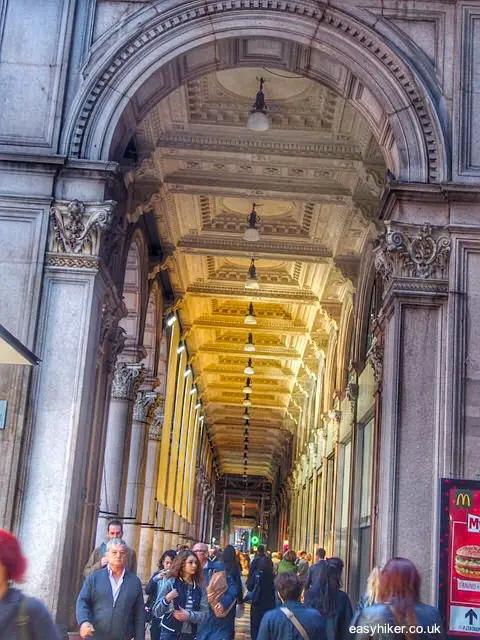 If you want to hike in the Alto Adige (aka South Tyrol) and are arriving by plane, Milan (Malpensa) is the nearest large international airport (Verona and Innsbruck are nearer, but offer a much more limited range of flights), so this may serve as a perfect pretext for a half-day stopover.
Of course, you won't be able to see everything that Milan has to offer in the space of a few hours, but you will be surprised at how much you can cover in such a short period of time. This is because the core of Milan's town centre is rather small for a city of its size and importance, and most major sites can be conveniently explored in a couple of hours.
Read also: Death in Milan
This core of the city centre is, however, also rather far away from the train station. So, particularly if you are pressed for time, buy yourself a public transport day ticket from a tobacconist inside the station – you will pass one on the way to the subway system, right opposite the entrance. (Look for the shop sign with the large white "T" on a black background.)
Start your two hours in Milan
Take the green line to Cadorna, and as soon as you leave the station, you will see the gardens of the Castello Sforzesco, the ancient castle of the Dukes of Milan which was built in the 15th century and was for centuries one of the largest fortresses in Europe. (Nowadays, it accommodates a whole range of Milan's best museums, a fact which is advertised by exhibits in the interior courtyard.)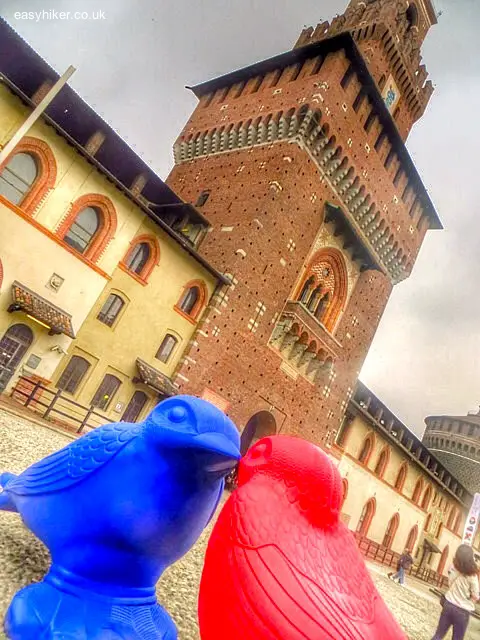 Walking straight out of the Castello's main entrance, we follow Via Beltrami to Piazza Cairoli and head across for the pedestrianized Via Dante, continuing straight until we reach the Duomo, Milan's magnificent Cathedral and the only truly "Gothic" building of renown in Italy.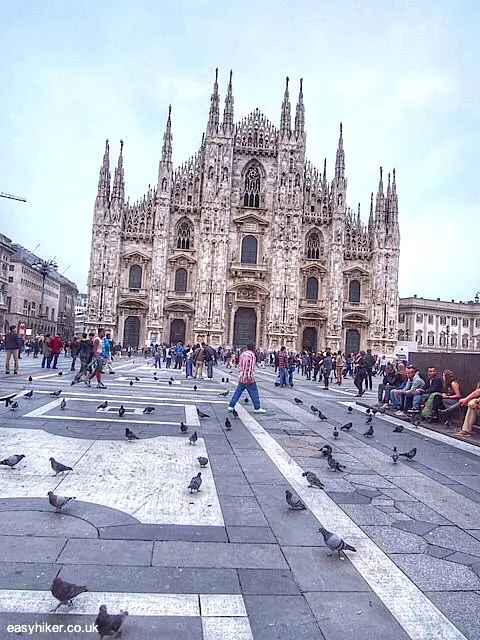 No matter how rushed you are, you should take the time for a short visit. It is really quite stunning and as impressive from the inside as it is from the front.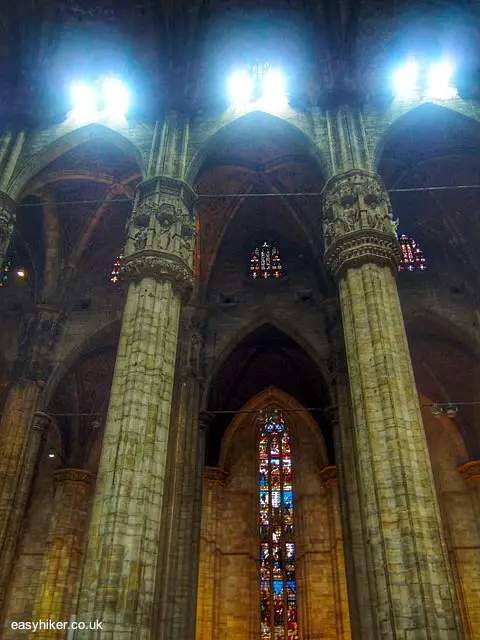 Just as impressive and magnificent, in its own way, …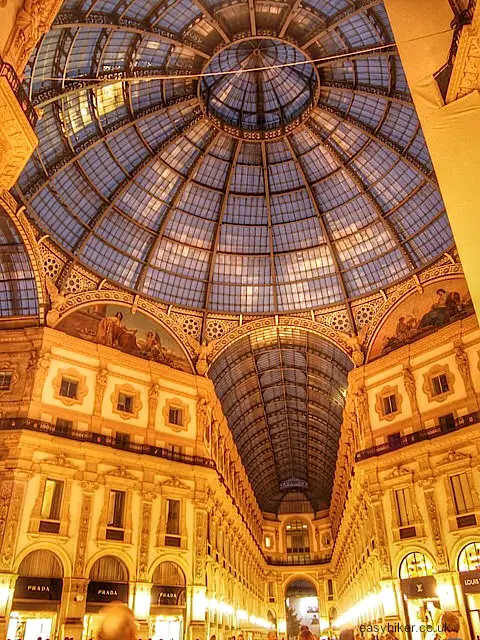 … is the Galleria Vittorio Emmanuelle next door (or "next arcade", to be more precise), perhaps the world's first shopping mall (there are other contenders) but definitely its most elegant. (Eat your heart out, Edmonton.)
Have a good look around and leave the Galleria through the exit on the far side for a brief glimpse at yet another Milanese landmark: the Teatro alla Scala, or La Scala for short, the world's most famous opera house …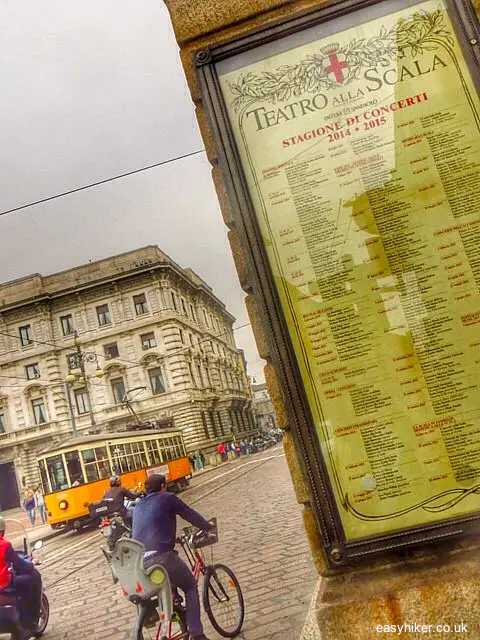 … before you turn right into Via Manzoni.
After a couple of blocks, turn right again into Via Monte Naopleone or the street after, Via della Spiga: this is the Milanese fashion district, the "Golden Quadrangle" (with Via San Andrea as the eastern border) where you can find some very elegantly designed shops …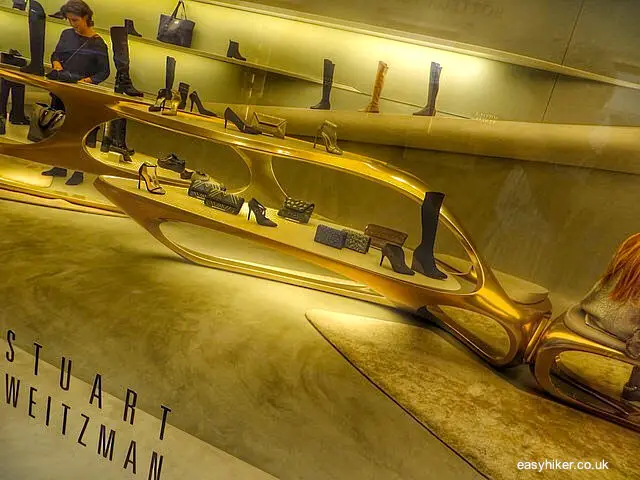 … as well as some elegantly designed buildings: clothes and dwellings, one suspects, for some of the richest people in Milan and the whole of Italy.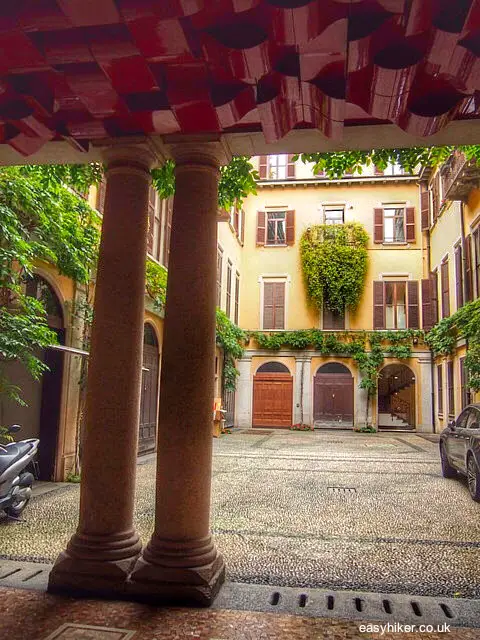 After this, if you still have time on your hands, you can choose: either visit one (or two) of the splendid little churches for which Milan is rightly famous, such as Bramante's Santa Maria presso San Satiro …
… or, alternatively, explore the less central areas of Milan, preferably by taking a tramway, an experience in its own right. (But make sure you take a line with historic rolling stock such as line no. 1.)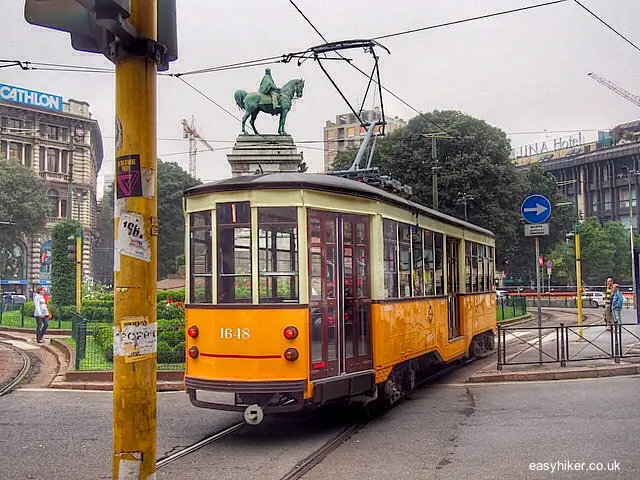 If you have a full day, you may even want to take a look outside the inner city, perhaps visiting Milan's unique Cimitero Monumentale which we have described in a previous post. This will also allow you to get a more rounded view of the metropolis, which may very well be the least "Italian" city in the country.
Milan may be economically stronger than any other town in Italy, but it is also greyer, rainier and, somehow, less "full of joy". Sometimes, it feels as though it belonged on the other side of the Alps – or is this because we have, in the end, failed to cross any border at all?
Did you find our travel tips helpful? We have more! Don't miss them by getting our free updates via email, or following us on Facebook and on Twitter?