Earlier in the year, we took you on a "sculp-tour" through the city of Münster (in northwest Germany), which hosts an internationally famous sculpture exhibition every ten years and which – since 1977 – has become one of Europe's hot spots for urban modern art.
The city, one of Germany's finest, is equally well-known for its historic town centre and for its large number of urban beauty spots. Having concentrated on the first for part one of our walk, we will now draw your attention particularly to the sculptures in Muenster in its large park-like spaces.
We start this section of our walk on Aegidiistrasse, just a short walk down on Münster's promenade (the tree-lined walkway that traces the old city walls) …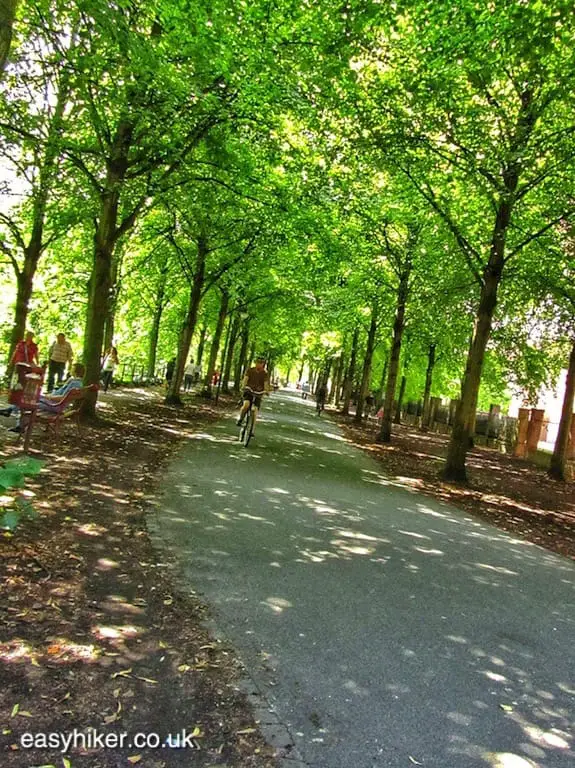 … from where we broke off the last time.
At no. 45, on top of a former gasoline station (now a café), you will find the five-meter-high Auto Office House from 1997, a "monument to mobility" for which the Canadian artist Kim Adams arranged seats, tyres and other car components around a steel grain silo.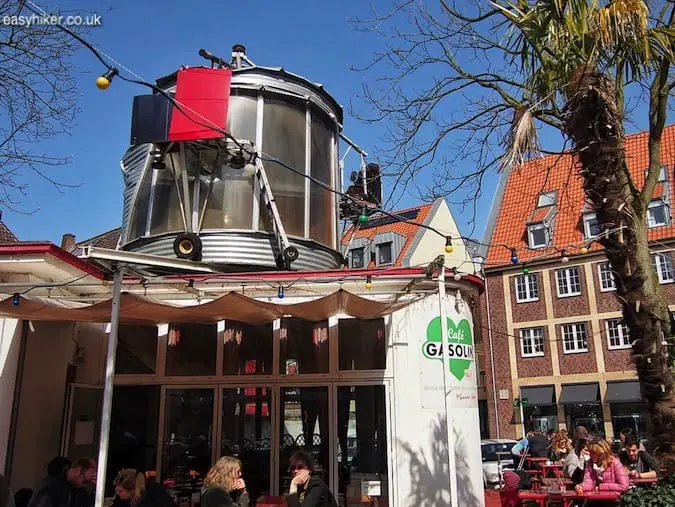 Now turn right for the Aasee, Münster's inner-city lake, with what is undoubtedly the most famous exhibit of all the Münster Sculpture Projects, Claes Oldenburg's Giant Pool Balls from 1977.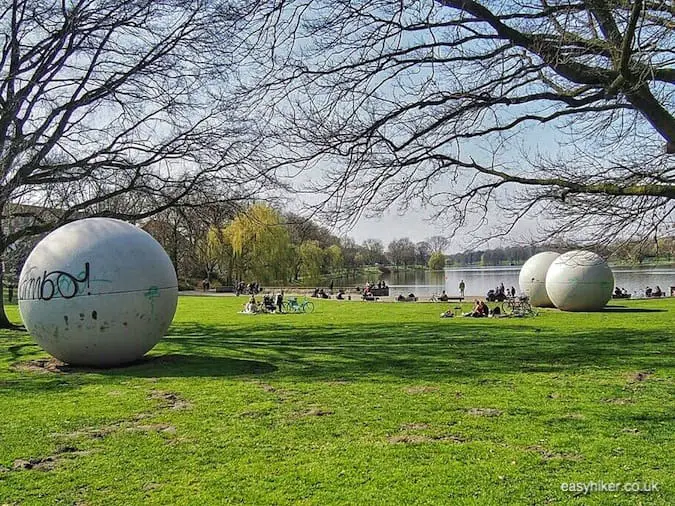 Enlarging and transforming every-day objects until they look alien to us: this was Oldenburg's trademark method, and the original idea was to scatter an entire set of pool balls, each with a circumference of 3.5 metres, around Münster's old town. These three are the only ones that were eventually built, so while they may not truly reflect the artist's original vision (which was, the rumour goes, vetoed by the town council), they are in themselves a pretty successful study of "movement in stillness".
Keep on the street to the right side of the Aasee and turn right after the so-called "Golden Bridge" into the gardens of West LB Bank. Walk past Heinz Mack's Water Sculpture …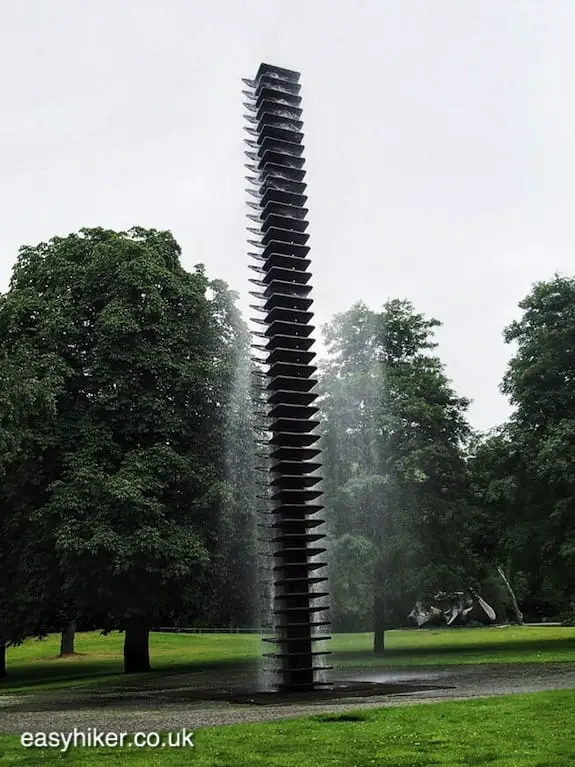 … to Friedrich Gräsel's Air Duct Sculpture, closely spaced pipes in an arrangement of almost military precision that echo and reflect the modernist theme of the architecture around them, …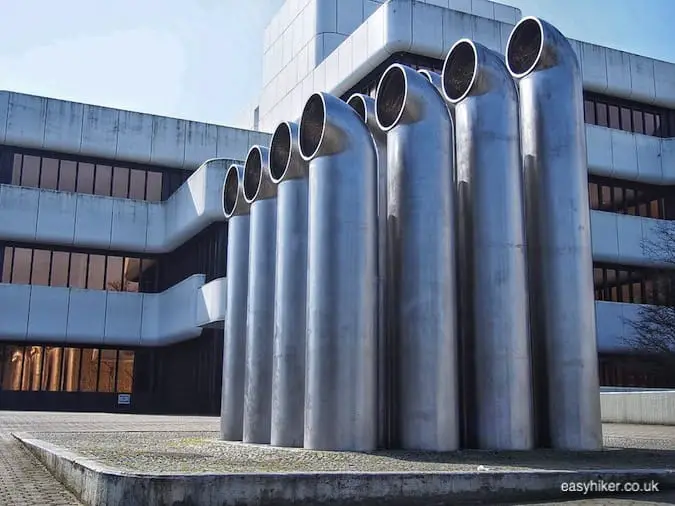 … providing a stark contrast in approach to the Henry Moore sculpture ("Vertebrae") that you have just passed on your way.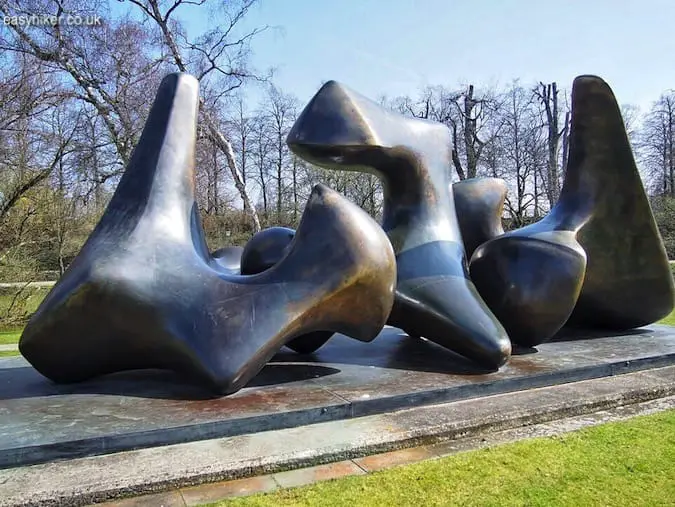 Now return to the Aasee across the road and continue on its right bank. After a few hundred metres, you will find Jorge Pardo's "Pier" that is intended as a rough and asymmetrical counterpoint to the carefully landscaped surroundings.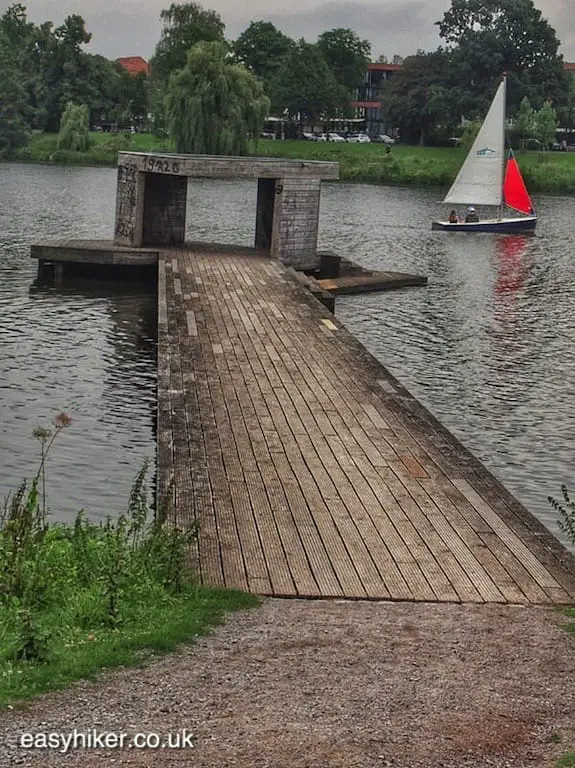 If you are in need of a short break after all this walking, we recommend you lie down in the soft grass underneath Ilya Kabakov's antenna-like sculpture "Look Up And Read The Words" and do just that.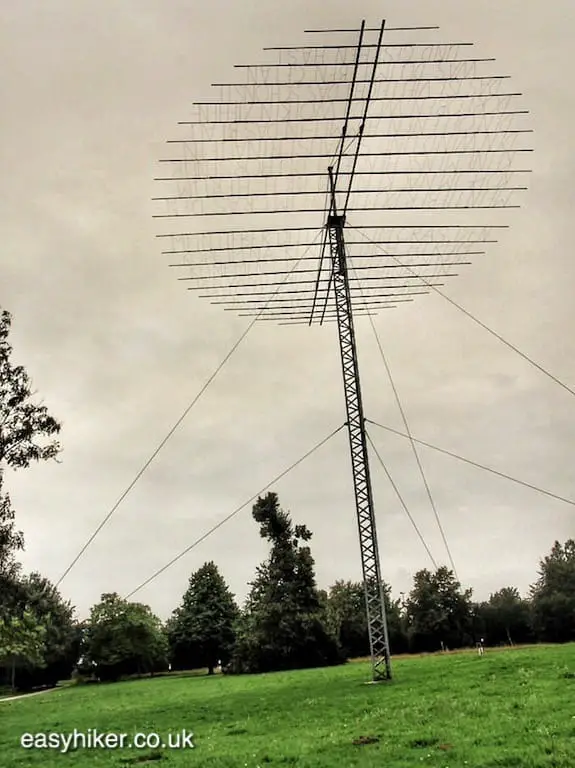 Between 22 slim steel ribs, a poetic message made of filigree-wire letters shimmers through: "You lie in the grass, looking into the blue above where the clouds roll by", it says, "this may be the most beautiful thing you have ever done in your life." (Unfortunately, on the day we came, we looked up to a gray stormy sky instead.)
Rosemarie Trockel's Less Savage Than Others, a tree sculpture that treats its "raw material" as though it was wood or granite, …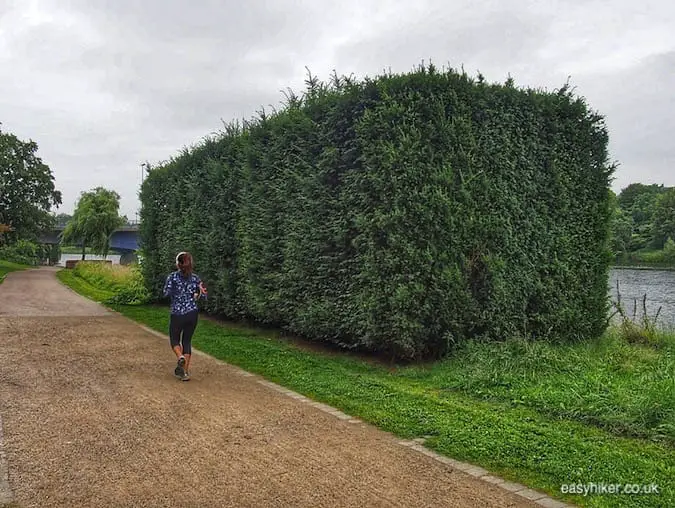 … is a direct response to Donald Judd's concentric concrete rings ("Untitled") a little further up the embankment.
True to the spirit of minimalism, Judd contrast the natural slope of the hill with the abstract concept of a straight geometric line.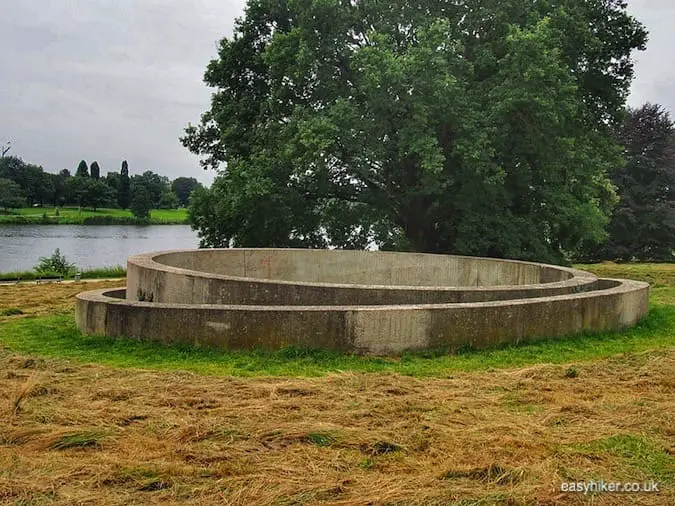 Take the footpath shortly behind which leads you away from the lake, and follow it all the way to Münster Zoo. (This will take you about 15 minutes.) In front of the entrance (of what was then a new building), Karl Ehlers erected his monumental steel sculpture "Interconnected", relating to its environment by suggesting an animal through organically curved lines.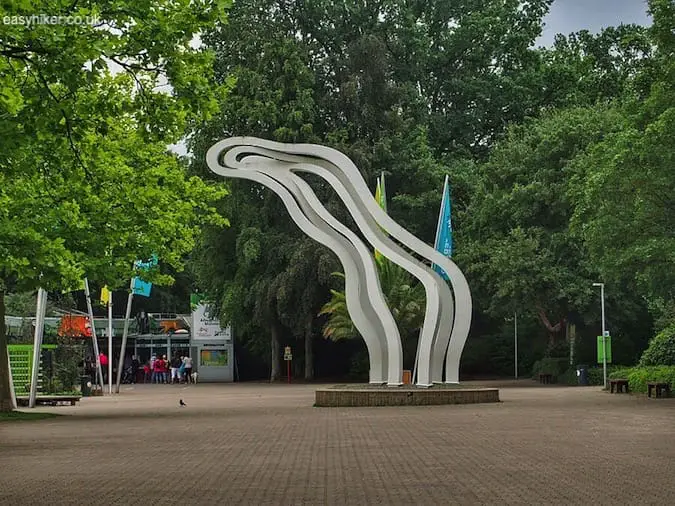 This is where our walk ends. You can return to the town centre from here by taking the bus (look for the stop right opposite the Natural History Museum).
Münster's sculpture exhibitions are staged once every ten years, and the next show has already been booked for the summer of 2017. The theme of the new exhibition is "the changing ideas of time, space and the human body in a digitalized world", and 30 international artists will be able to display what they can make of that.
Go if you can, it will certainly be interesting: all works will be on show (for free) from June to October, after which some exhibits will stay and some will be sold or removed (if past practice is anything to go by). But if you cannot make the journey, don't worry: we will keep you up-to-date!