Why it may be a good idea to call on local assistance for your trips around the Ossola Valley
For our final walk in the Ossola valley, we hiked a small piece of the Via dei torchi e dei mulini – the "trail of wine presses and mills".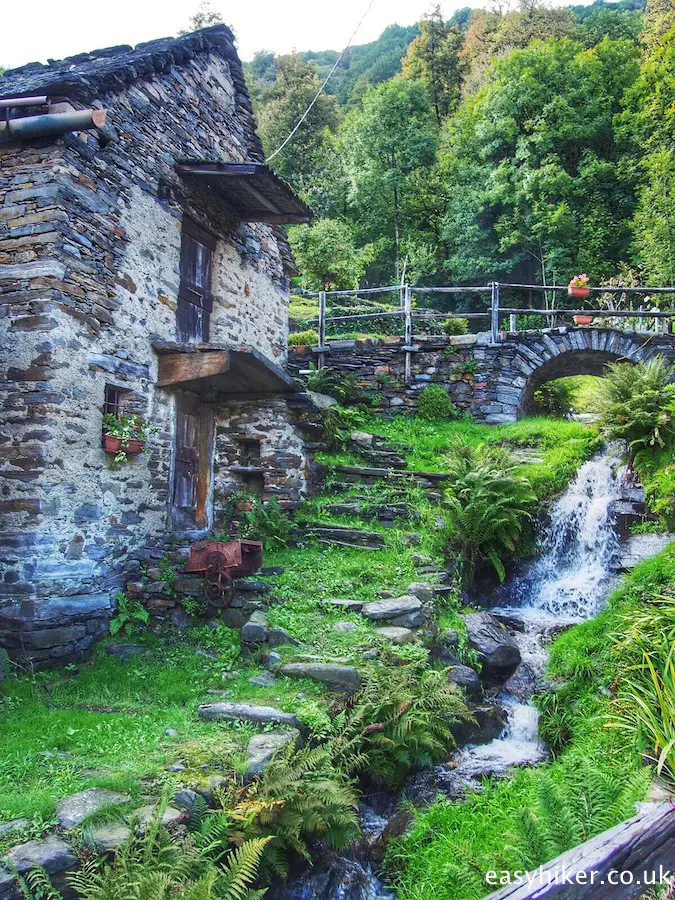 We started in a village called Tappia …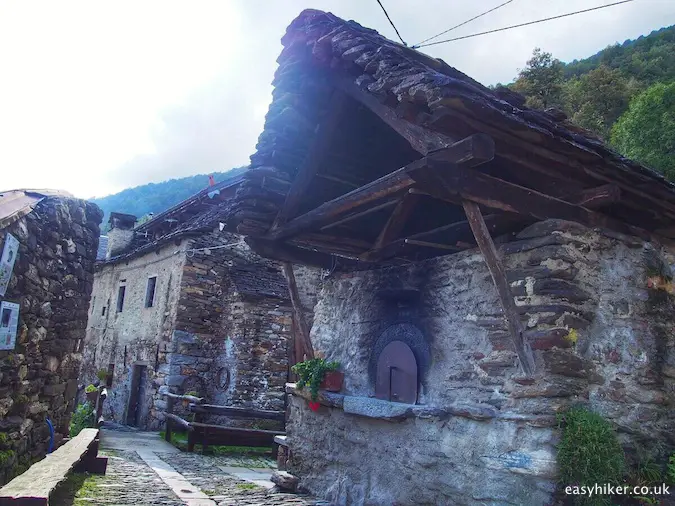 … which is small, sweet and has a lovely wine shop (called Tappia di Vino) as well as – starting the trail on the right note – a picturesque wine press.
Unfortunately, you have to take our word for it as far as the wine press is concerned, because we failed to take a picture of it, God knows for what reason – probably thinking: this is the trail of the wine presses, after all, and there will be many, many more such contraptions along the way.
It turned out, however, that – while we indeed passed by the odd mill …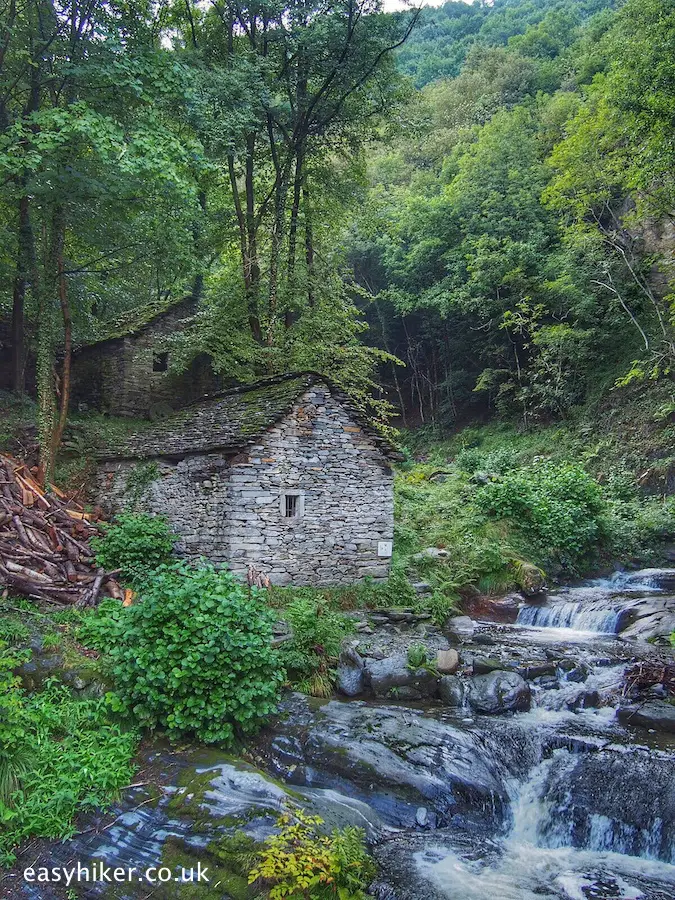 … the next wine press did not show up before Anzuno, if you can call this "showing up" at all …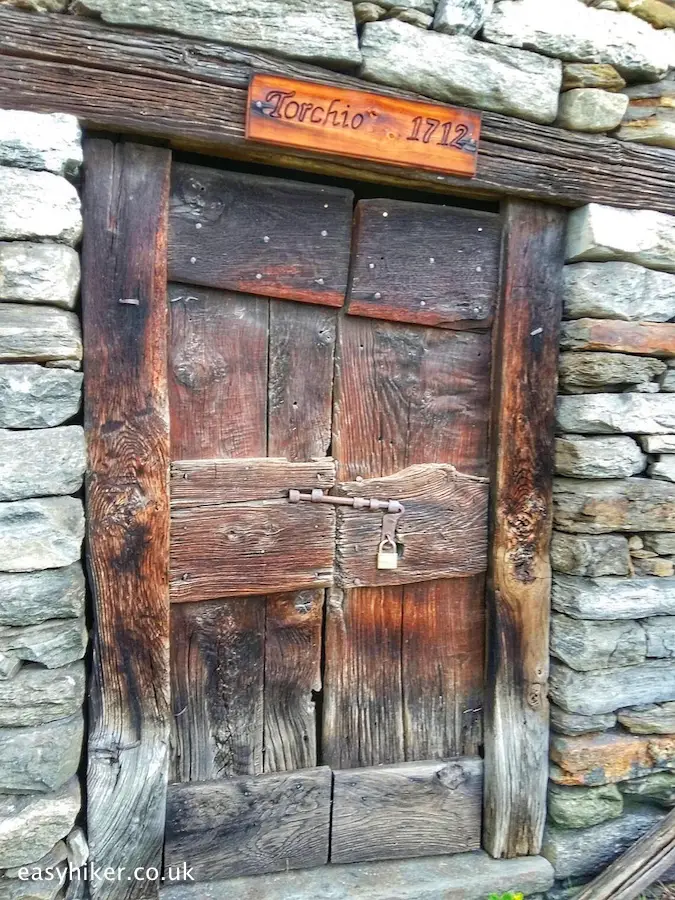 … and that was that, because approx. 500 m behind Anzuno, the walk was practically over.
Suddenly, our guide took a sharp turn to the left, straight into what seemed to be some sort of bushland with an overgrown and very slippery footpath. And a short climb after, we stood in front of a very fine agriturismo restaurant called La Tensa where aperitivi (pre-dinner drinks) were already waiting for us and dinner itself was shortly to be served.
Well, I told you it was a short walk. Still, it was long enough to teach us two important lesson: first that you should take pictures while you can, and second that it can sometimes be very useful to have a guide with you.
Without one, we would have neither found La Tensa (which is, in fact, a large hillside farm that was converted into an ecologically sustainable agribusiness with production facilities and hostelry attached) nor would we have found it easy to get to Tappia in the first place.
There must be many guides in the Ossola valley – the Lago Maggiore with its all-around-the-year stream of visitors is just a 30 minute drive away – but we were in the able company of Ossola guides Susanne ([email protected]) and Roberto ([email protected]) for the length of our stay, and found them to be both highly knowledgeable and pleasant to deal with, exactly what you would want on a trip like this. Just saying.
One reason why local assistance can be useful is that some of the most interesting places in the area such as Riale at the northern tip of the Ossola valley, right next to the Swiss frontier …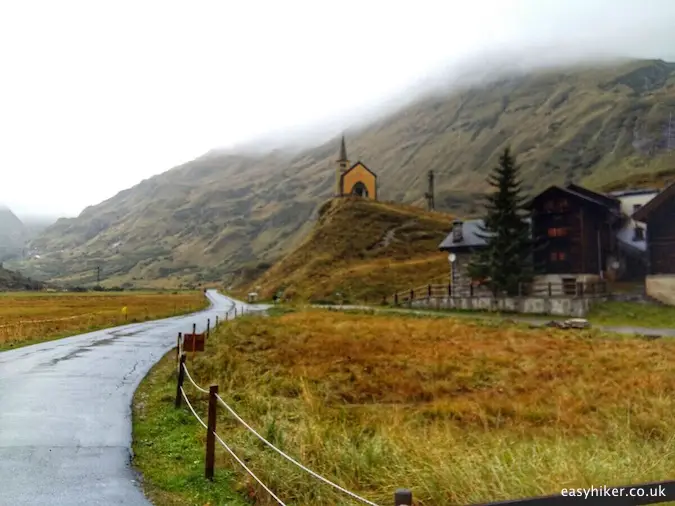 … are virtually uninhabited for most of the year (Riale has a permanent population of zero), and consequently, there is no reason for any public transport to go there at all.
The last people to live in Riale were construction workers who had been hired for a near-by dam project. Theirs was not only very hard but also very dangerous work which involved the use of large amounts of explosives. The lonesome hilltop chapel that you can see on the picture above was built by and in memory of them.
Riale's "proper" church stands in the middle of the village …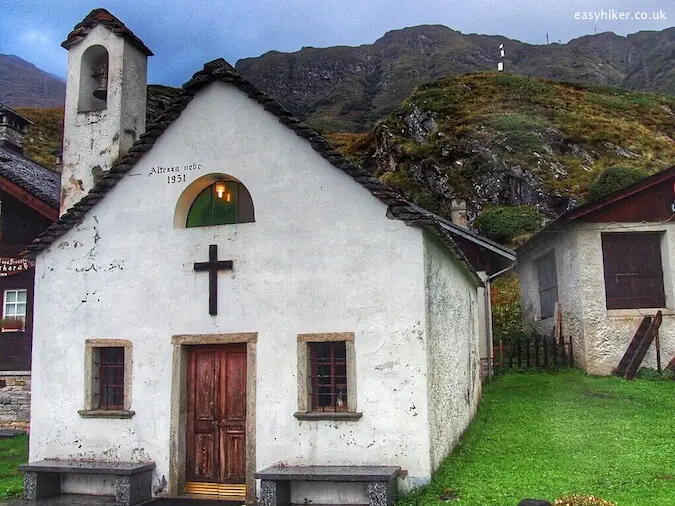 … and still bears the "high-water mark" of the snow that covered the town in 1952, a reminder of how hard it must have been for the people who lived here.
Nowadays, Riale – and many places like it – are only inhabited during the summer months, by visitors from Turin, Milan and elsewhere.
There are many treasures like this to discover in the Ossola valley!
We thank our sponsors once more, among which are the Regione Piemonte and the V.E.T.T.A. Project, for the chance to discover the Via Tappia trail of wine presses in the very charming Piemonte region of Italy. For a similar trip, we highly recommend you seek out the services of the Ossola guides Susanne and Roberto. Find out more about what they can offer on their Facebook page.