… including some that you can eat and drink:
A walk through the Cathedral town of St Albans, 20 miles north of London
Towns and villages near London are engaged in a constant battle for their soul: most have succumbed a long time ago and been gobbled up by the near-by metropolis, suburbanized and converted into dormitory towns with – at best – a few old churches or timber-framed Tudor mansions, now invariably reinvented as pubs or local museums: ghost-like appearances, empty shells of the lives that these towns once led.
This death zone around London extends for about 10 to 20 miles, and one of the nearest towns that have preserved something approaching a "character of their own" is St Albans in Hertfordshire, north of London on the railway line to Luton.
Since St Albans is a small but pretty Cathedral town which also has a large municipal park and, beyond that, a forest attached to it, it serves as the perfect place for a relaxing walk whose length you can vary and customize to your own needs: you are free to take an urban promenade or a day-long hike in the woods as well as anything in between.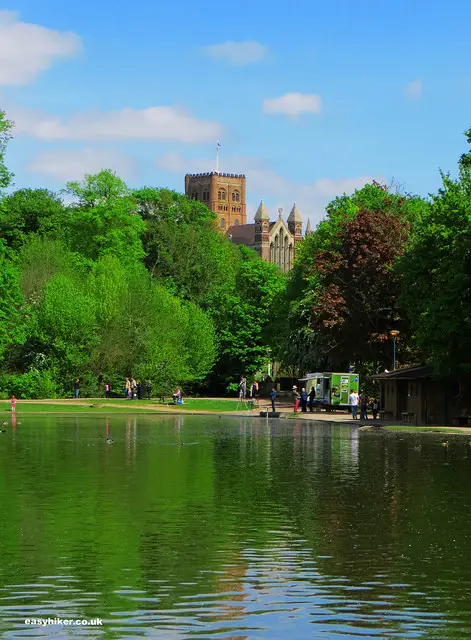 Turn right out of St Albans train station, right again over the bridge and then continue straight for about fifteen minutes until you reach the town centre.
Just about the first thing you will see of the Old Town is the Town Hall on St Peter's Road. On Saturdays, there is a lively market here, and you could easily spend an hour or two just walking up and down the street from stall to stall.
On your left hand side, coming from the train station, you will spot the 15th century Curfew Tower, built by St Alban's medieval citizenry as a sign of defiance and independence from the church authorities.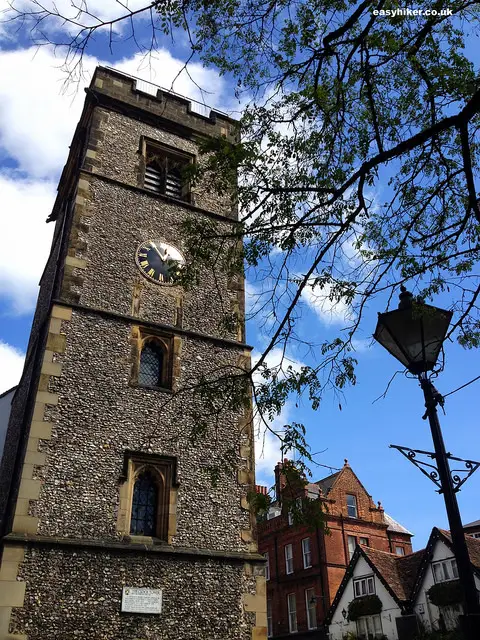 Opposite the Tower, in a house where the Fleur de Lys pub now stands, the French king Jean le Bon was once held after having been taken prisoner by the English at Poitiers in 1356.
At least that's what the local legend says (and the information panel on the pub) – there is apparently no hard evidence for this story, and I only mention this to show you how far back the history of the town (real or imagined) actually reaches.
Continue straight across the main street through the narrow passage to the Cathedral.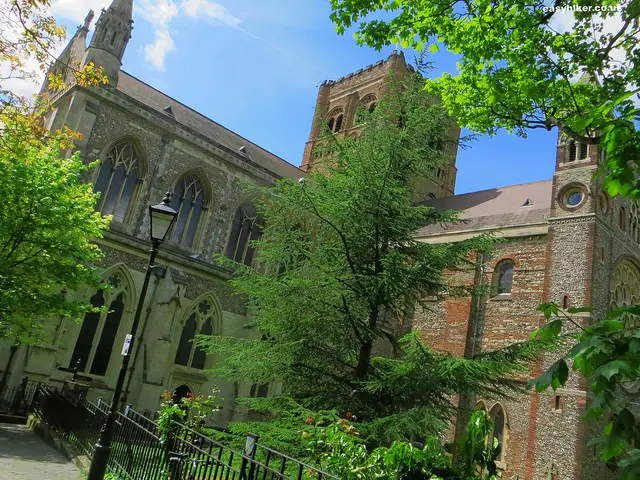 St Albans Cathedral was named after the first Christian martyr in Britain, killed in 209 (more than 200 years before Britain was properly Christianized by St Augustine) when he refused to betray a Christian priest who had sought shelter in his house.
The church is surprisingly large for what is, today at least, a relatively small town, and has the largest medieval nave of any church in Britain. It is also the oldest, built in 1077 and practically unchanged since, having been built with bricks from even older Roman buildings near-by.
Yes, walking through St Albans is like penetrating layer after layer of ancient British history: from the Middle Ages to late antiquity and, finally, beyond to the Roman conquerors themselves.
Cross the lawn in front of the Cathedral's main entrance and keep to the right in order to enter Verulamium Park which has been named after the Roman city in this place, a trading post between north and south, itself named after en even older Celtic town in the same location called Verlamion.
This Celtic village, finally, is the last and oldest layer of St Albans's history – one of which nothing has been left in the town's modern-day image. Only the river Ver, which gave both the Celtic and Roman settlements its name, still flows through the city – you can spot it on the left side of the lawn.
The park itself is full of traces that were left behind by the ancient Romans …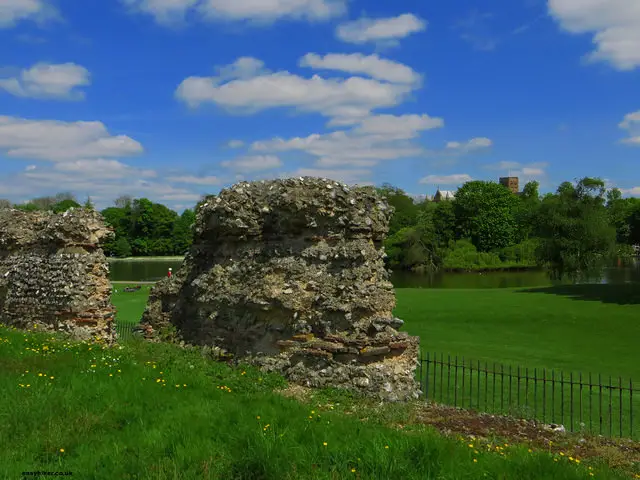 … and there is even more, including Verulamium Museum and a Roman theatre, when you head straight out of the park.
The full turn – past the lakes and St Michael's village to Gorehambury and back via Potters Crouch – is about 15 km long.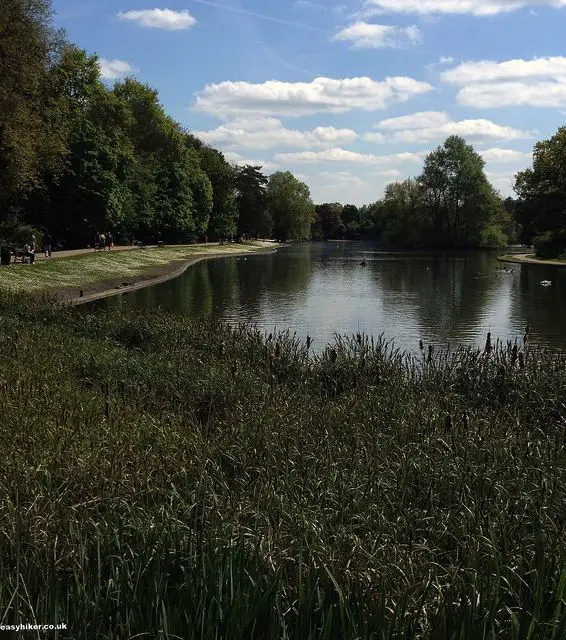 Alternatively, you can return from the outskirts of Verulamium Park at any time for a meal at Ye Olde Fighting Cocks (right at the park's entrance), which is one of the contenders for the title of Britain's Oldest Pub and has been around for least 400 years: history that you can not only penetrate but eat and drink, too. Have a pint on the outside terrace on a sunny day – and then a second one on us.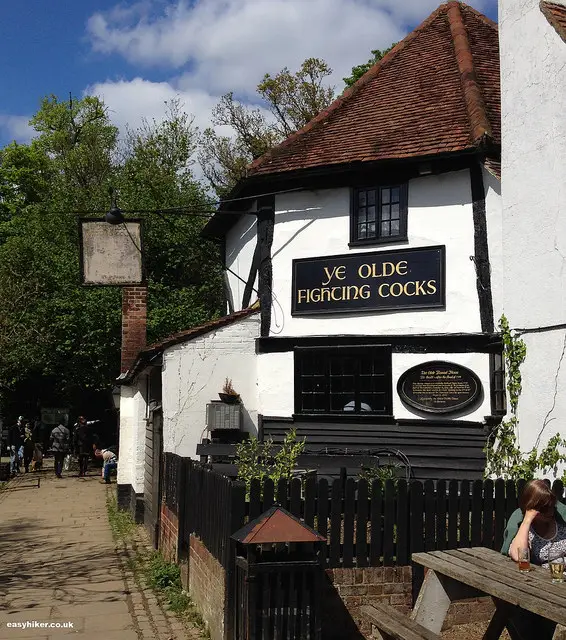 Cheers!
Next time you're in London, get to St Albans to experience for yourselves the different layers of British history still evident in this charming town. And don't miss our coming themed walks. Subscribe via email for our free updates and follow us on Facebook  and Twitter. Why not include us in your G+ circles too?