The European Long Distance Trail GR8, for example, will take you from Nijmegen to Kalkar or Xanten and beyond, while an extensive network of picturesque foot paths connects the rivers Niers and Kleine Niers.
On the plus side, there are many other opportunities of rounding off a hiking trip to the area that involve little or no serious walking at all.
On the top of this list is a short hop across the border. No visit of the Lower Rhine Plains would be complete without a trip to the Netherlands. The most attractive option here is Arnhem, a large provincial town which is full of narrow, pedestrianized streets and charming sidewalk cafes.
It is also home to one of Europe's most famous WWII battlegrounds …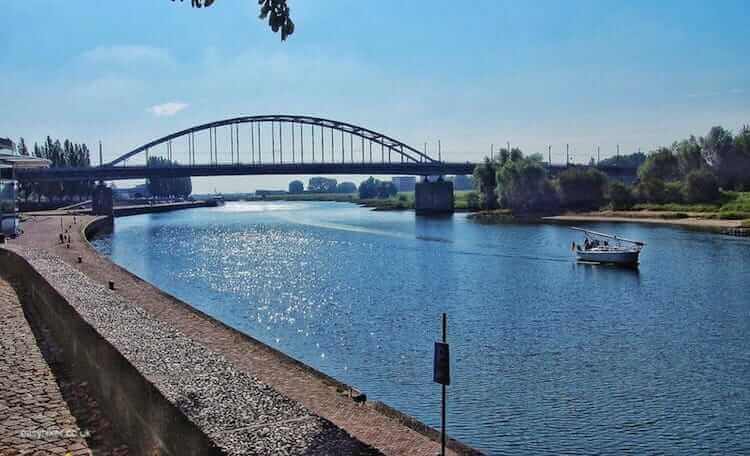 … the "Bridge of Arnhem" where British paratroopers suffered the last major reverse of the Allied campaign in 1944.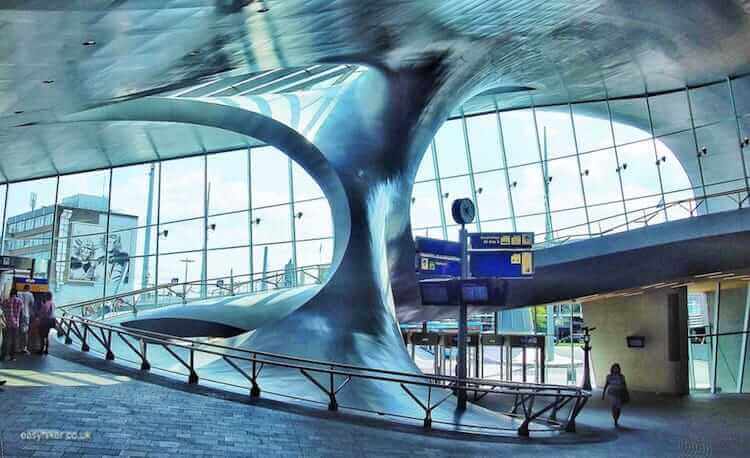 Arnhem has recently been integrated into the network of destinations that you can reach with German Rail's heavily discounted one-day tickets, and when you arrive by train, you will be welcomed by one of Europe's most exciting new buildings, Arnhem's bold central station which has been designed as a hub for the busy cross-border rail traffic in the region.
On the German side of the frontier, the prettiest little town in the area is Kevelaer, …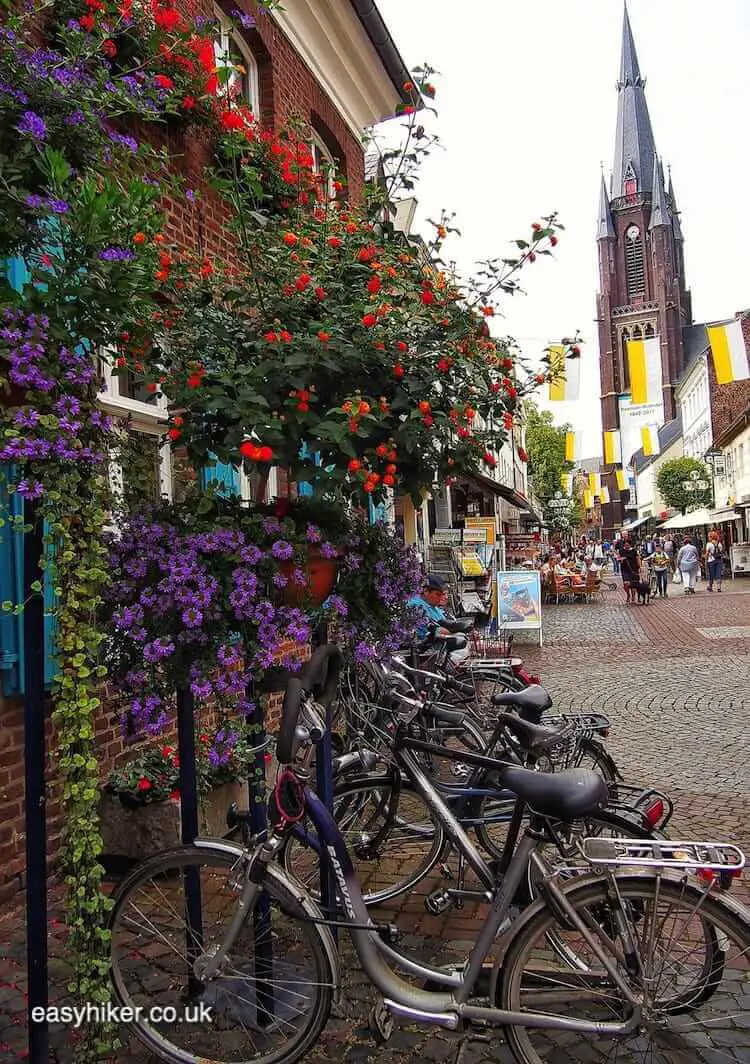 … mainly known as north-western Europe's most important Catholic pilgrimage site.
A chapel, built by a pious local farmer in 1642 to accommodate an engraving of the Virgin Mary he had recently acquired, was soon associated with sightings and miracles and nowadays attracts about one million pilgrims every year.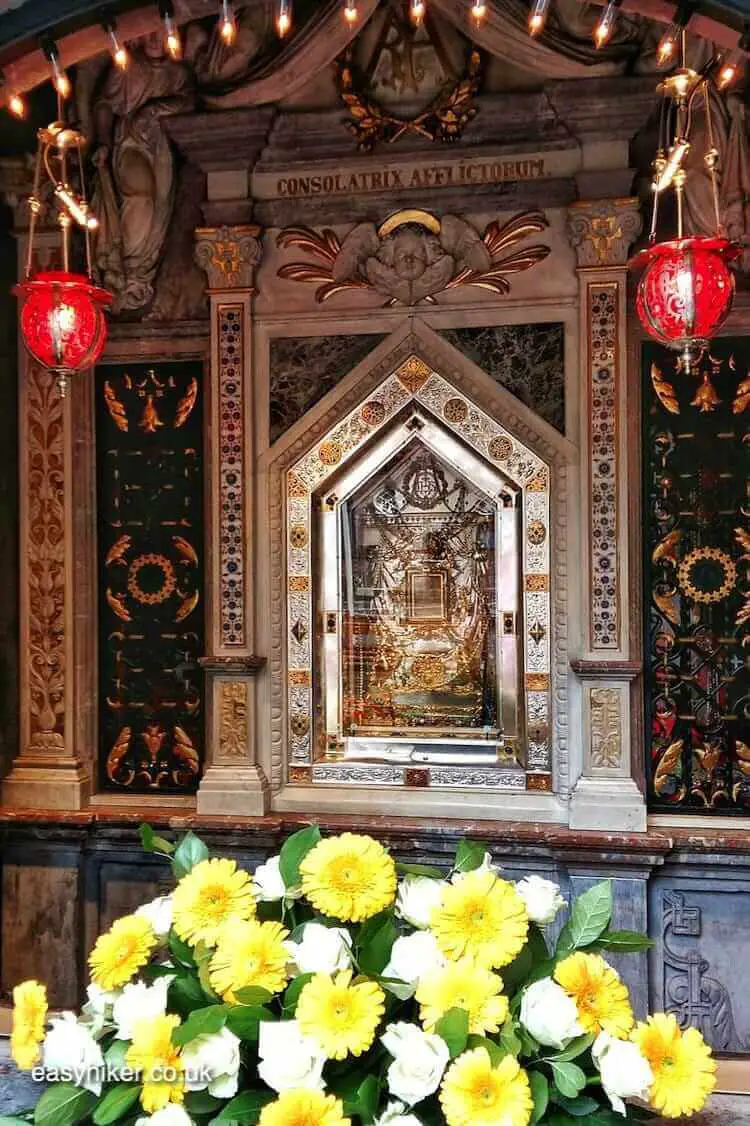 Kevelaer's pilgrimage season peaks in early June, but you can encounter large groups of pilgrims on virtually any weekend in the summer.
Kevelaer is a wealthy little town and features many handsome churches including a sumptuously decorated basilica in the town centre, right next to the Virgin Mary's chapel, …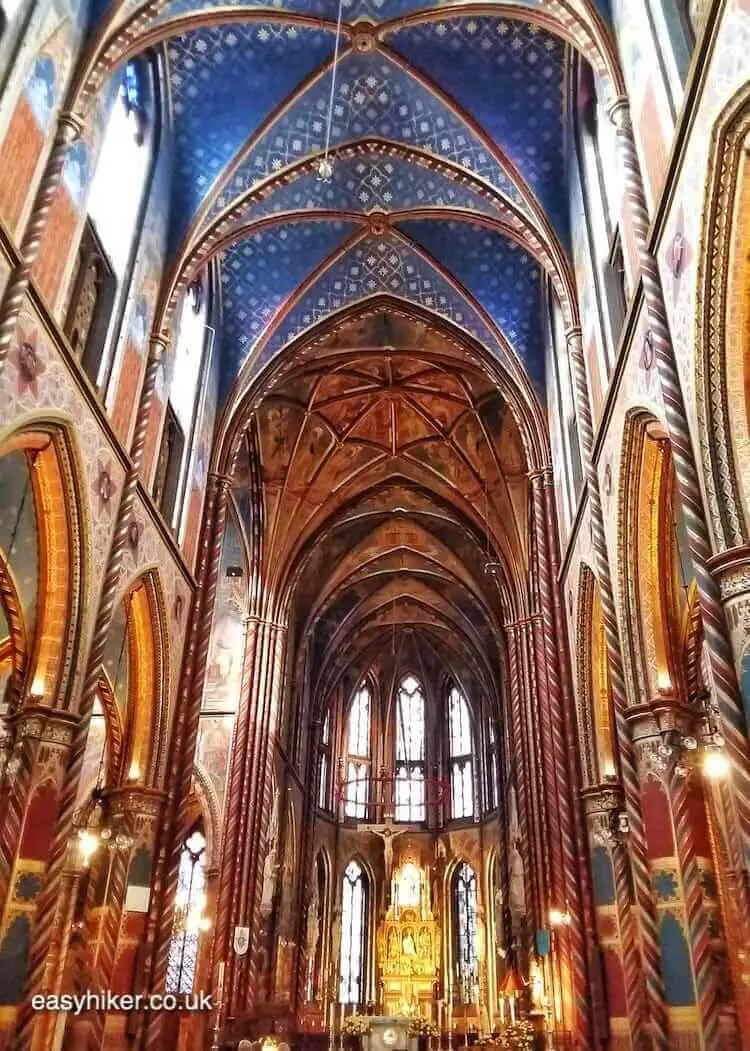 … which was built in the late 19th century mainly to accommodate the large number of pilgrims.
For a short walk in Kevelaer, we recommend the Way of the Cross in the grounds of the old monastery. It is embedded in the peaceful landscape of the municipal park, straight out of Kevelaer's central station.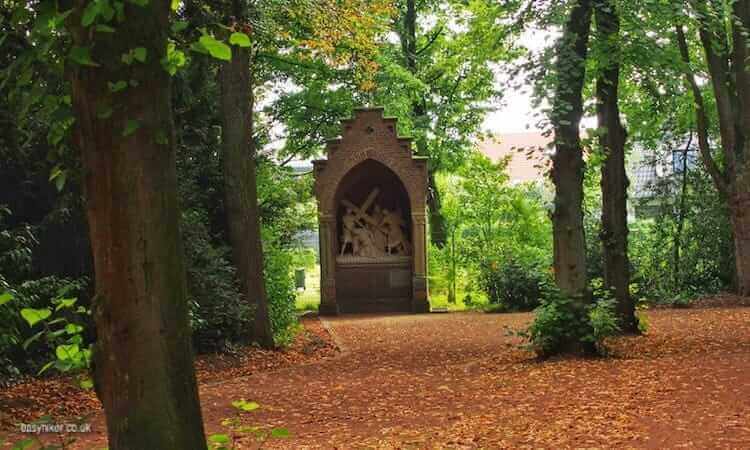 The Way of the Cross was created over roughly 100 years by different artists in different styles, ranging from 19th century eclecticism (Entombment)…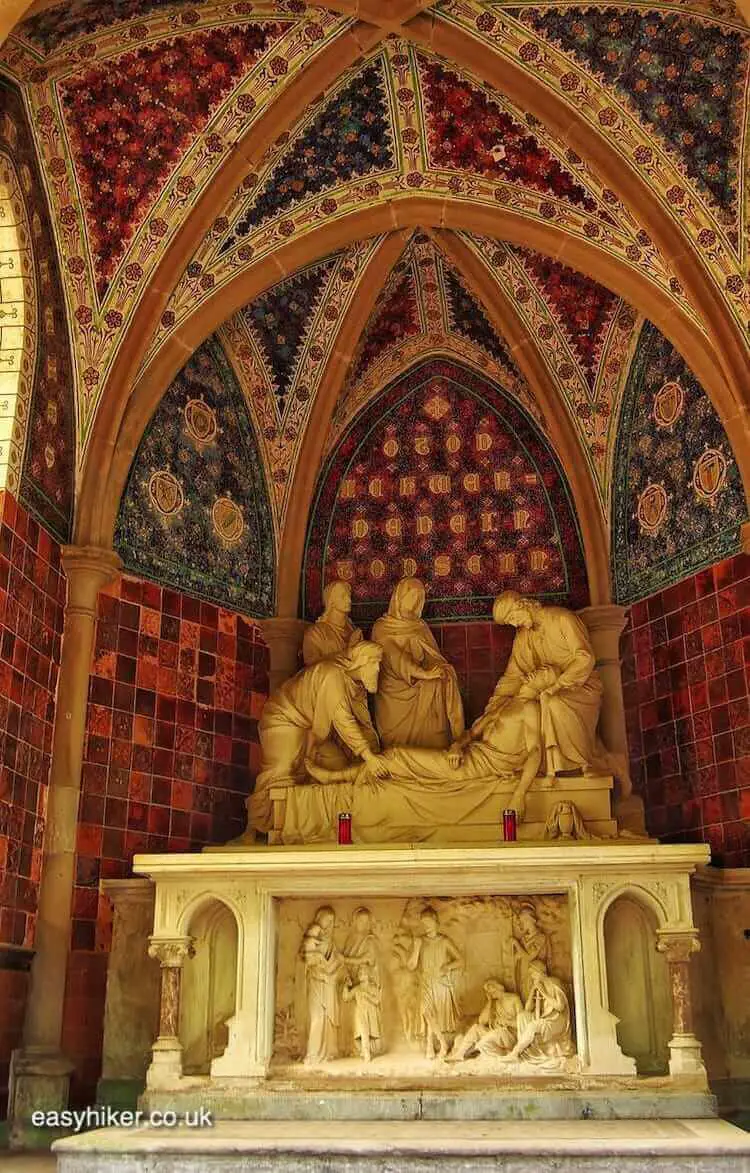 … to post-WWII-modernity (Resurrection, the last of the 15 stations).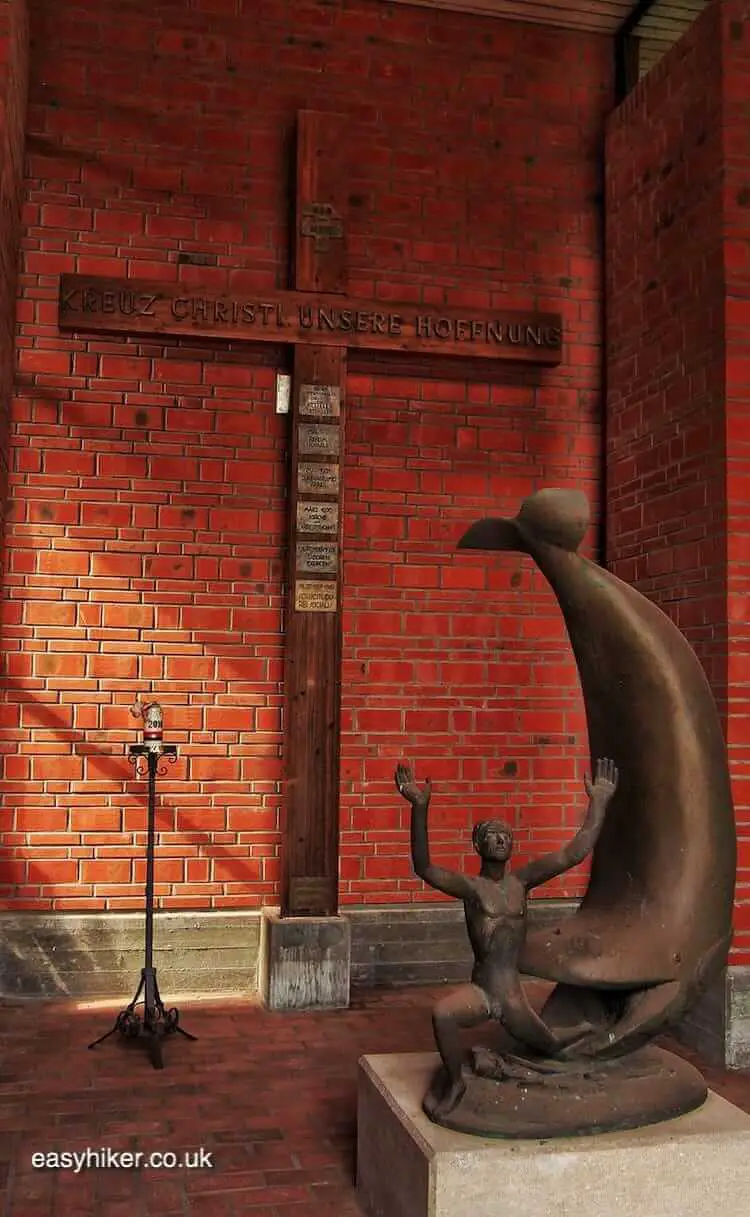 Kevelaer's Way of the Cross is not a work of great artistic merit, but expecting to be challenged or to see something that you have never seen before somewhere else would be missing the point. Rather than representing an individual's artist vision, it is a work that was shaped by the town community over time as an expression of a timeless, enduring spirit.
Walking slowly from station to station, you will meet small groups of people in silent prayer …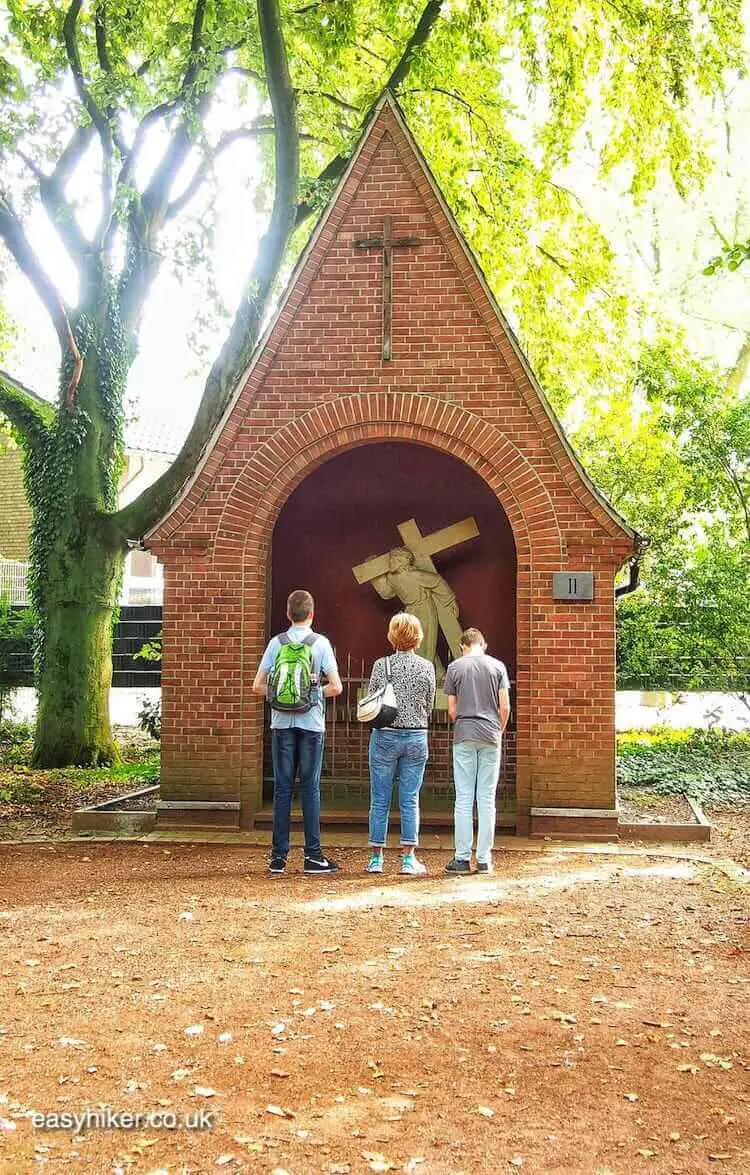 … and, specifically in summer, larger processions with brass bands and communal chanting.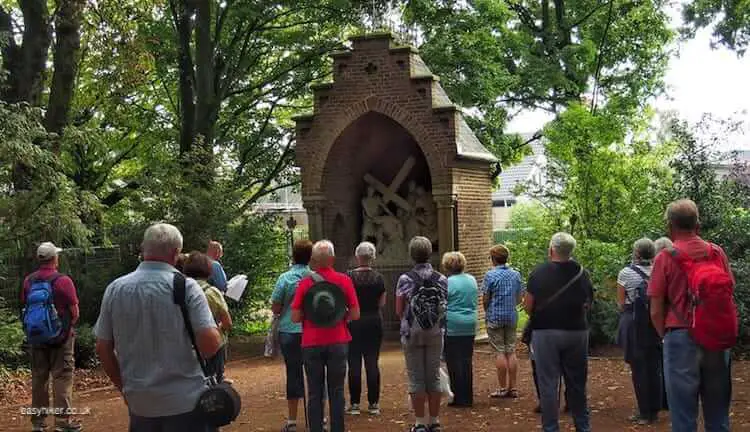 By and large, however, the Way of the Cross provides the opportunity of quiet contemplation, surrounded by vibes of human spirituality in a carefully landscaped garden. Whether or not you believe in the central tenets of Christianity, it is designed to give you rest if you labour and are heavy laden.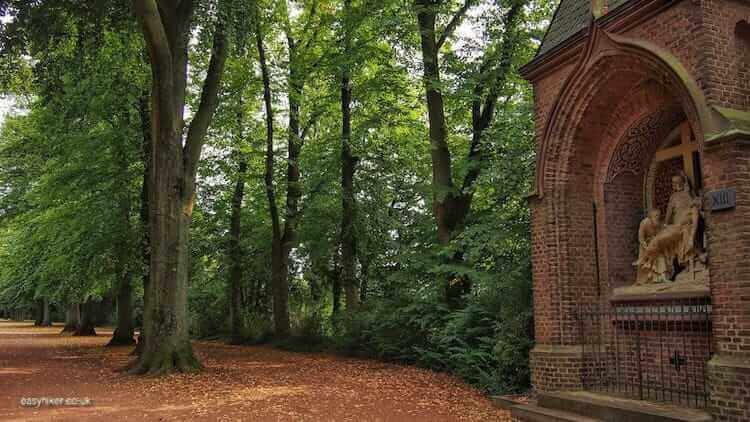 Make your next Way of the Cross in Kevelaer!
Join us in our next walk to discover more interesting trails and paths. Make sure to get our latest by subscribing to our updates via email or follow us on Facebook, Instagram and Twitter. Why not include us in your G+ circles too?