For once, Mrs. Easy Hiker and I are in total agreement: the most striking change that Barcelona has undergone since we last visited the city a mere twenty years ago is the rise in the number of people with an apparent interest in the works of (the architect) Antoni Gaudí.
What is the Weirdest Thing about Parc Guell?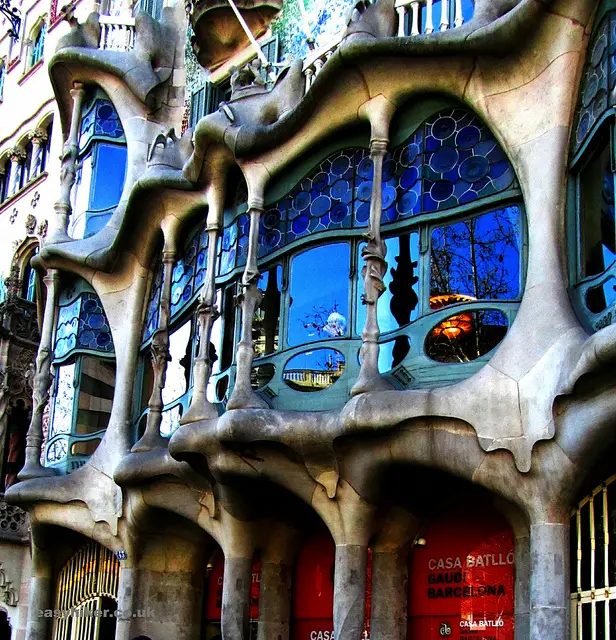 The Sagrada Familia was certainly a tourist attraction back in 1992, but I do not remember the queue stretching once around the block (I would never have gone in otherwise), and while people were already taking pictures of the Casa Batlló twenty years ago, they had to content themselves with outside views from the street level. Today, the whole place is a museum.
Even Casa Mila – parts of which, I believe, are still used as residential flats – is now swarming with visitors on balconies and rooftops.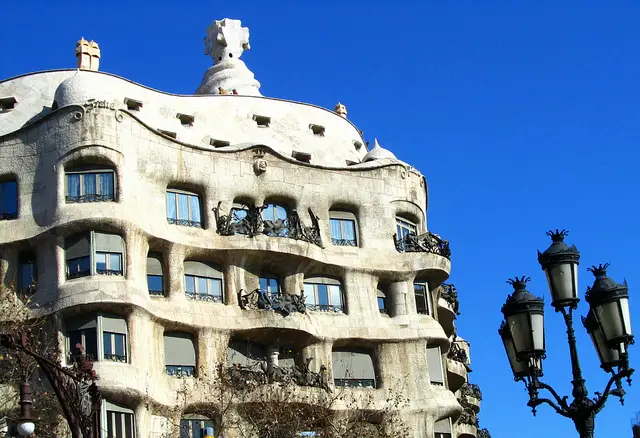 But we felt the contrast between 1992 and 2012 most starkly on our visit to Park Guell, a lovely public garden in the north of the city with ornamental features designed by Gaudí.
Based on our last visit – on a similarly sunny (and much warmer) weekend afternoon in February, when we had been virtually the only visitors – we had assumed that we would be able to stroll around the park in equally serene solitude.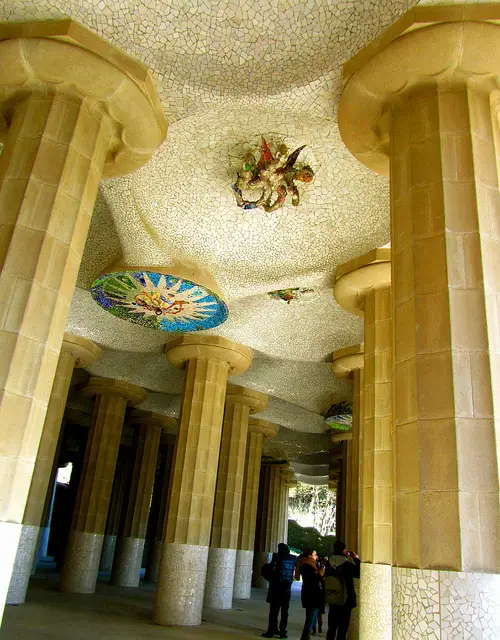 In fact, the place was packed like a fairground during the school holidays. In the twenty years since 1992, Gaudí had clearly evolved into a global industry – and had become perhaps the most famous, certainly the most popular "modern" architect in the world.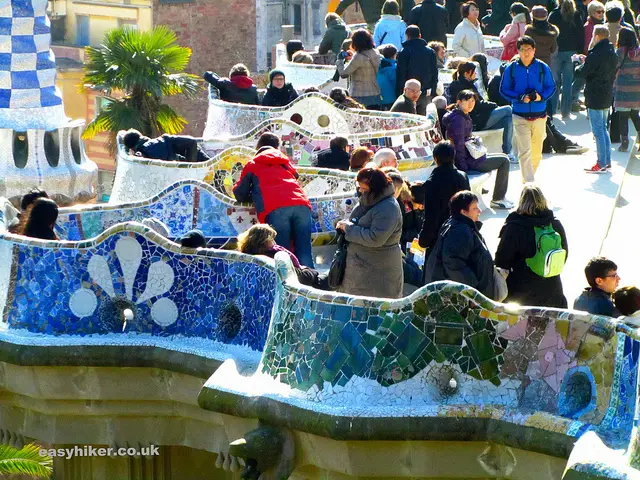 In the midst of all this, Park Guell is still, I am happy to report, a pleasant and peaceful park, and away from the "core buildings" near the main entrance, you can even find some peace and quiet. I bet the cafeteria is also less full on a Tuesday morning.
There are great views over the city and plenty of things to distract and amuse you – the architecture is scurrilous, even by Gaudí's standards. It's certainly great to come here as part of a visit to Barcelona, but it's probably even better when you are here on business or for a sports event, have a couple of hours to kill between meetings and events, looking for a place as far away from it all as possible, a place that helps you take your mind off the business agenda, for example, while also offering you a stone bench where you can simply read your newspaper under a wide, open sky.
In which case, however, I would strongly advise you to take a cab. Park Guell is fairly easy to reach by the Barcelona subway system (the "Metro"), but that will take a big chunk out of your time. (Allow 20 minutes each for your walk to and from the nearest station.)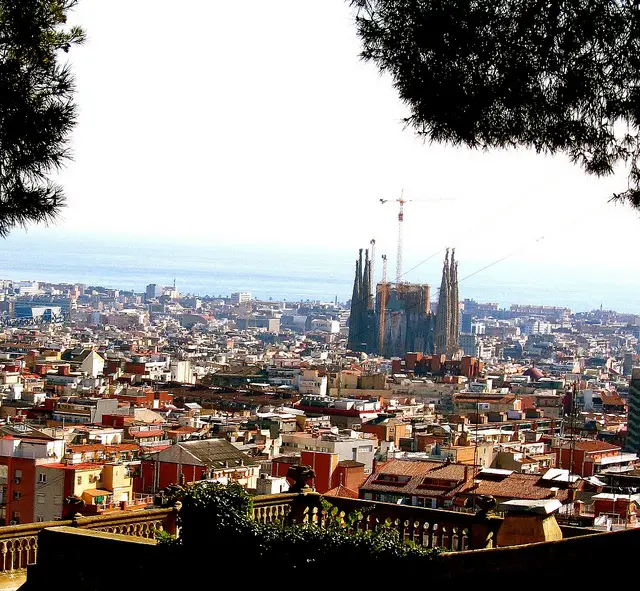 There are several entrances to the park: we came from Metro Vallcarca and walked in through a side entrance, which meant that we had to travel for another 20 minutes to the core buildings (not a bad thing as such, all things considered, because this is an easy way of making sure that you see the outlying parts of the garden as well). The main entrance can be most conveniently reached from Metro Lesseps.
Either way, all you have to do is follow the signs. The park is located on top of a hill, but the steepest parts of the way up are equipped with escalators. (I don't remember those from 1992 either.) This just goes to show that there are also advantages when something becomes a "global industry".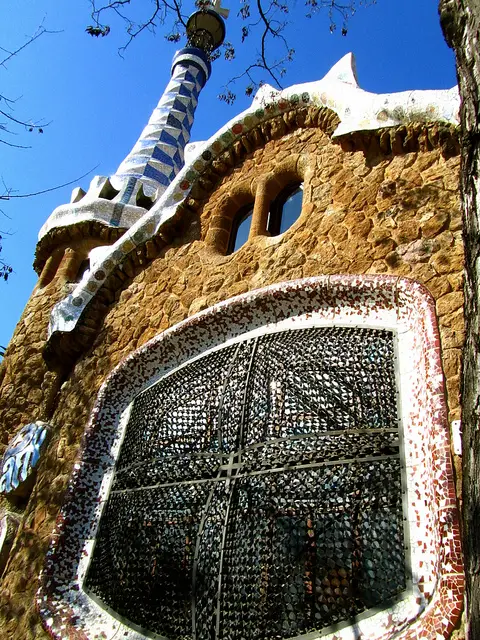 Park Guell,  in its present form as a public garden, is very much an accident. Gaudí and his sponsor, the Catalan industrialist Eusebi Guell, intended to develop the area into a "residential park", a gated community for well-off citizens in a comfortable distance away from the "dark Satanic mills" of which Barcelona may never have had as many as London but still enough to chase its wealthiest citizens off into the surrounding hills.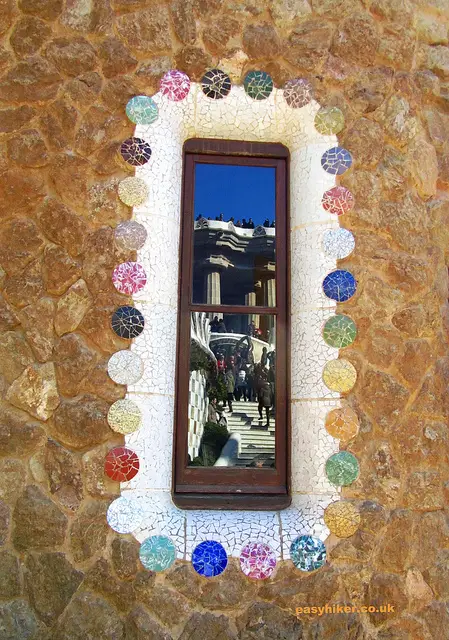 Only one of the 60 lots sold, however, so what you can see today are the community buildings designed by Gaudí to attract punters but, in the event, appearing to scare them off more than anything else.
The only people who ever moved into the compound were Guell and Gaudí themselves. Gaudí acquired the show house in 1906 and lived here until his death in 1926.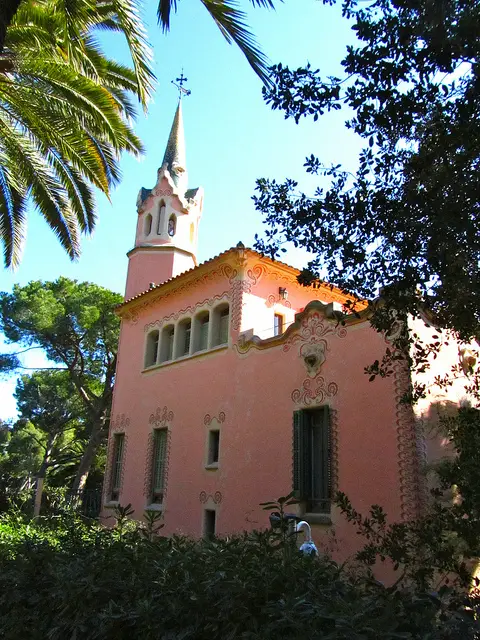 The fact that this house – now The "Gaudí Museum" and open for visits – was actually built and designed by another architect is, to me, the weirdest thing about Parc Guell.
Architecture in Barcelona, however, is more than Gaudi. Read it HERE.