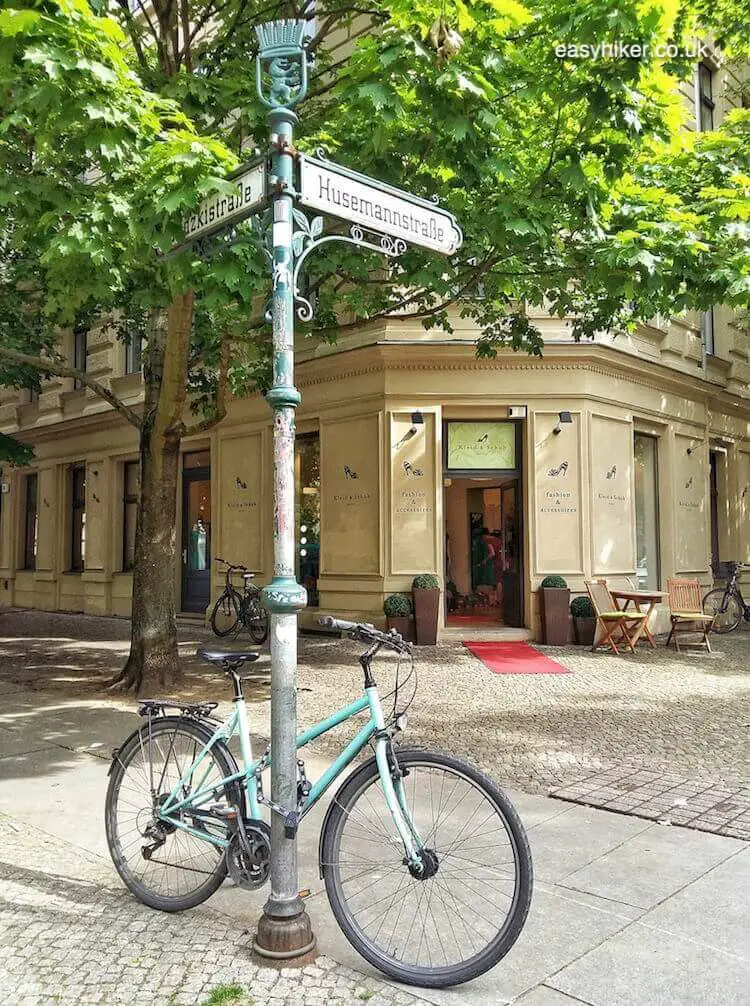 Finding the essence, the true spirit or soul of a place: this is perhaps the most difficult thing to attempt on one's travels. It is certainly the most frequent source of frustrations. We travel to a place where we have never been but of which we have heard, seen and fantasized a lot about, and rather than seeing anything that we would recognize as the "true" so-and-so, we only get to see a couple of shops, restaurants, churches and buildings which do not look that different from what we saw last year somewhere else – or at home.
This happens to a lot of people when they visit the Black Forest (no Wagnerian mists around tall pine trees), the south of France (where are all the lavender fields?).
It happened to me many years ago when I first came to work in London. I wanted to find the East End, the "true" East End, based on some vague ideas of Jack the Ripper disappearing in a cloud of backlit smoke, the Kray Twins and soot-covered street urchins running around in between semi-derelict red brick houses. Instead, I found a lot of car traffic and miles and miles of 1970s council housing. I must have gone to the wrong East End, I kept telling myself – next time, I will go somewhere else and do better. But I never found the "true East End" for one simple reason: it was no longer there, if it had ever existed.
Visitors of Berlin may face a similar problem. It is tempting to look for traces of the bohemian spirit of Berlin and its heyday from the 1920s and early 1930s, the Berlin of Cabaret, Metropolis and Mahagonny, the Global Capital of Anarcho-Hedonism and Decadence.
This Berlin is gone: nearly all of it has disappeared under the rubble of WWII's storm of steel. If you wanted to make a period film about 1920s Berlin now, you would have to rebuild nearly all of it in a studio.
Where to go to find the spirit of bohemian Berlin that still survives
The little that has survived from pre-war Berlin has done so in the east. There is a ring of late 19th century buildings around the town centre which was not heavily destroyed in the war. Under communism, these buildings slowly decayed, but after 1989, just in time before they reached the point of no return, they were resuscitated and eventually restored.
Yet, as always in restoration, the restorer's hand is not invisible. In art, much depends on who is doing the restoring and what "theory" they follow. In cities, it depends on the forces that are at work.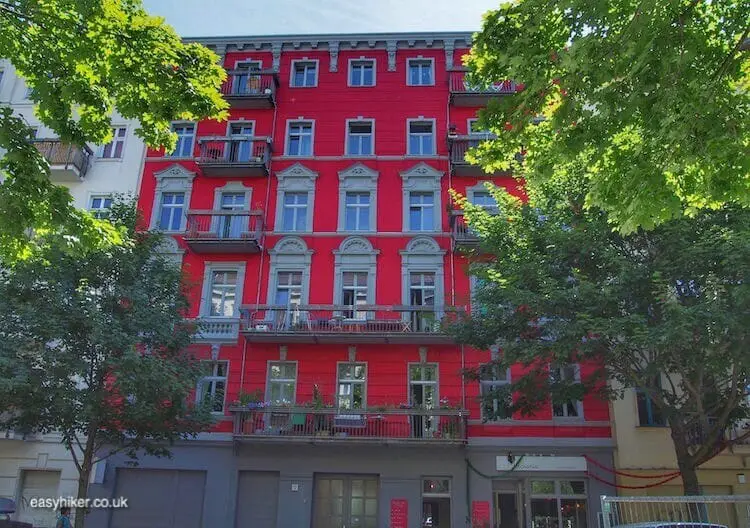 In East Berlin, these were (and are) the forces of gentrification, the forces of the property market. When the buildings were in a poor state, they housed artists and bohemians who were attracted by relatively cheap living space so close to the centre of town. They brought with them their galleries, second hand book stores, vegetarian restaurants and bicycle repair shops.
When Berlin became Germany's capital a few years later, many professional people from West Germany and Europe (civil servants, diplomats, business people) came here to look for flats and liked what they saw. As a result, living space is no longer so cheap, and property developers have taken over flats and entire buildings to adapt them to the taste of this affluent clientele.
The bohemians, meanwhile, are hanging on by their fingertips.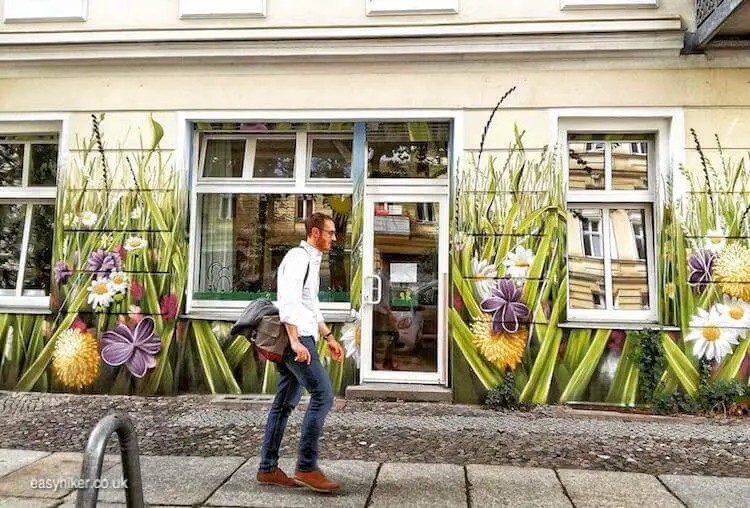 The most attractive streets – with the largest concentration of well-preserved buildings in a densely atmospheric urban environment – can be found in the area around Kollwitzplatz, ironically named after a painter of grimly realistic scenes from working-class life.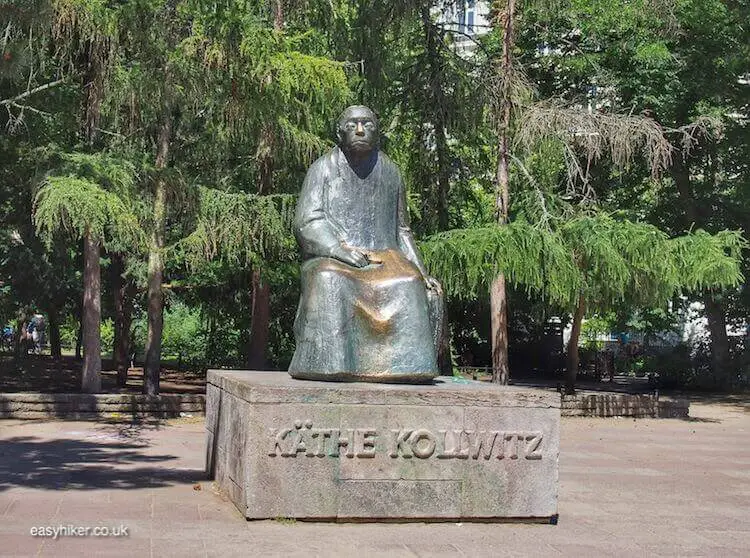 Further north, the streets may be more "authentic", but also less attractive (with a larger number of modern, haphazardly built structures around), while further to the south, around the Senefelder Platz, gentrification has reached the point where most of the quarter's old character has already been lost.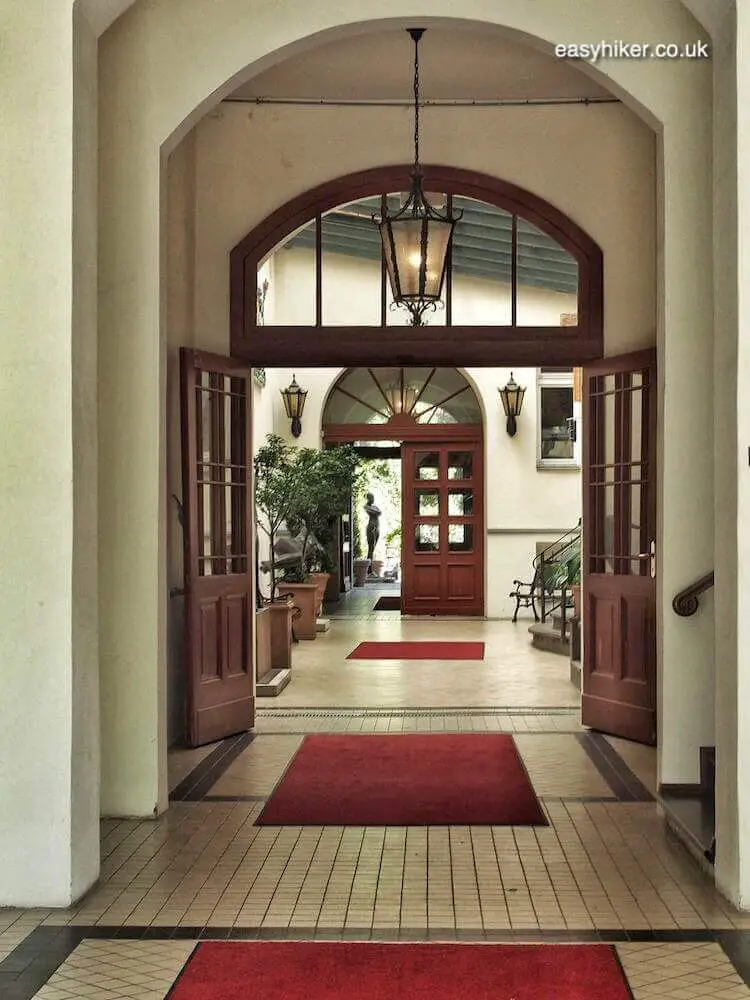 But around the Kollwitzplatz, a fine balance between mystique and modernity has been found – for how long this balance will prevail is, however, a different question.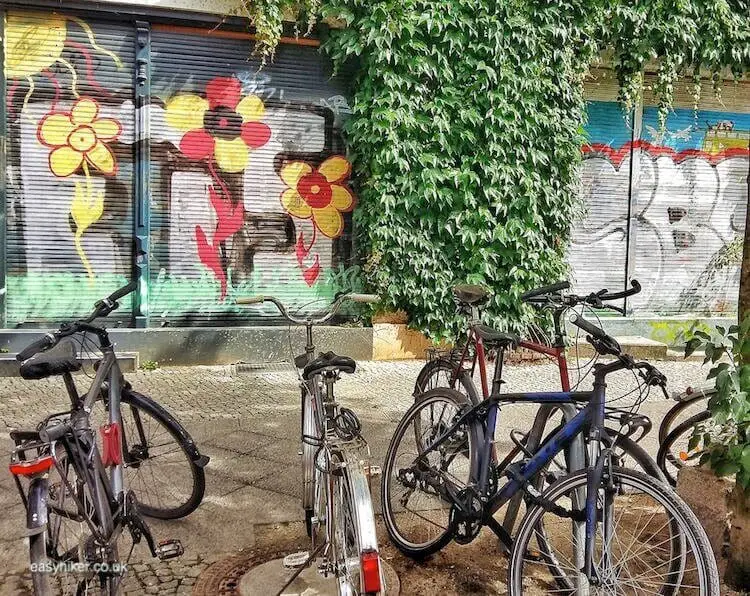 To get to where the spirit of bohemian Berlin can still be felt, start your walk at the S-Bahn (city rail) station of Prenzlauer Allee.
Turn left out of the station, left again into Kanzowstrasse and left into Dunckerstrasse, proceeding in a north-south direction (in the direction of the town centre).
The quarter – generally known as the "Prenzlauer Berg" – is at its most lively past Stargarder Strasse. Stroll around leisurely and explore as many side streets as you can.
Take the time to admire the occasionally very fine detail of the facades …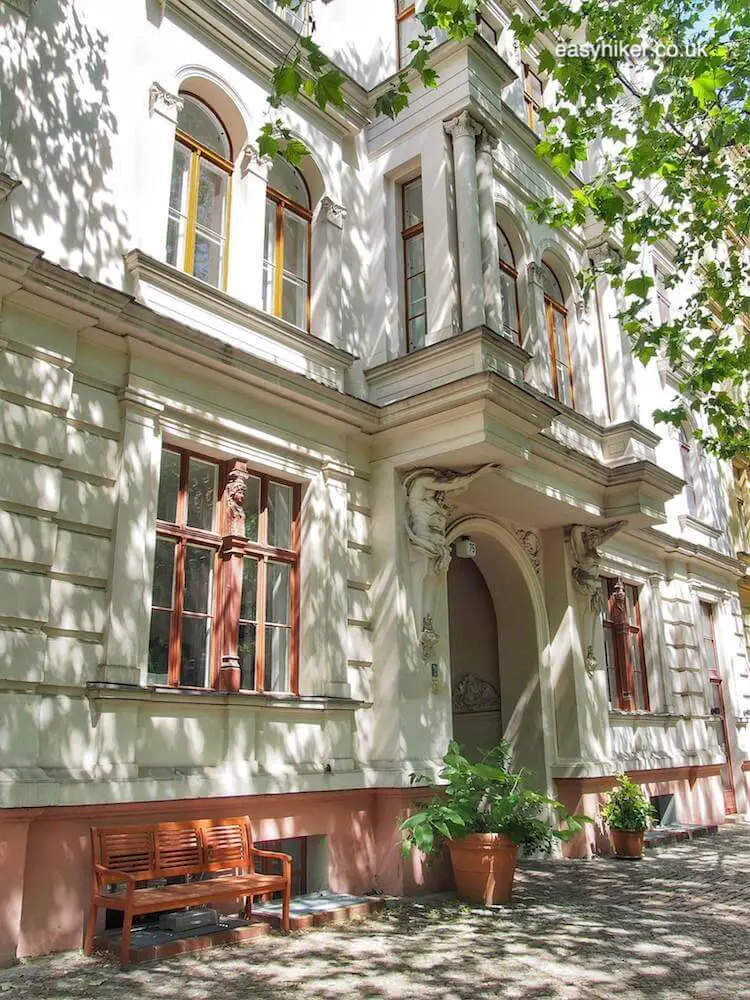 … notice the wall paintings …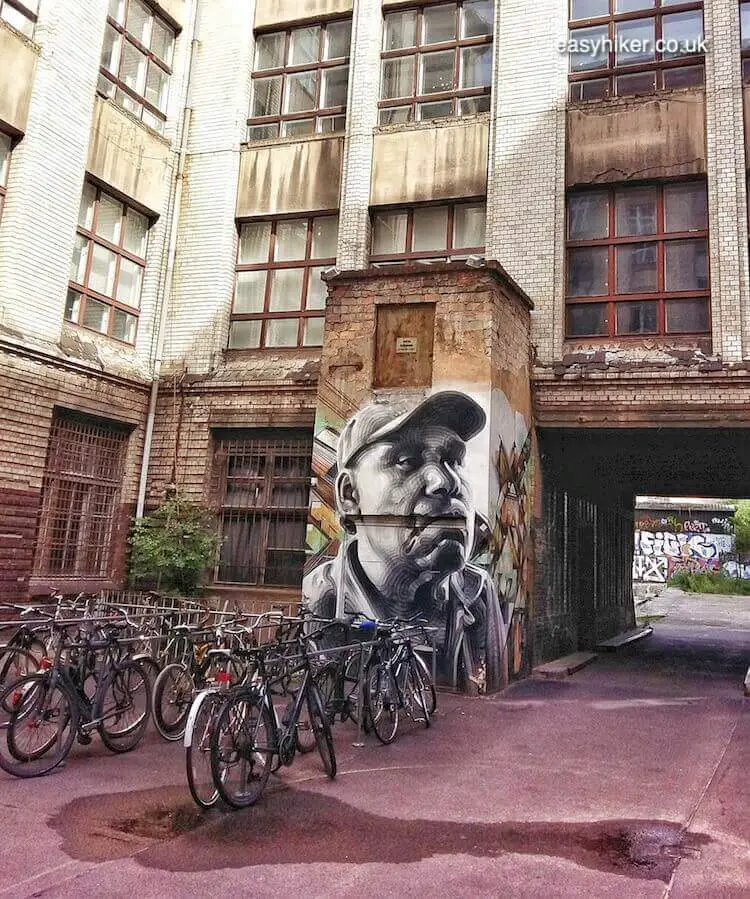 … little eccentricities …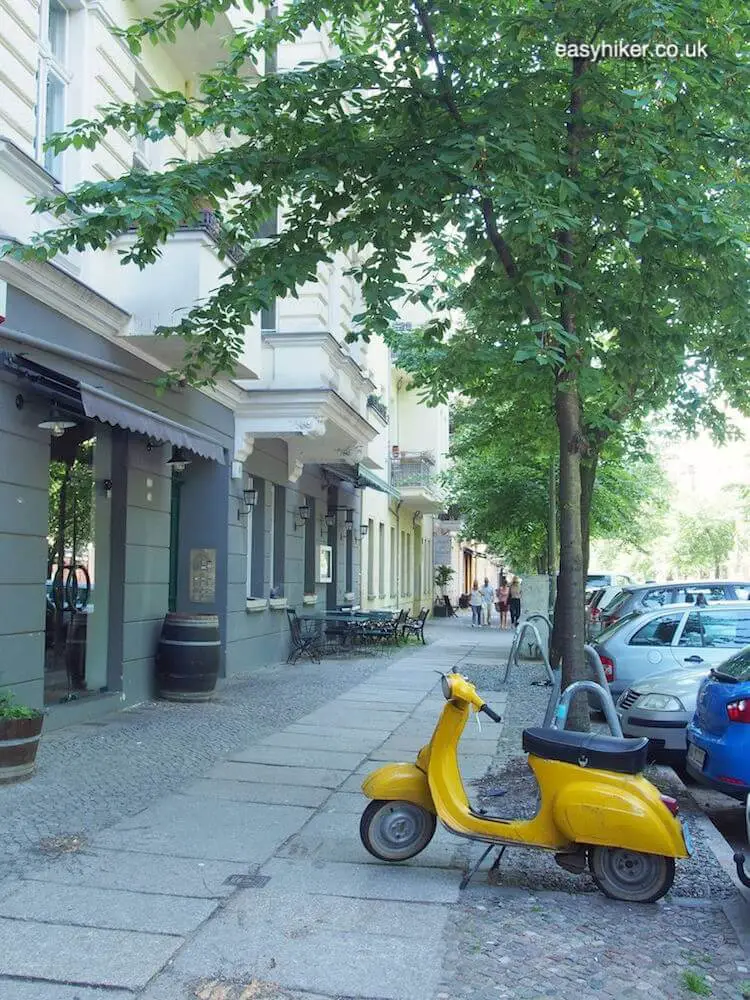 … and the street furniture. (This tree stump serves as a book exchange.)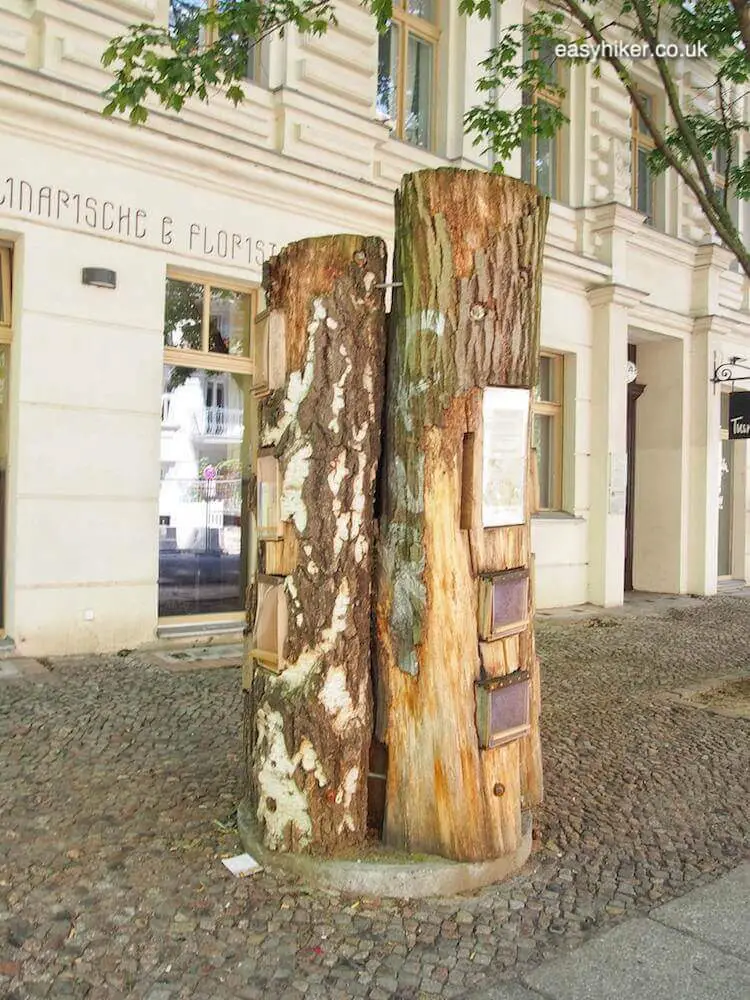 But whatever you do: do not rush. When in the Prenzlauer Berg district, do as the "native" bohemians do: take it easy. Life is sweet. There are plenty of inviting places to eat or have a cup of coffee. Just relax and enjoy.
It is probably the most civilized way of experiencing modern-day Berlin.
On your next visit, go to breath in and live the spirit of Bohemian Berlin before it disappears forever!