#LoveIOS
Because hikers also need to eat…
Over the past week or so, we have acquired considerable knowledge and expertise not only about the hiking trails of Ios, but also – thanks to the generosity of the mayor and his local administration – about the best of the island's restaurants.
Ios, it is said, has a church for every day of the year, and probably for every a bar or a restaurant, too. Although we could sample only a small number of the island's eateries, we believe that this sample already represented a selection of the best it has to offer, so the following may provide you with some orientation as to where to eat in Ios if you are planning a trip to this charming island.
We are sure that there are many other great places to discover and explore, but these were the ones we tried and liked. Just like the Cyclades islands, they were all great, each in their own way.
Lord Byron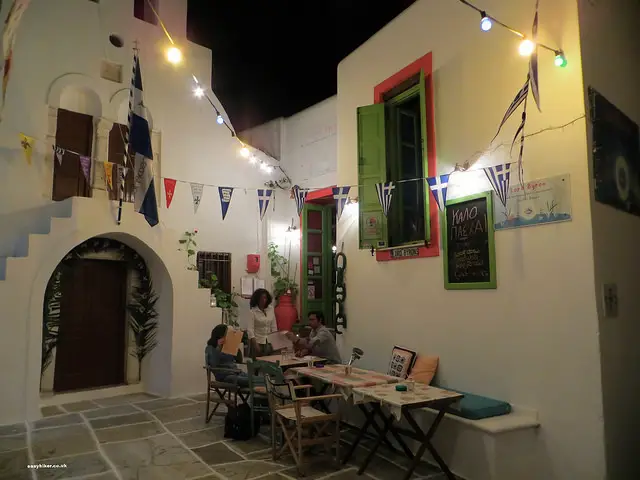 As its name is apparently designed to imply, the Lord Byron – named after the English poet who died while fighting for Greek independence against the Ottoman Empire – serves dishes in a spirit of Anglo-Saxon Philhellenism. Its blend of international cuisine and Greek traditions has a level of sophistication that you would not necessarily expect on an island with a permanent population of less than 2000 people: the recipe for the chef's shrimp sauce, for example, has made it into the pages of a US gourmet magazine. Upmarket, chic clientele and a little pricey by local standards, although nothing to scare you if you come from a large town in Western Europe or the US.
Location: Chora (Old Town)
Katogi
Greek cuisine, but done to a higher standard than in more traditional restaurants and with more imagination. Even if you are rather fond of Greek culinary traditions and their seeming immutability (Greek dishes resemble Greek pop songs inasmuch as they have been putting together the same ingredients in the same way for as long as anybody can remember), you will like the ways in which Katogi manages to put a new spin on these traditions without questioning them. Generally considered to be best "Greek" restaurant on the island.
Location: Chora (Old Town)
The Nest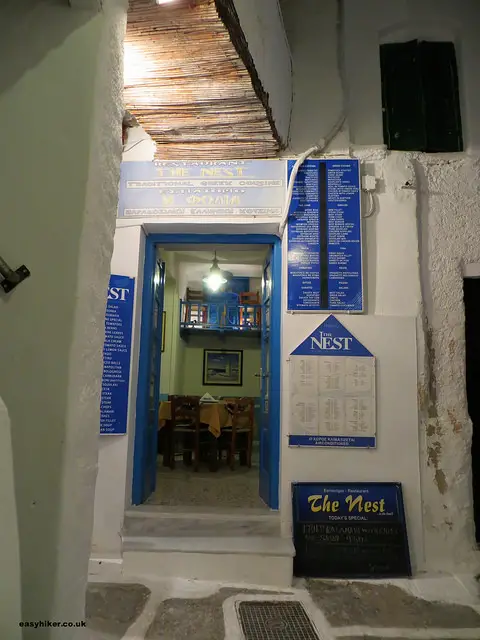 On the other hand, you may believe that traditions are best preserved in their purest form and that there is – when it comes to cooking – a certain grandeur in simplicity and restraint. If that is the case, you will love The Nest.
This restaurant, managed by two brothers (Giorgios and Dimitri) while some of the dishes are prepared at home by their mother and subsequently transported to the premises, was Mrs. Easy Hiker's favourite, and two American friends we met on our trip – Jackie and Joel who blog at TravelnWrite – never got around to visiting another restaurant on Ios after having come here on their first evening. That's how good it is.
Location: Chora (Old Town)
Enigma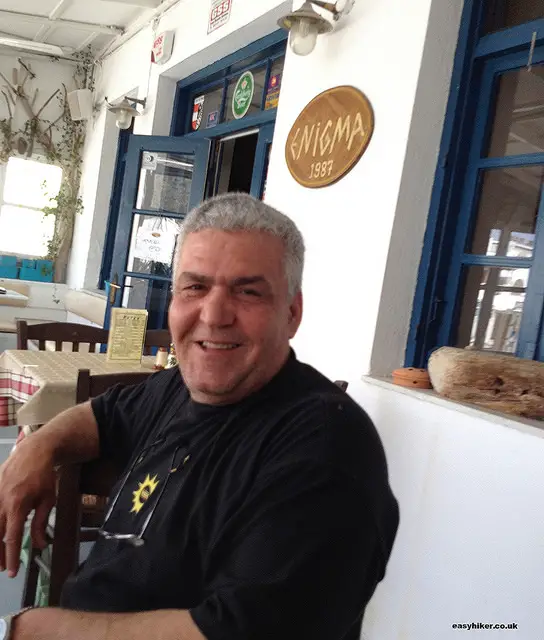 My personal favourite, not least because owner-manager-chef Stelios is such a great guy. He is a "man of the sea", collecting (and displaying) all kinds of driftwood on his premises, some of which he has crafted into amazingly beautiful sculptures, and he shared some seafaring anecdotes with us when he joined us after lunch over a cup of Greek coffee and a self-rolled seemingly incombustible cigarette (which he had to relight at every puff.)
The dishes are much like the man himself: generous, honest, likeable and deeply traditional.
Location: Limani (Harbour)
The Mills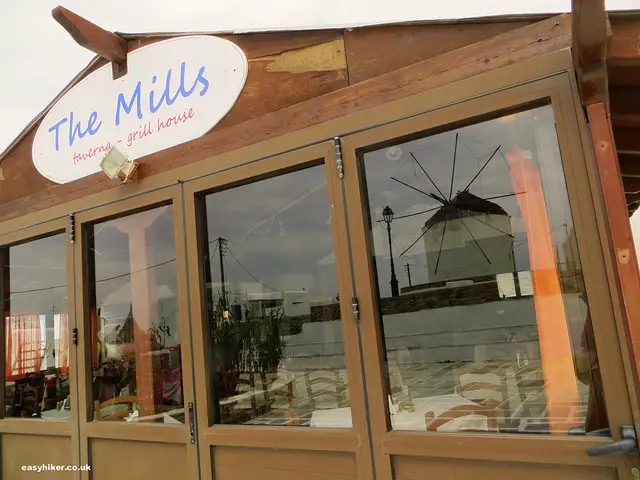 When we arrived at The Mills for lunch, there had apparently been some sort of a misunderstanding, and Kyriakos – who had apparently not expected us until the following day – suddenly saw himself obliged to knock something together within a mere 30 minutes or so.
If this was a test, he passed it with flying colours. If we had not been told of this "misunderstanding", we would not have been able to tell from what he put on the table for us.
The Mills serves good, traditional Greek food, with views of the "three windmills" which are one of the visually most arresting features of the Old Town.
Location: Chora (Old Town)
Peri Anemon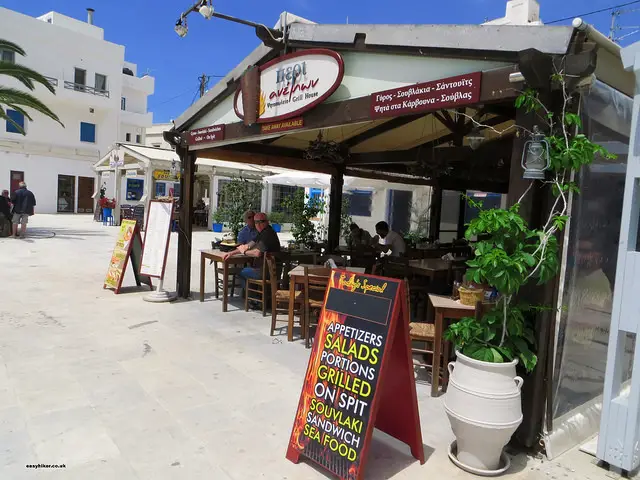 The place for lunch or dinner after a particularly taxing hike. Its grill plate should be enough to satisfy the hunger of the most voracious carnivore. Specializes on meat feasts and hearty dishes – with a Greek accent which is sufficiently unobtrusive that even children or people who are not overly crazy about Greek food will find something on the menu that they can enjoy (unless they are vegetarians, of course, although Peri Anemon also do fish). Always well attended.
Location: Limani (Harbour)
 Kali Orexi!
Follow our discoveries in Ios as guests of its Municipality (under the wings of the town Mayor Mr Michalis Petropoulos and Mrs Angela Fakou) as we explore and enjoy the Cyclades Islands.