The Easy Hikers atone for past falsehoods by revealing the truth about Germany's national dish
As a final note to our brief stay in Berlin, here is something that, admittedly, is only somewhat tenuously linked with hiking. Something in lieu of an official retraction, an apology or (what they called under communism) "criticism and self-criticism". And, to use a modern term, something to achieve "closure".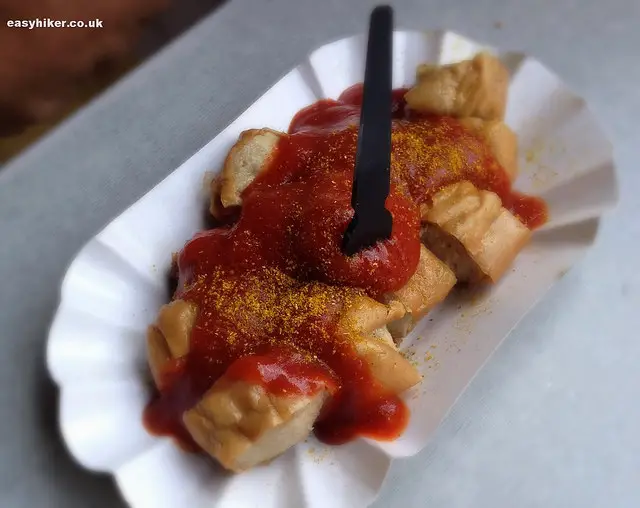 There must have been, over the years, many a post where I have made some very tall claims indeed, twisted the truth in the most abominable fashion or expressed some truly outrageous opinions, but overall, my dear friends, you have been letting me off fairly easy.
Only once did I really get heat from you. This was when I suggested – on the occasion of a restaurant recommendation connected with one of our hikes in the West of Germany– that the cradle of the currywurst, Germany's contribution to the global treasure of culinary delights, had stood somewhere near the Rhine.
For those of you who are not familiar with German eating habits: the currywurst was invented when somebody took a traditional German sausage, a bratwurst, chopped it up and drowned it in aromatic, sweet-and-spicy tomato sauce. We are clearly not speaking about steam engines or airplanes here. But still, somebody had to think of it, and this somebody had, apparently, not resided anywhere near the Rhine.
I had not known until then how many readers we had. As soon as the piece came out, all hell broke loose. For reasons of good taste and discretion, let's call it a "curry sausage storm".
Specifically, I had not known until then how many of our readers appeared to live in Berlin. Because, basically, all correspondents pointed out that the currywurst had first been prepared by a Berliner restaurateur named Max Konnopke.
So, as a belated peace offering and as atonement for past falsehoods, here is what I believe is the true story:
When the Wall went up in 1961, Max Konnopke – who had sold fried sausages near the commuter rail station of Eberswalder Straße (then located in "East Berlin") for 30 years – was suddenly facing a new problem: not one that concerned the nature of Communist rule as such (since he only employed a handful of staff, he was not threatened by any drive for nationalization or "collectivisation"), but one that affected his supply chain: there were suddenly no more tomatoes on the market and, consequently, there was no more ketchup.
So he had to be "inventive" with the use of tomato puree, tomato paste and some secret ingredients. Based on this newly developed family recipe, Konnopke grew and prospered to become East Berlin's most famous "fast food" outlet – which only went from strength to strength after the Wall had come down, also because the near-by Prenzlauer Berg quarter soon developed into the united city's biggest party mile.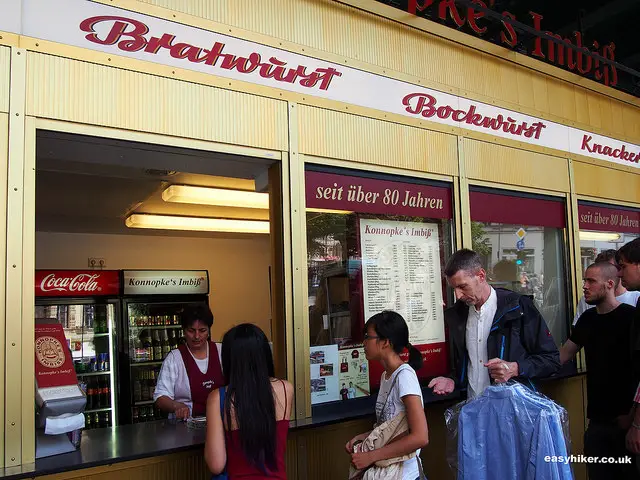 But, as so often in the business world, where there is success, trouble soon follows. Mother and son eventually disagreed over the future course of the enterprise.
What would, in Italy, have caused an operatic blood feud that stretched over several generations, and what could have, in New York, set the bullets flying, led in Berlin (the spiritual home of Realpolitik) to a frosty but essentially peaceful coexistence.
The original Konnopke and the son's rival restaurant – merely one block away on Senefelder Platz – went their separate ways, divided by little more than an invisible currywurst wall. Although they probably avoid buying their stripped – the bread rolls that come with the sausages – from the same baker.
When we were in Berlin, of course we had to go there to taste the original Konnopke currywurst. And we can report that it was hearty, rich in taste (salty) and filling. Which is, I suspect, exactly the combination that most customers expect to find when they come here.
The clientele is an interesting mix of locals, young folk from the Prenzlauer Berg scene and (inevitably, of course) tourists such as us – all waiting patiently in queue in front of the shop which is wedged into the underbelly of the overhead railway line.
Quite frankly, it is not the greatest meal you can have in Berlin, but definitely something worthwhile experiencing. When in Berlin …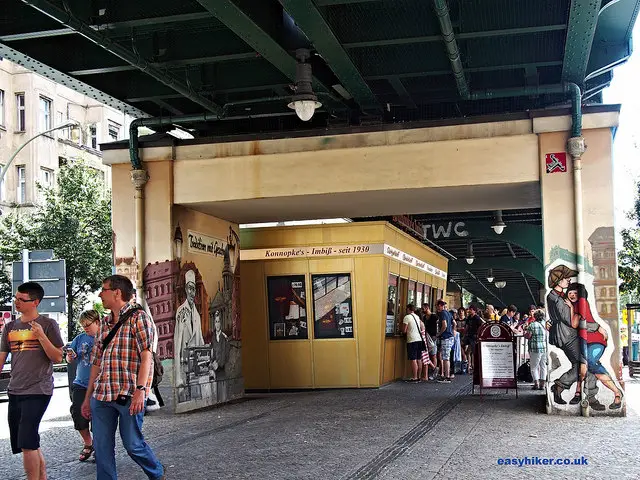 So now you know who invented currywurst!