Do You Know Your German Wine Festivals?
Having told you so much about wine festivals in the Palatinate for the past two weeks, we simply have to take you to one.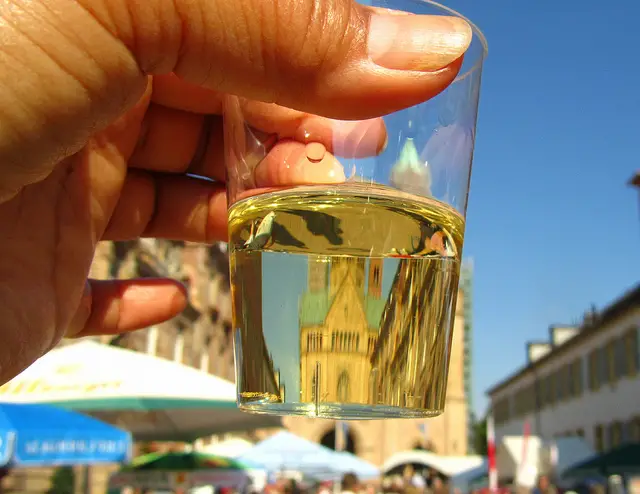 Although I must quickly add that the Kaisertafel in Speyer, the region's historic capital, is not, strictly speaking, a "wine festival" and more of a Town Festival where wine plays no more than a supporting role. But it was the closest we could get, and although they served, disappointingly, alcohol-free Riesling at the parade …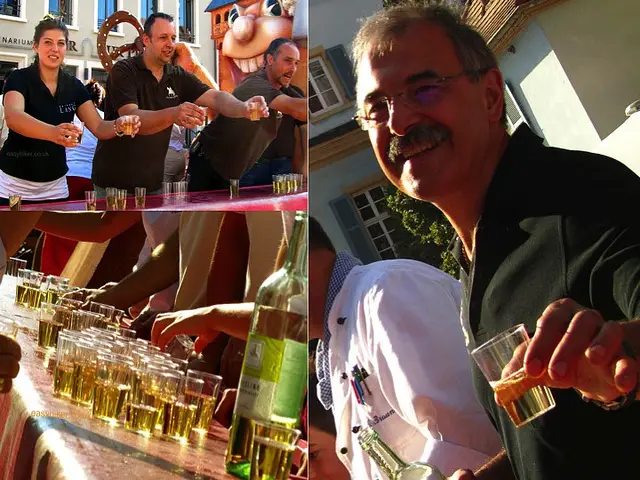 … we had a great time – and could finally verify the local saying that you meet "friends you never knew you had" at Palatine festivities, while enjoying the local food …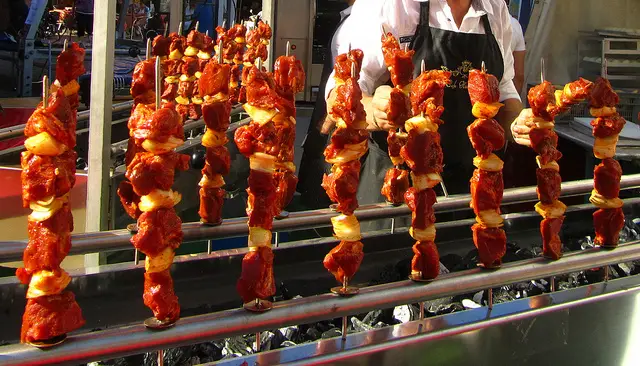 … including some rather exotic stuff such as the Dampfnudel, a sort of Philippine Siopao with the meat filling left out.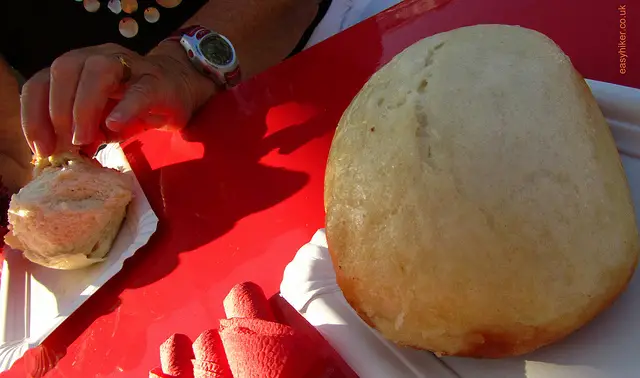 Rather touchingly, the organizers had even erected a statue in honour of Easy Hiker. They shouldn't have, really.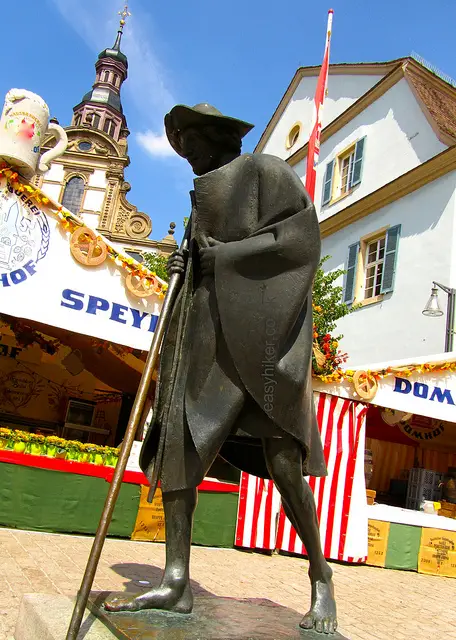 Just for the record I must add that Mrs. Easy Hiker disagrees, believing that the statue represents a pilgrim on the way to Santiago de Compostela. "You have never had a stick like that," she insists, "and I would not have let you leave home in that hat." She also points to an inscription at the foot of the statute that she believes corroborates her view. (So, for the time being, we just have to accept that there are two conflicting theories about this matter.)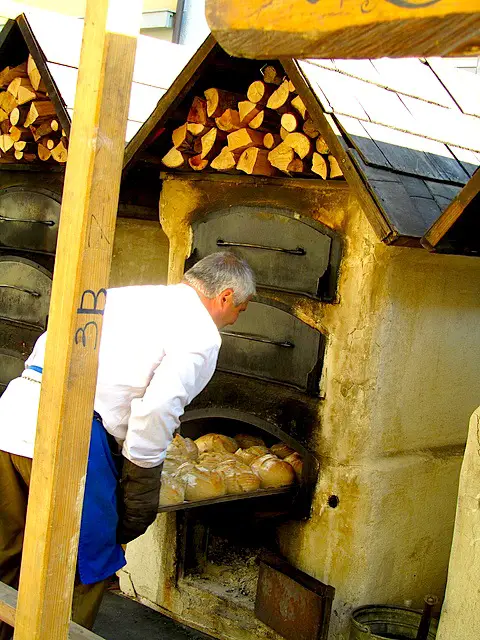 The Kaisertafel in Speyer was first organized in 1990 as part of the festivities to celebrate the 2000th anniversary of the town. For one weekend in mid August, restaurants and caterers from the entire region turn Speyer's main street into a party mile with fine dining as well as fast food, music and entertainment – much of the latter commemorating Speyer's golden period in the early Middle Ages when the city pretty much served as the capital of the German Empire.
With today's knowledge of medieval county fairs being somewhat sketchy, there is, of course, some room for "creative imagination". You may wonder, for example, whether there really was such a thing as a manually operated ferris wheel in the 12th century …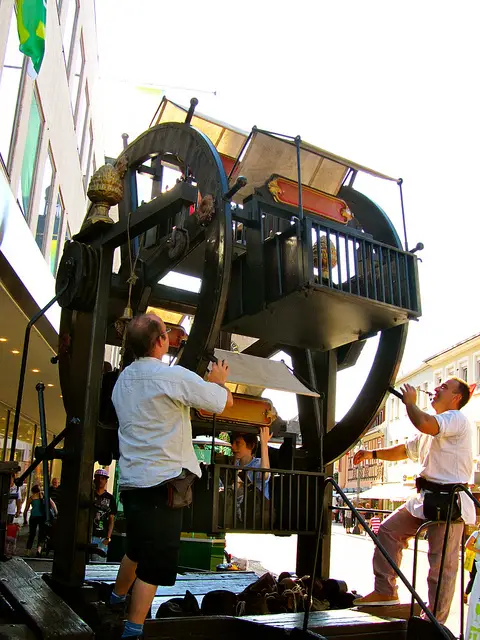 … but that would probably be missing the point.
We only found out about the Festival after our arrival and had originally come to Speyer to wrap up our hiking trip with a visit to a beautiful, historically interesting German town. Speyer has many handsome and architecturally important buildings, mainly the Cathedral …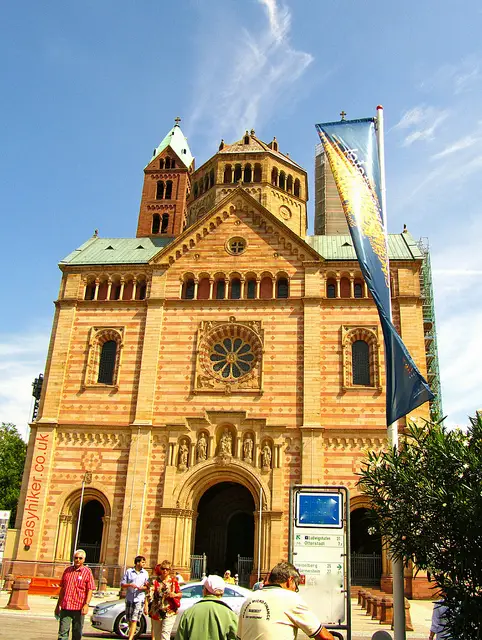 … generally believed to represent the largest Romanesque church in the world. German Emperors have been buried in the crypta for well over 300 years. There is also the Old Clock Tower …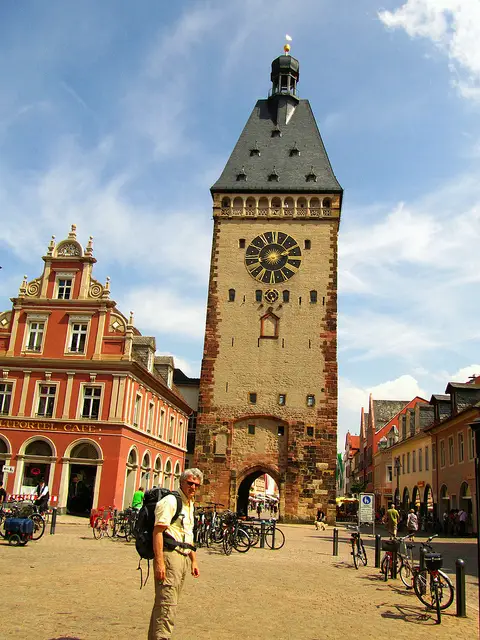 … at the other end of Speyer's main street, and between these two, there is a lovingly restored Old Town.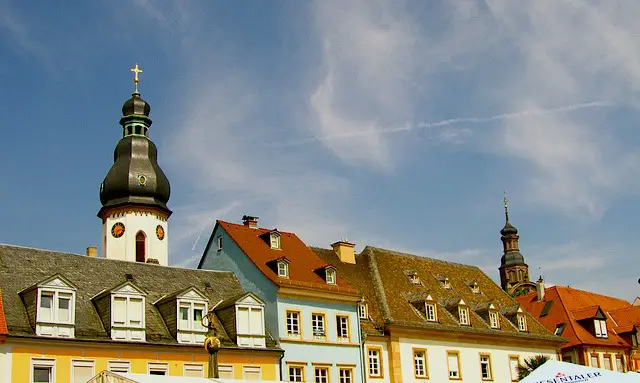 Speyer is well worth a visit, Kaisertafel or not.