Today, we follow in the footsteps of Byron and Churchill – and the skid marks of the world's first fatal car accident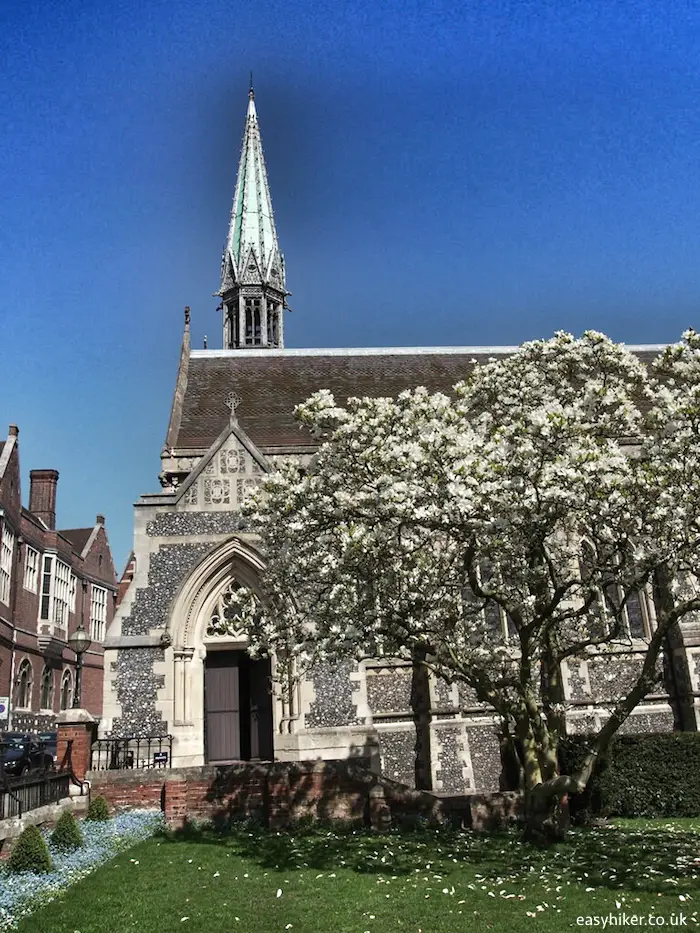 Today's post is the first in an intermittent series of walks through London's outer boroughs and suburbs. Those who do not know or understand London may be surprised to find out how much there is to explore: some of these places have preserved much of their village-like origins and rural character, and there are often fascinating stories to tell, too.
The contrast with Paris is, once more, revealing: beyond the outer limits of the 20 arrondissements, a cultural waste land extends all the way from Aulnay-sur-Bois to Noisy-le-Sec into which not a single interesting person ever appears to have set foot. (I exaggerate, but not by much.)
In London, conversely, every place with a name of its own has its own story, too, one which is often full of fascinating details about famous artists, aristocrats with names that ring a distant bell of Shakespeare's history plays and Blackadder, or, failing that, pop stars who grew up in these very surroundings.
London, after all, has always been a sprawl of villages rather than a single unified place. Contrary to what many people believe, the railways did not create this sprawl but only made it more convenient to travel from one bit to the next. The basic pattern has always been there. It is part of London's DNA: the very essence of its soul.
We start today with a trip to one of London's better known suburbs, a place which is dominated by one of England's most famous inventions – an invention that, unlike so much else that England has given to the world (parliamentary democracy, the commercial theatre, television, nearly all ball games you can think of), has always proved somewhat difficult to export: the private boarding school, or the "public school" as the English themselves so mischievously call it.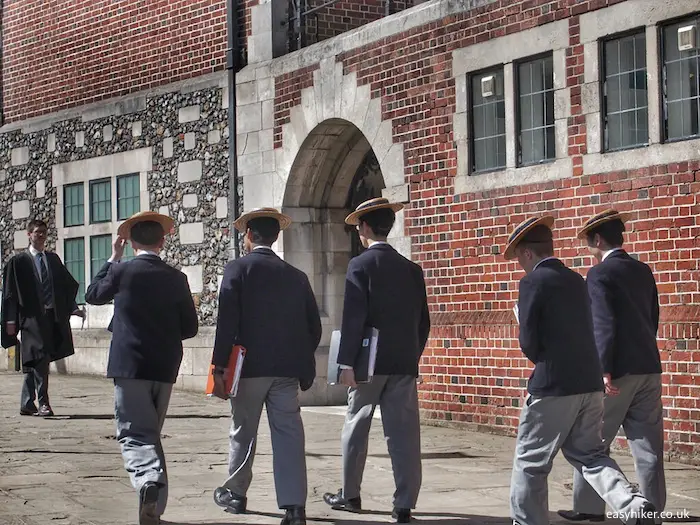 Harrow was established in 1572 and is the country's second most famous private school, second only to Eton. A friend once explained to me that Eton was a school for the well-bred, wealthy and clever, while Harrow was for the well-bred and wealthy.
That may be trifle unfair: it is true that Eton has educated 19 British Prime Ministers (including the current one), while Harrow can muster only 7. But Harrow can field Winston Churchill, who counts for – what – ten Earls of Bute and Viscounts Melbourne? Harrow Old Boys also include Jawaharlal Nehru, the first Prime Minister of India, and the present Emir of Qatar. And Benedict Cumberbatch, TV's "Sherlock", adding a bit of show-biz glamour to the long list of famous politicians, artists and scientists.
But what is best about Harrow is the "real feel" you get for the place when you walk between its various buildings during term time, coming across the teachers in their flowing gowns and the students with their traditional uniforms, straw hats and all. It is simply the perfect entertainment for all those of you who long to go sightseeing at Hogwart's – and certainly much more instructive than a trip to Platform 9 3/4 at Kings Cross.
Walk to where you can sit beneath an elm in the churchyard
Take the underground train to Harrow-on-the-Hill (on the Metropolitan line) and leave the station through its southern exit. Walk towards the grassy hill that you can see ahead of you but turn left into the main road right in front of it (it's called Lowlands Road) until you reach Grove Hill.
Turn right here, uphill, and you will soon see the first of many school buildings along the way: Elmfield House and The Copse are two of the altogether 11 students' boarding houses that are scattered all over the area.
Continue up Grove Hill before turning right into High Street, and soon enough it should become fairly lively: during term time, you will see many students on a stroll to and from their lodgings or between different school buildings.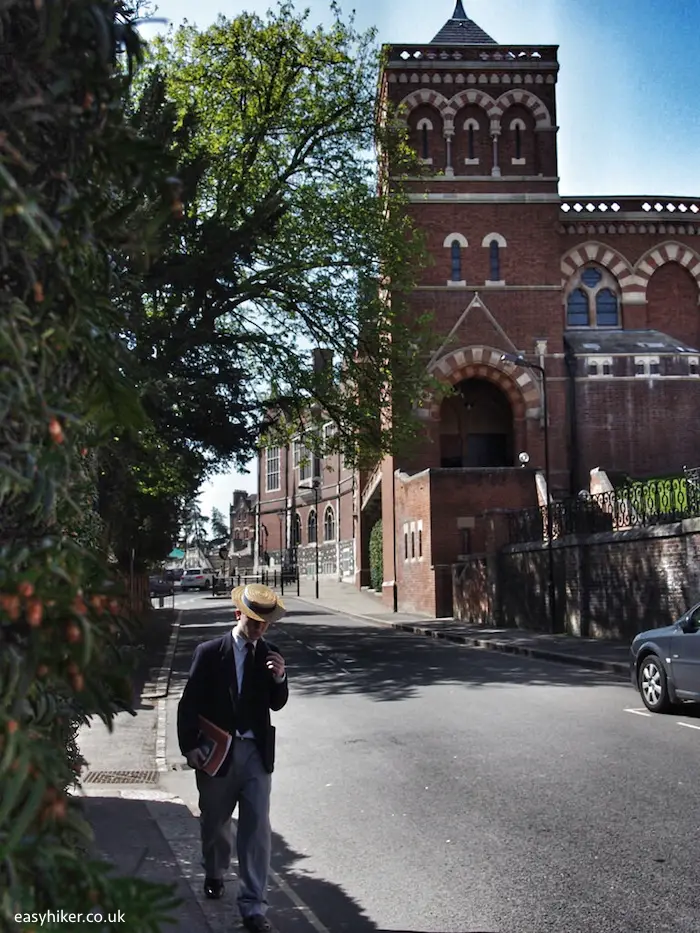 Vaughan Library, designed by the Victorian medievalist George Gilbert Scott …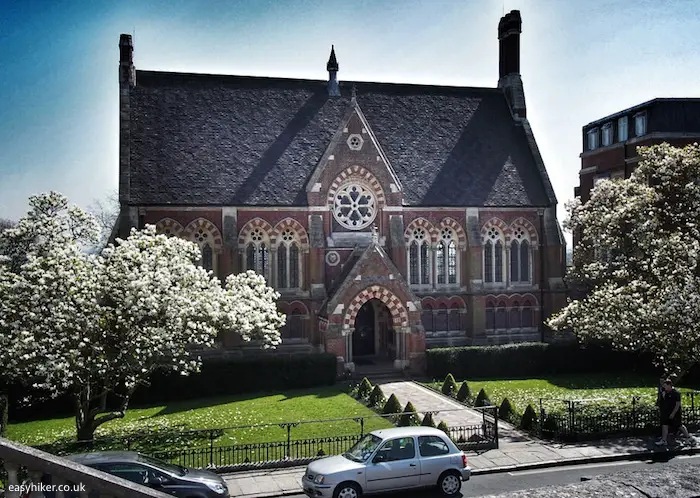 … and the college chapel were, like most of today's school buildings, constructed during the 19th century when Harrow expanded (from 70 to more than 500 students) Both landmarks are virtually unchanged from the time when the young Churchill would have spent many hours there.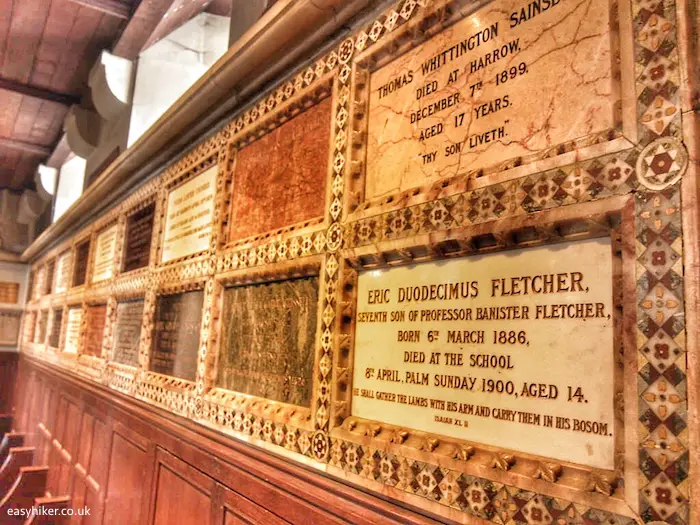 A little further, on your right hand side, you can see the Druries lodging house which was formerly used to accommodate the school's poshest and most aristocratic students. This is where Lord Byron was housed, next to Churchill the school's most famous pupil.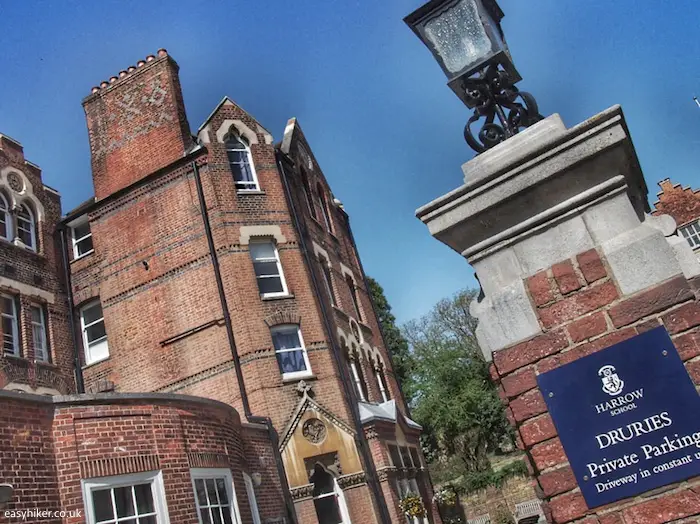 Continue past the irresistibly old-fashioned Harrow School Shop …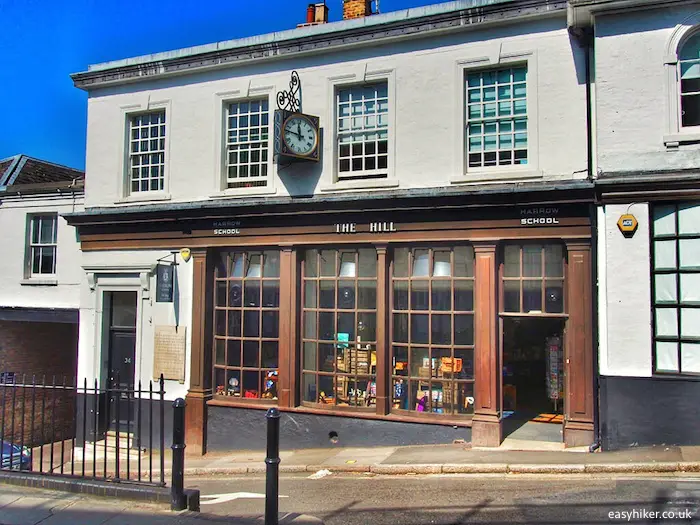 … and turn right into Byron Hill Road before taking another right turn into Crown Street. On the street corner, you will see John Lyon School, established in 1876 as a free charity school for talented local children. (It took Eton more than 150 years to follow suit and do something similar.)
Follow Crown Street to the end and turn right into West Street. You are back now in the centre of the school district. Turn left up Church Hill and have a close look at the 17th century main building of the "Old School".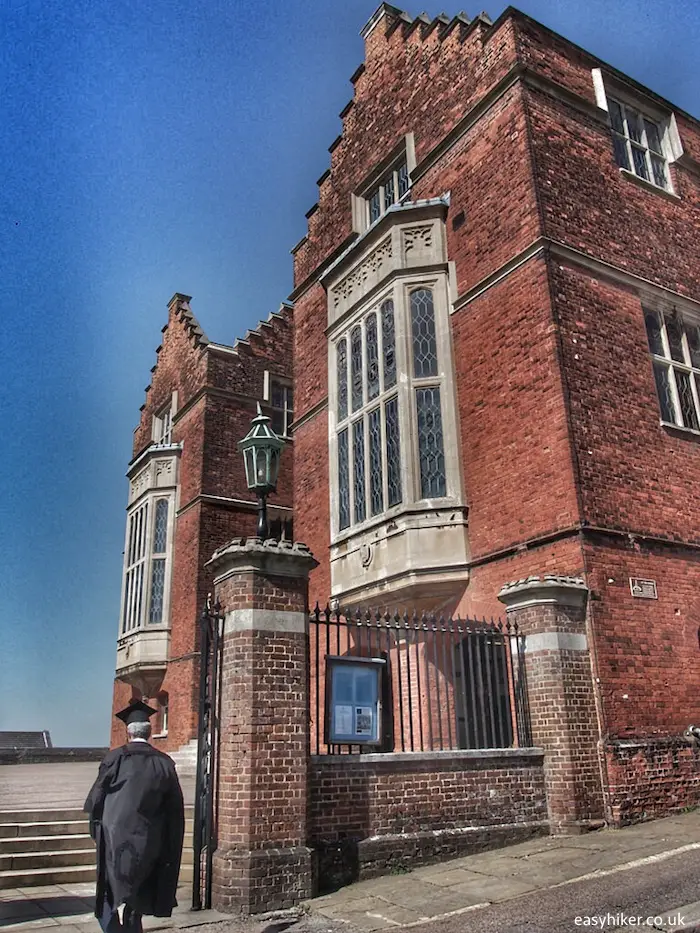 Back in the days when Harrow had only 50 students, this was the sole school building, with class rooms, students' lodgings and teachers' quarters all under the same roof. (Opposite, on the other side of the street, you can see the extension from 1820.).
At the end of the street, turn left into the churchyard and follow it through until you reach the Peachy Tomb, where the young Byron spent many hours, enjoying the views and his solitude (he called it his "favourite spot"), and even wrote some early poetry (Lines Written Beneath an Elm in the Churchyard of Harrow).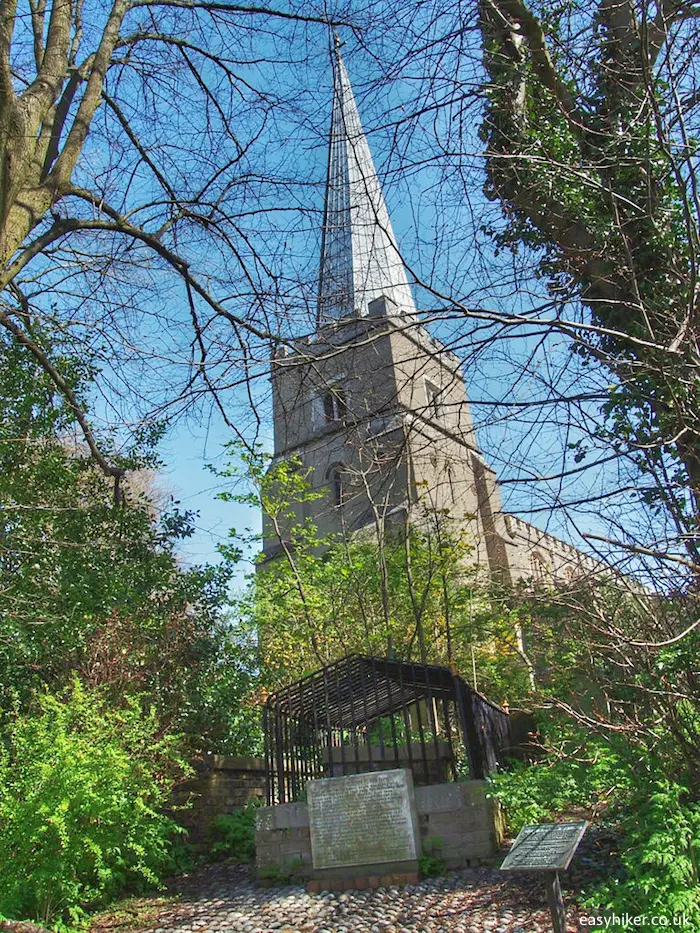 When his daughter Allegra died in 1822 at the age of 5, he sent her remains here to be buried, where, he says, "I once hoped to have laid my own". Byron wanted a tablet in her memory but never got around to commissioning one, so nobody knows where exactly little Allegra was laid to rest.
Out of the cemetery, turn right and right again, down the grassy hill back to Harrow-on-the-Hill underground station.
Finally, Harrow may owe its place in the annals of the world mainly to its public school, but there is more.
On 25 February 1899, Edwin Sewell was driving down Grove Hill when his car's brakes failed, and he crashed into a tree on Harrow High Street. Both he and his passenger died immediately, gifting the world its first fatal car accident. There is a memorial plaque at the end of Grove Hill to mark the spot.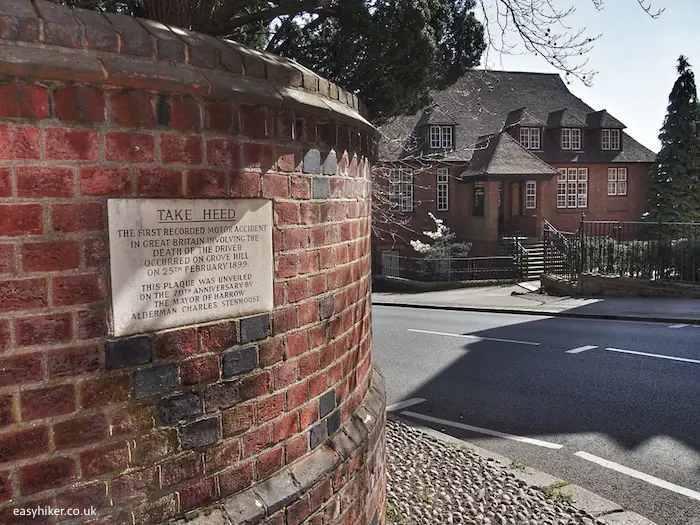 Think about that when you return home – safely, I hope, by public transport.