Berlin's Tempelhof airport has been turned into a paradise for cyclists, windsurfers, wild birds, crazy golfers, baseball fans – and walkers
Hiking, in a certain way, is like listening to popular music – because, let's face it, most hikes do not really offer anything strikingly original like something you have never seen before, but rather rearrange familiar motifs: trees, meadows, wooded hills, a river, a lake, views of farms and distant church steeples.
The same is true for urban walks, where interesting cityscapes mix houses where something important has happened with houses where somebody interesting once lived and houses that are merely pretty to look at.
Only a few walks offer something genuinely different and are truly "one of a kind". This is one of them.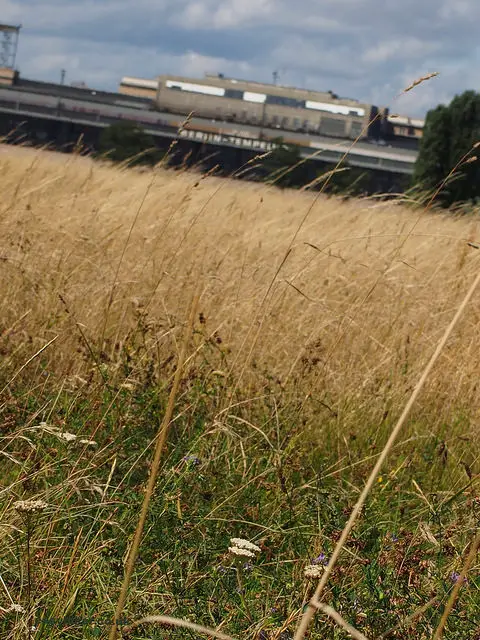 It is an odd thing that, while most of the truly legendary train stations are still among us, the legendary airports of our history have been mostly levelled and turned into something else.
You can still wait for Agatha Christie's "4:50 from Paddington" and hope to meet Miss Marple's friend under the station's authentic 19th century roof, or gaze at the same "Waterloo Sunset" that inspired Ray Davies, and the Gare Saint Lazare has also not changed significantly since Monet painted it in 1877.
But what about the airports of Le Bourget and Croydon? They were the air traffic hubs of Paris and London until WWII, and most of you will never have heard of either. When – during the post-war boom in air traffic – these and other "early airports" became too small and the planes too big for them to handle, the cities around them had already come too close for enlargement to be an option, so it was nearly always better to build an entirely new airport somewhere else, bigger and further out of town.
The one exception to this rule is Berlin.
Tempelhof Airport survived – until fairly recently – for two reasons: firstly, because Berlin – for which, of course, read: West Berlin – had no space "further out of town" for a replacement, being surrounded on all sides by hostile territory.
And secondly, because Tempelhof had been built on such a massive scale, Nazi building at its grandest, as the airport for Hitler's Welthauptstadt Germania, the Metropolis-like capital of the German Reich.
Ideological ballast or not, Tempelhof eventually proved a groundbreaking building – the "mother of all airports" as Norman Foster says (and he knows a thing or two about airports).
Even so, Tempelhof (as an ensemble) was threatened until recently and would have been destroyed (broken up, built upon, converted) if the municipal administration had not, in a stroke of inspiration induced by considerable public pressure, turned the entire site – runways and all – into a public project called the Tempelhofer Freiheit, the freedom of Tempelhof.
For lack of a better word, you could call it a "public park", which you are free to explore on foot, by bike, by windsurfing equipment or anything else (it is not called a "freedom" for nothing), as long as it is not powered by an engine other than you.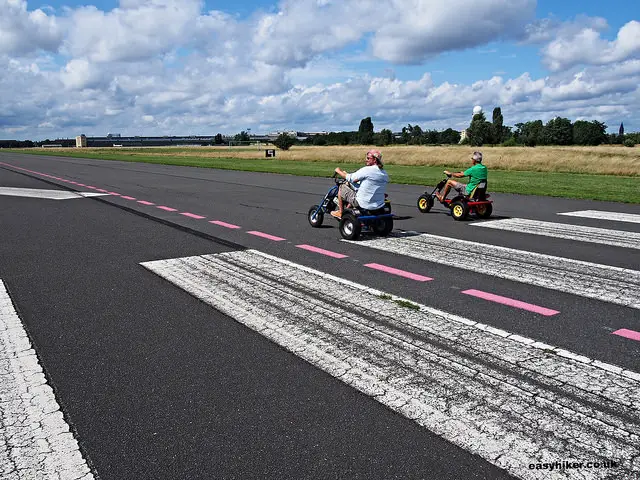 Although, of course, it is not really a "park" at all. There are practically no trees, there is no ornamental body of water, and there are consequently no ducks or swans around to amuse the children.
The Tempelhofer Freiheit is a vast, bleak and flat expanse, with a big sky over it. To use a musical analogy: Tempelhof airport is to a busy municipal park what Arvo Pärt's minimalism is to a piece by Wagner.
And since this is Berlin, the alternative scene is never far. There is an organic veggie garden…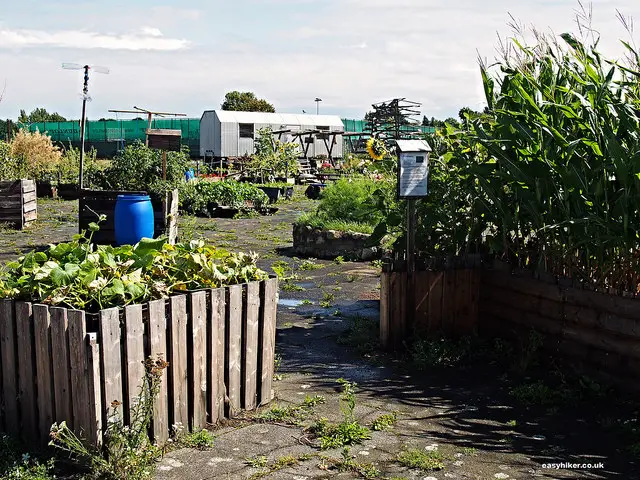 … and what must be the strangest crazy golf (mini-golf) course in town, something in between a putting green and a museum of pop-art sculpture.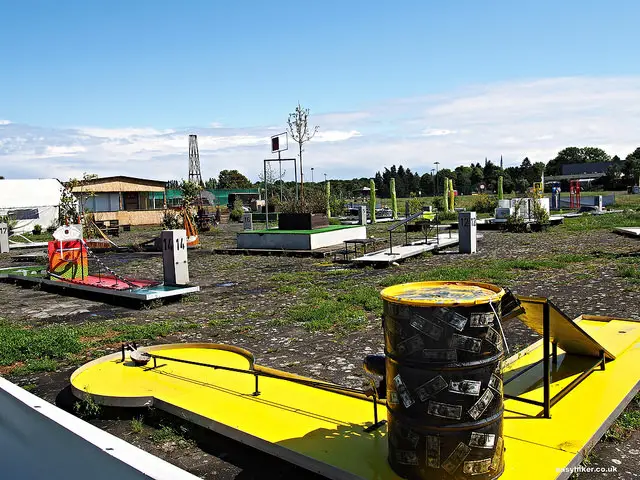 To get to the heartpiece of the old airport, the main runways, you must first cross the taxi runways (where you can also find a glass pavilion with a small Tempelhof exhibition, unfortunately closed "until further notice" when we were there).
It is here, at the end of the two runways, where the people gather: the windsurfers, the joggers, the folks who have come here to exercise their dogs, the cyclists.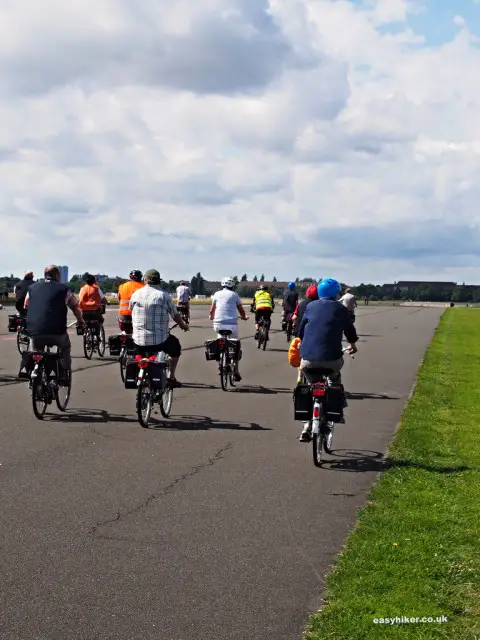 One can easily imagine that, on weekends and long summer evenings, there is a great party atmosphere around here. It must be said, however, that on the somewhat autumnal weekday morning when we visited the place, this "Tempelhof Buzz" was a little subdued.
It is best to approach the Tempelhofer Freiheit from the Platz der Luftbrücke underground station – the Luftbrücke was the post-WWII airlift when West Berlin, for almost a full year, received all of its supplies (food, fuel, clothes and everything else) by plane, all other routes having been cut off by the Russians and their East German allies (whose territory surrounded the city). This gives you the opportunity of taking a close look not only at the monument that commemorates the airlift (a historically important moment of US-German fraternization) …
… but also of the airport buildings, which had remained in use until 2008.
The building – with a total floor space of 300,000 m² the world's largest until the construction of the Pentagon – cannot be visited from the inside. Some wings have been taken over by artists and craftsmen, but the city is still looking for a larger concept and tenants who can pay real money.
A congress and exhibition centre, a complex of film studios and an ice hockey rink are all ideas that have been mooted, but the issue remains unresolved. (In the meantime, Tempelhof is much in demand as a period airport for the international film industry. Many films were shot here – including one, for German TV, when we were there – but not the one you may be thinking about now: the Berlin airport scene of Indiana Jones and the Last Crusade was filmed in a studio.)
Whatever they eventually decide to do with the buildings, they can't tear them down as the entire complex has been listed. In 2007, an application for recognition as a World Cultural Heritage site was also filed, but UNESCO has still to make up its mind.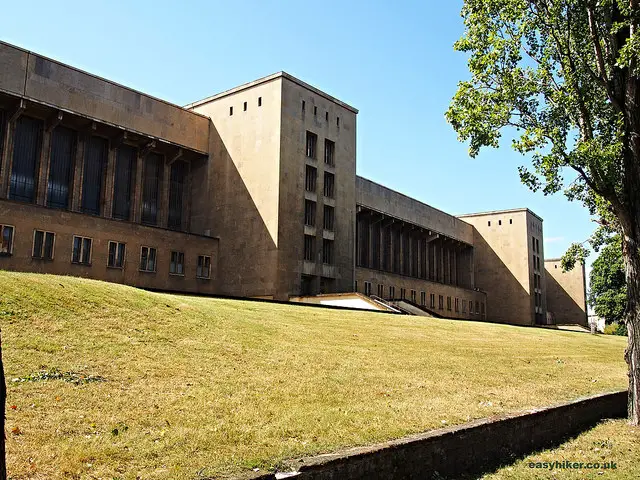 The main entrance to the runway section of the airport is on Columbiadamm. You find this busy road walking clockwise around the airport's perimeter from Platz der Luftbrücke. (Behind the entrance, right opposite Berlin's only two baseball diamonds, you can get a leaflet with information about the Freiheit. There is also a public toilet there.)
Continue straight across the field until you reach the first and then – passing an important habitat for wild birds – the second main runway.
Turn left towards the exit in the Berlin quarter of Neukölln. From here, just follow the signs to the underground stations of Boddinstrasse and Leinestrasse a couple of blocks away.
Don't miss our other features and tips on walks in Berlin here and here!