A Black Forest Hike
The Black Forest offers varied hiking trails to those going hiking in Germany. This is one of them. Laurel tells us about one she did.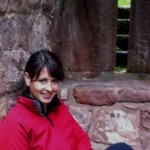 A guest post by Laurel Robbins
Profile
This Black Forest hike is a circuit hike near Freiburg in the southern Black Forest that leads to a waterfall offering good views of the valleys and a glimpse into farm life in the Black Forest.
The Hike: Zweribach Forest – Zweribach Waterfall – Obersimonswald
I was almost jumping with excitement over my first hiking adventure in this Black Forest hike, of which I had heard stories about and was anxious to experience for myself.
This hike was carefully chosen for the forest scenery it had promised and because it offered not one but 2 "romantic" waterfalls. (I later learned that most waterfalls are "romantic" in Germany since they don't have that many of them).
On top of that, it was an 11km circuit hike. I love circuit hikes since you get new scenery the entire length of it. At an elevation gain of only 500 meters, this was a hike with a lot to offer for a minimal amount of effort.
Have you read: Blackforest for Beginners
The trail starts from the Gasthof-Hotel Engel (an aspect of an easy hike is that it begins and ends where a restaurant/hotel is, perfect if you're tired and hungry after hiking).
We started off on a farmhouse-lined flat road, giving us the chance to warm up our hiking legs while getting a glimpse of farm life in the Black Forest.
Forty five minutes on, the road disappeared and we were on a worn foot path that passed through a gated farmer's field. We were uncertain whether it was the right way and wary about trespassing on private property, but then we saw the familiar yellow hiking trail markers found throughout the Black Forest.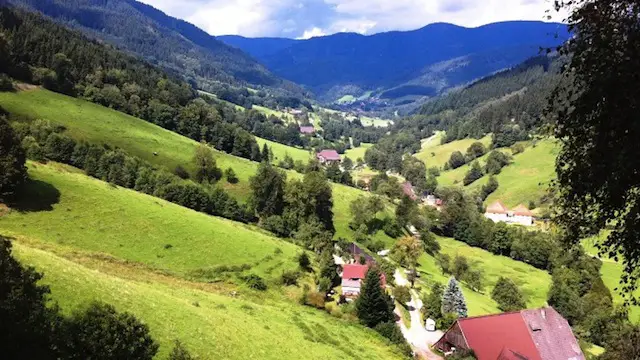 Passing through the gate, we warmly greeted some cows that seemed rather uninterested in our presence. Maybe they didn't understand English? Or perhaps they were just too busy admiring the view – overlooking a long valley, with lush green pastures, in contrast with the intense dark green that is the Black Forest – one of my all time favourite views of the Black Forest.
Soon, we were losing elevation and could hear a river. Had we made better time than expected? For surely where there was a river, there would be a waterfall?  Not in this case, and we continued on for some time until we passed yet another farm house, this one nestled idyllically in the valley.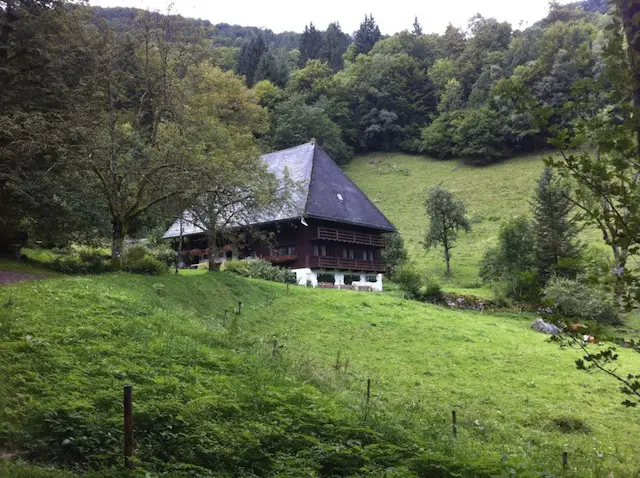 Just past the farm house was a shelter and some benches with a nice view of the valley. We decided this was a perfect place for a rest stop and a chance to enjoy another Black Forest valley view. In the hour and half we were hiking, it was at the rest stop that we encountered other hikers. It turns out there was another parking area near-by for hikers who want a shorter trip to the Zweribach Waterfall.
Have you read: Beer, Buzz and the Black Forest
With our bellies full, we continued our hike and soon found ourselves at a crossroads: we could either continue to the main Zweribach Waterfall or take a short 1.2 km detour to Hirschbach Waterfall. We decided to do the latter.
The moss covered path followed a small creek that led us to the first waterfall, which in fact was a rather generous term for the Hirschbach Waterfall.We did enjoy the trail, though.
We made our way back to the crossroads and headed for what we anticipated to be the highlight of the hike, Zweribach Waterfall. It turned out that this time, we would have to work for our waterfall.
Most of the 500 meters of elevation was to be gained in just over 1 km. But Zweribach Waterfall turned out to be a good motivator.  Upon arriving, we admired the waterfall and agreed it was worth the effort (minimal as it was).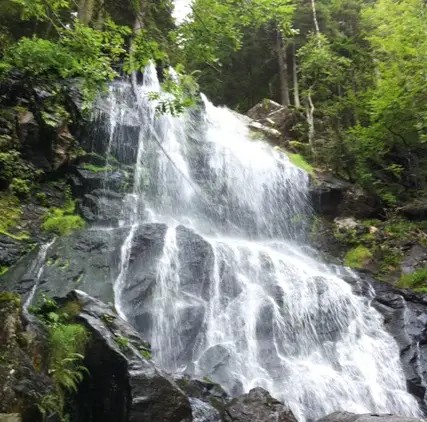 We were now just past the halfway mark and continued up some slippery rocks before reaching a clearing for another view of the Black Forest, where we were at eye level with the trees across the next valley, the highest point of the hike.
Soon, we found ourselves on a road again, until the yellow trail marker pointed to another farmer's field. There was no trail at this point, but we could see the road below where our hike had started. We slowly made our way down.
Have you read: The Black Forest Gateway
Minutes later, we were back at the Gasthof-Hotel Engel. And,(perhaps this is a first in the history of hiking) I wasn't hungry. The hike had been enough to satiate my hunger. I enjoyed my first hiking adventure immensely and this hike was what has kept me coming back for more in the Black Forest. I would definitely recommend it as an easy hike.
How to get to Simonswald
Simonswald is the starting point for this hike, a small town located 31 km NW of Freiburg. You can take a 51 minute train ride from Freiburg to the Oberer Felsen Station in Simonswald.
From there, either walk the 4.5 km or take a regional bus to the Gasthof-Hotel Engel.  If you are staying at a guest house, you may be able to make arrangements for them to pick you up free of charge.
If you are driving, Simonswald is just over a 30 minute drive from Freiburg or a two hour drive from Stuttgart, where we came from.
For more information on the area see  ZweiTälerLand Region
Laurel is a Canadian expat living in Germany who documents her adventures in her blog, Monkeys and Mountains.  She is happiest when hiking or diving and grew up with the Canadian Rocky Mountains in her back yard.  She goes hiking every chance she gets and is enjoying hiking in Germany.