With its long history and a strong presence of the modern arts, Vence is the perfect destination for a walk through the Provencal countryside
It would be silly to say that if you have seen one Riviera hilltop town, you have seen them all. No, worse than silly: unfair and, above all, ungrateful for the treasures they hold in store for their visitors. At the same time, however, it would be equally silly to deny that certain family resemblances do exist.
What's more important, at any rate, is this: once you have seen half a dozen or so of these hilltop villages, you are beginning to recognize the patterns of their resemblance and will be better placed to assess their differences, too.
One point of distinction is their distance from the coast: the further inland, the more withdrawn and forbidding these villages tend to be. (Once, we lost our way in Saorge, trapped in a labyrinth of small streets that might as well have been laid out by Piranesi.)
Age is also a relevant factor: whether these towns have been constructed around a medieval church or a baroque one. This always appears to set the tone for later additions to the town's building fabric.
Finally, there is a marked difference between Italy and France. As a rule of thumb, houses in Italian hilltop villages are made from plaster which is then painted, while French ones are built from natural stone. This translates into a difference of colour: most hilltop towns on the Riviera di Ponente look like a bowl of fruit, all dressed up in peach, yellow and orange, while those in the hinterland of the Cote d'Azur usually restrict themselves to fifty shades of grey.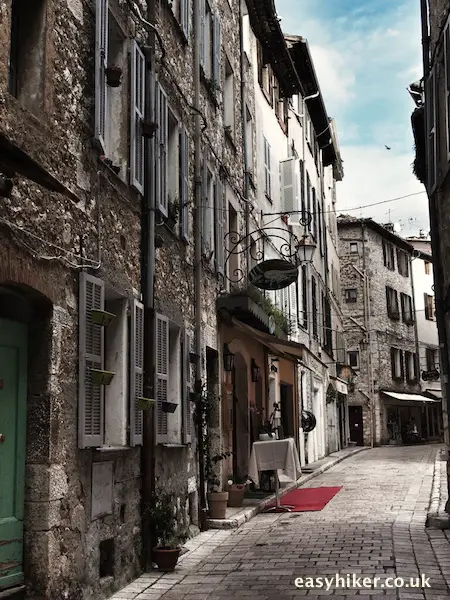 A typical example for such a French hilltop town is Vence, the destination of our recent walk from St Paul. In other ways, however, Vence is rather special – mainly inasmuch as it has extended into a bustling market town with 20,000 inhabitants, in stark contrast to the more sedate atmosphere of "hilltop museums" such as St Paul de Vence.
Whether you come on foot from St Paul (in which case you have to cross busy Avenue Emile Hugues and climb to the Avenue de la Resistance where you then must turn right) or by bus (arriving on Place Marechal Juin at the top of the Avenue de la Resistance: here, too, the Old Town is on your right hand side), the old city gate, Porte du Peyra, is a good place to start your walk through the centre of Vence.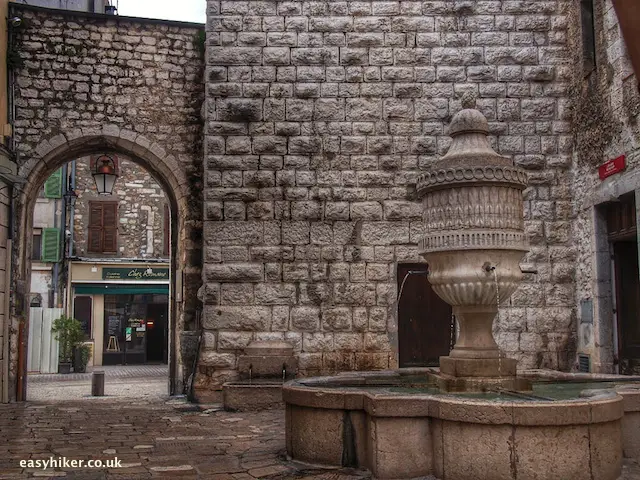 From here, there are several ways of proceeding. If you in a hurry, take Rue du Peyra on your right into Rue de l'Eveche from where you can turn right again through the hole in the wall: the town centre with the Town Hall and the old cathedral are now right in front of you.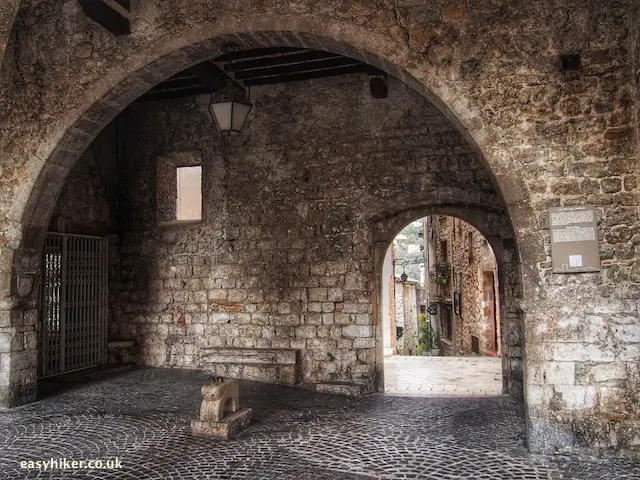 Or you can decide to spiral around through the city streets in decreasing circles, leaving the heart of the Old Town for last: in this case, continue straight from Place de Peyra into Rue de Portail Levis. following Rue de la Coste around the bend and Rue du Seminaire into Place Godeau and Place Surian.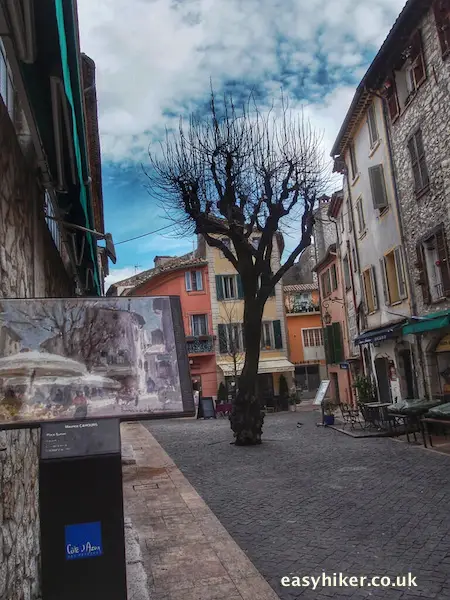 Either way, you will soon discover that the Fine Arts have played a major part in the town's recent history. There are fewer art galleries than in St Paul (it would be difficult to have more), but there are reminders everywhere of the special attraction that Vence had for modern painters …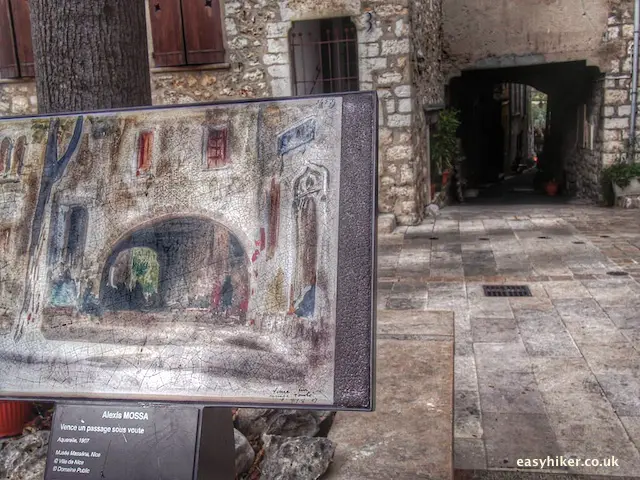 … and sculptors.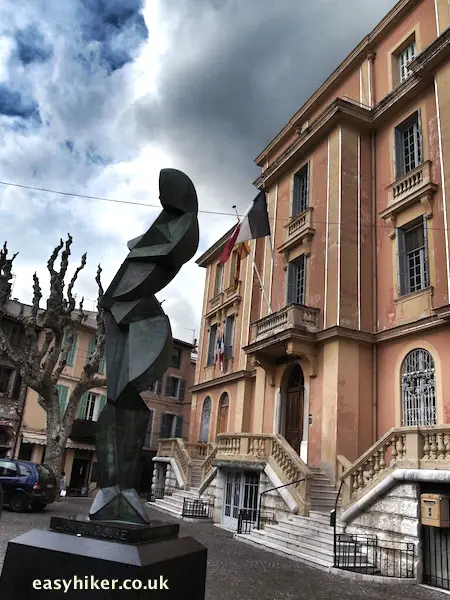 The most famous art work connected with Vence, Matisse's Chapelle du Rosaire, is located a little outside of the town centre. You will need to return to the Place Marechal Juin (where the buses from Cannes and Nice arrive) and walk across the bridge. Altogether, this is a walk of approx. 20 to 30 minutes (one way) from the centre of town.
Fortunately, another well-known work by another master – Marc Chagall – is nearer-by, in the baptistry of the Notre Dame Cathedral. (It is called "Moses saved from the water" – a rather smart compromise, I find, between the obvious requirement for a water-based motive in this place and Chagall's Judaism.)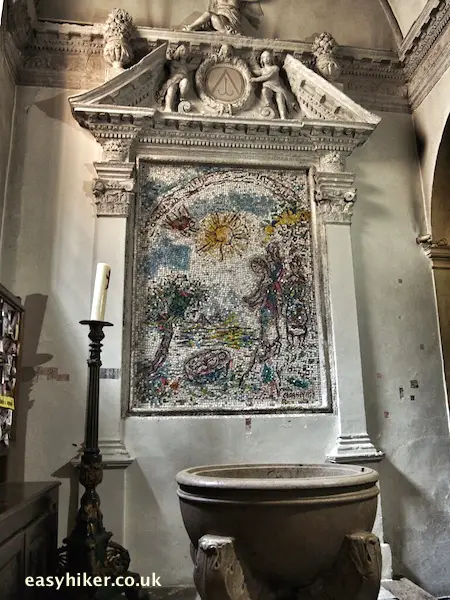 The Chagall mosaic, however, is not the only reason to take a close look at the church. The cathedral may not look very inviting at first glance, it is in fact a rather gloomy space, but it rewards closer inspection.
Much of its historic interest derives from the fact that this was once the episcopal seat of Alessandro Farnese, who later became Pope Paul III. (You can't help wondering what the scion of one of Rome's leading aristocratic families would have made of living here between goatherds and market traders.)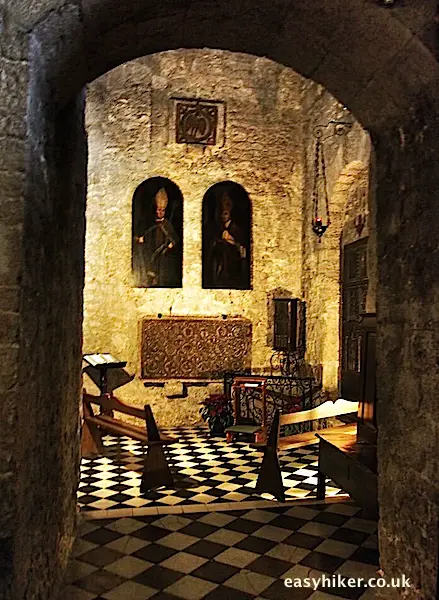 Much of the cathedral's building fabric is Carolingian, i.e. roughly 1200 years old …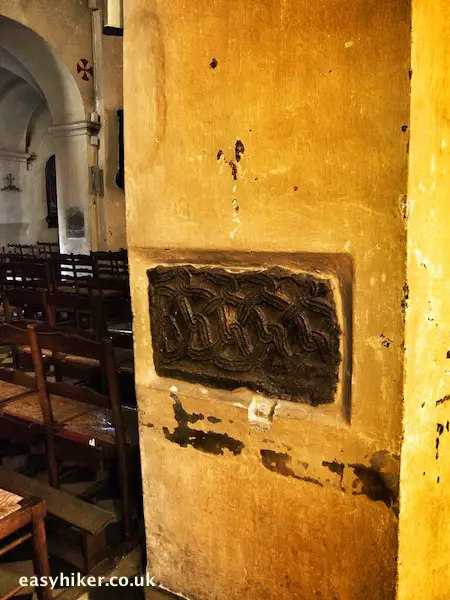 … but that's not even the most ancient part of the architecture. That can be found outside …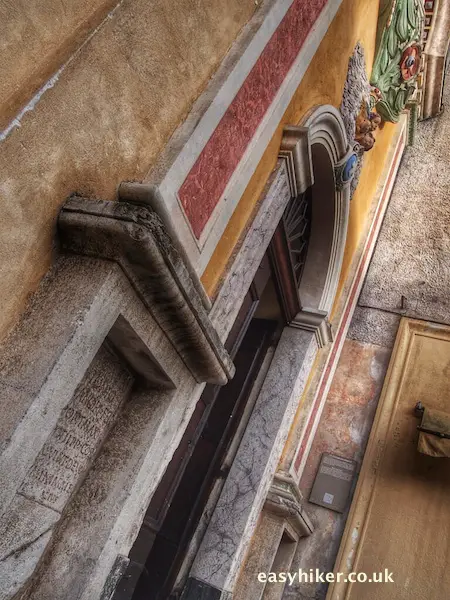 … where wall inscriptions from antiquity prove that the church was built on top of a much older temple from Roman times, indicating that this particular hilltop has been settled by humans for at least 2000 years, probably even longer than that.
Now, that is an unusual distinction for Riviera hilltop towns both French AND Italian.