Day hiking near Paris
Day Trip near Paris – Chaville
Recently, the days have been cold, miserable and grey. With temperatures approaching their record low (for early December), snowflakes drifting past the window and no sign for even the slightest improvement in sight, the only hike I shall undertake all week will be from the sofa to the kitchen to make me a hot cup of something, thank you very much. I am sure you understand.
"But what about Easy Hiker's scheduled blog post?"  I hear you ask. Well, I thought of doing a British Rail on you – apologizing for any inconvenience caused and going straight back to the crossword. But in the end, I decided to pull off a Delia instead: taking my cue from her (or any other TV chef whose soufflé has just collapsed), I shall present "one that I prepared earlier".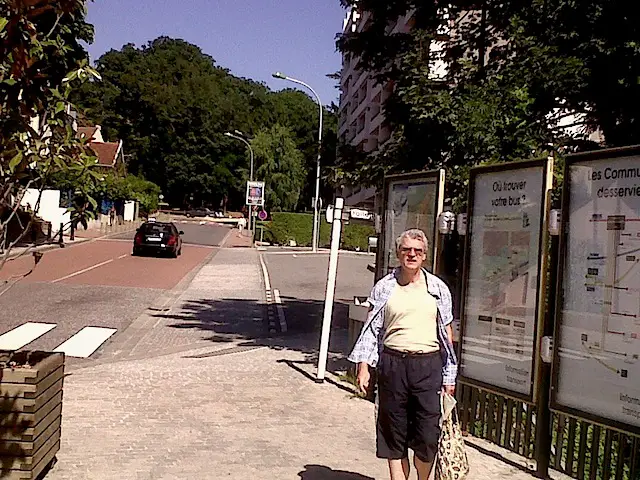 This is me starting, just outside the station of Chaville Rive Droite. (I suspect you could have guessed that this shot was not taken in December, even without my initial admission. Yes, there are a few tell-tale signs. Definitely, one of our summer hiking trips.)
Chaville is just a small town in the southwestern Parisian banlieue, but it has three railway stations, so make sure you are going to the right one.Suburban trains to Chaville Rive Droite leave regularly throughout the day from Paris St Lazare (direction: Versailles Rive Gauche), but you can also take the Metro to La Defense (the final stop of Line 1) and take the overground train from there.
Behind me, you can already glimpse the forest we are going to. Just turn right out of the railway station into Rue Carnot and walk straight onto your Paris day hiking trail.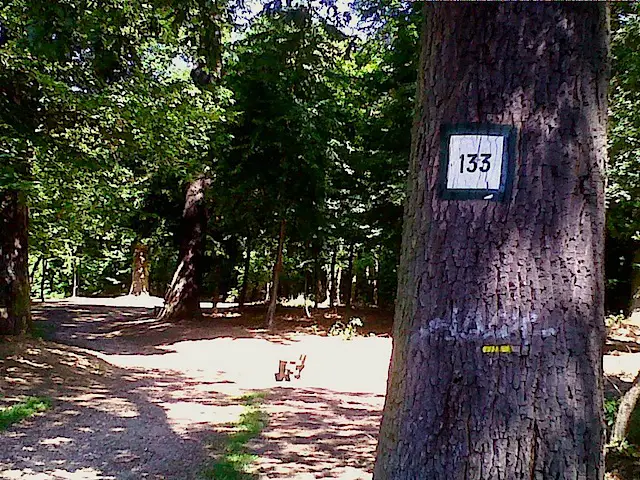 Orientation inside the forest is fairly straightforward. Forget the balisage and just follow the numbers. When you enter, you will find section number 133 immediately on your right hand side, with 132 and then 131 on your left. They will be followed – also on your left hand side – by sections 106 and 100. Or, to make it even easier: simply continue straight ahead until you come to the lake.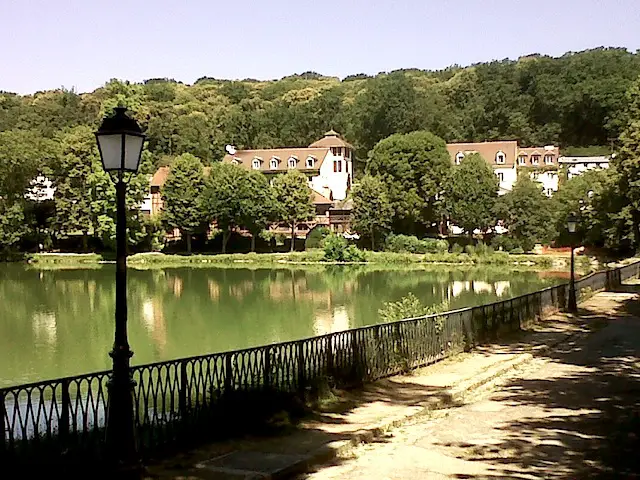 This is a very pretty place and the highlight of the journey. The building on the opposite side is a hotel, and, if you continued straight ahead down the Rue de Versailles, you would come to a monastery followed by, after another half a mile or so, the Parc de St Cloud. The Parc de St Cloud is well worth a visit, but today, we turn left in front of the lake and continue along its shore.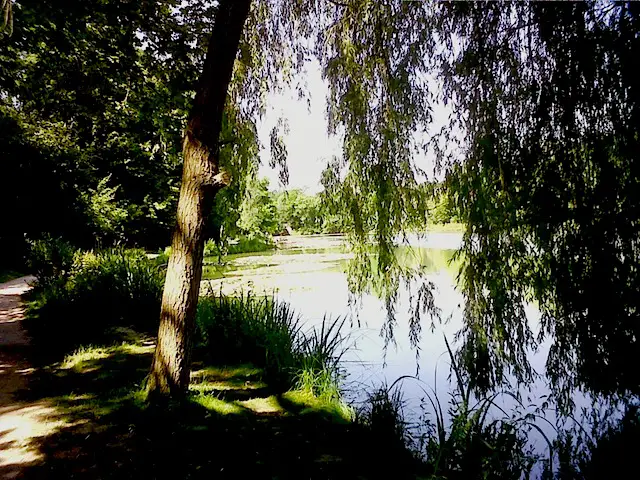 The forest, called the Foret de Fausses Reposes, is, like almost any other forest around Paris, a former hunting ground for the local aristocracy: a faux repos is the position of "false rest" that a hunted animal, a deer or a boar, assumes to mislead the dogs or human hunters on its trail. The forest has the reputation of being the "wildest" in the entire Parisian banlieue, i.e. the one where you are most likely to meet any kind of wildlife such as deer and foxes, although I would not count on it if I were you.
To continue, just count the sections down: numbers 100, 99, 98, 97 and 96 appear on your left hand side, and just when you are about to walk into section 95, turn left so you have section 95 on your right. Number 95 is then followed by number 110, and at the end of that, turn left with sections 109, 108 and 107 on your left hand side until you come back to where you entered the forest.
I may have managed to make it sound more difficult than it actually is. In fact, it is a really, really easy hike – just remember: as long as you stay on the near side of the lake, you can't go much wrong. Turn your back to the lake at any stage, and you will always walk in the direction of Chaville town.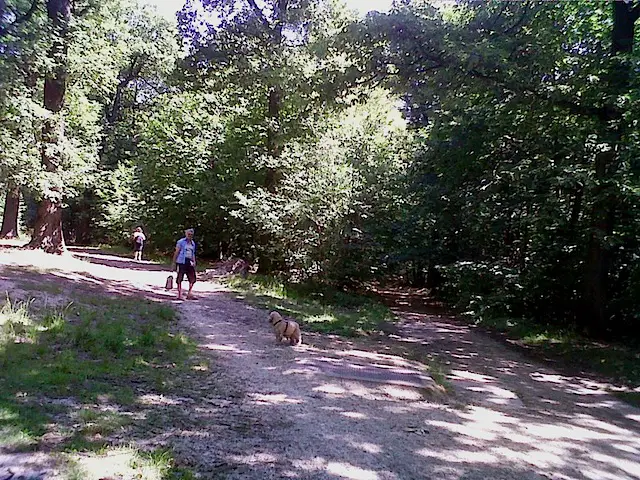 Still, there is always room for an argument – this time one that involves me and the dog. I say left, the dog makes it clear, in his own way (by assuming a position of "stubborn repos"), that he would prefer to take the path on the right. I suspect, however, that this was at heart no disagreement about some general principle of orientation but rather the consequence of him having smelled a particularly attractive patch of wee.
You should return to the railway station within, altogether, a couple of hours. This is a fairly short walk, and if you do not feel like going home yet, you can – as we did – overshoot the station and continue on Rue Carnot until you reach Avenue Roger Salengro, the local high street.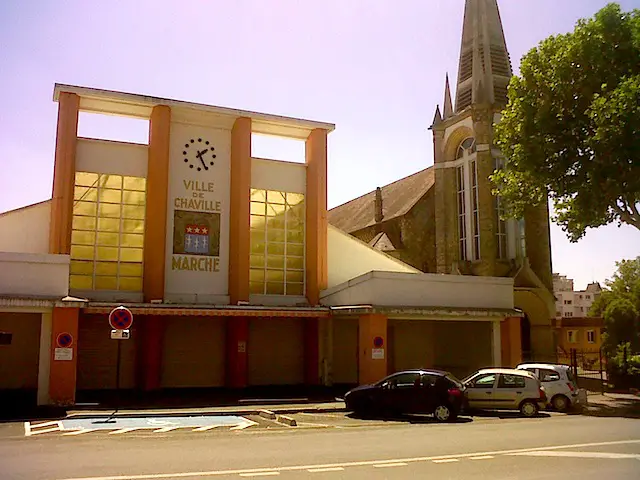 Right at the corner, opposite the Marché, there is a small bistro that serves food and drinks on its secluded stone terrace. And that's a rather attractive way of winding down your trip – if you can wait until the snow has melted.
Get up to date on our easy hikes in and around Paris. Follow us on Facebook or register to get our free updates direct into your email box.