A guest post by Melvin Boecher
The Calmont Klettersteig in Bremm by the Mosel in Germany – a two and a half hour adventure hike. Not suitable for people who suffer from vertigo. (Narrow paths and steep slopes are part of the package.)
If, however, heights hold no fear for you, you should not miss the walk along the Calmont Klettersteig. This hiking trail leads you straight through the steepest wine slope in Europe. The trail connects the villages of Bremm and Ediger Eller.
We started at Bremm, but you can of course do it the other way round. Both Bremm and Ediger feature places where you can get a good meal, snacks or drinks at the end of the walk. A glass of wine straight from one of the local vineyards is a must to round off your hike.
The walk is not particularly steep but there are several climbs along rocks (you will be grateful for the ropes and ladders supplied as climbing aids) alongside many little places to rest and enjoy the view down onto the river and the valley.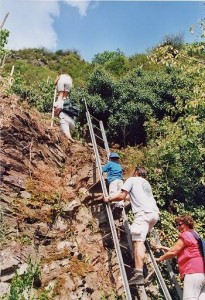 The path is narrow all the way, and you should under all circumstances wear good walking boots (especially when it is wet) or good trekking sandals. Bring an ample supply of drinking water with you. Particularly in summer when it can get very hot.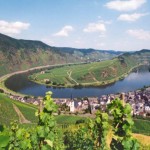 To return to either Bremm or Ediger, you can catch a bus or just walk back along the river.
A better, though more tiring, alternative is to walk back on the Mosel Höhenweg.
After a long steep climb to the top of the mountain ridge, your hiking will mainly be through the forest where it is less hot than on the "Klettersteig" and where you are protected from any rain that might fall.
All along the way, you get good views of the Mosel Valley. The highest point is 378 metres above NN (the trail starts at a level of 86 metres) So, you have to climb almost 300 metres, first up and then down again.
But hiking in the Mosel Region is an experience you would not want to miss.
Melvin Boecher founded Traveldudes.org – For Travelers, By Travelers! Discover beautiful places of the world.  Travel free and untroubled and still be informed like an insider. Profit from the experiences of other traveller.
Find more hiking trips and trails in Germany here.