Escape. Breaking out.
Leaving it all behind – every day routines, places, surroundings …

Isn't that what every good holiday is all about?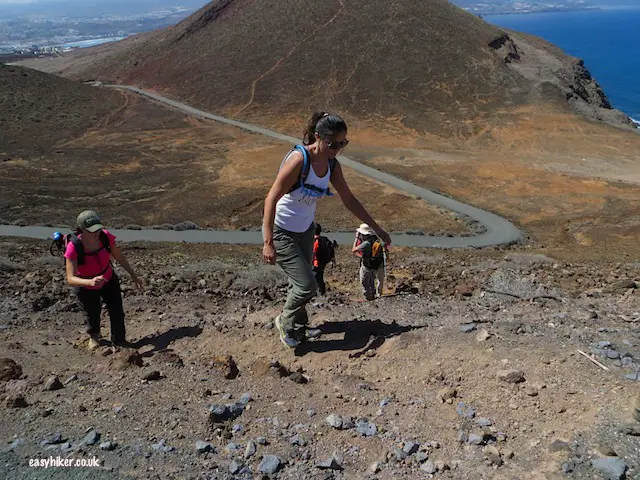 Look around you: while you are reading this, you are, in all probability, surrounded by walls and when you look out from your "little cell", all you will be able to see is a bigger cell, one with more and higher walls, a network of thousands of little cells just like your own, stretching all the way to the horizon and beyond.
This is what is called a town or a city. Towns and cities are where we eat, sleep, and raise our kids, where we are born and where we make our living. Isn't that already enough time spent in cities?
I don't know about you, but the last thing in the world I need to see in my holidays is another city. In my holidays, I want to feel the sun on my back and the wind in my face.
Fortunately, there is a perfect recipe for doing this: it's called HIKING
If only I had found that out sooner. But I did not discover hiking before my 40s, and consequently, I spent many of the "most precious days of my working years" in networks of prison cells that looked very much like the one I have at home: spa towns, shopping towns, museum towns. Or, worst of all, one of the soulless holiday toy towns on the Mediterranean Coast. (Benidorm: twinned with Mordor.)
But I'm no Daniel Boone
Much as I might want to, I do not know how to suck the sap out of a cactus once my water bottle is empty and which rodents will provide a tasty snack if I feel peckish but have finished my supply of sandwiches. Neither do I know how to fight a grizzly bear. I may want to break out of my natural habitat, but in the real wilderness, I would be a danger to myself, as much without a clue as a deer in the middle of Piccadilly Circus.
This is where the idea of Easy Hiking comes in
Because, you see, you can really have it all: adventure without the existential risk, a taste of nature that does not involve painting yourself "red in tooth and claw", a meaningful outdoor experience, which is nevertheless coupled with the experience of spending your nights sleeping between clean fresh linen.
Easy hiking meanssleeping in hotels, not trying to go one better on the snail, which carries its own house on its back, but, sensibly draws the line at pots, pans and cutlery.
It means hiking in civilized portions of no more than three or four days at a time instead of trying to wolf down an entire mountain range in a single bite.
It means taking the time to make a stopover wherever there is something interesting to see: a castle, a country church, a picturesque village.
And all that on trails that have been designed for the very purpose of providing you with a pleasant and easy hiking experience.
A good easy hiking trail is like a good detective story
You never know what to find next except that it will surprise you – within a comfortable band of expectation.
Much in the same way that, as you approach the denouement of an Agatha Christie novel, you can be sure that Hercule Poirot's explanation will not involve ghosts, aliens or time travel, you can be sure that behind the next corner of your trail you will find something charming but not unsettling: a forest, a field, a heather-covered slope, a view of a winding river or a mountain. You will not discover the Victoria Falls.
But neither will a band of hostile natives lie in wait for you – or a grizzly bear.
And, just as importantly, the path ahead may be steep, it may be challenging, but it will not feature anything that you will not be able to master. That may be the best thing about easy hiking: everyone can do it.
On any easy hiking trail, you will meet sprightly pensioners in tank tops and short trousers, exposing acres of leathery skin, gentle elderly couples on a Sunday walk, groups of men with pot bellies celebrating somebody's birthday or a stag night, and prim middle-aged women whose pale-skinned arms tell tales of sheltered lives behind the doors of offices, schools and public libraries.
Believe it or not: not all hikers are Olympic athletes and, while we are at it, let us dispose of yet another hiking myth: not all of them are nature fanatics either. Many of them, I bet, could not tell you the names of the wild flowers and trees along the way any more than I could.
Everybody gets something else out of hiking
 While some hikers love to read and study the book of nature, others simply enjoy the sounds of the forest and the smell of the leaves after a light summer rain, and yet others are there for the existentialist challenge of ploughing on through the heat, the dust, the rain, whatever nature throws at them, until they have reached their day's destination where they can put up their feet, gulf down an ice-cold beer and perhaps light one their favourite cigars.
So what do you think: does easy hiking have something in store for you, too?
There is only one way to find out: pack your bags and have a go at it. It may change your life – or at least the way you will be spending your holidays from now on.
Easy hiking is adventure for beginners!