Book Review
Today's post is about more reading matter, not for quiet contemplation (in contrast to last week's Christmas reading list) but focusing instead on a single book for your active planning. If you are looking forward to travelling through Europe in 2018, intending to rely on public transport for any part of your journey, this book is for you.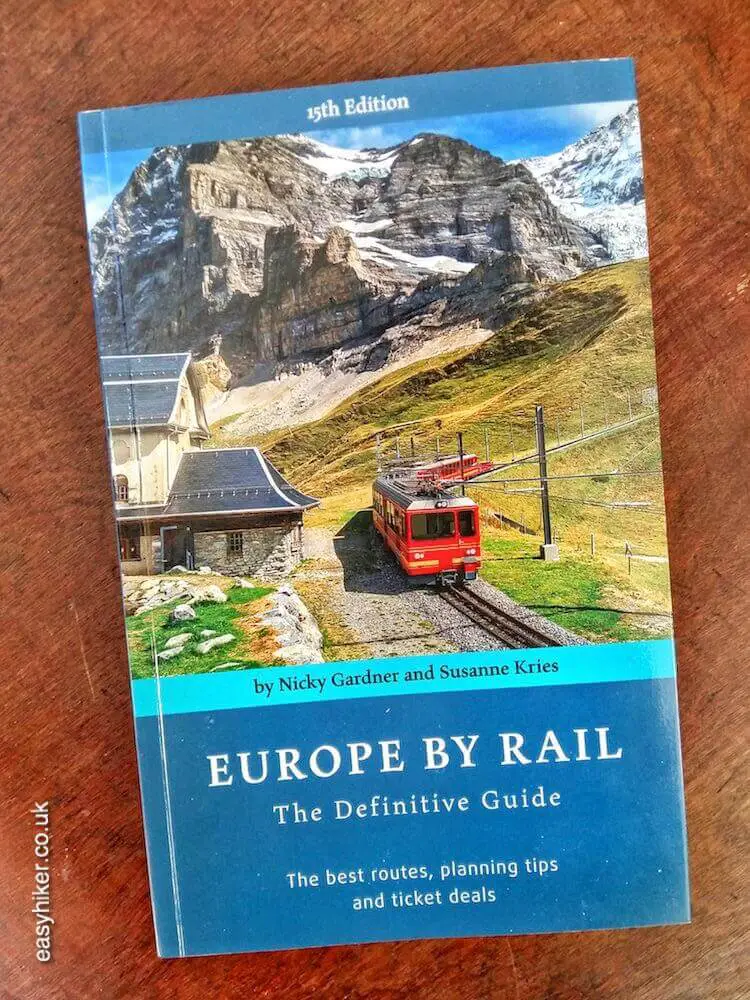 An Indispensable Train Travel Companion
Europe by Rail, now in its 15th edition, means to serve its readers as the "definitive guide to the best routes and places to visit", providing "tips on ticketing, fares and accommodation".
The book proceeds by focusing on 50 routes of scenic or cultural interest, which are subdivided into 11 regional groups. Brief intros (one for each regional group and one, more detailed, for each individual route) are followed by the descriptions of landscapes and towns (what do I see from the train?) and recommendations for stopovers (which towns along the way are worth a visit or a longer stay?) as well as for (hiking) excursions into the surrounding countryside.
The information provided is practical and comprehensive. Like all experienced authors, Nicky Gardner and Susanne Kries have a clear idea of who their readers are, writing for people who are intellectually curious, who yearn to make new experiences and who have a keen eye for value.
This indispensable train travel companion tells you what there is to see and do, where to go for a hotel in walking distance of the station, where to find clusters of inexpensive but authentic restaurants, even (defying its title) how to proceed when it may be more convenient to continue your travel by bus.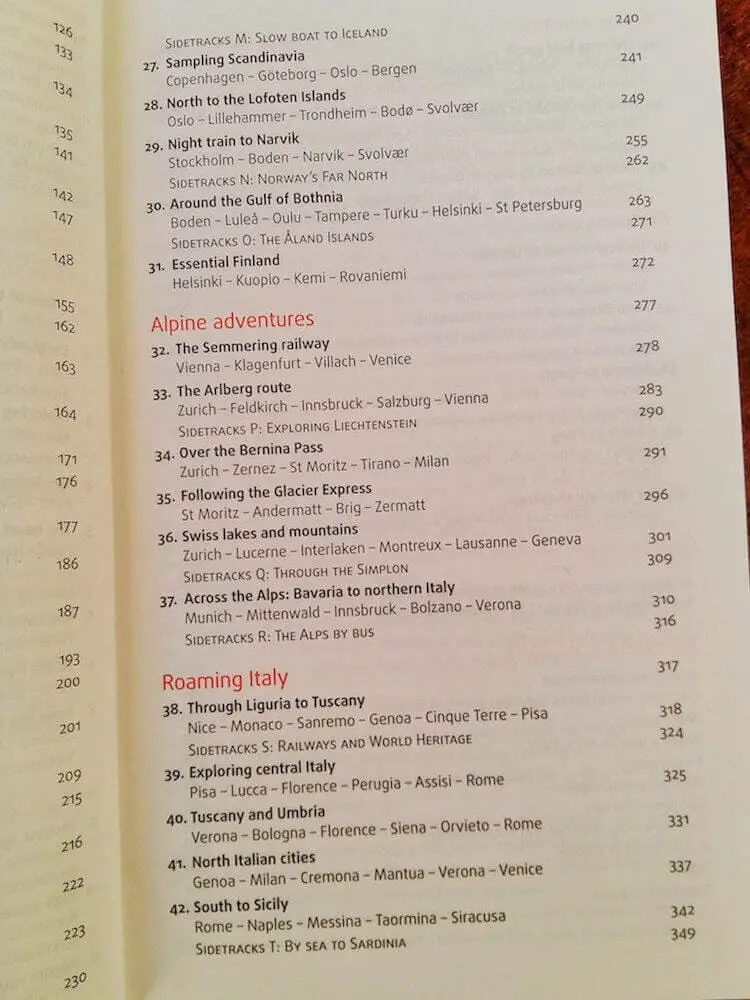 Fifty routes across Europe (of lengths between 230 and more than 1500 km) cover a lot of ground, but inevitably, some European regions are more comprehensively featured than others, and even within generally well-covered countries (such as Italy), there are gaps (there is very little material on the Adriatic coast, for example). But such editorial decisions – omissions – can never be entirely avoided in a guide book. The alternative would be a doorstopper of 5000 pages, in the spirit of the German philosopher who, assigned to write a family history for the Duke of the Brunswick, filled 10 folio-sized volumes including an introductory essay on Adam and Eve.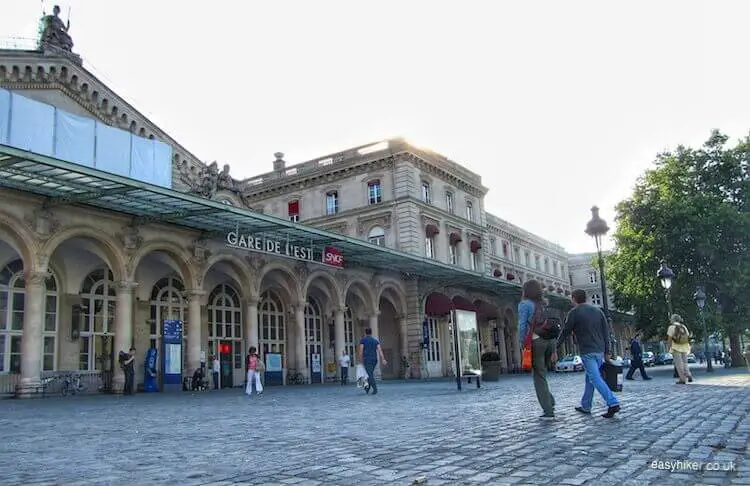 The acid test for every guide book is not the question of whether everything is there but whether everything that is there is also worthwhile reading.
Can you lose yourself happily within the book's pages, much in the same way that you would lose yourself in a town or a landscape that you are exploring for the first time? With Europe by Rail, the answer is a resounding yes: not only will you get new ideas of where to go (Nicky Gardner and Susanne Kries always manage to tell you just about enough about their destinations to make you want to have a look for yourself), you will also find stuff to make you see familiar places in a fresh perspective.
Reading about our own home ground, for example, I learned that the architect Renzo Piano described Genoa (his home town, apparently: something else I did not know) as a "secret, inward-looking Casbah". I liked that so much that I will surely steal it at some stage.
In addition to the practical information of how to get your best travel experience and value out of Europe's rail network, there are also sections with general information about how to prepare a journey ("Before you Leave") and about each of the countries along the way ("Gazetteer").
Finally, the text also features frequent, if irregular boxes with notes on the trains and rail systems themselves (Sidetracks), although – some of you may be relieved to hear – the book is not primarily targeted at readers with a specific interest in railway engineering.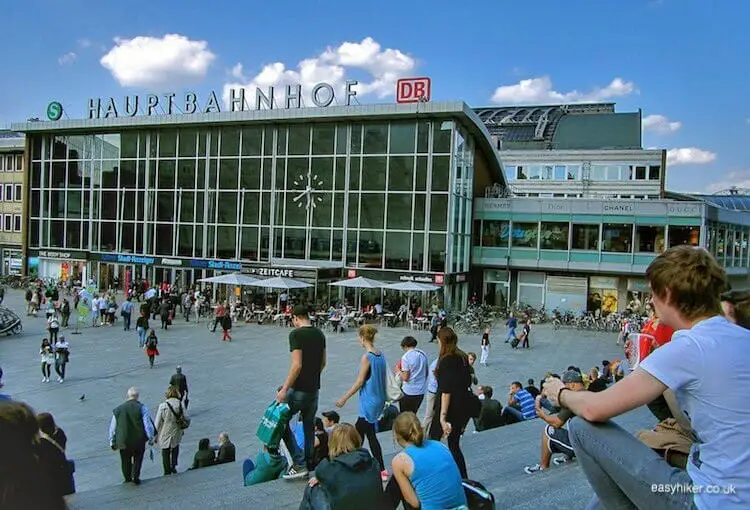 Perhaps most importantly of all, Europe by Rail is a slim and easy-to-lug-around paperback, the perfect size and weight for somebody who is planning to spend a lot of time on the road (or, in this case, on the rail).
Any additional guide book would sit in your luggage much in the same way as a second pair of shoes: useful, potentially, under certain circumstances, but more likely to add just bulk and weight.
When you travel in the company of Europe by Rail, you will need no other guide: everything you need to know is in there.
Products from Amazon.co.uk ‹ ›
Now that you know how best to get to a destination with this indispensable train travel companion, Easy Hiker in turn will help you find the hiking and walking trails. Get our tips and features on time. Subscribe to our free updates via email. You can also follow us on Facebook,  Instagram and Twitter. Why not include us in your G+ circles too?