Following in the footsteps of Soviet town planners, teetotal socialists, Quakers, silly old men in skin-tight trousers and – perhaps – even Vladimir Ilyich Lenin to the first garden city in the UK.
It may be difficult to believe, but Letchworth Garden City, nowadays a well-heeled country town on the edge of North London's commuter belt, …
… was once at the cutting edge of modern architecture and a hot-bed of socialism.
Some people believe that Lenin himself visited the town, in search of a possible blueprint for Russia's "cities of the future", although it must be said that there is no conclusive evidence for this. Still, even if Lenin himself never made the journey, Soviet town planners certainly did – as did almost everybody else in the early 20th century with an interest in the future of urban living.
Letchworth was built to realize the old dream of combining the best of country and urban living. This had recently been made possible through the invention of the railway, and while many new settlements had already been established in the no-man's land between town and country, Ebenezer Howard, Letchworth's founding father, firmly believed that none of those had fully exploited the potential of this new form of "sub-urban" living.
Howard had written a book about modern town planning and now established a company designed to implement his principles in practice. In 1905, he bought a large plot of land (1500 hectares) and ran a competition for esthetically correct, affordable housing, called the Cheap Cottages Exhibition, inviting mainly architects who were rooted in the traditions of the Arts and Crafts Movement.
As one may expect, the "socialists" who were attracted by this experiment in new urban living were not working men in greasy overalls, but artists and academics, weavers, potters and teetotalers, seasoned with a fair sprinkling of trust-fund bohemians. This is what George Orwell had to say about the Letchworth experience:
"One day this summer I was riding through Letchworth when the bus stopped and two dreadful-looking old men got onto it. They were both about sixty, both very short, pink and chubby, and both hatless. One of them was obscenely bald, the other had long gray hair bobbed in the Lloyd George style. They were dressed in pistachio-coloured shirts and khaki shorts into which their huge bottoms were crammed so tightly that you could study every dimple. Their appearance created a mild stir of horror on top of the bus. The man next to me, a commercial traveller I should say, glanced at me, at them, and back again at me, and murmured, 'Socialists'."
Little of this eccentricity has survived into the present, I am sad to report, and the people you are likely to meet in today's Letchworth are not visibly different from the inhabitants of other prosperous towns in the area. Many of them are probably working in, of all places, the City of London (which is connected to Letchworth via a direct train line), but the building fabric of the old socialist dream is still there and makes for an interesting visit.
If you arrive by train, your first port of call should be the town's Tourism Office. Turn left out of the exit and cross Station Road. Ask for their excellent free brochure with a map and an itinerary that will take you on a 2-hour walk through the town. (You can also find the leaflet online here.)
The first site on the itinerary is the Spirella Building.
One of the most interesting things of the Letchworth Master Plan was the introduction of strict zoning laws. Outlying areas were intended to blend into their agricultural surroundings, but there would also be a place for industry such as the Spirella factory, owned by what was then Britain's largest manufacturer of corsets, a company big enough in its heyday to have its HQ on London's Oxford Circus (on 266-70 Regent St, still called the Spirella House, today accommodating Shelly's shoe shop).
Spirella prided itself in being a model company, much like the chocolate makers Cadbury's a few miles further north, providing their "happy and healthy workers" with excellent leisure facilities and corporate housing. The factory has since been converted into an office building, Spirella having gone bust (if you pardon the pun) in the early 1980s.
Turn right into Icknield Lane, where many of the homes from the 1905 exhibition are still standing (you can easily identify them by their commemorative plaques) …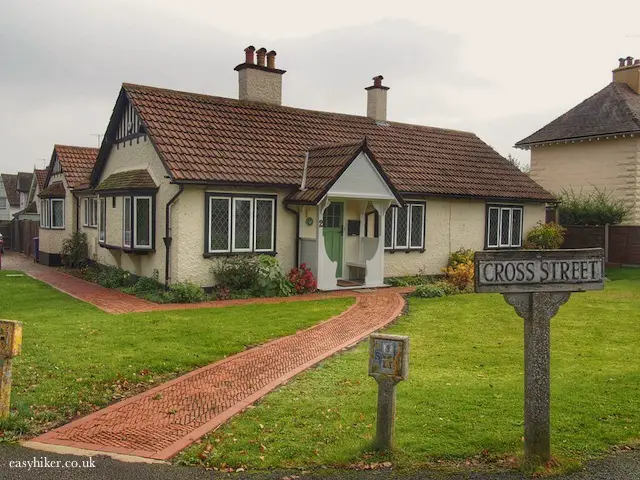 … before reaching the Skittles Inn on Norton Way South, the famous "alcohol-free pub". This was not an idea that caught on, not even in Letchworth (despite its large community of Quakers). The pub closed down in 1925 and has since been converted into a community centre.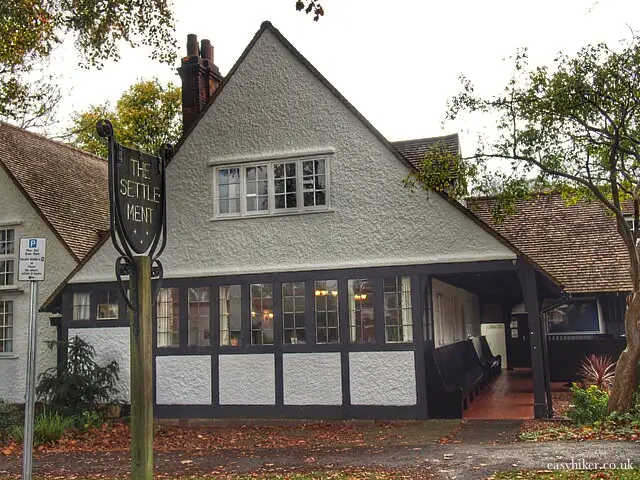 Continue down Norton Way South, across the park where you can find the thatched Letchworth Heritage Museum, formerly the office of the town's planning architects …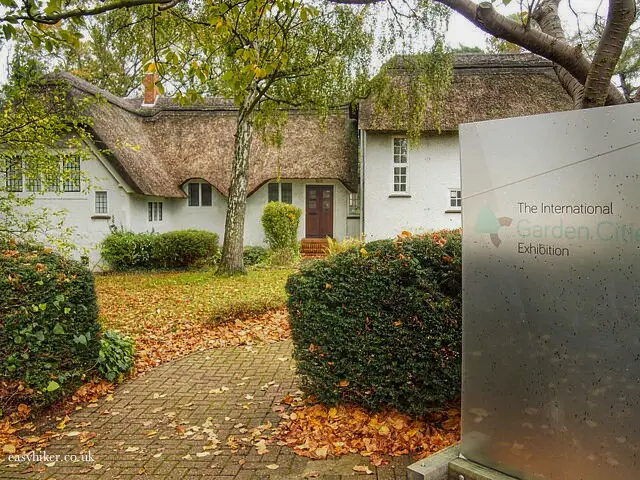 … and take a little detour around Meadow Way past many historical "meeting houses" of the Quakers …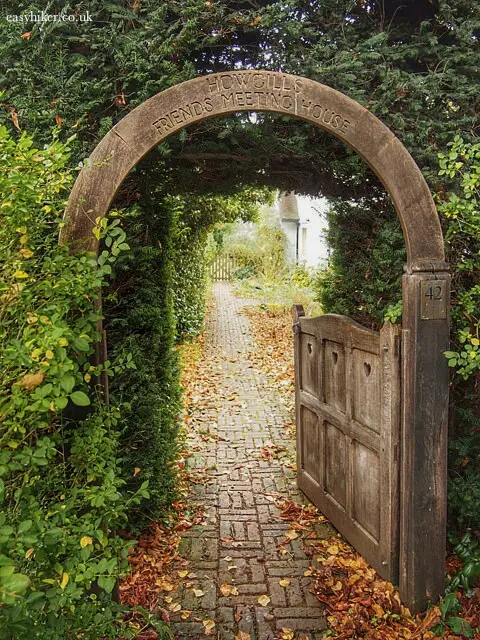 … eventually arriving at The Cloisters, which is a little out of the way but well worth the detour.
The Cloisters is one of Letchworth's most eccentric buildings, more King Dracula's Castle than William Morris, originally conceived as an elementary school but soon converted into a "theosophy centre".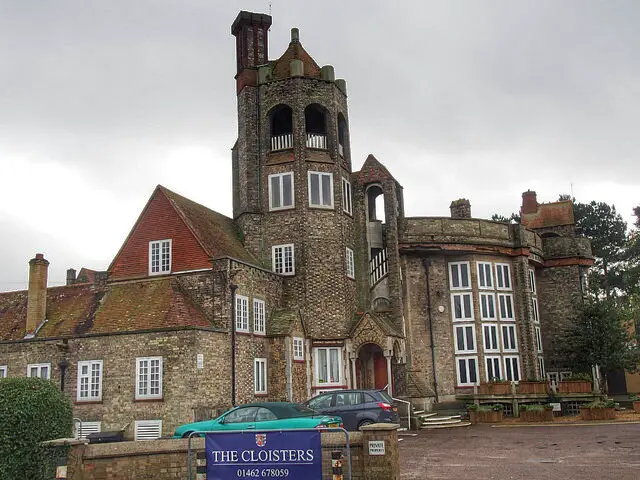 Return towards the town centre via Sollershot East where, at the junction with Broadway, you will see this: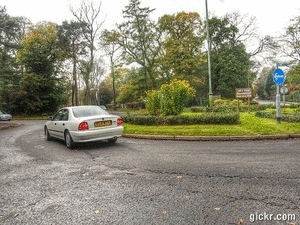 A truly historical monument, Britain's first ever roundabout, constructed in 1909.
At the time, this was thrown into the mix as little more than an afterthought by the town planners, and little did they know that this modest but ingenious idea of conducting traffic though an intersection would make a deeper impact on global town planning than all of their other, far more high-falutin' concepts.
Now stroll down Broadway in the direction of Broadway Gardens and, eventually, back to the train station.
Broadway was originally conceived as Letchworth's answer to the Champs Elysees: a grand boulevard that was to lead into a Place-de-la-Concorde-like central piazza. This plan was quietly abandoned as soon as it became apparent that Letchworth would never be … well … that kind of town and when it became clear that, although undoubtedly an attractive place to live, Letchworth would never achieve many of its original, far-reaching and revolutionary ambitions.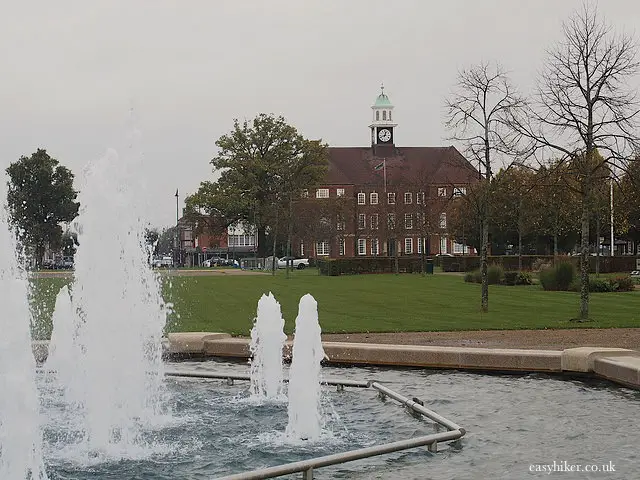 Why was that? That's difficult to say, of course, but for some reason I remembered how somebody had once said that money can buy you a pretty good dog, but not the wag of its tail. I don't know what the "wag of the tail" may be in a city, but I am sure that no architectural exhibition can produce it, and no town planner, no matter how gifted, can conjure it up.
This is just one of the many walks near London we can highly recommend. Have you read our previous walk near London? 
Be the first to get our walking and hiking tips by subscribing to our free updates via email and following us on Facebook  and Twitter. Why not include us in your G+ circles too?