We might as well admit it: summer (the northern European variety, at least) is pretty much over, and full-blown autumn will soon be upon us.
But the news is not all bad: this is the right time to take out your hiking boots and go for that long walk that you have excused yourself from all summer long because it was "too hot".
So off you go!
And to make sure that your trip will deliver everything you expect, here are a few tips to help you avoid a few of the traps along your way and….
…ensure hiking daytrip success!
Pick the right trip
Which means, above all: a trip that is not too difficult. Ideally, your hike should not be too easy either, but it is better to go soft than too hard.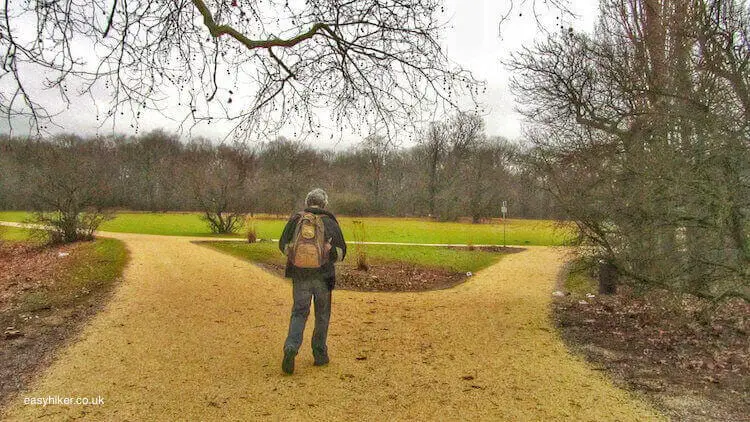 Why is that? Because it is better, after you have safely returned home or to your holiday base, to think: I could easily have gone on for a few more miles than being stuck half way down an Alpine footpath, trembling with exhaustion and darkness drawing in. (Is that a snowflake I see before me?)
So: cut the trips into the high mountains unless you are an experienced walker and in good physical shape. And even when staying on the flat, do not overestimate your stamina. You may be able to do 5 km per hour for one hour in the municipal park, but for the entire day in hilly terrain? Probably not. Unless you have done long walks before (and fairly regularly), stick to distances of less than 10 km (six miles). Or, at the very least, make sure you can cut your trip short at a certain stage and return by bus or by train.
And do not pick a destination that is too far away. If you cannot manage to arrive at the trailhead before noon: forget it and pick another route.
A rule of thumb: as a minimum, you should spend more total time on the road than in transport.
Also take into account the number of daylight hours you will have at your disposal, particularly if you are planning weeks ahead for a hike in the late autumn.
Unless life or limb are at stake, take risks. What have you got to lose? If a daytrip turns out shitty: laugh it off. And if it winds up being, well, neither quite here nor there: mediocrity is the price we pay for those rare moments of epiphany and unbridled joy. Life does not mean leaping from one ecstatic moment to the next. (In the long run, this would be far less fun than you may think.)
Do not overplan
Do not attempt to squeeze every last element of surprise out of your holiday experience. Do not imprison your day out in a corset of minute-to-minute planning. Holidays need space to unfold their magic.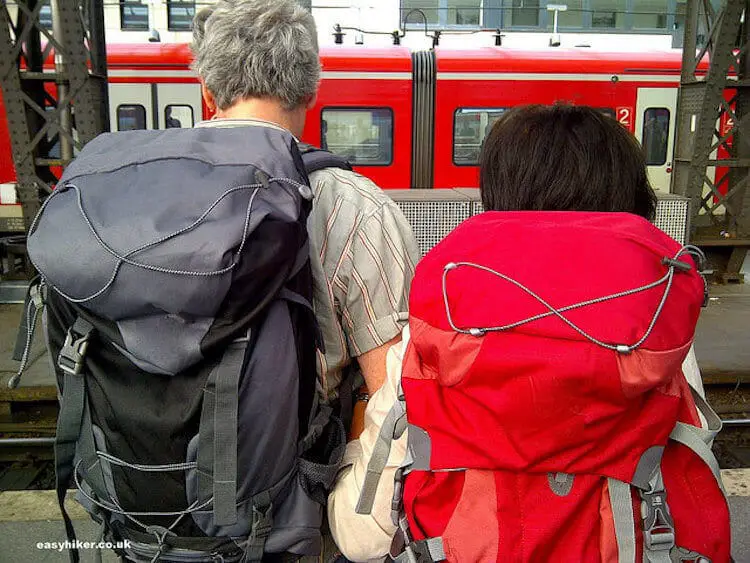 As a general rule, go lightly on any information of what there is to see. As long as you have the most general idea of what to expect – a river, a forest, a castle or two – that is enough. There is no need to research in advance what the castle looks like from inside the walls. Or what motives would be attractive in a photo.
Remember: you are planning a hike, not a military campaign. The objective is to have fun, not to win a war.
But do not underplan either
If you arrive by bus or by train, it is good to know which way to turn for the trailhead. Searching your way for an hour or possibly more is the worst possible start to your day. Even worse, it will upset your timing. If you have one, that is. Which you should, absolutely.
This, actually, is the only field where planning is vital. Particularly if you rely on public transport for any part of your journey. You simply must know how to get there and how to return.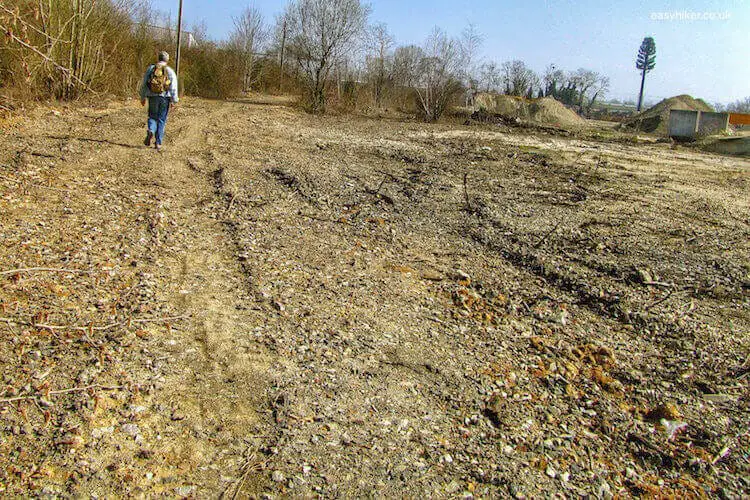 Leave room in your timing for unexpected delays. If the slightest mishap is enough to throw your entire day into disarray: make another plan.
It is, for example, not good enough if there are only two or three minutes between the arrival times of two connecting trains. Particularly if there is no forward train for two hours. Or better still: until the next morning. (Never, never rely on catching the last bus or train home.)
And here is another thing which can spoil your fun: having to hurry all day long to be in X-town at a particular time for your home journey. You will rush your lunch and not take the time for a little detour to enjoy a particular view or beauty spot along the way.
If you want to spend your entire day under time pressure, you might as well have stayed at work. Holidays need time, too, to unfold their magic. (If the schedule is too tight: leave earlier. Shorten the tour. And if nothing helps, choose an alternative trip.)
Enjoy your meals
For a day-long hiking trip into the countryside: bring sandwiches, or better still just bread, cheese and sausages. This is going to be the best meal you will have all year.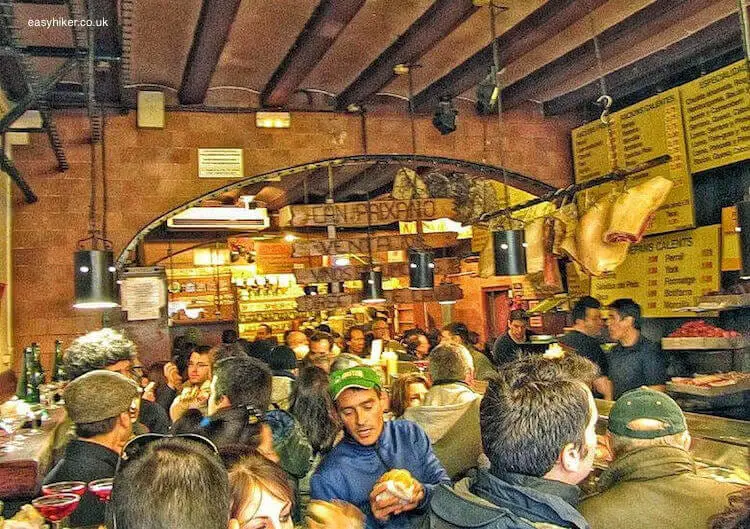 For your dinners, rely on the local inn at your destination. Local inns do not generally serve great food, but always a great experience.
Walking trips in or near larger cities are a different story. For many people, a trip to a nice restaurant is part of the fun.
There are two strategies of picking a restaurant for such an occasion: one is to count on your luck of finding something that looks promising while you are there. In order to distinguish what looks promising from what does not, just follow a few simple rules: Do not go to a place that looks empty. (Empty of locals, that is.) Or to a place where waiters are standing in front, trying to lure passers-by inside with picture catalogues of the menu.
And avoid places with menus that are jokey ("Steak it easy!"), that are written in an ornate font or that have been translated into more than one language (watch out: sucker trap!).
When your strategy is picking a restaurant beforehand, use sites such as Trip Advisor with circumspection. The top places often reflect a broad "tourist consensus" of what constitutes a good meal. Ask yourself: why should I trust a visitor from Wisconsin to find the best restaurant in Padua? (If meals were pictures, the sunset would always win.)
The best tips are often found a bit further down the charts, but you have to use your imagination a little to read "between the reviews". If you have picked one restaurant, pick alternative choices near-by so you don't have to cross the entire town if you, once you have seen it, decide that you do after all not fancy your original top choice (because, for example, the menu is written in Mutlu Ornamental).
Do not waste money on expensive accommodation
Actually, the cheaper the better. Paying for an expensive hotel – with overnight dry cleaning service, modern art on tastefully lit corridors and 24/7 receptionists – is like paying 200 bucks for a toaster with dozens of settings and extra functions when all you want is bread that is a little brown and crispy.
For any stays of 3 days and longer, choose a holiday flat, but make sure it is equipped with at least a microwave, better still a working kitchen. You can prepare impromptu meals and save money on overpriced hotel breakfasts.

These are our five tips to ensure hiking daytrip success! Have you got your own tips to share? Do tell us in the comment section below.